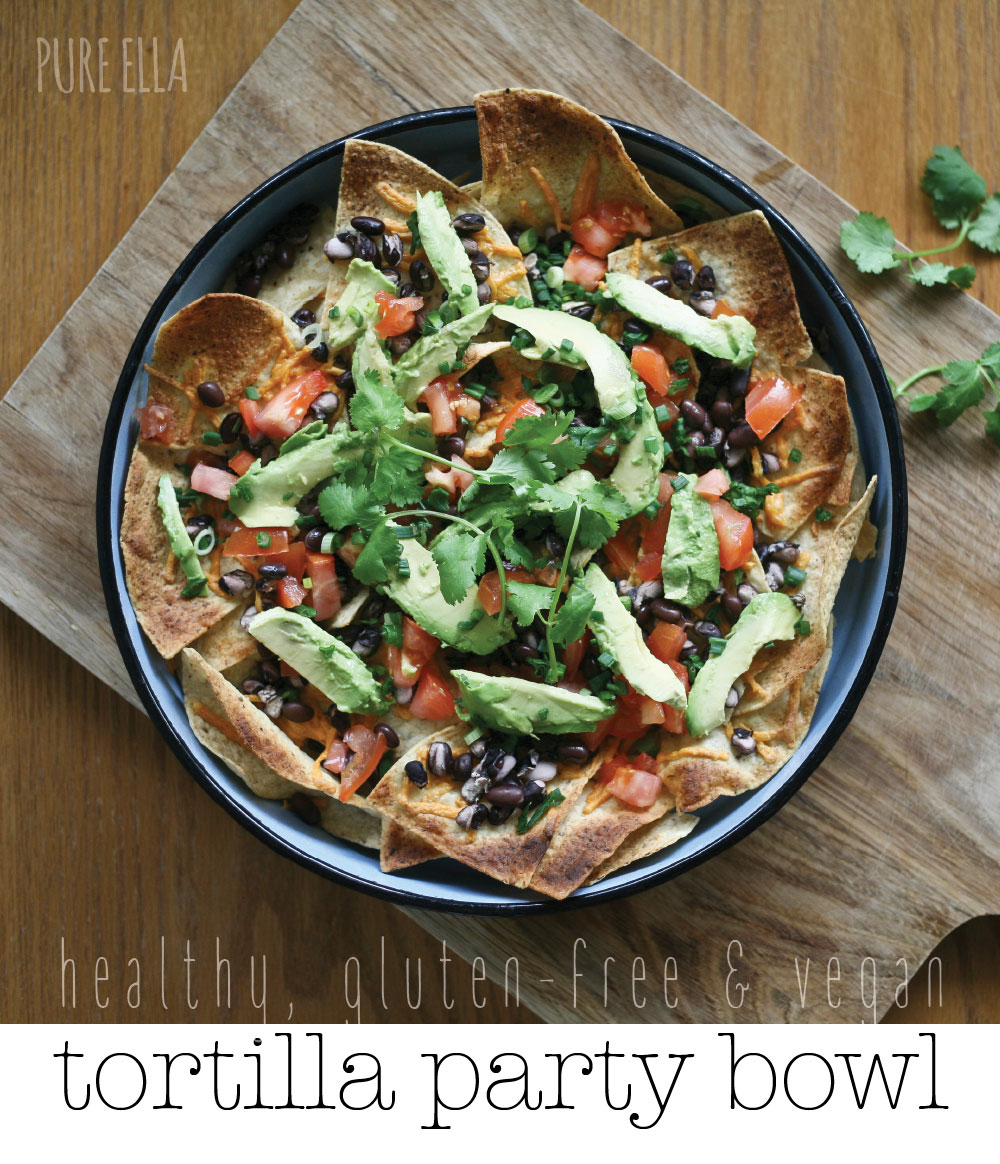 We've been enjoying this awesome Tortilla Party Bowl for a long time now… it kind of really goes with our movie nights or when friends come over. It's a naturally gluten-free and vegan appetizer without putting any extra effort in… and it's just a great party dish. period. – AND – a great Super Bowl dish! We make this every year!!
TORTILLA PARTY BOWL
(gluten-free/ wheat free and dairy free/ vegan healthy recipe)
Ingredients :
1 bag of organic corn tortilla chips/ nachos*
1 large organic tomato
1-2 avocados
1 can of black beans, rinsed and drained (divided into 1/2)
1/2 – 1 cup dairy-free cheddar cheese, shredded (Daiya)
1-2 chili peppers, chopped fine (optional)
1/4 cup green onion, chopped
1/4 cup fresh cilantro, chopped
1 cup salsa – to serve on the side
Directions :
Preheat oven to 350 F. Layer an oven-safe dish with a generous layer of tortilla chips. We used about 2/3 of a large family size bag. Spread the cheddar cheese – go for a good even layer all over. Then spread 1/2 the black beans all over evenly as well. Then chili peppers, if using.
Switch the oven to Broil and pop in the tray into the middle rack for 3-5 minutes. (Keep an eye out on them so they don't burn)
Remove from oven and top with fresh ingredients : spread chopped tomatoes, left over black beans, avocado (sliced or cubed), green onion and cilantro. Serve with Salsa on the side. If you want to incorporate the salsa right into the mix, layer it as the first topping once the dish is removed from the oven.
*Corn is naturally gluten-free but corn tortillas aren't always gluten-free that's because of cross-contamination with gluten. And some chips may still have wheat as an actual ingredient. So if you must eat gluten-free be sure it says Gluten-free right on the package to be safe. Also, always get Organic Corn (anything) as corn is one of the top GMO foods out there!
I am not too concerned about cross-contamination of gluten, but I do not eat wheat. I also do buy organic corn tortillas/ nachos all the time.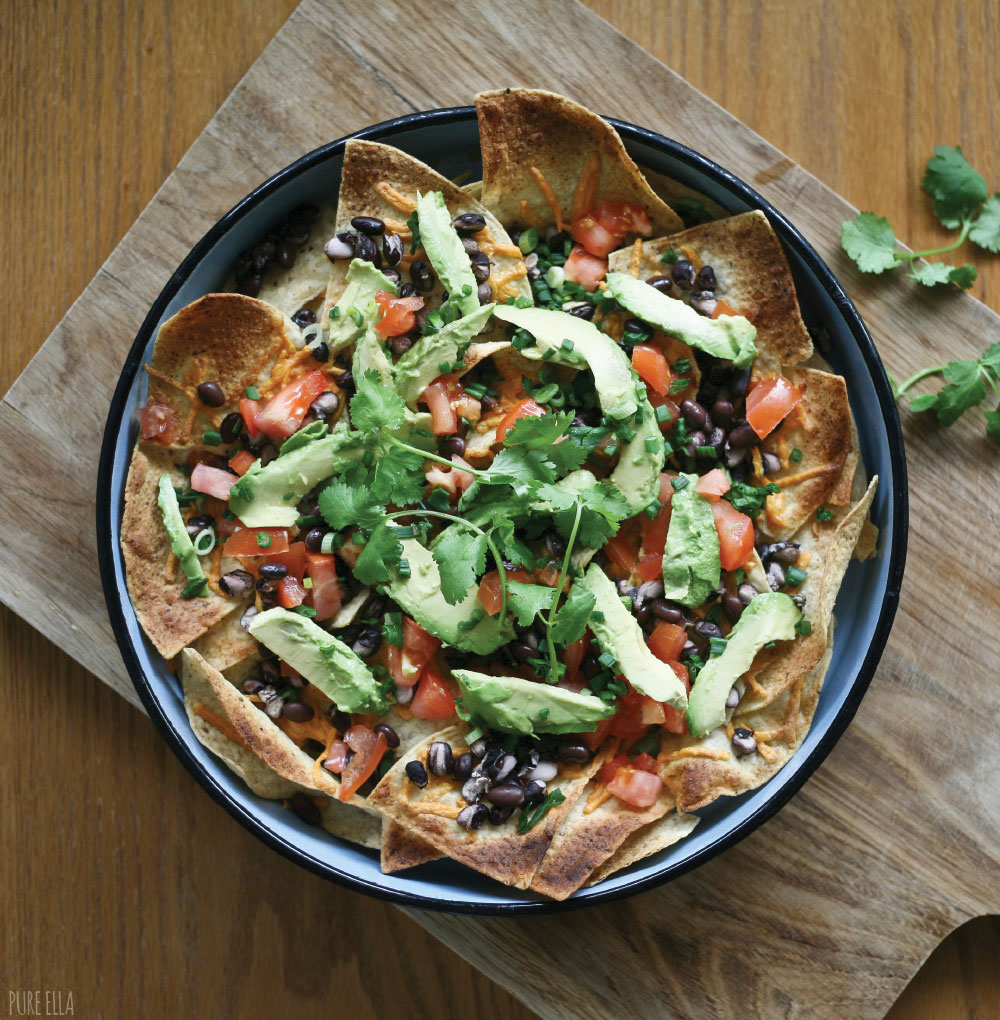 YES! It's SO good! I finally made this in the daytime – we usually make it quick (because it really is quick to make up and bake!) and it's always at night… and night time is not great for food photography – – so I never had a chance to shoot it for you all…. until now! ;) My sister and father-in-law came over on Sunday and it was a nice little healthy treat. Problem was, it was gone in seconds!! Everyone loved it including the kiddo!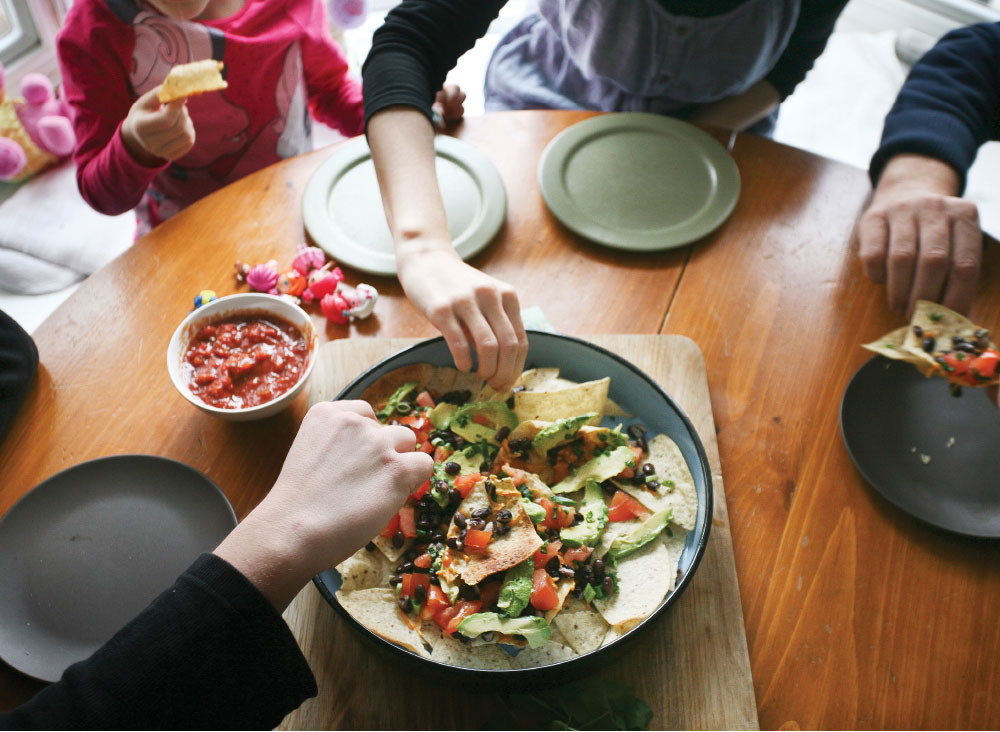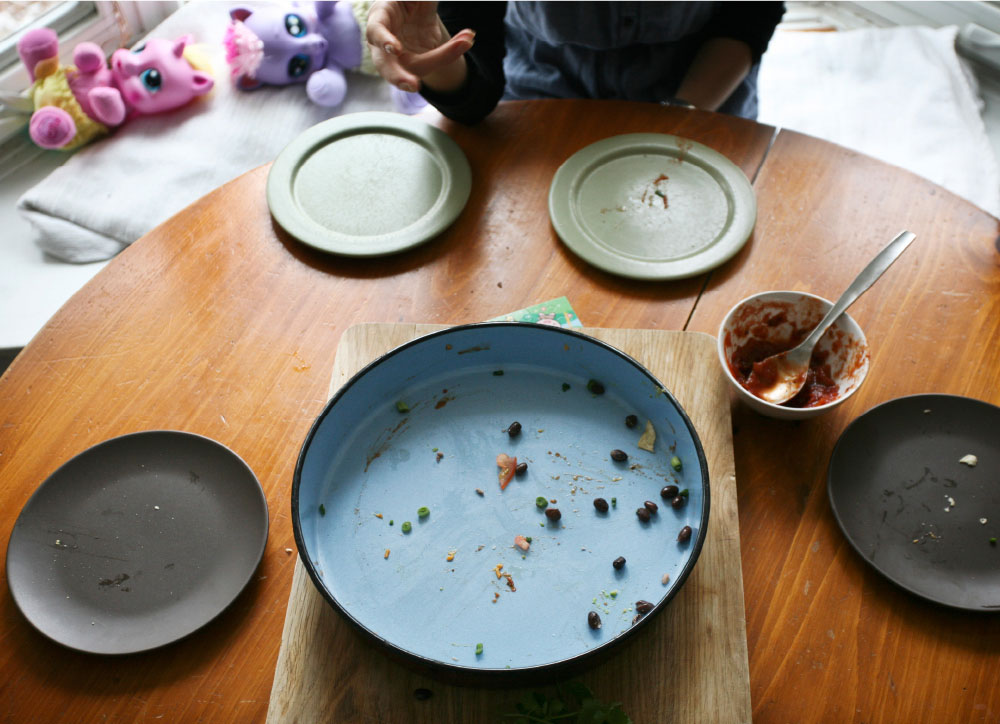 Not only is it quick to do and to bake… but it's also really quick to eat! You may want to have more ingredients around in case you need an extra dish.
If you need a healthy party dish for this Sunday's Super Bowl – this Tortilla Party Bowl is your dish! Everyone will LOVE this – even the football loving boys and gals!
I like making this for my husband so he has something healthy around when he watches the game – otherwise it would just be chicken wings and beer! (ps. Apologies Canada but we're not that into hockey)
See… healthy, gluten-free and vegan snack recipes don't have to be hard to do ;)
Happy Game Day!!!