Hello to the most beautiful month of the year ~ hello September! ;)
September is truly my favourite month of the year…. not only because it's my birthday month and I feel very special with a little celebrating… ;) but also it's really the most breathtaking month – not too hot, not too cold, a beautiful time for a stroll in the park, a picnic, a bike ride, a bonfire or dinner in the backyard…
It's also the best time for the farmer's market or if you're lucky, a big harvest from your very own garden. We are not so lucky to have a homestead of our own, but I am happy when I see my father-in-law show up with a basketful of fresh garden-picked tomatoes!
I myself only grow only cherry tomatoes in pots and those disappear quickly into salads or get eaten up straight off the bush… and I grow lots of herbs in pots too. But I do wish we had more sun to in our yard. Six huge maple trees provide great shade which we appreciate in the summer but don't allow the sun to get through for a lovely home vegetable garden. I guess you can't have it all sometimes.
But let's get back to these beautiful tomatoes my FIL brought in… big, imperfect, a few cracks, a few bug bites – perfect!
I smile ear to ear when I see this basket (next time he shows up, I need to pull my camera on him and capture this moment ;)) He's happy too about his one-crop garden. I guess we love tomatoes the most… enough said! ;)
So, being completely inspired by these beautiful tomatoes, I get a sudden vision of this amazing Tomato and Black Bean Tart!
I can see it already, I can taste it too…. I know it's bright and colourful and delicious. It's light and slightly flaky and rich in flavour from the fresh ripe tomatoes and fresh rosemary. The right balance of seasoning and tartness of onions and texture of black beans. That first bite is perfect and the whole piece gets eaten up quick. I pick the crumbs that fell off… I want one more. Or two! ;)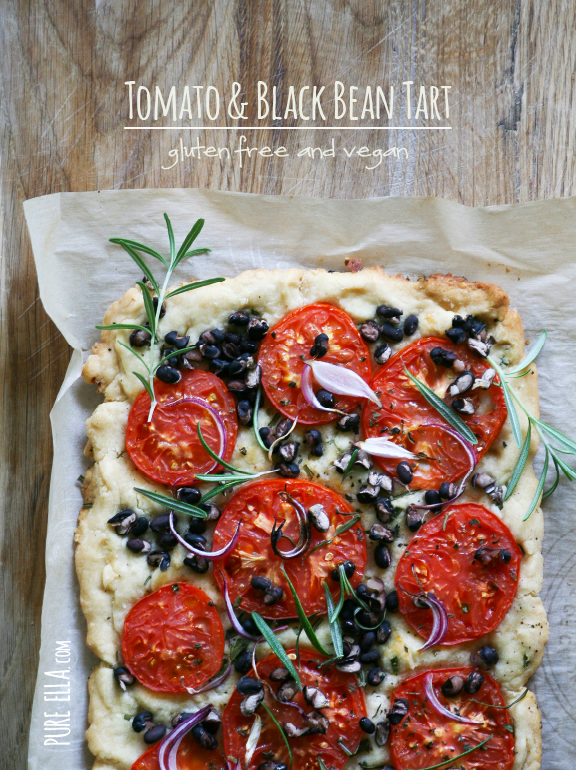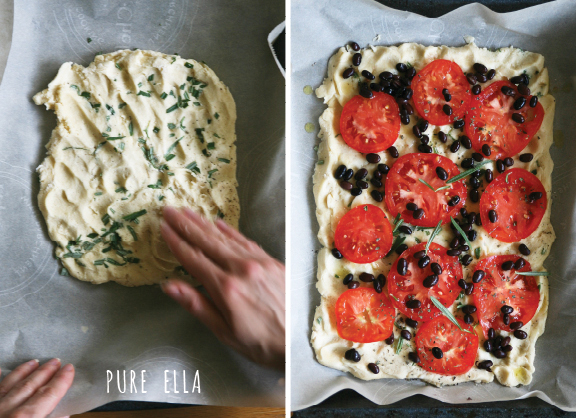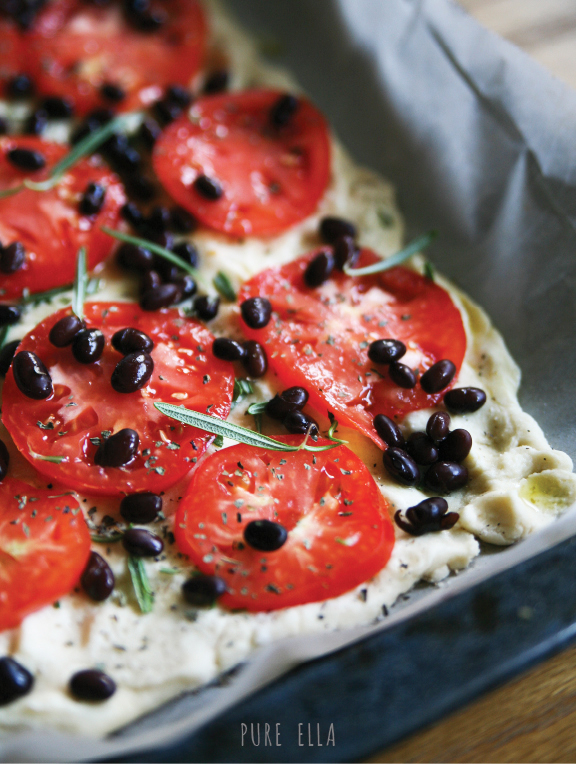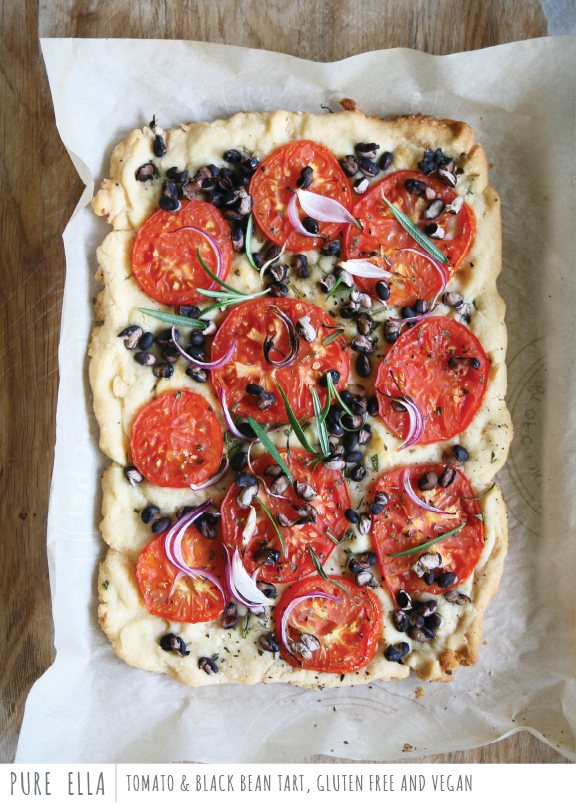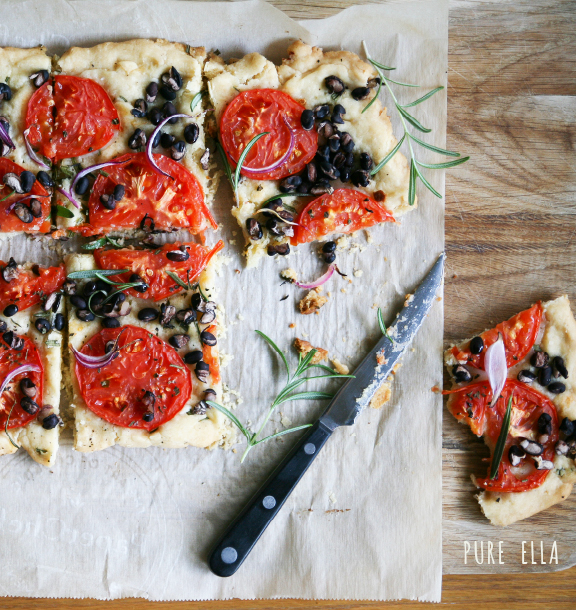 Tomato & Black Bean Tart
2013-09-04 21:14:35
Serves 3
gluten free and vegan recipe
Gluten-free and Vegan Tart Crust
(ingredients for 2 tarts)
1/2 cup vegan shortening, cold
1/2 cup vegan buttery spread, cold
1 cup brown rice flour *
1/3 cup garbonzo flour *
1/2 cup potato starch *
1/2 cup tapioca flour *
2 teaspoons xanthan gum *
1-2 tablespoons fresh ground pepper
1 tablespoon of fine sea salt
1 teaspoon of garlic powder
1 teaspoon of onion powder
2 tablespoons of fresh chopped rosemary
3/4 cup ice water
* OR 2 1/3 cups all-purpose gluten-free flour
Toppings for 1 Tart
2 large organic tomatoes, sliced
1/4 of red onion, thinly sliced
1/2 cup black beans, canned or previously cooked with a little salt, rinsed and drained
2 tablespoons of extra virgin olive oil
fresh rosemary
To make the dough
Sift and mix all the flours together. Add the salt and sugar and mix to distribute evenly. Fold in the cold shortening and/or vegan butter and cut through the flour with a pastry cutter. (You can also pulse these ingredients in a food processor for a faster method.) Once crumbles form, create a well and slowly pour in ice-cold water, just a little at a time. Continue folding and cutting and adding more water a few tablespoons at a time until a dough forms. Keep dusting the work surface as well as your hands with some extra rice flour so the dough doesn't stick. Do not over mix as little areas of fat from the shortening/butter are necessary to achieve a lightness in the pastry.
Overworking the dough may result in a tougher texture. If dough feels warm and soft, place in the fridge or freezer for just a few minutes to return to a cold temperature. For best secret results, keep the dough very cold. If the dough isn't kneaded enough however, it could come out too crumbly. Kneading for about 3-4 minutes should be perfect (depending on the temperature of your kitchen.)
Preheat oven to 400F.
Lay down a sheet of parchment paper (never wax paper as that's ladened with toxins!) out on a baking sheet. Place 1/2 of the dough onto the sheet and press down gently with your fingers to spread it out onto the sheet. You could also use a rolling pin to press it down faster down to about 1/2 inch height. Shape into a rectangle or any shape you like. Be sure to round the edges a bit so they are not too thin and flaky by simply going around the edges and gently pushing the dough back into the centre. This will strengthen the sides more and help you even out the shape into straighter lines.
For the toppings, place the sliced tomatoes, red onion and drained black beans into a shallow large bottom bowl and drizzle with a little olive oil and season with a little sea salt and fresh ground pepper. Gently toss them to let the oil coat the sides.
To assemble the tart
Drizzle the top of the dough with a little olive oil and place tomato slices all over, followed by onion slices, black beans and fresh rosemary.
Bake at a preheated oven for 35-45 minutes or until crust edges appear nice and golden.
Notes
This pastry dough recipe is for 2 tarts!
Make one tart with these ingredients and have fun changing up the ingredients on the other tart to whatever you like ;)
Or take 1/2 the dough, shape into a ball, wrap well in a plastic wrap and/or freezer bag and freeze until you'd like the next tart made! (thaw out in the refrigerator at least 4-6 hours or overnight.) Fresh refrigerated dough that's wrapped well stays fresh for up to 5 days.
Adapted from Pure Ella
Pure Ella http://pureella.com/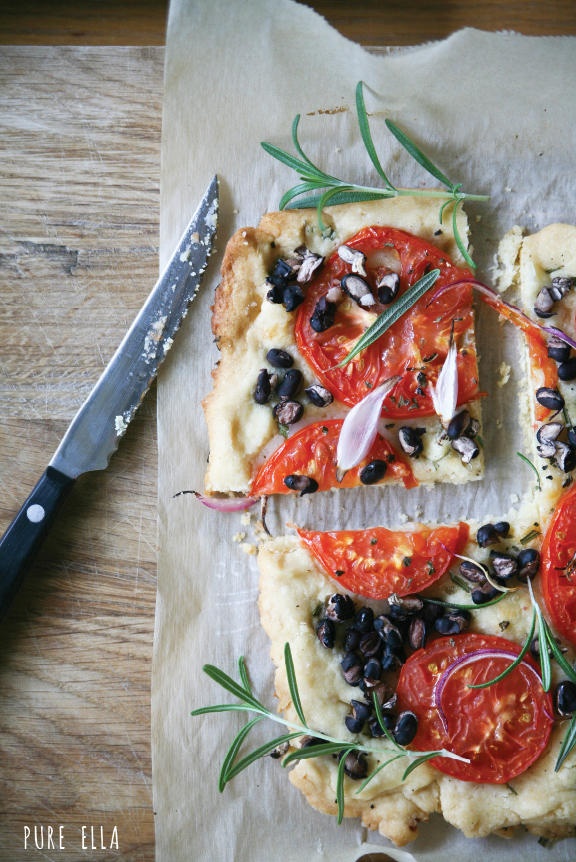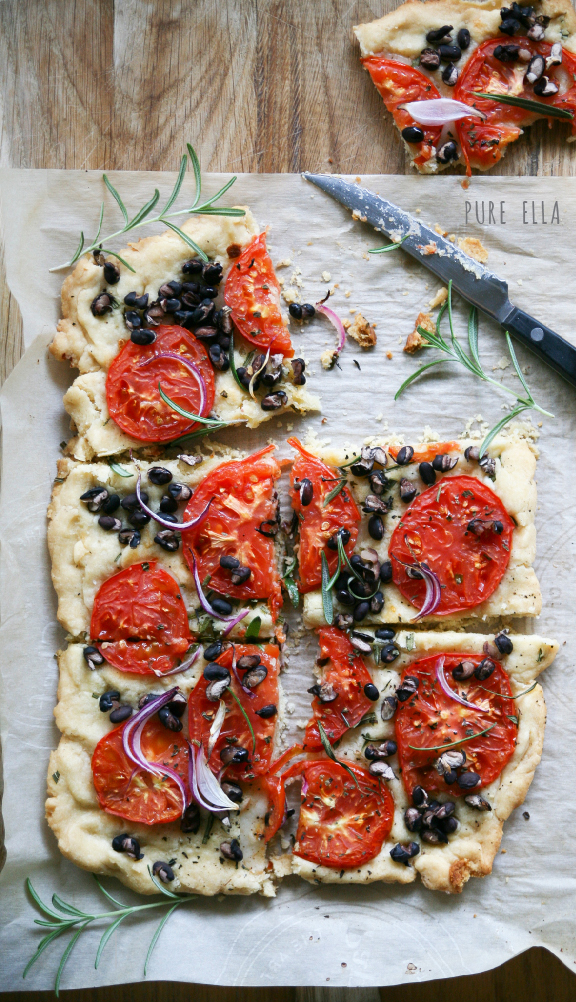 This was a great meal my family loved. The Mr. poured some wine, we set everything on the table, this was a regular weeknight but really felt special…
I served this Tomato and Black Bean Tart with an Avocado Black Bean Salad – really a quick mix of the rest of the beans, chopped avocado, tomato and little red onion (optional) tossed with some fresh squeezed lemon juice and himalayan pink salt and fresh ground pepper.
Kids don't care so much for onions, so on the tart, the pieces were big to easily remove which we did.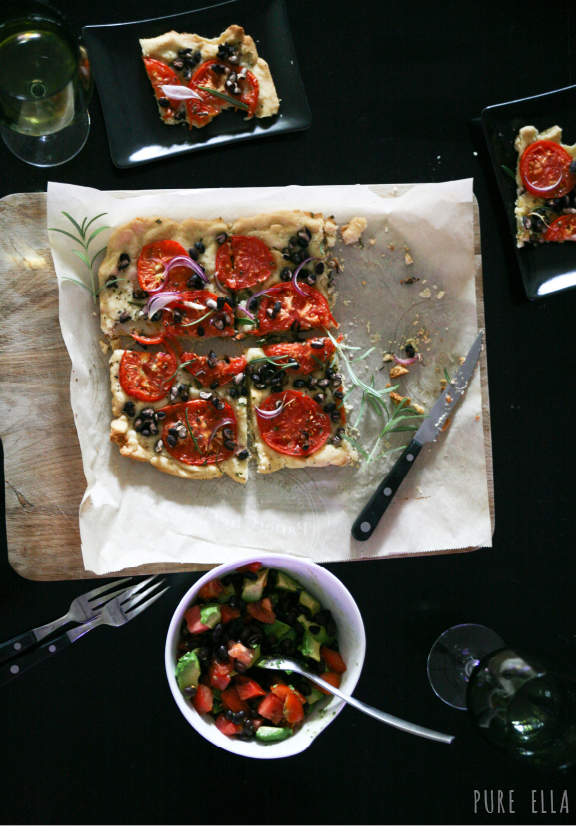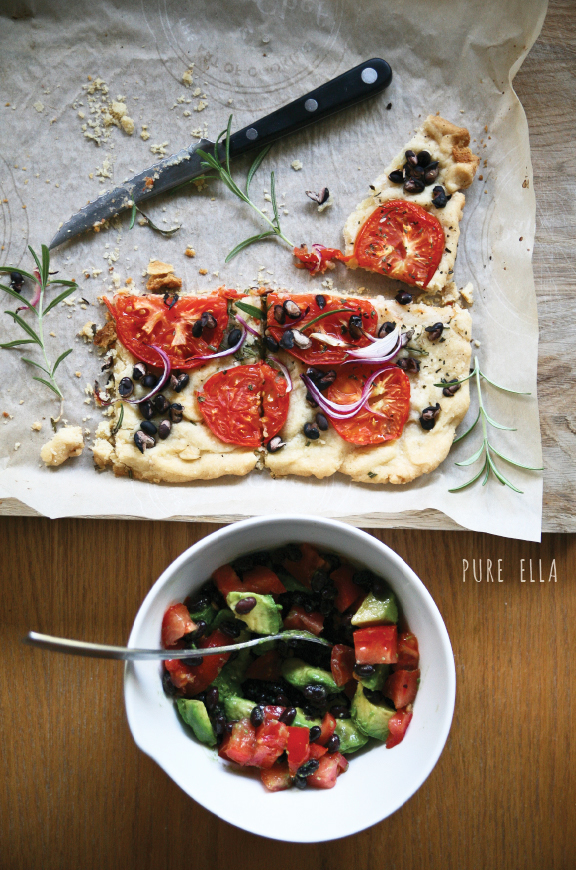 I hope you like the sound of this Gluten-free and Vegan Tart and can't wait to make it!
So you now know September is my favourite month and how much we love tomatoes! ;)
What's your favourite vegetable or fruit of the season?
I have to be honest I have made several delicious dishes with other seasonal favourites like peaches and plums and apples and zucchini, I just hope to find extra time to post all these recipes while they are still in season ;)
And by the way, I am excited to be joining in Vegan MoFo this year! Although all my recipes are vegan it's nice to embrace the mission with a stronger movement.When people work together, it creates a stronger message! ;)

This recipe was shared at Ricki Heller's Wellness Weekend!
Back to Blog