Hello to the most beautiful month of the year ~ hello September! ;)
September is truly my favourite month of the year…. not only because it's my birthday month and I feel very special with a little celebrating… ;) but also it's really the most breathtaking month – not too hot, not too cold, a beautiful time for a stroll in the park, a picnic, a bike ride, a bonfire or dinner in the backyard…
It's also the best time for the farmer's market or if you're lucky, a big harvest from your very own garden. We are not so lucky to have a homestead of our own, but I am happy when I see my father-in-law show up with a basketful of fresh garden-picked tomatoes!
I myself only grow only cherry tomatoes in pots and those disappear quickly into salads or get eaten up straight off the bush… and I grow lots of herbs in pots too. But I do wish we had more sun to in our yard. Six huge maple trees provide great shade which we appreciate in the summer but don't allow the sun to get through for a lovely home vegetable garden. I guess you can't have it all sometimes.
But let's get back to these beautiful tomatoes my FIL brought in… big, imperfect, a few cracks, a few bug bites – perfect!
I smile ear to ear when I see this basket (next time he shows up, I need to pull my camera on him and capture this moment ;)) He's happy too about his one-crop garden. I guess we love tomatoes the most… enough said! ;)
So, being completely inspired by these beautiful tomatoes, I get a sudden vision of this amazing Tomato and Black Bean Tart!
I can see it already, I can taste it too…. I know it's bright and colourful and delicious. It's light and slightly flaky and rich in flavour from the fresh ripe tomatoes and fresh rosemary. The right balance of seasoning and tartness of onions and texture of black beans. That first bite is perfect and the whole piece gets eaten up quick. I pick the crumbs that fell off… I want one more. Or two! ;)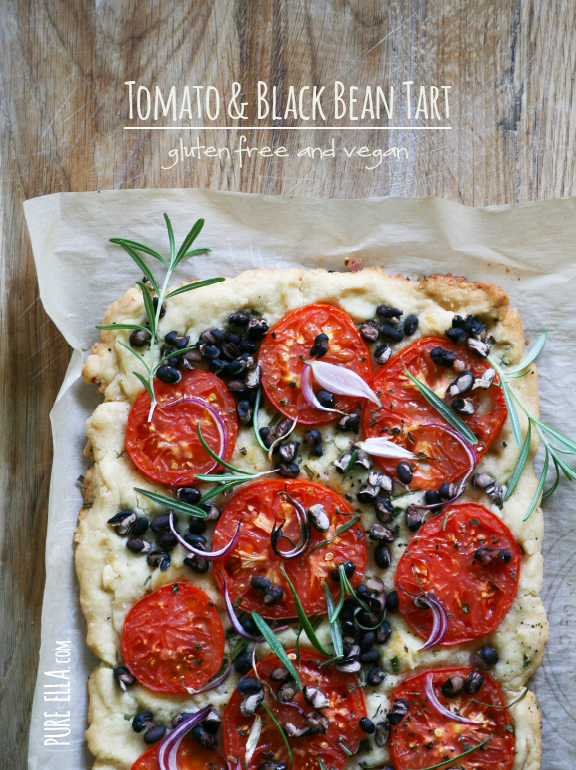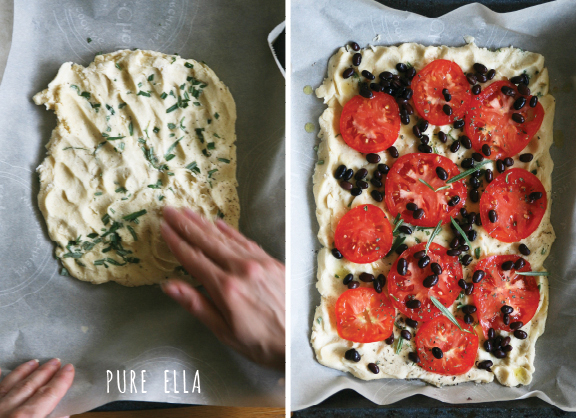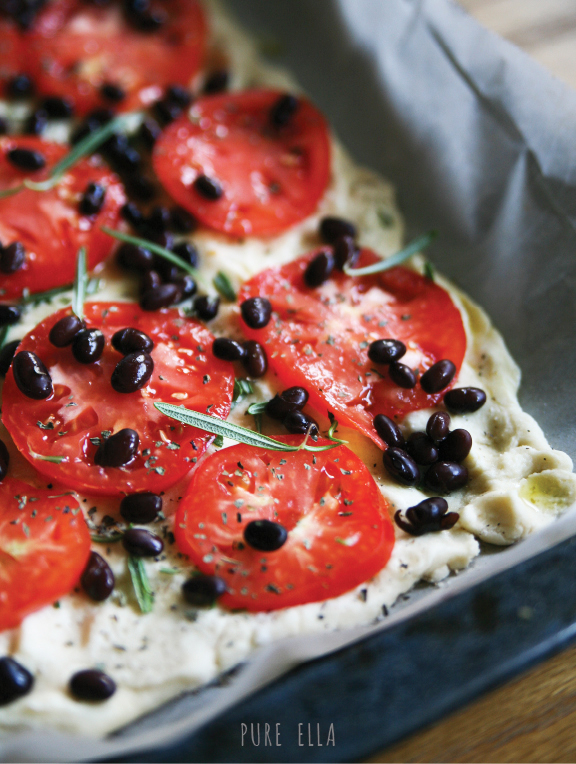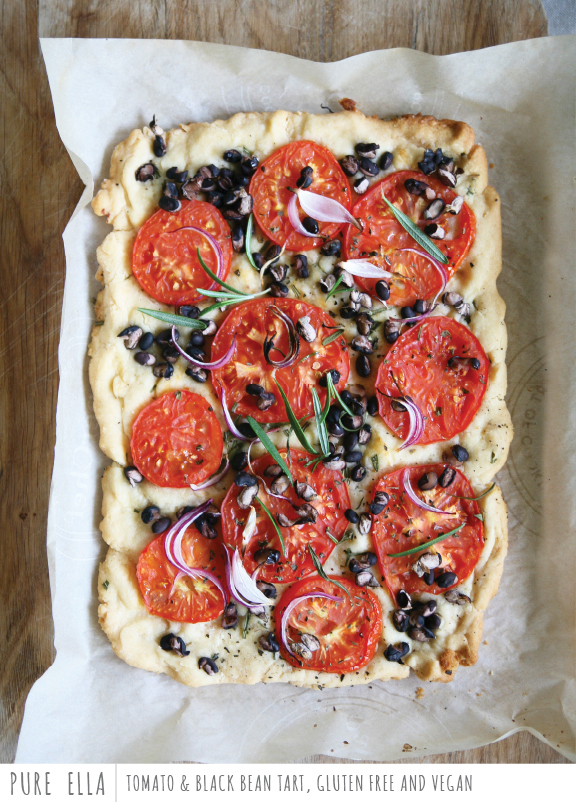 [yumprint-recipe id='1′]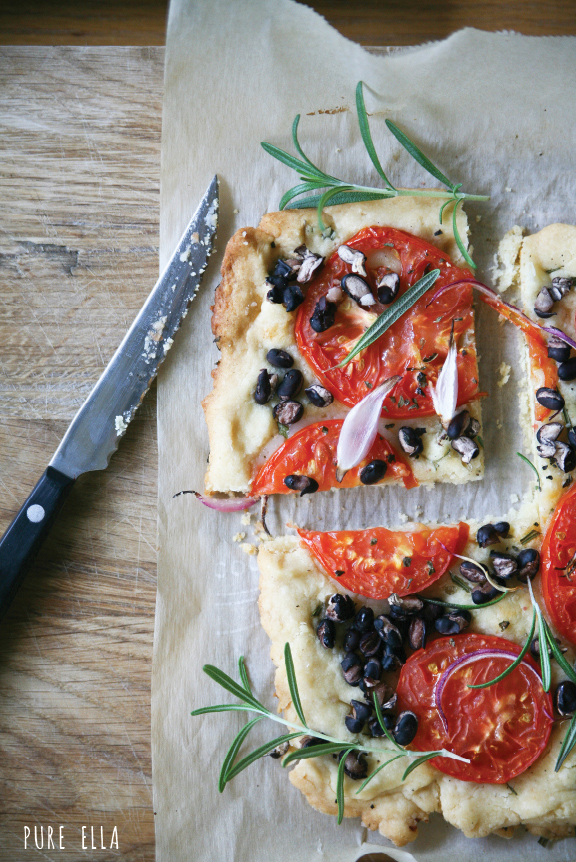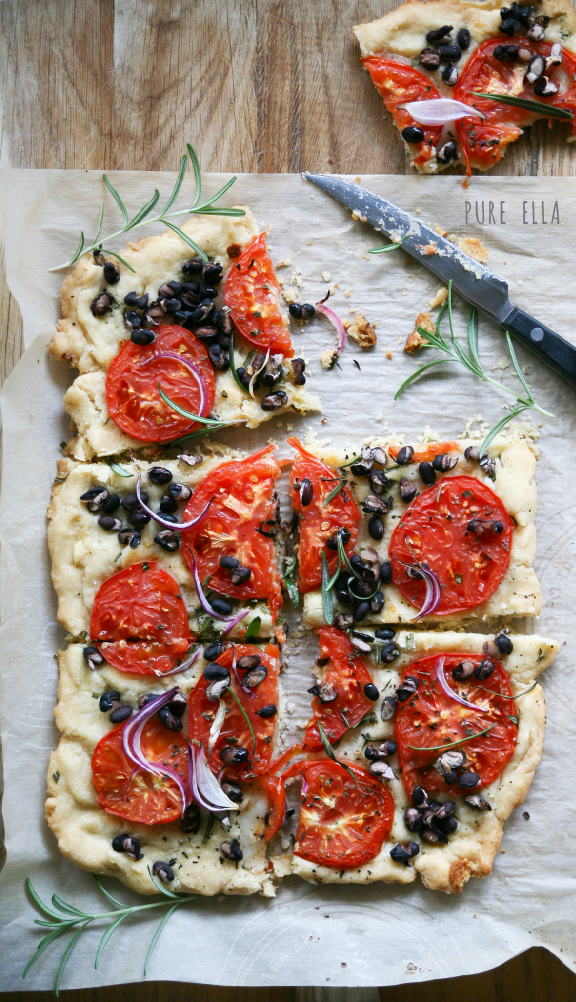 This was a great meal my family loved. The Mr. poured some wine, we set everything on the table, this was a regular weeknight but really felt special…
I served this Tomato and Black Bean Tart with an Avocado Black Bean Salad – really a quick mix of the rest of the beans, chopped avocado, tomato and little red onion (optional) tossed with some fresh squeezed lemon juice and himalayan pink salt and fresh ground pepper.
Kids don't care so much for onions, so on the tart, the pieces were big to easily remove which we did.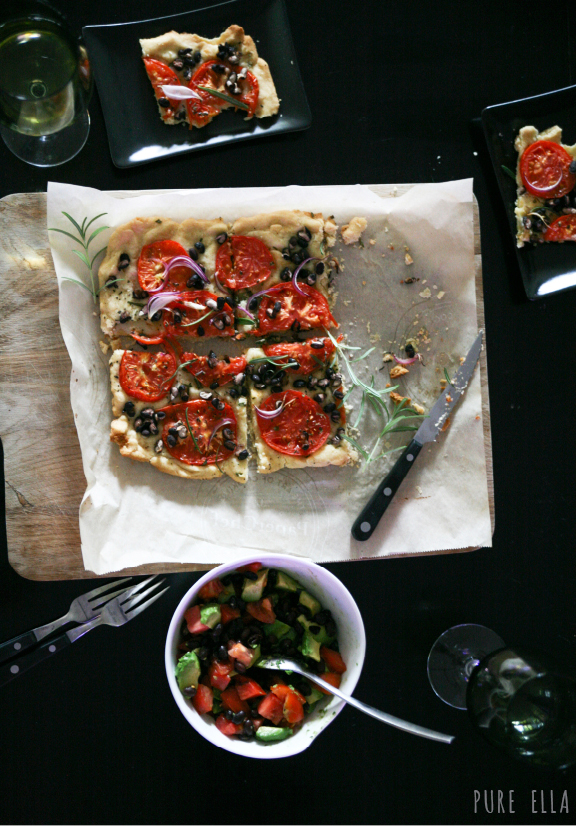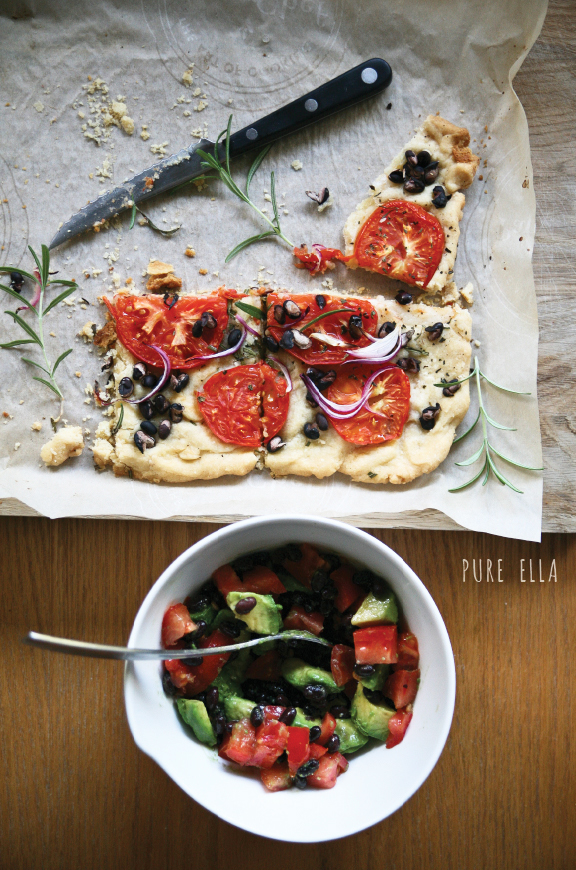 I hope you like the sound of this Gluten-free and Vegan Tart and can't wait to make it!
So you now know September is my favourite month and how much we love tomatoes! ;)
What's your favourite vegetable or fruit of the season?
I have to be honest I have made several delicious dishes with other seasonal favourites like peaches and plums and apples and zucchini, I just hope to find extra time to post all these recipes while they are still in season ;)
And by the way, I am excited to be joining in Vegan MoFo this year! Although all my recipes are vegan it's nice to embrace the mission with a stronger movement.When people work together, it creates a stronger message! ;)

This recipe was shared at Ricki Heller's Wellness Weekend!