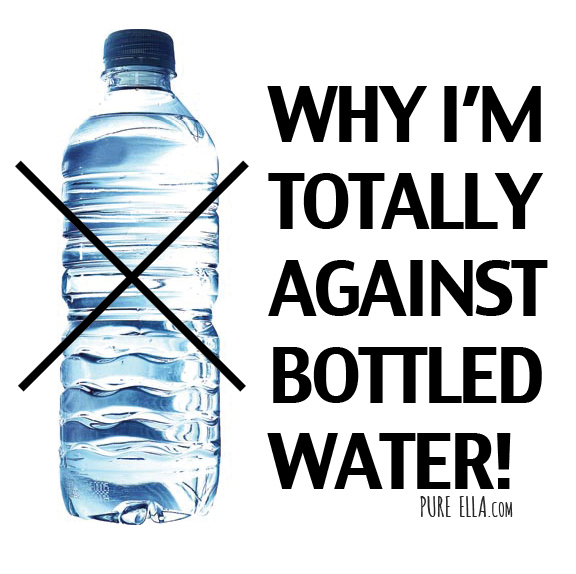 There's no doubt that water is an amazing life source!
It is the fountain of youth, health improving, great for digestion, curbs cravings, improves mood, promotes healthy weight loss, improves metabolism, relieves headaches and stress – it is basically a pure life giving gift that mother nature has for us. And it's free. Actually it's neither pure or free – that's why I'm totally against bottled water!
1. Bottled water is big business.
Companies are quick to jump on board with what people want. They have whole departments, marketing strategists and advertising agencies to tell you what you want. And you are now made to believe you want bottled water. It's just good business for them – NOT for you.
2. A bottle of water is $2!
Asses the product yourself and do the math. Bottled water is usually tap water that's filtered, packaged in toxic plastic, shipped across the continent so you can pay $2 for… what? A bottle of water drives a false economy – it strips people of their hard earned money, only to get something so simple they can get in their own tap*.
3. Is bottled water even healthier?
From production to store shelves to your hands. That water's been seeping in toxic chemicals from day one.
We're talking arsenic, cancer-causing synthetic compounds, bacteria, microbial contaminations, fluoride, industrial chemicals, nitrates and so much more (reference and more details on these studies at the very bottom of this post).
I've heard advice to make sure people buy cold water from the fridge as the plastic bottle chemicals react to heat more and that way you're safer. Do you know where this water's been before a store clerk placed it in the fridge? It can sit for weeks in containers before it's cleared in customs, shipped in trucks and ocean freight ships.  Where it's blasted with the sun's rays for days on end.
All that production and shipping also causes great pollution to our air and overall environment. Bottom line it's not healthier at all. (than tap water*)
*please check with your city's tap water regulations to ensure safety and the solution for the best water isn't tap water also – see point #5
4. Takes 4.5 minutes to drink, 450 years to break down in the earth!
It's the worst piece of garbage on the planet! On our beautiful only-one planet we have! Did you know it takes 450 years for a plastic water bottle to break down in the environment? And while it's doing that, slowly all the toxic chemicals in the plastic leeching into our environment polluting our fresh water and earth.
Oh, but you recycle. My apologies, but are you not aware of the toxic storm and wasted electricity created from cleaning and melting all that plastic and to finally recreate more of the same problem. It all goes right back to the air we breathe and pollute our planet, animals and people.
5. So what water should I drink?
SOLUTIONS FOR THE BEST DRINKING WATER:
Water is extremely important to your health and wellbeing so you should never panic and forgo the clean refreshing glass of H20.
There are a few quality alternatives to a bottled water bottle. Buy a stainless steel thermos or use a glass reusable bottle and refill with these two healthy water options!
#1. RO System aka The Reverse Osmosis System, water filtering system is the best option to have attached by your kitchen faucet. It's a long-term investment to your family's health.
#2. Only if option #1 is not available, although highly encouraged, you're better off boiling tap water, letting it cool down and fill up your reusable non-plastic water bottle and away you go. Boiling will kill off the bacteria that could linger in tap water, although it still won't remove the flouride or other contaminants that could be in your water. But with the list below, neither does bottled water. Which is why the RO System is the best.
When we did our kitchen renovation and our RO System was down, we boiled water when going to bed and it by morning it was nice and cool to drink throughout the day. We poured it into a nice water jug and it lasted for a few hours.
Here are some awesome infographics that creatively tell you why you should also be against bottled water!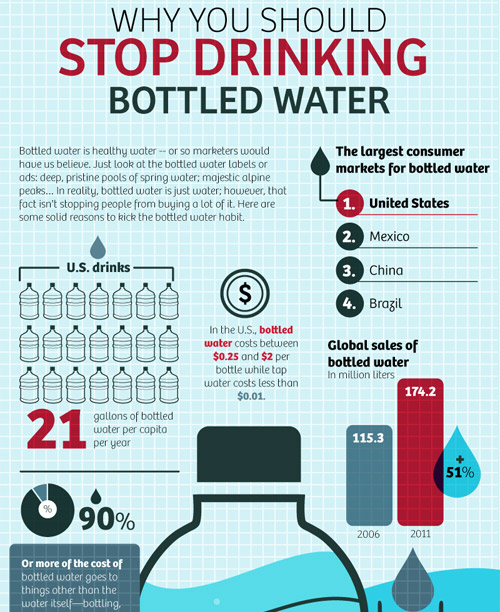 Click the 'leave a comment' area to view full post.