Hello and Happy Halloween! Today I'm sharing an easy and delicious recipe without any artificial colouring, flavouring or preservatives or GMO's ~ hence "No Tricks" Vanilla Cupcakes! This easy vanilla cupcakes recipe is also naturally gluten-free and vegan/ dairy, egg free and nut free – so basically allergy friendly SO that everyone can have a treat without any tricks!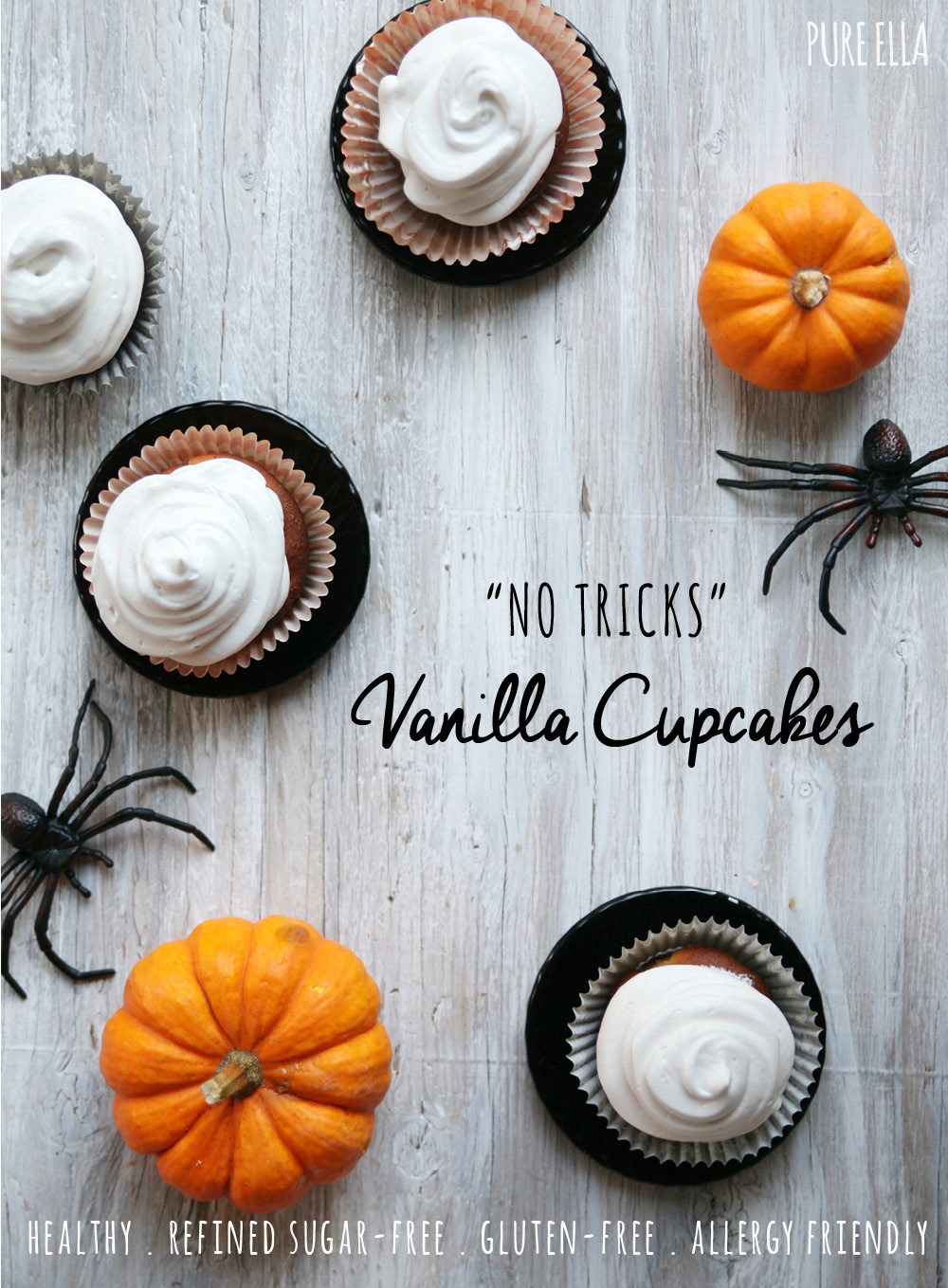 It's Halloween time and I could not be freaked out more! And not because of scary costumes and frightening Halloween decorations BUT the freaky stuff my kids will bring home from trick-or-treating! Isn't it scary what's found in candy nowadays? I cringe from the sugar! I cringe from GMO's!I cringe from preservatives that are linked to health problems! I cringe from the artificial colouring which is linked to behavioural problems in children as well as cancer! I cringe and cringe but that alone won't provide a solution.
Read more on the ill effects of additives in candy on this post : Trick or Trick! How to Survive and Still Enjoy Halloween.
Because Halloween is still fun! And fun we shall have!
So I like to make something that's around when temptations reach high!
Make treats without the tricks!
1. make treats healthier
2. use all-natural ingredients
3. use unrefined sugar and less of it
4. keep allergies in mind
5. get the kids involved in the making – that's 90% of the fun!
'No Tricks' Vanilla Cupcakes
gluten-free, vegan, dairy-free, egg-free, allergy friendly, low sugar/ refined sugar free
Ingredients :
1 1/2 cups all-purpose gluten-free flour
1 tablespoon baking powder
1/2 cup raw cane or coconut palm sugar
1/2 cup powdered stevia (or same as above)
1/4 teaspoon fine sea salt
3/4 cup unsweetened apple sauce
1/2 cup hot water
1/2 cup coconut oil, melted
1 tablespoon pure vanilla extract
dark chocolate chips for the eyes (optional)
Natural Dairy-free Frosting (see recipe)
Directions :
Preheat oven to 375 and line a cupcake or muffin pan with
In a large bowl, mix the dry ingredients : flour, baking powder, sugar, stevia and salt. In another bowl, combine the wet ingredients : apple sauce, water, oil and vanilla extract.
Pour the wet ingredients into the dry and mix until combined. Let rest for 15 – 20 minutes. Mix a little more and pour into the muffin pan wells (preferable silicone as they come out perfectly) about 1/2 way up.
Bake for 20-25 minutes or until golden on top. Remove from the oven and when ok to touch, carefully remove papers if using paper liners. Then place on a cooling rack to cool completely.
As you wait for the cupcakes to cool, this is a great time to make the frosting from this recipe.
A great trick to piping the frosting is to put it into a ziplock bag and sealing it up – then it's mess-free and easy (and cheap!) to use! Try it.
NOTE : Gluten-free baked goods are best the day of and should not be stored in the refrigerator.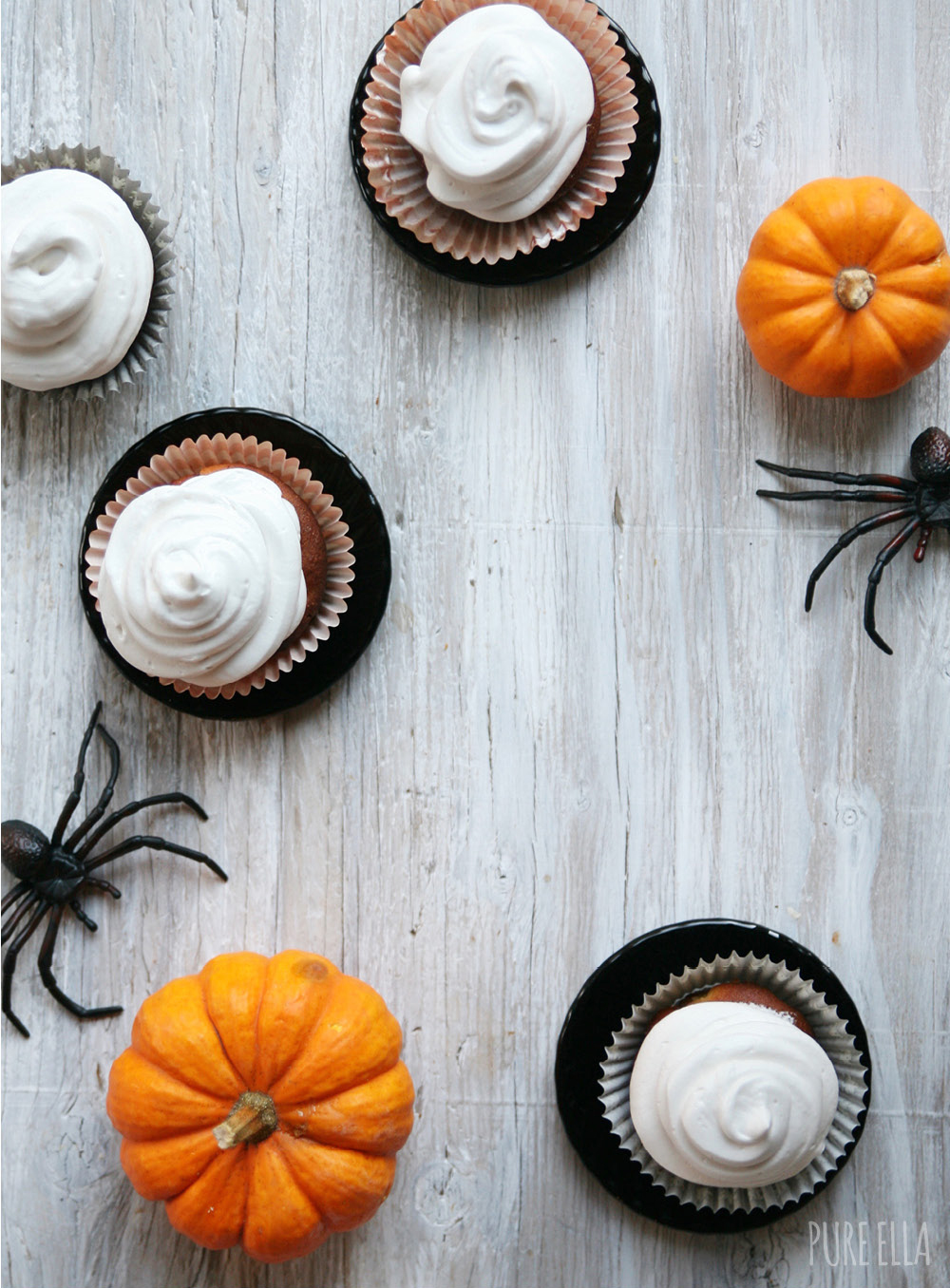 We had a blast making these Vanilla Cupcakes – the girls – little baby Mia including, giggled and had too much fun making these! The recipe was so easy that I only poured in the hot water for them – everything else got measured and mixed by my daughter and her friend who came over for a playdate.
Fun, fun, fun! And just the best treat – no tricks!! :)
In fact, we even forgot about putting in the chocolate chips for the eyes so I actually edited them in (insert chocolate chip eyes rolling) but if you want to make little Halloween Ghost Cupcakes – then this step is super simple obviously!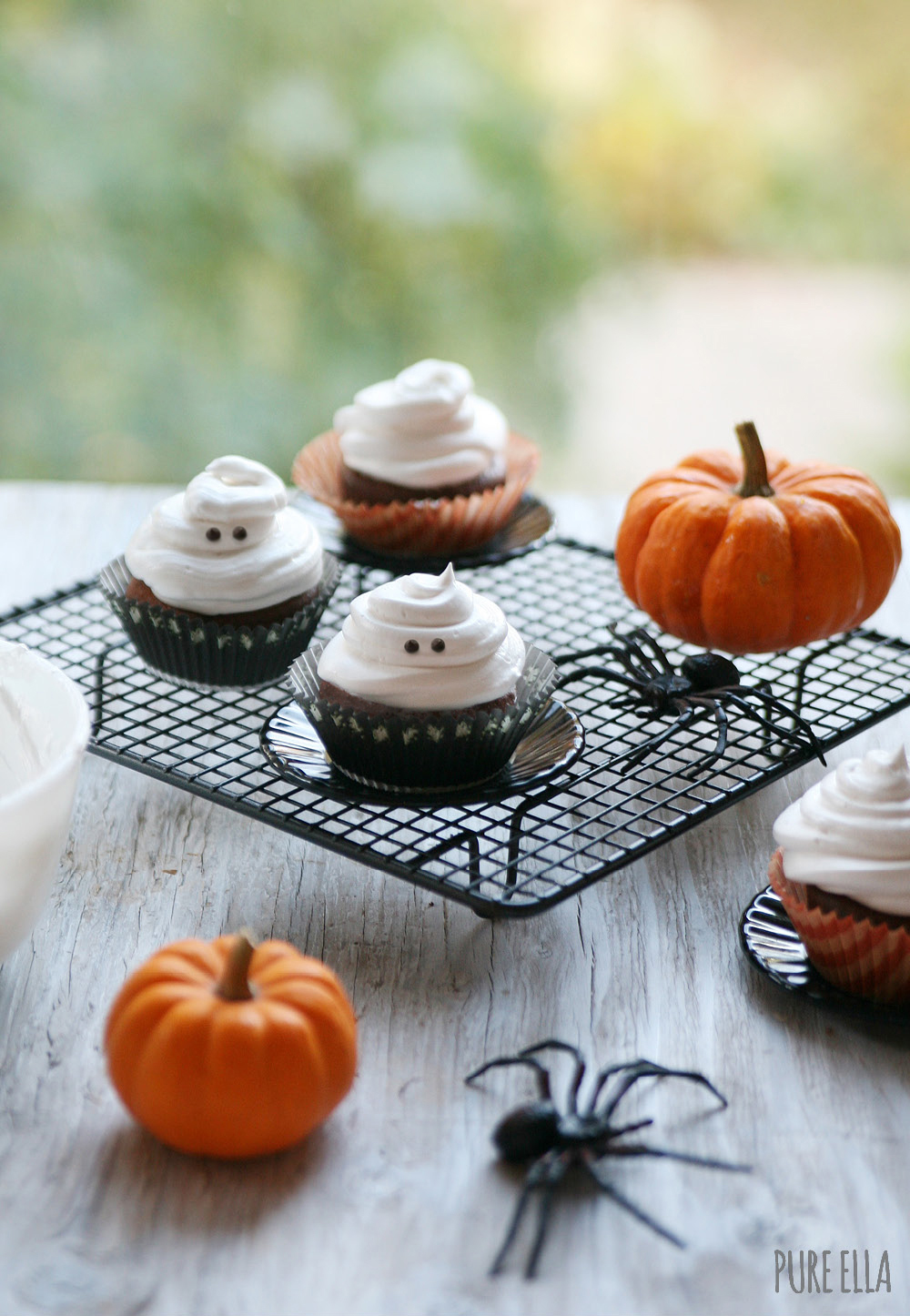 Wishing you all a Happy Halloween!!!
Hope you get delicious treats – without the tricks!! :) xo