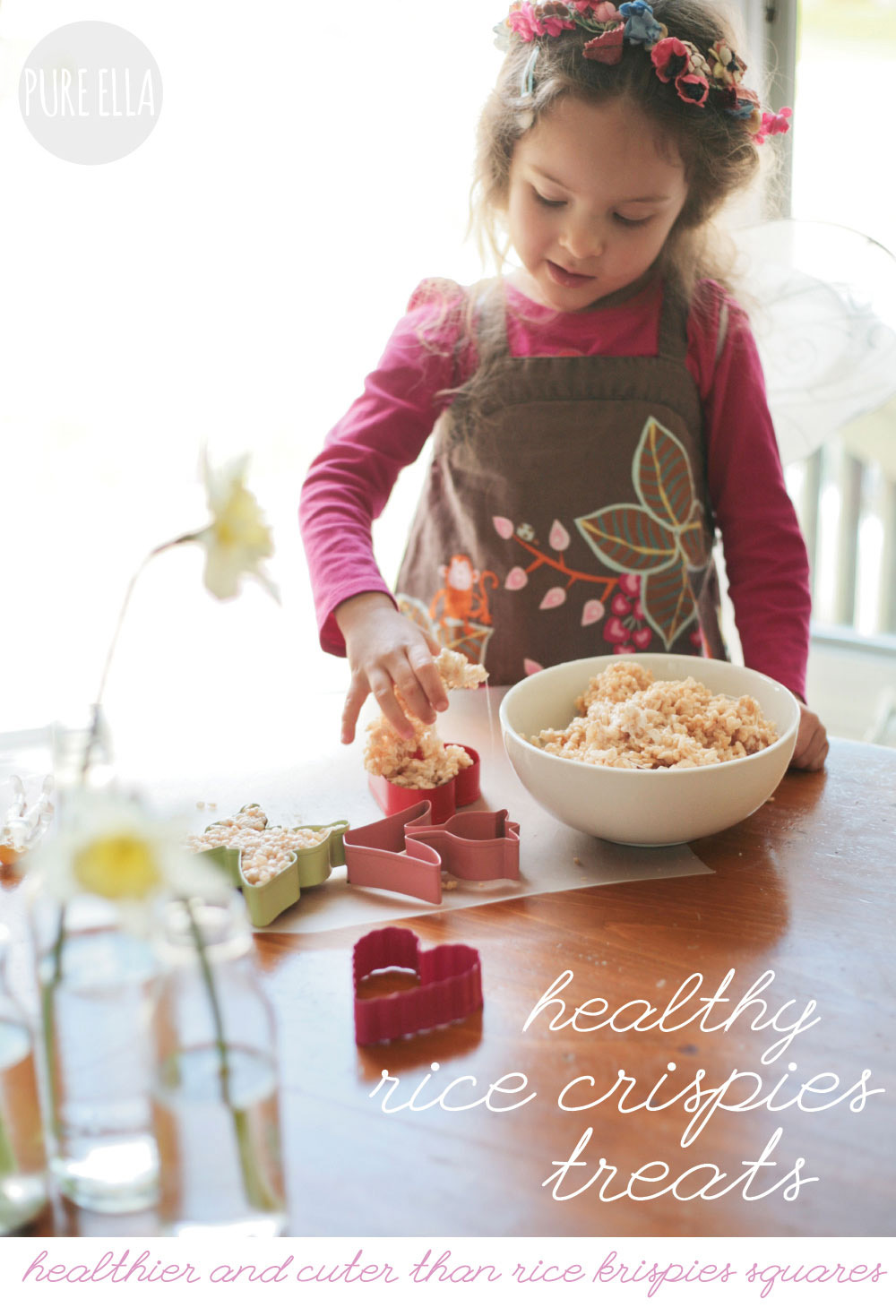 We have just made the cutest little desserts ~ fantastic for even a 4 year old to make!
Rice Krispies Quares are were pretty good! But knowing a little more about nutrition and what's lurking in our products in grocery stores – I was not going to give this treat to my daughter! No-Way!!!
But I still think you can't remove all sweets and desserts from your children ~ life would just not be fun! Right?
The way to do it right is to treat them with healthier alternatives. All-natural, organic, naturally sweetened with no preservatives, added artificial flavours or colours. If you keep it 'clean' – it tastes great, it is healthier, and the kiddos are super happy!
So being totally inspired by Rice Krispies Squares, I thought it would be great to create healthier version of this famous treat! My and my little helper took the idea further and added a cute effect by shaping them into Spring shapes with the help of some spring-inspired cookie cutters.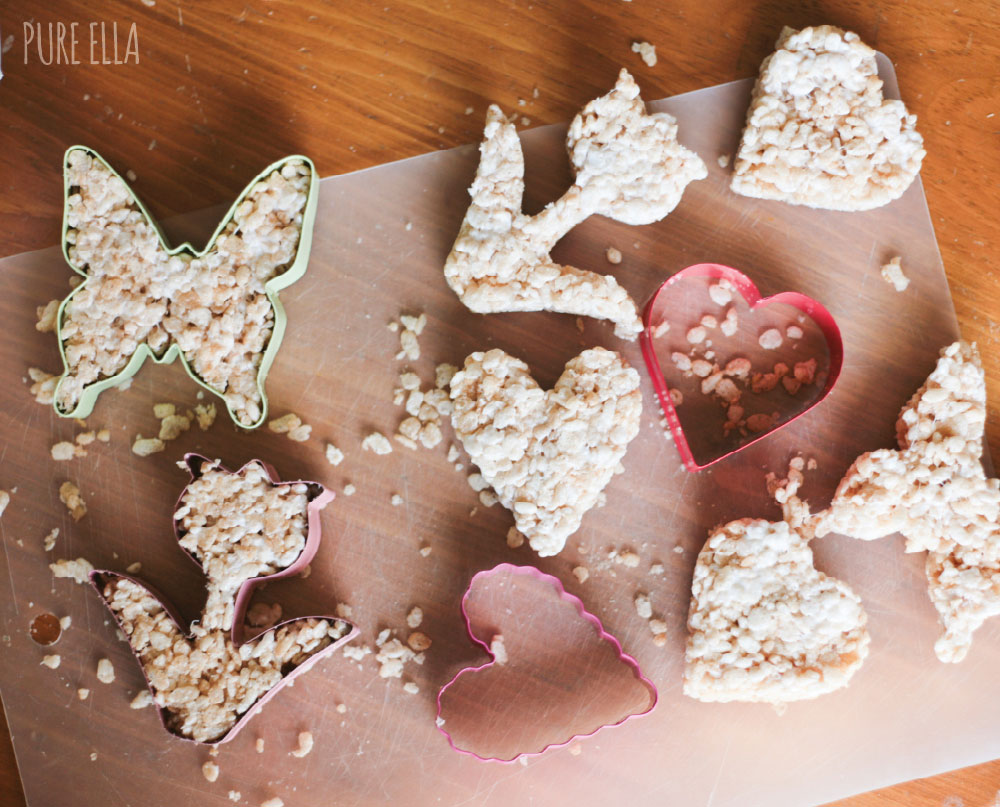 HEALTHY RICE CRISPIES TREATS
gluten free, dairy free, vegan, healthier recipe
Ingredients :
3 tbsp coconut butter
1 package (about 4 cups) of vegan, all-natural marshmallows (you can purchase in health food stores)
6 cups Nature's Path Crispy Rice organic cereal
1 tsp vanilla extract
.
Directions :
Prep all the cutest cookie cutters in the house by laying them on wax paper or cutting board. In a large saucepan, melt the coconut butter over low heat. Add the marshmallows and stir until completely melted. Remove from heat and add the vanilla extract and mix gently. Add Crispy Rice Cereal and stir until it's all well coated.
They need to be shaped right away as they will harden very quickly. If you do involve children in this fun process (and please do), check that the batch of the marshmallow rice mix isn't hot but warm enough to shape. Get the children to squeeze into the cookie cutter shapes. Leave for a few minutes to harden and remove cookie cutters.
So easy, quick and fun….. oh and so delicious…. oh and healthier too than your original Rice Krispies Squares recipe!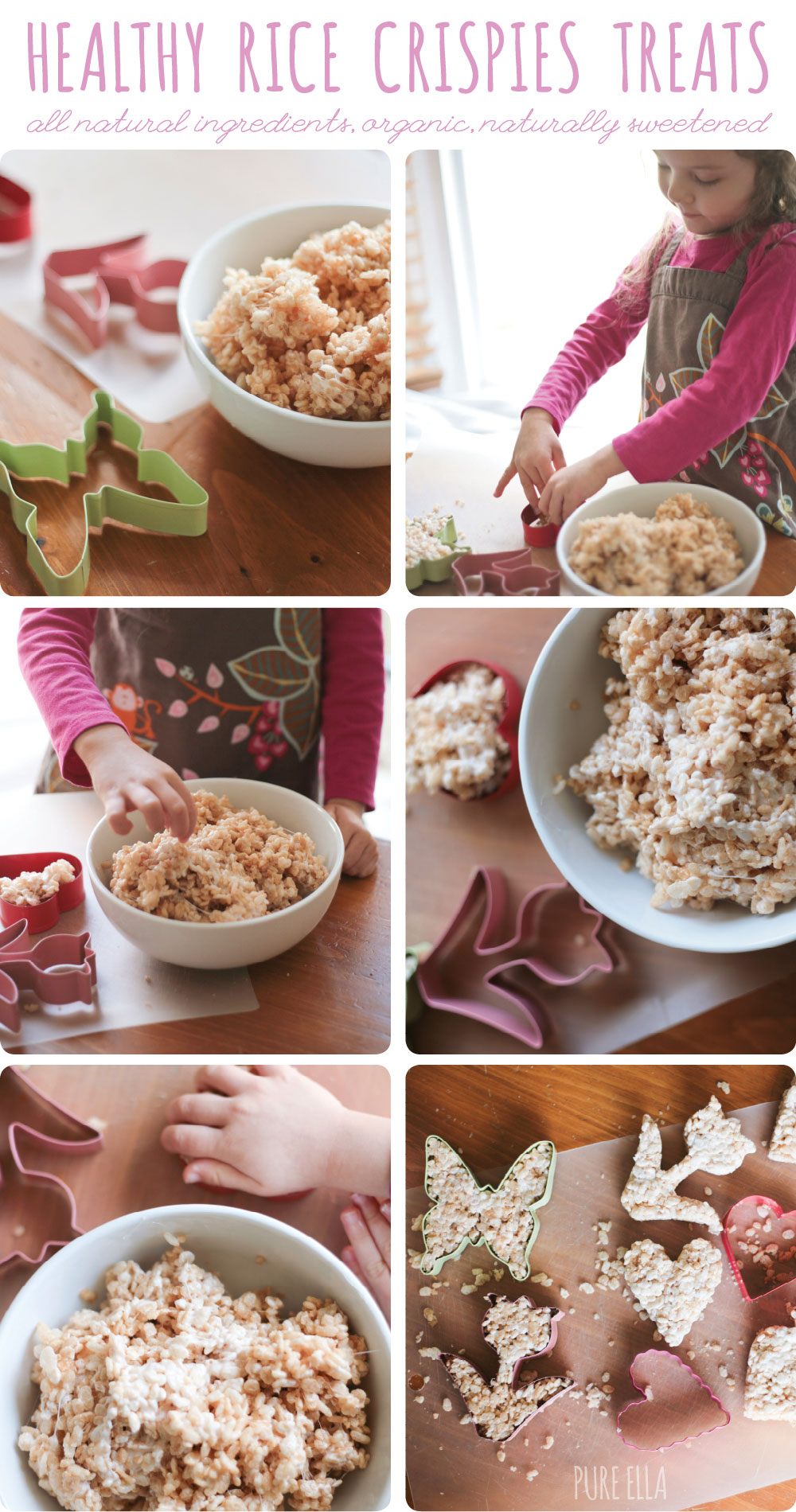 This is a super sweet recipe to make for a playdate with other moms or for dad, aunts, cousins to make with the kiddos and to serve for Mom on Mother's Day (hint hint)!
I love it when delicious snacks are made healthier
~ and don't suffer on taste!
By simply swapping the butter for coconut oil, getting better quality marshmallows that are all natural and going with a simple pure and organic rice cereal…. we created super yummy + healthy snacks. The cute effect with the cookie cutters is just a bonus ~ they do taste better when they're so cute ;)
Plus it made my daughter smile eat to eat from the moment she started pressing the mixture into the cookie cutters till when the last crumb was gone! She snacked in between, got all sticky and dirty! And it was just the best fun ever!! ;)
What are your favourite treat you like to do with kids?
♥
Pure Ella
If you're new to Pure Ella, please sign up for email updates and join me elsewhere:
Facebook

//

Pinterest

//

Twitte

r //

Instagram

@pure_ella