Hello Nutella lovers!
I think it's pretty accurate to assume we all know Nutella! That delicious hazelnut chocolate spread that you want to scoop up with a spoon straight from the jar….??? Yes, but do you? Do you really want to gulp down 5 tablespoons of refined sugar in one go? Usually these instant decisions come with regret right after. And NOTHING tastes as good as healthy feels. So, do yourself a favour, just remove that jar of Nutella from your shopping cart next time you're at the grocery store and send your farewells… because you have better, more delicious hazelnut + chocolate things to look forward to… like these Raw Nutella (inspired) Mini Tarts.
Sure thing I was a Nutella junkie! I was a sugar addict since my teens and throughout my twenties. I ate sugar like I breathed air. I couldn't function without it and didn't. I had some junky candy bar strapped onto me either in my bag or my desk drawer at all times! It wasn't until I got very very sick and I looked for ways to heal from my illness that I finally put two and two together. Sugar = Illness (sooner or later).
A few years later, sugar-detoxed and healthy and happy again, I am loving desserts and loving life again. The biggest lessons I've learned is that you can eat great food and amazing desserts – you just need to learn to see the bad apples. Learning to switch up a few things and make things taste amazing while nourishing not ruining your body.
Sugar not only messes up your health, but body shape too, not to mention your energy level, skin health and emotional health. That doesn't sound so sweet anymore, does it?
But here's the thing, you can eat dessert and sugar – but in it's unrefined form. That's the key. Our bodies can tolerate real healthy sugar sources, just not the bad stuff. What's even more exciting is that there are sweetener options with health benefits!
Simply put, just learn to make healthier dessert decision. You can't have it all… but you can have the better stuff! (You don't want it all anyway, trust me!) You deserve better! Treat yourself to quality stuff – you and your body deserve it!! ;)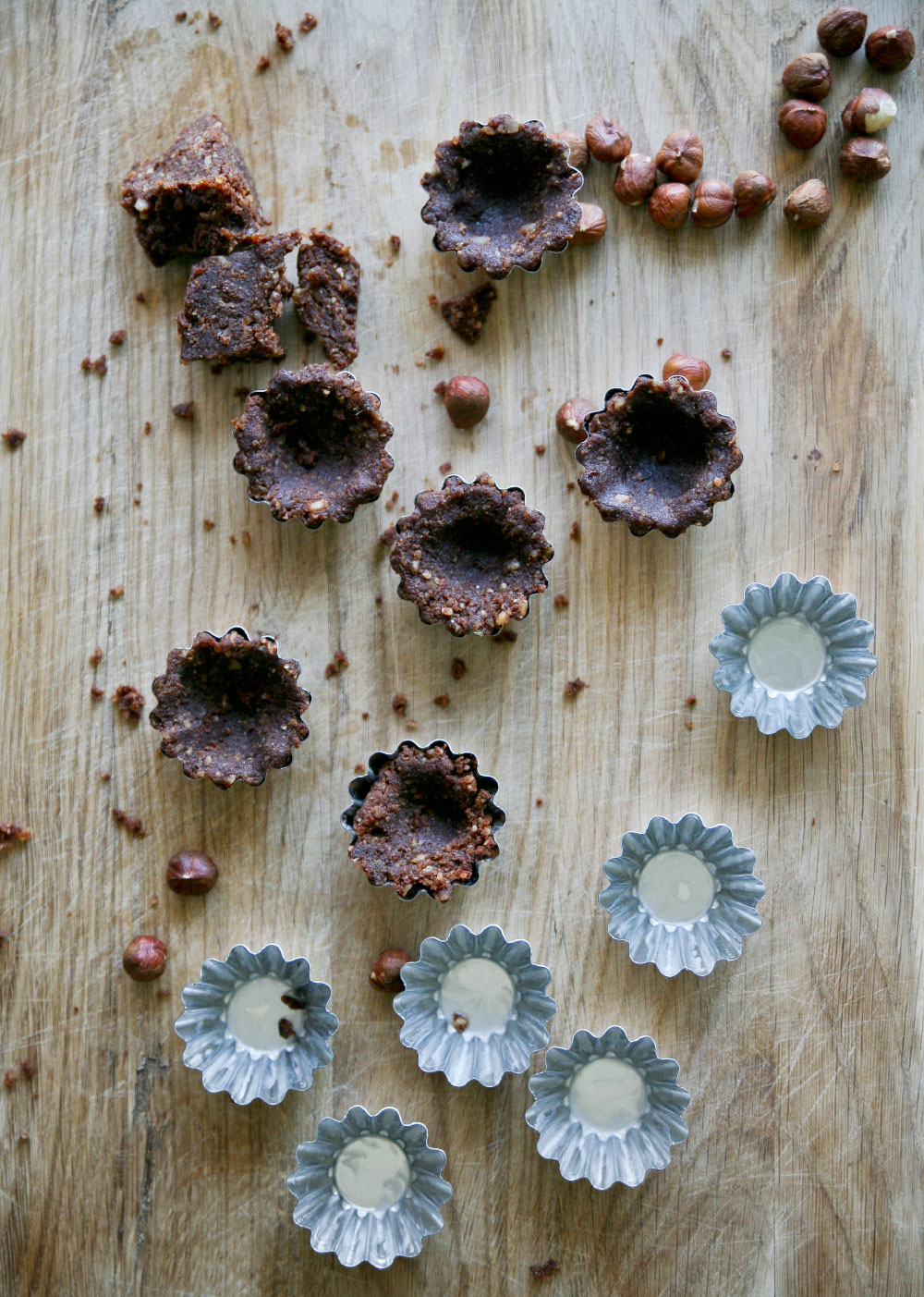 Sugar-free Raw Nutella Mini Tarts :
healthy, gluten-free, vegan and paleo
Equipment needed : food processor, pan for roasting, cupcake molds are great but not necessary*
Makes 12-15 tarts. (exact quantity depends on the size you make)
Base Ingredients :
1 cup hazelnuts + 1/4 cup extra for topping
1 cup medjool dates, pitted
1/4 cup raw cacao powder
1/8 teaspoon of himalayan pink salt or fine-textured sea salt (optional)
Filling Ingredients :
1/2 cup cashews
1/4 cup hazelnut (or almond) spread
1/2 cup (or more) pure maple syrup, yacon syrup or pure liquid honey
3 tablespoons of cacao powder
How to make Sugar-free Raw Nutella Mini Tarts :
1. Soak the cashews in warm water while you gather the rest of the ingredients and prepare the base.
2. For best results, dry roast the hazelnuts on a pan for 3-4 minutes, stirring often and being careful not to burn them. Transfer the hazelnuts onto a plate lined with a kitchen towel (a dark colour preferably) and rub them to remove most of the skins.
3. Add all of the hazelnuts into a food processor and grind until small crumbs form. (Turn off the food processor and remove 3-4 tablespoons of ground up hazelnuts for topping). Add in the dates, cacao powder and pinch of salt and continue processing until a sticky 'dough' forms. Remove from the food processor, roll up into a ball, cover in clear plastic, or an airtight container and place in the refrigerator while you make up the filling. (you don't even need to clean the food processor yet)
To make the filling :
4. Rinse and strain the cashews well. Place in the food processor and grind until smooth, about 5 minutes. Add in the hazelnut spread, liquid sweetener of choice and cacao powder and continue mixing until well combined, about 3 minutes.
To assemble the Raw Nutella Mini Tarts :
5. You can use mini tart molds (like shown in these photos) but you could also use a cupcake baking pan or not even use a mold.
If using tart molds, rub the bottom with a little liquid coconut oil so they come out freely.
*If not using any molds, simply shape the 'dough' into golf-sized balls then press your thumbs into the centre to make up a well. Shape the sides evenly around and press gently down onto a flat surface to create a base so they don't fall over. Shape all the bases and place in the freezer for 5-10 minutes to keep them firm. (you may warm up the 'dough' too much while shaping them with your hands and they may become too soft and delicate).
6. Remove from the freezer, and the molds (you can use a toothpick to help them lift off, if need be). Add the filling to the centres. Top with reserved ground up hazelnuts and place in an airtight container and in the refrigerator until serving time. Enjoy! ;)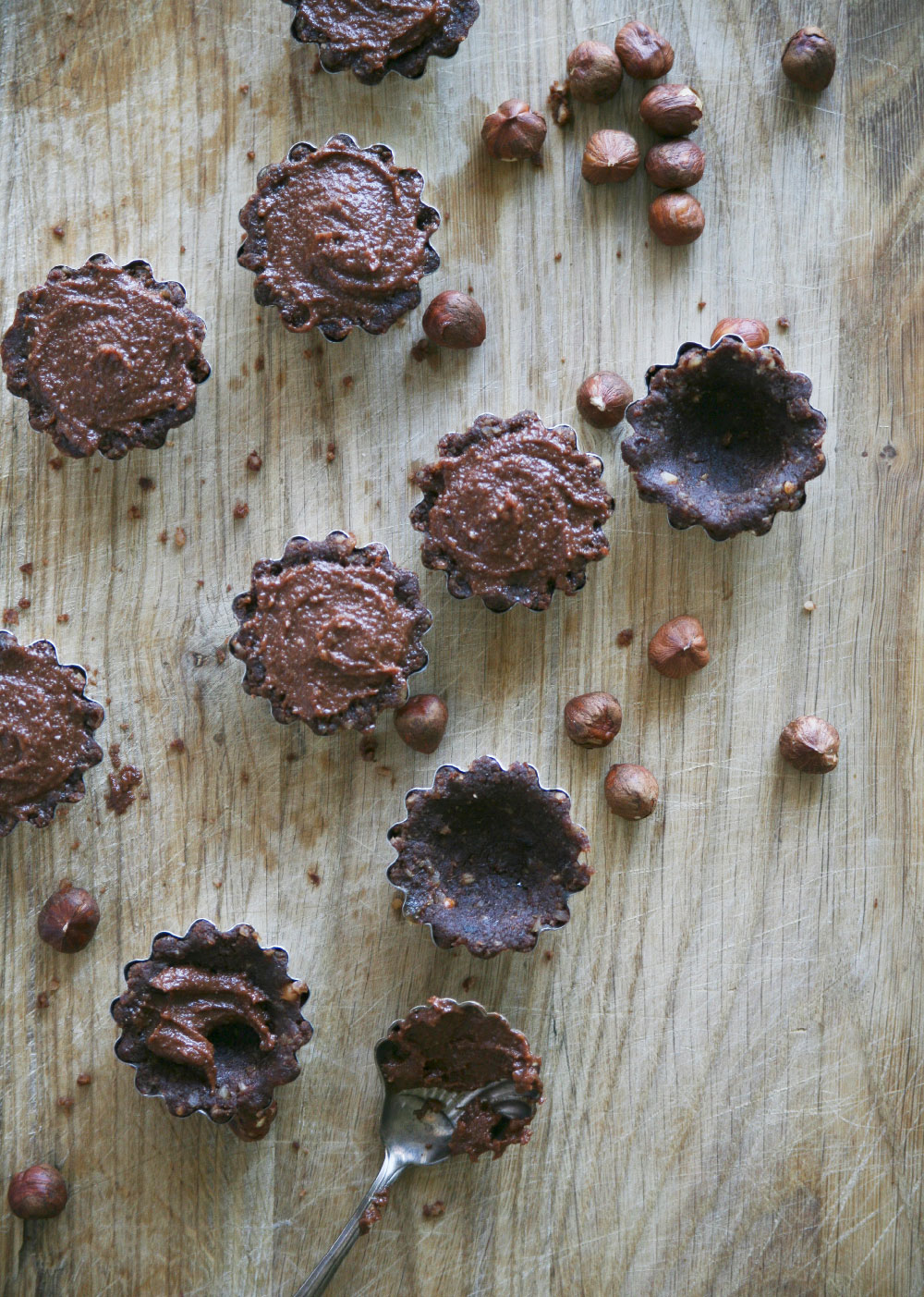 No jar of zero-nutrition Nutella was actually used in this recipe – only real, delicious nutrient-dense ingredients that taste AMAZING (hazelnutty & chocolatey) and are actually good for you were!! Desserts can be fun and actually nutritious! Enjoy!!