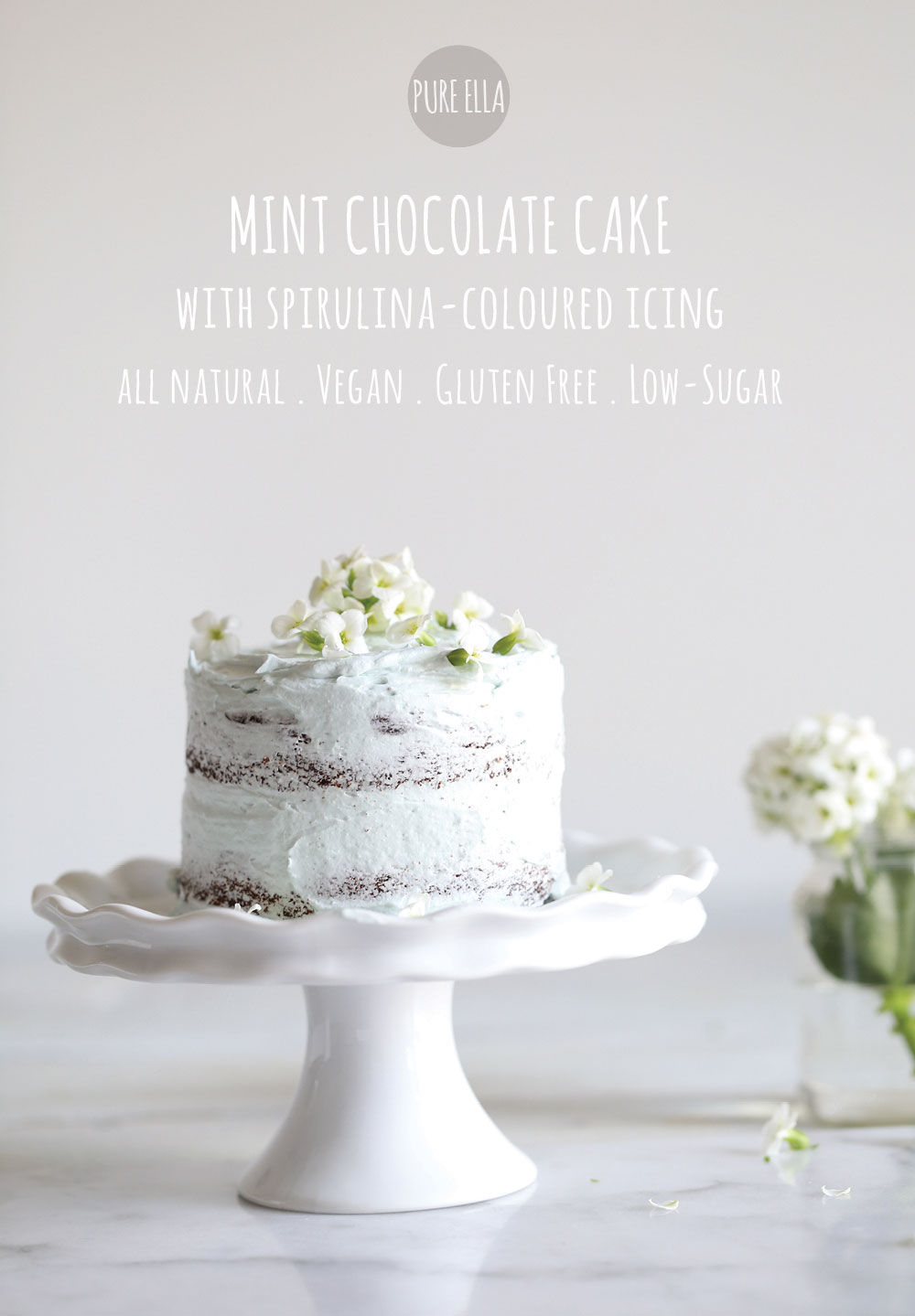 Today's recipe is the best! It has cake! Gluten Free Cake!
Who doesn't love cake? This cake is also made healthier with great ingredients and it is naturally gluten free, dairy free, egg free/ vegan, and is also nut and soy free. And the best part is that it's also low-sugar SO this means you can indulge without the guilt! And did I say it's amazing?
This gluten free chocolate mint cake recipe is my new favourite and I hope you'll also love the fact that I used Spirulina to add a natural minty colour – I LOVE that this cake doesn't have food-colouring!! Not sure if you know, but food colouring isn't really supposed to be added to food! It is highly toxic and terrible for you and your health! Don't ever eat it! Do eat Spirulina however – because spirulina is a natural superfood algae that is awesome! And it adds the most beautiful shade of mint you've ever seen!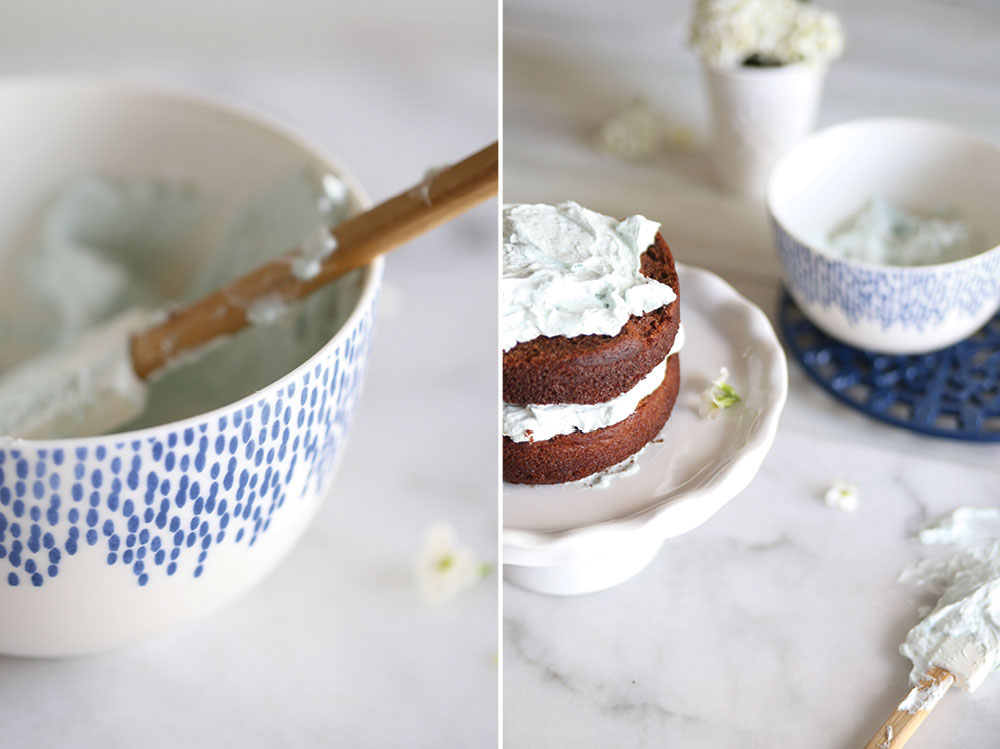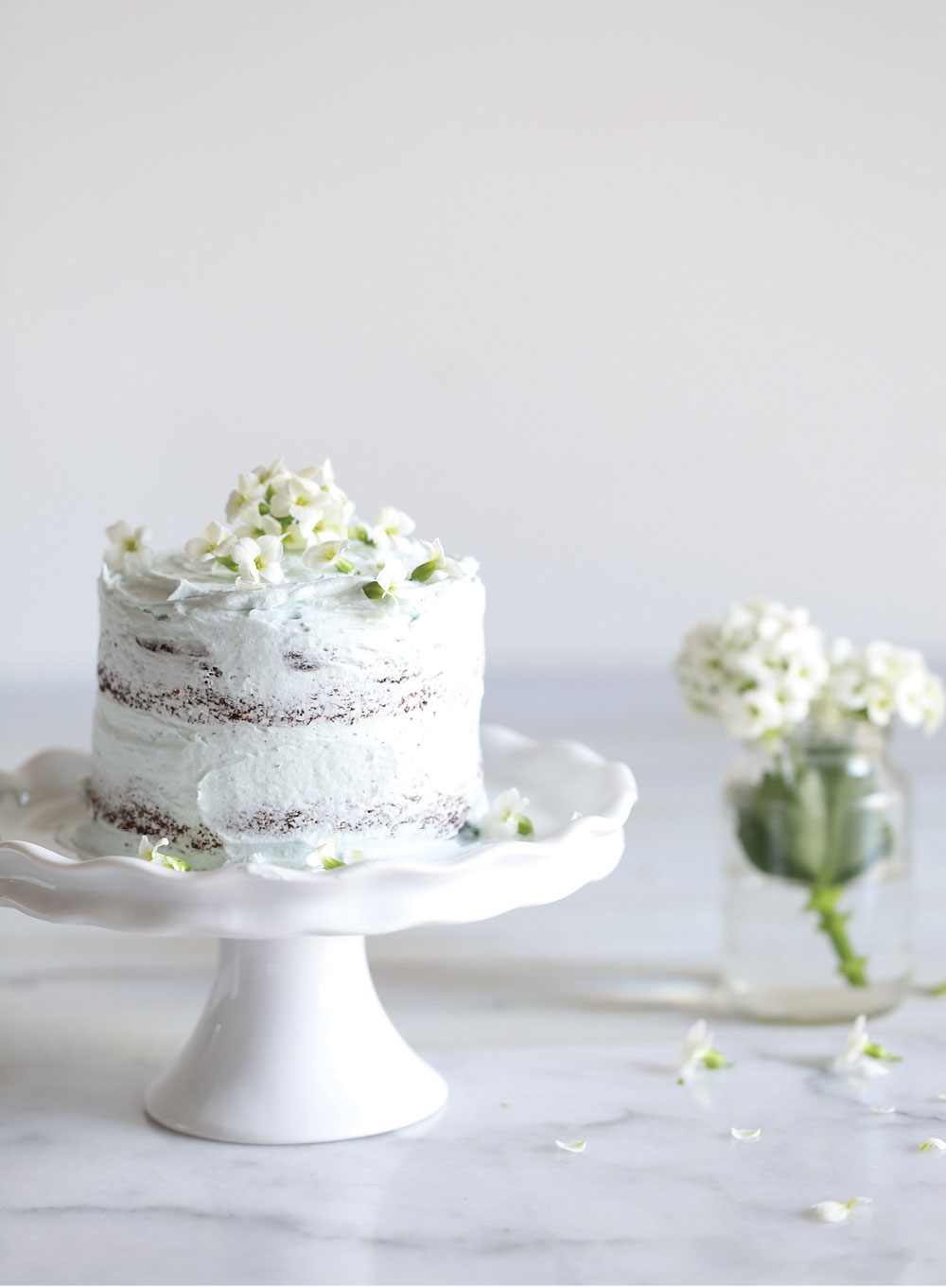 Mint Chocolate Cake
2016-03-19 14:44:42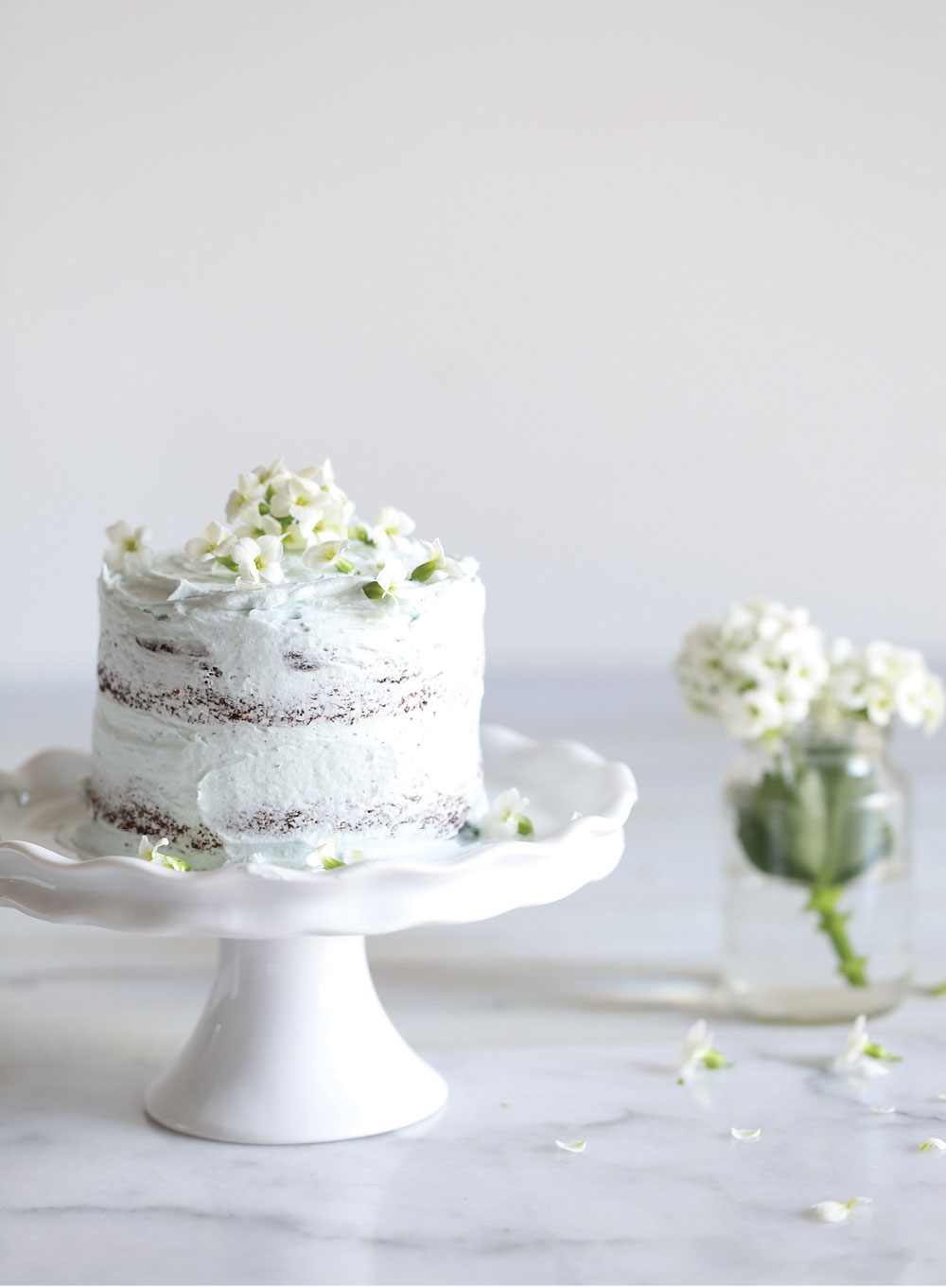 Serves 6
A delicious gluten-free, vegan/ dairy-free and low-sugar cake. Nut free and soy free.
Ingredients
1 1/2 cup all-purpose gluten-free flour (or 1 cup gluten free + 1/2 cup spelt flour)
1 1/2 teaspoons baking powder
1/4 teaspoon baking soda
1/4 teaspoon salt
1/4 cup cocoa powder
1/2 cup coconut palm sugar*
1/4 cup powdered stevia*
1/2 cup hot coconut milk (I used So Delicious) (or hot water)
1/3 cup coconut oil (melted) or grape seed oil + extra for greasing the pan
1/2 cup unsweetened apple sauce
1 teaspoon vanilla extract
* If you prefer not to use Stevia, use 3/4 cup coconut palm sugar
Frosting
Dairy-free Low-Sugar Frosting from here : http://pureella.com/coconut-lemon-cake-gluten-free-vegan/
replace the lemon extract with 3/4 teaspoon mint extract
1/4 teaspoon Spirulina powder
Instructions
Line a small baking pan (4"D) with parchment paper at the bottom and grease the sides and preheat oven to 350°F.
Sift together all the dry ingredients (except the sugar) and set aside.
In a medium bowl, add in milk, oil, apple sauce, vanilla extract, and sugar and stevia. Mix gently with a wooden spoon until the sugar is melted.
Pour in the liquid mixture into the dry ingredients and mix gently to combine together well. (If clumps still develop, you may use an immersion blender and mix the batter for a few seconds until a smooth batter is formed.)
Let stand for about 15 minutes, then pour into the baking pan.
To make a two layer cake, pour out 1/2 the batter and bake 2 cakes separately.
Bake 1/2 the batter in a 4"d pan for about 20 minutes at 350°F. Check with a toothpick in the centre for doneness.
(If making 1 8" cake, bake for 35-40 minutes.)
Let cool for about 15 minutes. Run a knife around the perimeter of the pan to release the cake from the sides, then, place a plate on top and flip the pan over. The cake will drop onto the plate. Carefully remove the parchment paper from the top. Place another dish on top and flip again to invert the cake top side up.
Repeat in the same baking pan if a second cake is desired for the two-layered cake.
Notes
To assemble the 2 layer cake, trim the tops of the dome-like cakes.
Scoop a about a tablespoon of the frosting and spear the bottom of your serving plate (this is to prevent the cake from sliding off). Place one layer on the bottom of the cake plate, then scoop about 1 cup of the frosting on top and spread out evenly. Place the second cake on top. And another cup or so of the frosting and spread out onto the sides. Add more frosting to the sides and spread out all around until a desired coating is achieved.
Top with fresh flowers or fresh fruit or a cake topper if desired. Serve immediately.
It's best not to refrigerate this cake as it may become dry in flavour. Gluten-free and Vegan cakes tend to do that. So for best results, enjoy the day it's baked.
Pure Ella http://pureella.com/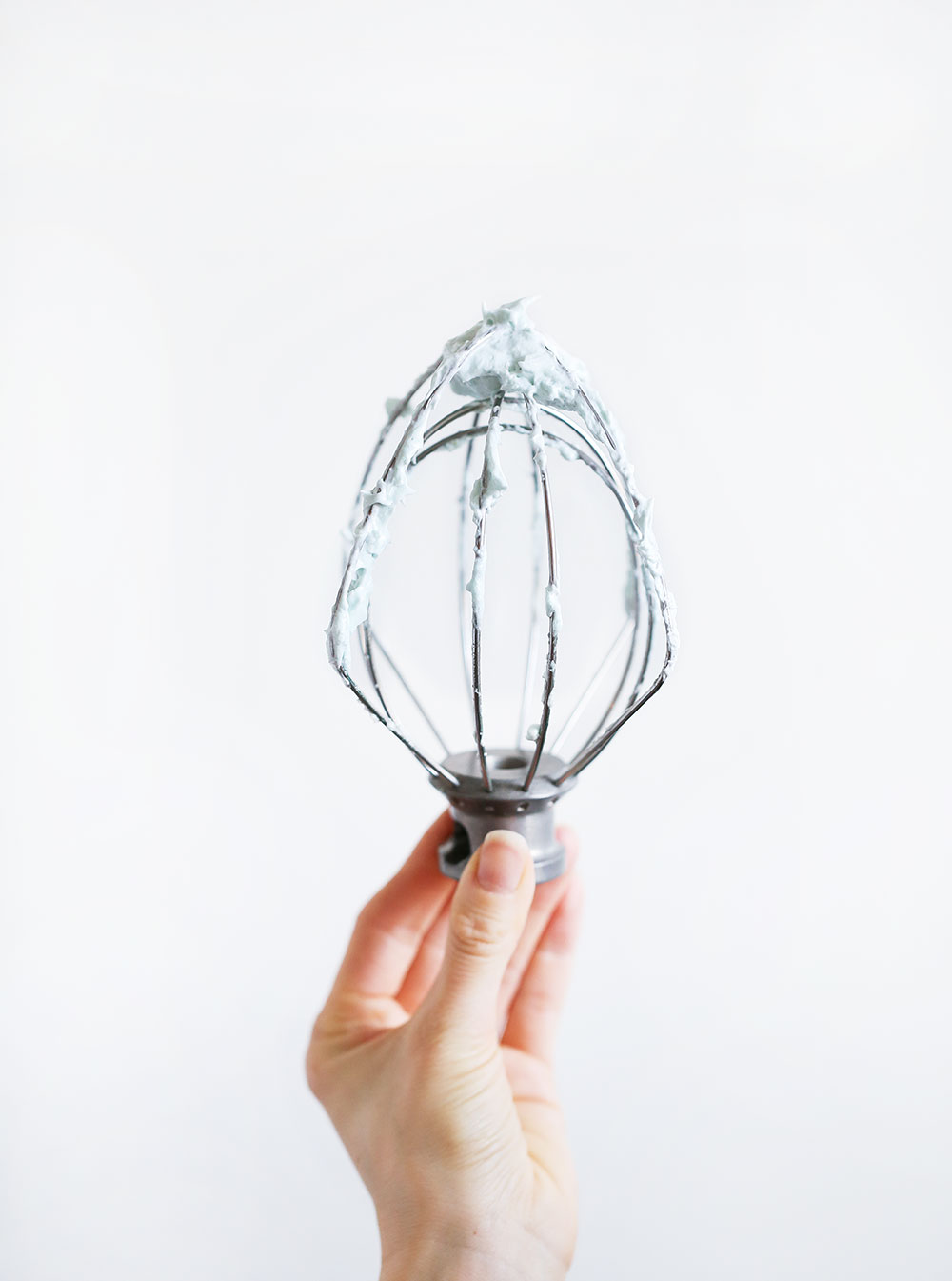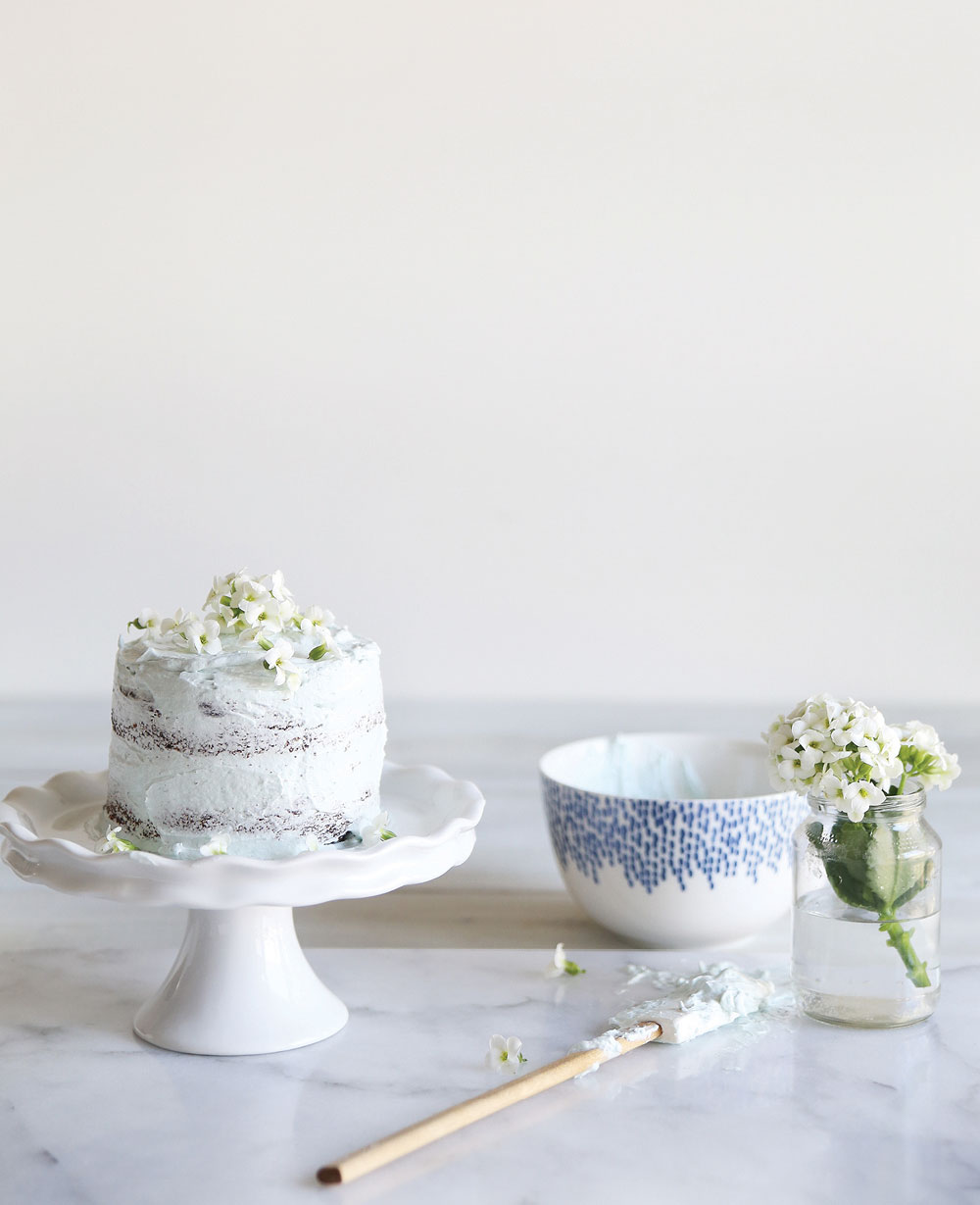 (Aside from the cake, I just love my new bowls from Martha Stewart's new Stockholm collection that are exclusively available at Macy's!)
This cake is really cute and small! It's only 4″D so the recipe makes two layers. But if you're after a larger cake, you can easily double the batter ingredients.
You could also make gluten free cupcakes from this same batter and bake them for about 20-25 minutes. Makes about 12 cupcakes.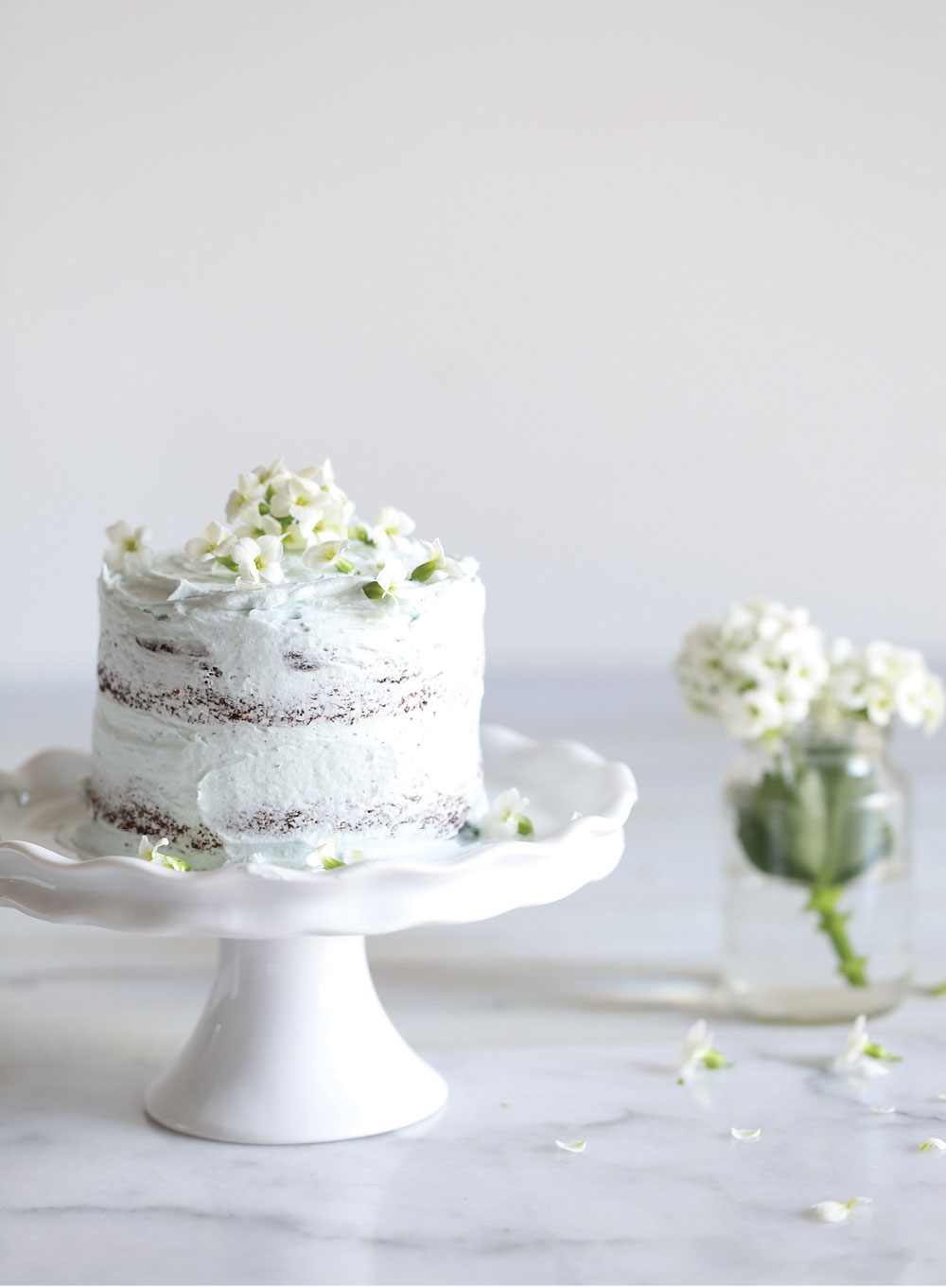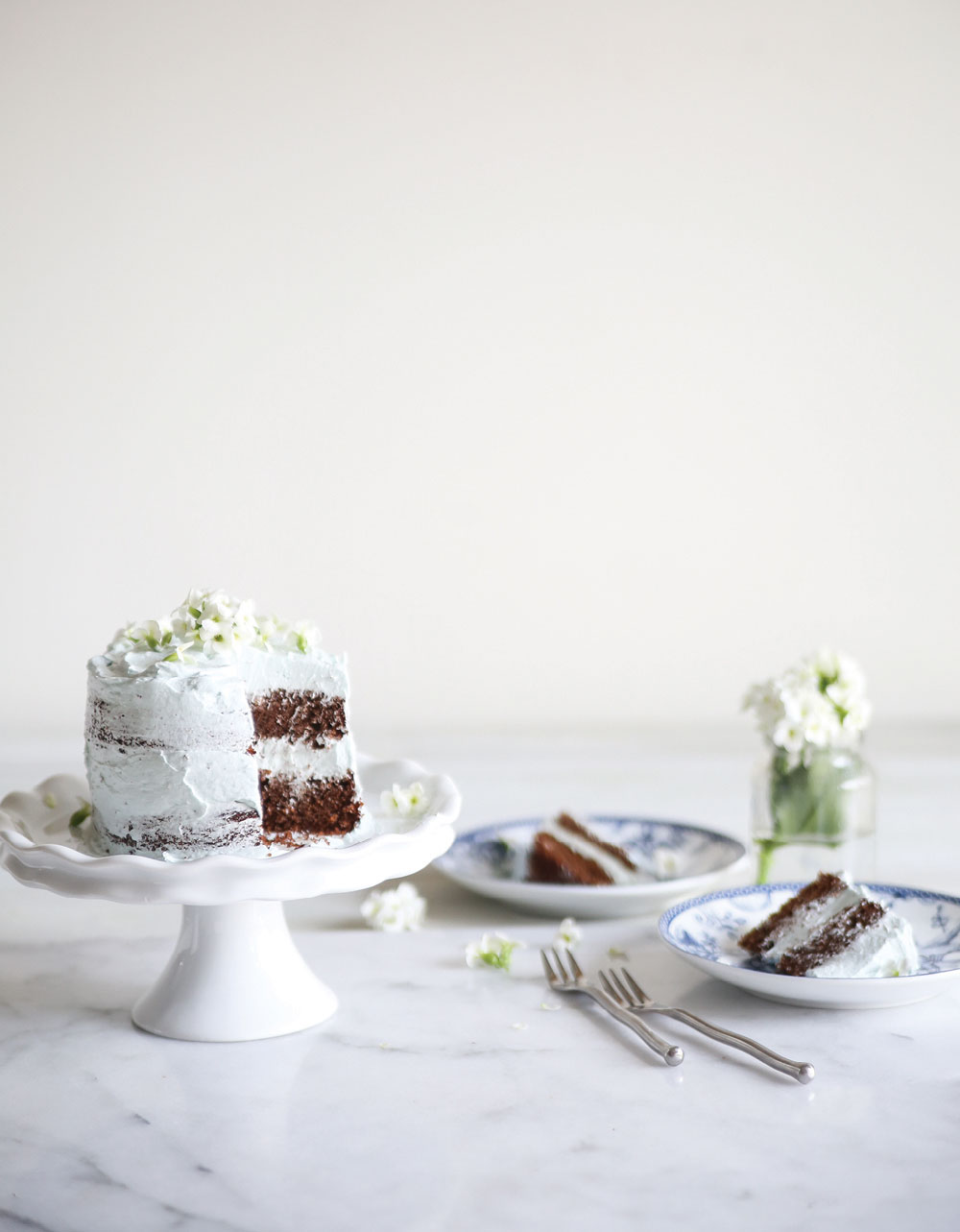 I made the frosting from this recipe because it already works with a good base – why reinvent the wheel? It is rich and creamy and holds up great!
This frosting is a huge batch that would cover two cakes like this. Simply make 1/2 of the frosting OR make the full batch and then freeze half that isn't used. Having frozen frosting on hand is a life saver for those days you want to bake something quick like cupcakes and already have the frosting all ready to go. A quick defrost (overnight in the fridge is best) and a quick whip in the mixer will give you a super smooth frosting again. I always freeze mine and keep that frozen part neutral so that I can quickly change up the flavour or colour :)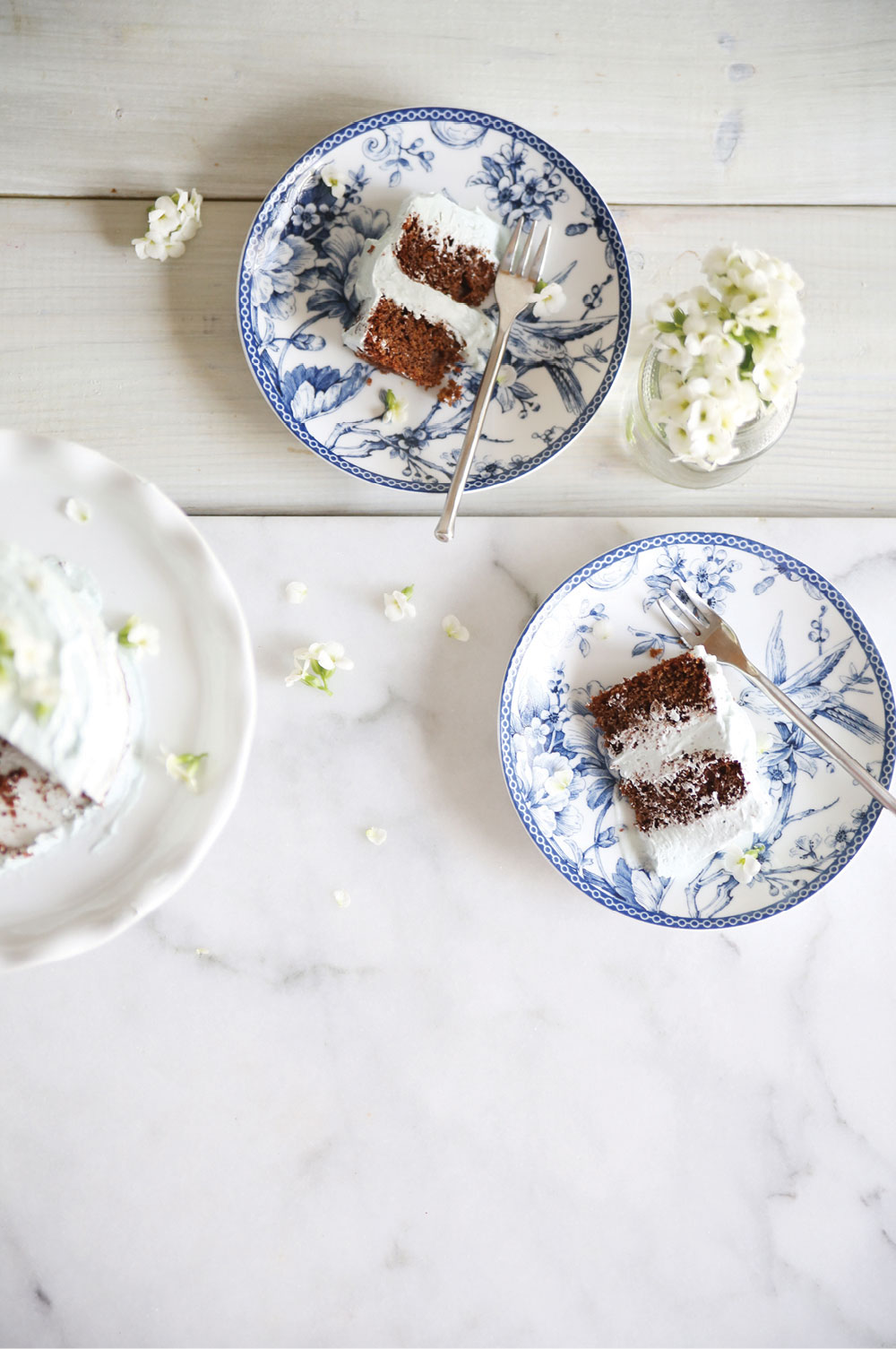 I hope you will enjoy this Vegan Gluten Free Chocolate Mint Cake recipe soon! I can't wait to make this beauty again! It was a huge hit especially with my youngest 21 month old Mia :)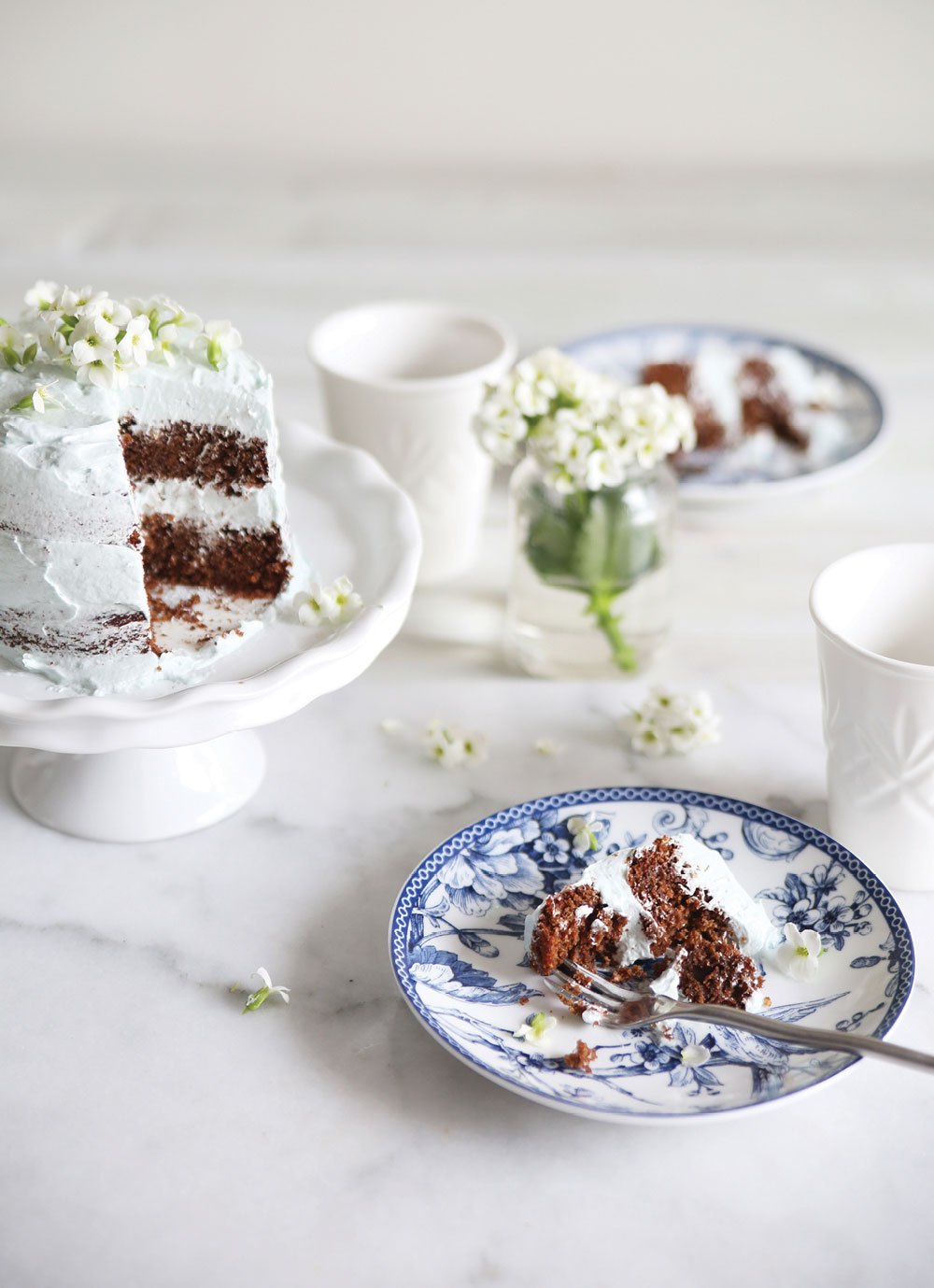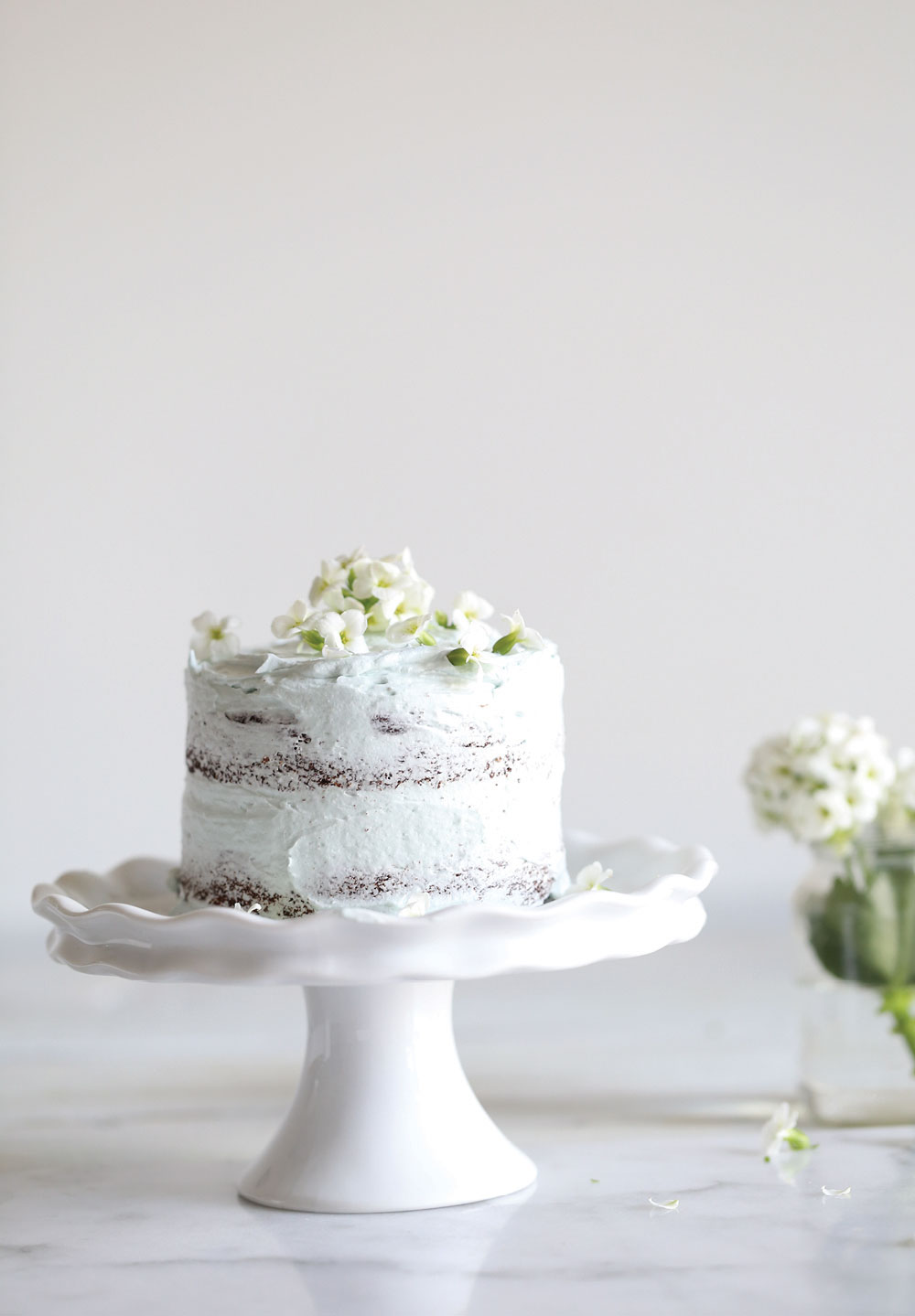 Summary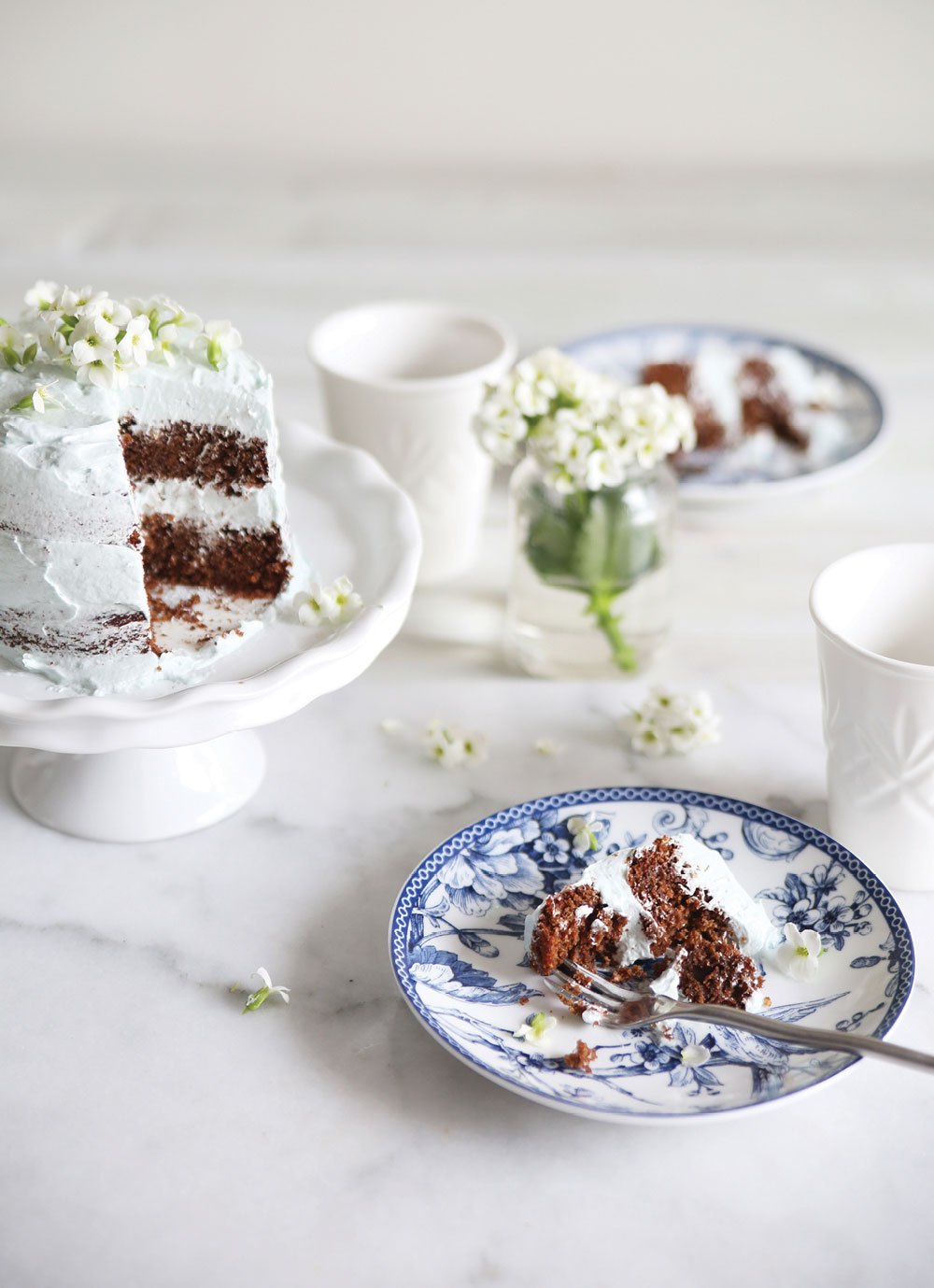 Recipe Name
Mint Chocolate Cake : gluten free, vegan, low-sugar
Published On
Preparation Time
Cook Time
Total Time
Average Rating





Based on 2 Review(s)