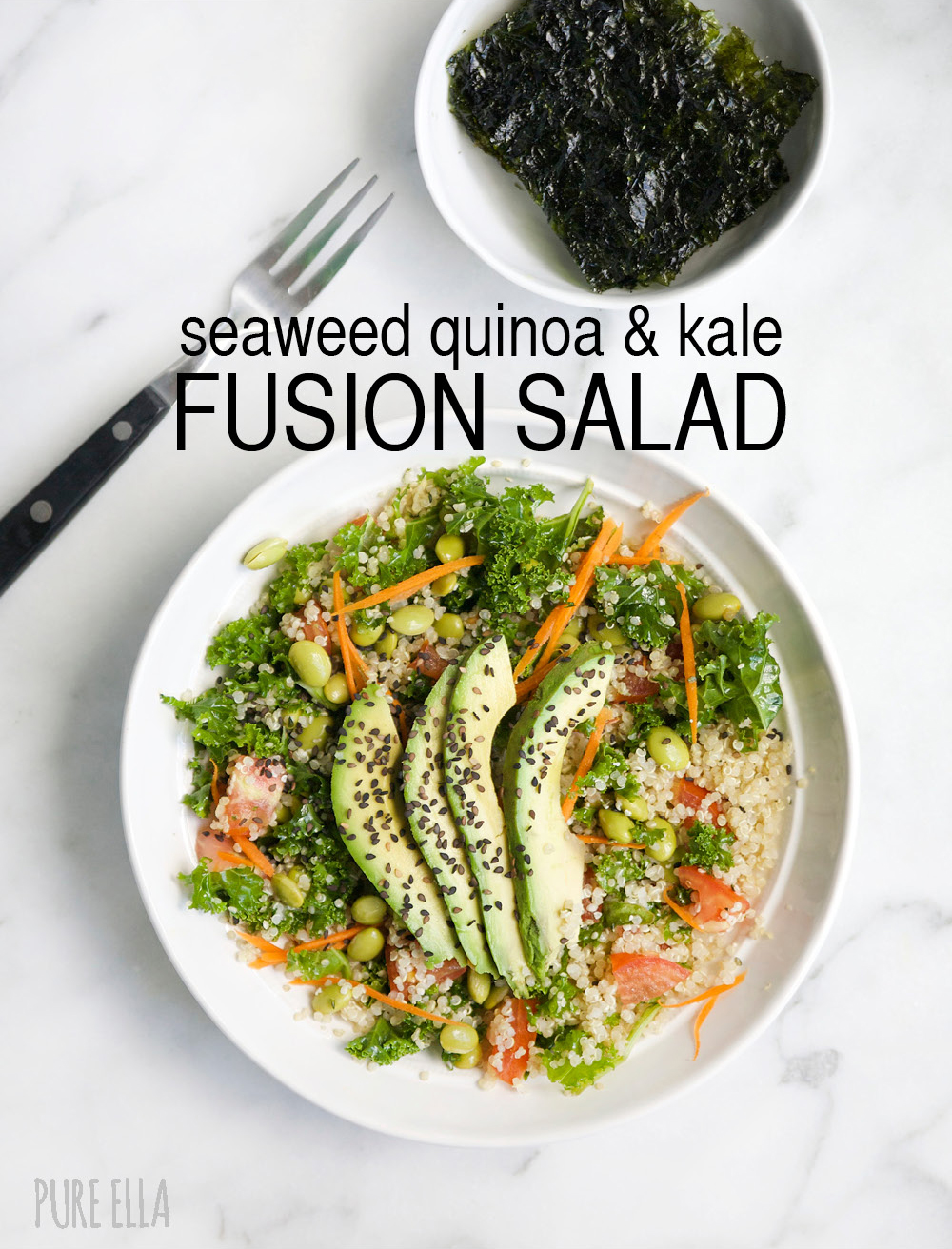 I LOVE salads! It's a well known fact!
If you follow me on Instagram, I pretty much have a salad feed going on. (If you don't, you definitely should @pure_ella) :)
I have a salad almost daily and when I don't I really wish I had a salad near the end of the day. Basically I know my body well by now and I know that my body thrives best on daily salads!
Something delicious with endless possibilities and good for you. It's crazy to think that people don't love salads so much and I feel like it's something that needs to still inspire people to go and make one. I know these people. One of them happens to be my husband). He will eat one if I make him one and set it right in front of him. But even if I say; "hey, would you like a salad?" I have yet to hear a "yes" on that one! And the guy wouldn't even have to go and make one – I mean I would do all the work he just has to eat it – but no, he will probably never want to eat a salad. Like never ever.
So that makes me the official salad maker in the family and that's great because salads are easy!
Most of my salads are made from random ingredients I already have in the fridge. And a lot of my ingredients are usually leftovers from the day before. Like the quinoa or possibly the edamame beans.
So salads are a very easy dish for me. And yes, it's a dish as in a meal! I don't like just garden salads – those are great as a side dish with dinner but I like my salads to be filling. This would include a grain and a protein source. The quinoa and edamame here works so well together with the kale and avocado and seaweed with our Asian fusion. Yum!!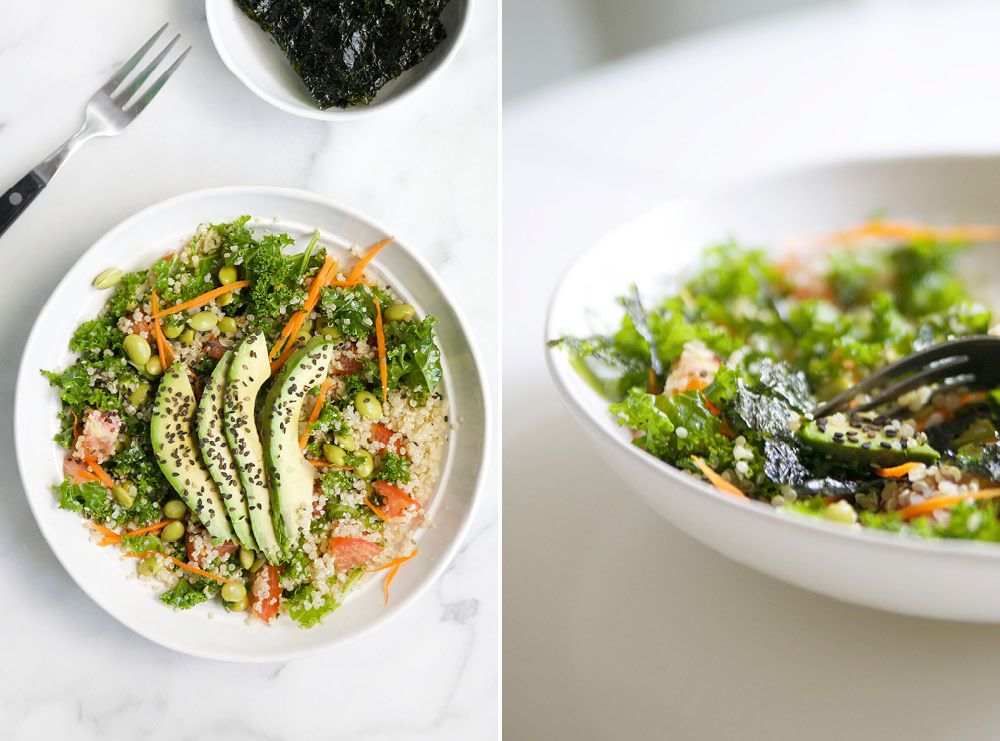 Seaweed, Quinoa & Kale Fusion Salad
Ingredients :
2 handfuls of stemmed kale, torn up into smaller pieces
1/2 – 3/4 cup cooked quinoa (great to use leftover)
roughly 1 cup organic edamame beans
1 medium carrot, julienned or cut into matchsticks
1/2 tomato or red pepper, diced or sliced into thin strips
1 avocado
2 (17 g) packages of roasted seaweed
Simple Asian Dressing
Ingredients :
1/4 cup sesame oil
1/4 cup grapeseed or olive oil
2 teaspoons rice vinegar
1 teaspoon soy sauce (look for gluten-free if that's important)


Directions :

Rinse and prep the kale and veggies. Cook quinoa and edamame (use leftovers if possible).
Toss all the ingredients together in a large bowl or layer onto two salad plates. In a small bowl, combine all the dressing ingredients and whisk until well combined and thickened. Drizzle over the salad.
Top with crumbled or chopped seaweed and serve.
Note : I like to reserve the seaweed until serving time to keep it nice and crisp. Otherwise once the seaweed mixes with the dressing or other wet ingredients, it starts to soften. This also works but it's just a preference issue.
So this is just one of my many favourite salads! I usually make up something quick and do my best to snap a pic with my iPhone (that's if I'm not too hungry to just eat it!). But the other day I realized how unbalance my sharing is with regards to my blog and my Instagram (@pure_ella). IG – so many salads Blog – hardly any salads. So this time I took out my professional camera and decided to make it fancier and actually post it here! Aren't you glad I did? :)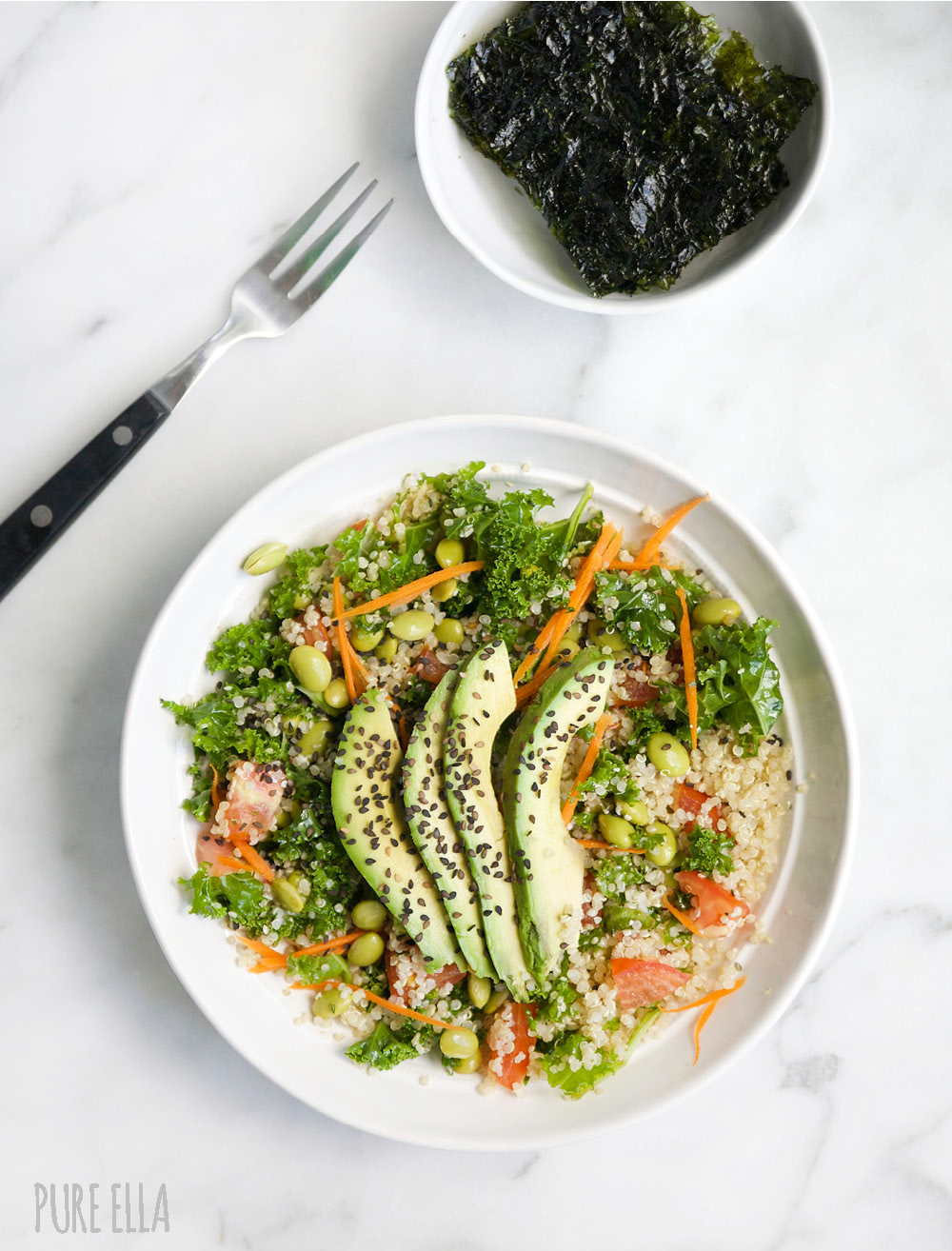 There's a lot of goodness going in this salad but mainly it's an excuse to eat more Seaweed! Do you eat seaweed often? Well, it doesn't look like much, but seaweed is a crazy amazing superfood that you should learn to LOVE! Here's why :
Seaweed Health Benefits :
purifies blood
high in iodine which is important in thyroid function and brain health
loaded in calcium (more than broccoli and milk)
has some protein (1 snack size package has only 1 gram, but it's always something)
contains Vitamins B12 which are very hard to find in a plant-based diet
high in fibre – soluble fibre that is which helps to slow down digestion – this is great for the absorption of sugars and cholesterol.
.
What Seaweed to look for :
Organically grown seaweed is pretty much non-existent because its farming source is the wild ocean. So don't worry about organic brands per se. What you should look for is the additives, preservatives or sometimes food colouring added to it. So just check the ingredient list to keep it clean. And eat up!
What are your favourite ways to eat seaweed?