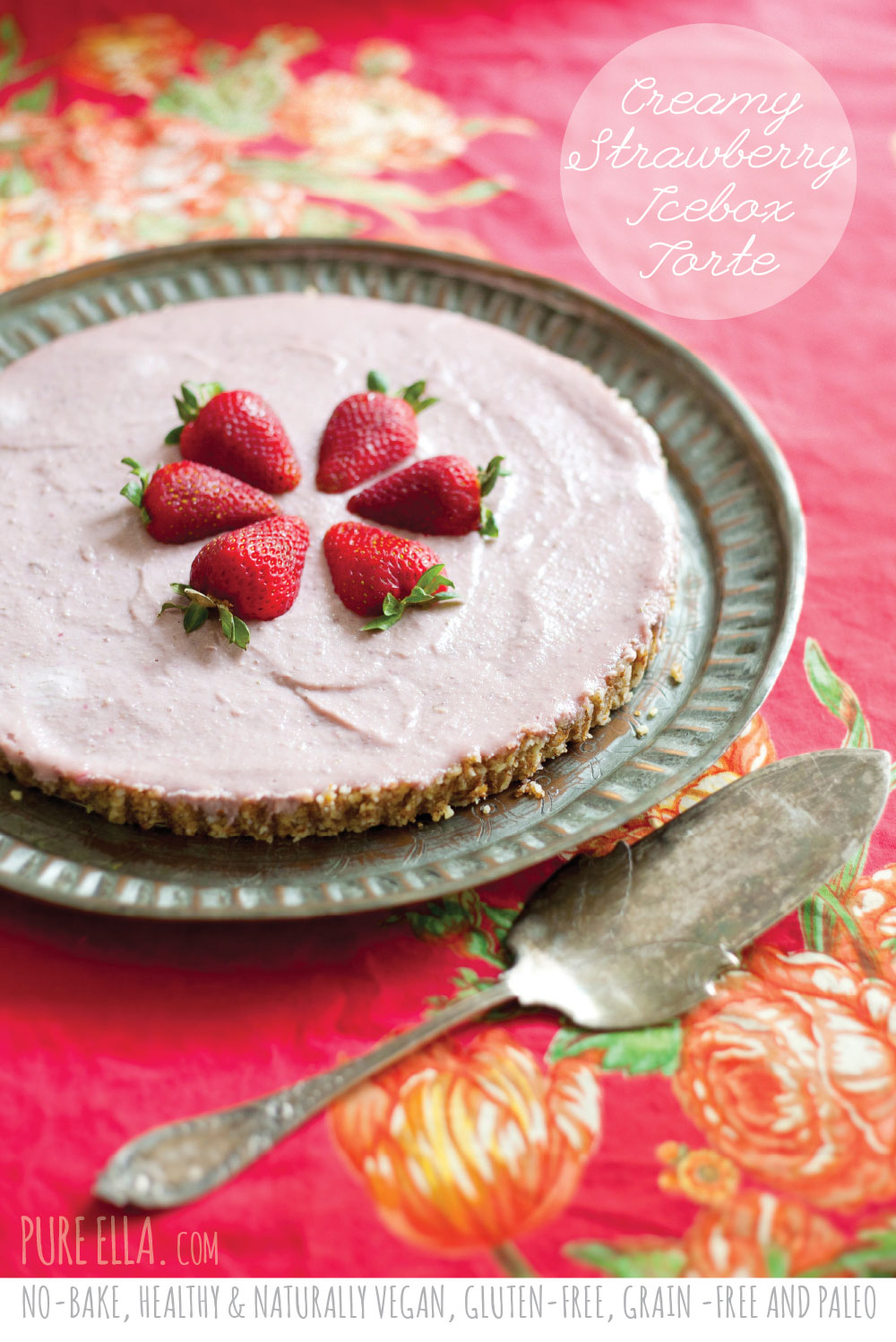 Who doesn't love fresh organic strawberries…. it's the true taste of Spring and we love them just plain rinsed in a big bowl, juicy and perfect.
But I also love beautiful strawberries in a beautiful healthy dessert.
Now I know there's recipes that take perfect gorgeous berries and dip them into chemically ladened whipped cream, or toxic low-fat cream cheese or poured over with Jell-O – (can you get more artificially flavoured/ prepared/ coloured 'food'?) I think not. And what's worse is that these recipes have the audacity to call themselves 'Healthy'! No wonder people are so confused….
So if you want a really delicious yet healthy dessert that is actually good-for-you… keep it simple. Keep the ingredients natural and clean. This dessert is really a feast for all your senses and it made with great natural organic ingredients.
This Raw Vegan Strawberry Cheesecake is a perfection.
It is No-Bake, healthy, naturally vegan (so dairy, egg and geletin free), gluten-free, grain-free and paleo. It is also soy free. A very healthy, allergen-friendly dessert.
If this could get an award for the best healthiest spring dessert ~ that's all vegan and of course all gluten free ~ it would be an easy win!
Proof was in my husband's excited expression when he took a bite, he could not believe it and kept coming back to the fridge for more, even after his big slice was all gone…. (and yes, he kept his fork in the fridge next to it for easy self-serve!)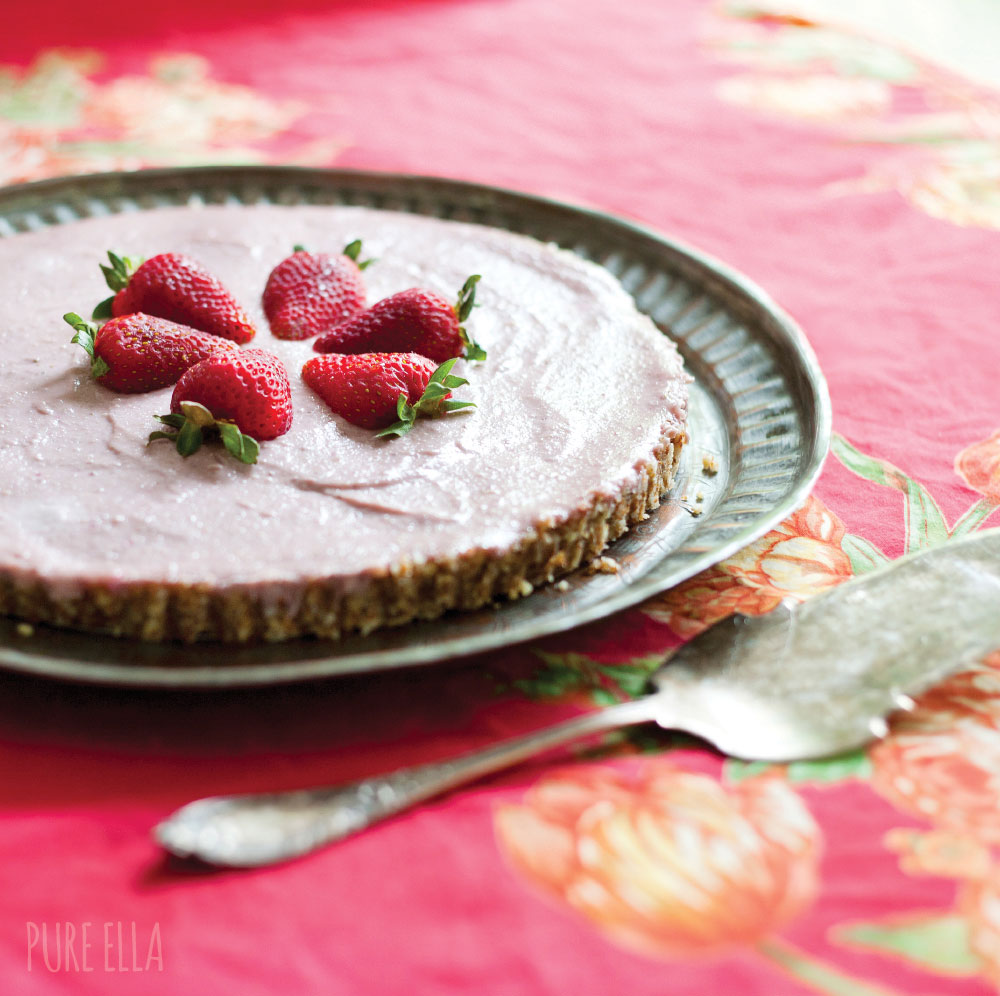 Creamy Strawberry Icebox Torte : A healthy vegan cheesecake with ice cream
No-bake | Vegan/ dairy free, egg free, geletin free | Soy-free | Gluten- free | Grain-free | Paleo
No-bake, gluten-free and grain-free Crust :
1 1/2 cups almonds
2/3 cup raisins
1/4 cup shredded coconut
a couple tablespoons of filtered water
Creamy Strawberry 'Cheesecake' Layer :
3 cups cashews
3/4 cup lemon juice
lemon zest of 1 lemon
1/2 cup maple syrup or agave nectar
pinch of salt
1/2 cup melted coconut oil, cooled
1 pint of organic strawberries, reserve 5-6 for decorating and add just before serving
Optional : for even more indulgence, add 1 cup So Delicious Coconut Milk Vanilla Bean Ice Cream
Equipment needed : Food processor, measuring cups, 12″ pie spring form or for a taller version use an 8 or 9″ d spring form baking pan.
Preparation : First, melt the coconut butter to make an oil, set aside to cool. Soak the cashews in warm water for about 15 minutes, about the time it will take to make up the crust.
Directions :
To make the crust, mix the almonds until a fine texture forms, add the raisins and shredded coconut. Process well, add 1 tbsp of filtered water at a time, process more and check texture if it sticks together. Press into the bottom of the spring form pan.
To make the cashew-cream/ vegan cheesecake, drain the cashews well, process in the food processor until they are a fine grind, add the lemon juice, lemon zest, agave and pinch of salt – cover and mix until well blended. Add the cooled coconut oil, mix again. Add the strawberries, mix again. Now add the ice cream and mix to combine everything well. Layer overtop of the crust and leave in the freezer for at least 2 hours or overnight to set. Before serving, dress it up with fresh strawberries and leave out to defrost a little for about 10 minutes. Serve and Enjoy this beautiful taste of Spring.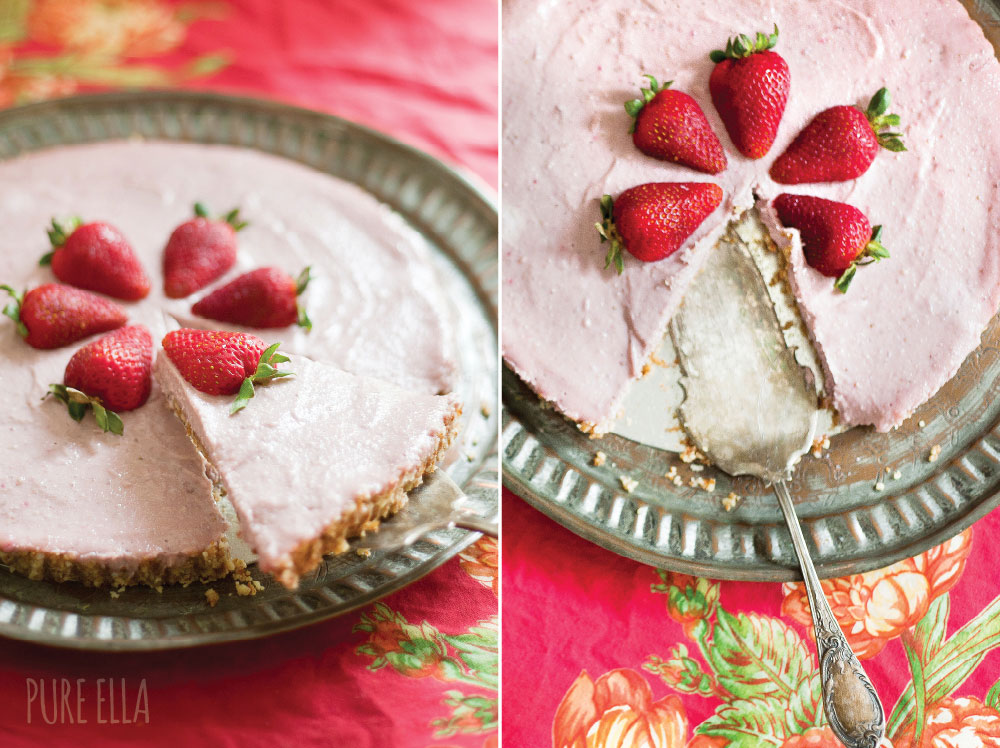 I made this torte for my sisters for our little gathering on Sunday. They loved it and could not guess the ingredients at all! They have no dietary preferences or restrictions – they were quite amazed you could do a so-close-to-real cheesecake if-not-better with all these natural ingredients. I'm happy to report this turned out just amazing and will get done a lot at our house all through the summer~ quite possibly switching up the berries ;) What's even more crazy is how quickly this torte forms with no baking! Can you think of a better Spring/ Summer dessert? Yeah…. I didn't think so ;P lol
Of course, I served this for my daughter too….. and she was very cute to observe the cake and say "It's a Strawberry Short cake!" That made me smile….. and I said "well, yes, I guess it is." And she went on happily: "It's a Strawberry Shortcake…. because it has strawberries and it's short! ;) Maybe a Strawberry Shortcake theme will be cute for her 5th birthday in August… inspiration is everywhere ;) Who wants an invitation? ;)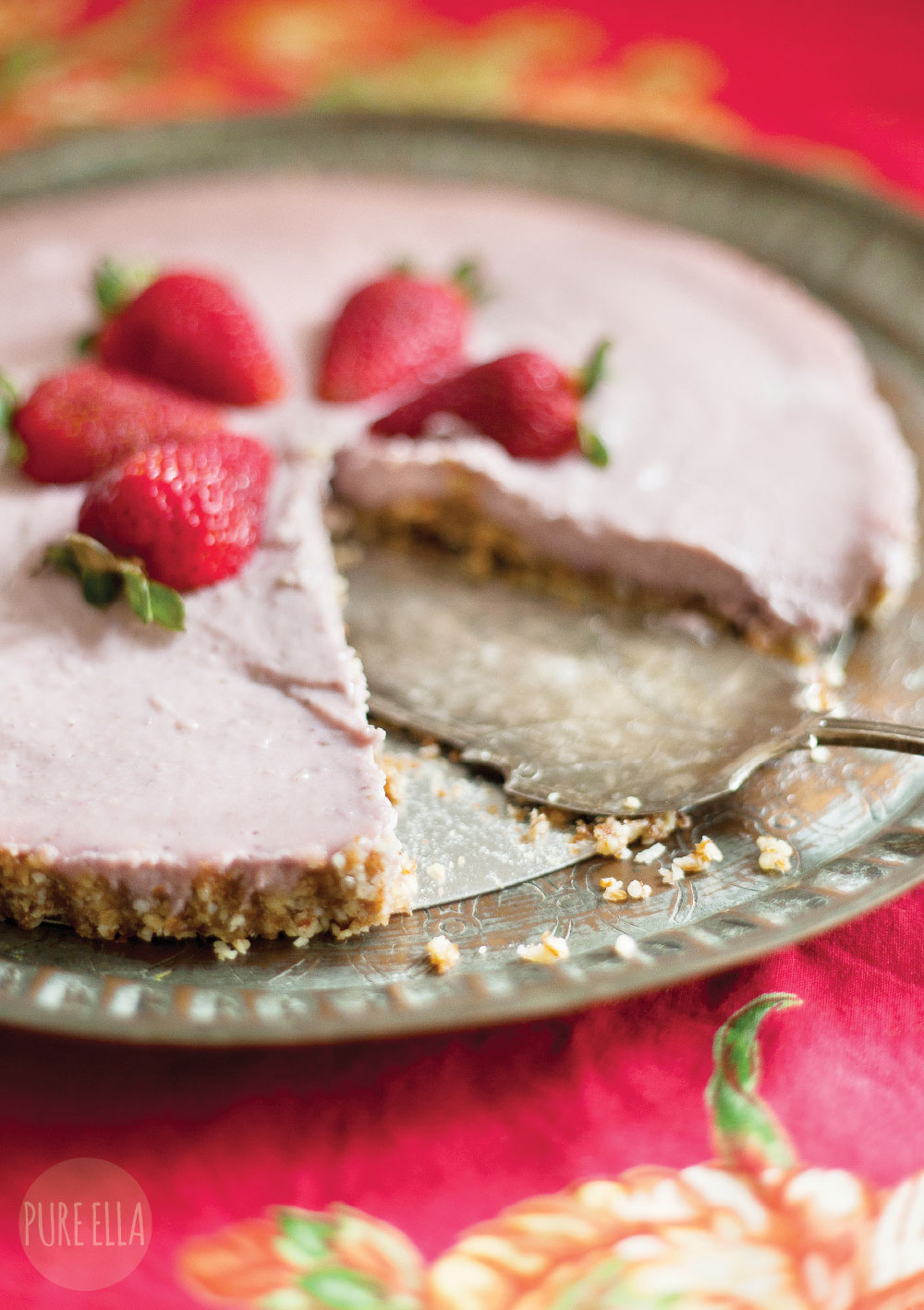 Let me know how you like this Creamy Strawberry Icebox Torte?
Can you believe you can eat a gorgeous torte like this and it can be a completely guilt-free healthy dessert?
I love it that desserts can be healthy and guilt-free! Even if I wanted to, i wouldn't want to bite into a heavy fattening cheesecake with all the heaviness of dairy and eggs, and you know low-fat is even worse for you! And then there's all that refined sugar…. trust me this dairy-free, egg-free, gluten-free, grain-free dessert is better, and skinny, no guilt in indulging in a very beautiful cake! Let me know how you like it ;)
♥
Pure Ella
If you're new to Pure Ella, please sign up for email updates and join me elsewhere:
Facebook

//

Pinterest

//

Twitte

r //

Instagram

@pure_ella