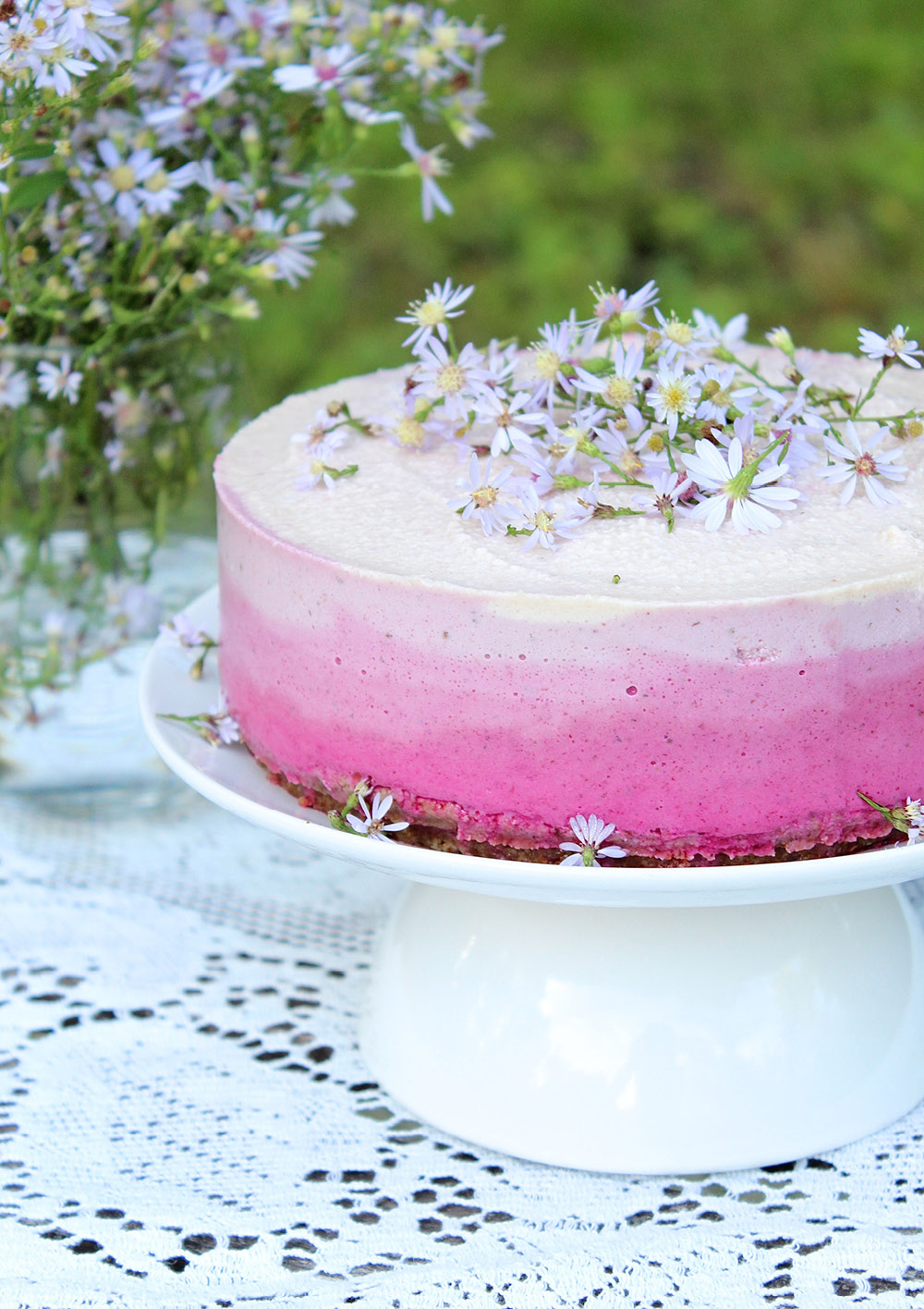 Hello my friends! Thanks SO much for dropping by today (and always) and hanging out with me! Today I've got an amazing Raw Vegan Ombre Cheesecake for you all to celebrate MY BIRTHDAY!! :)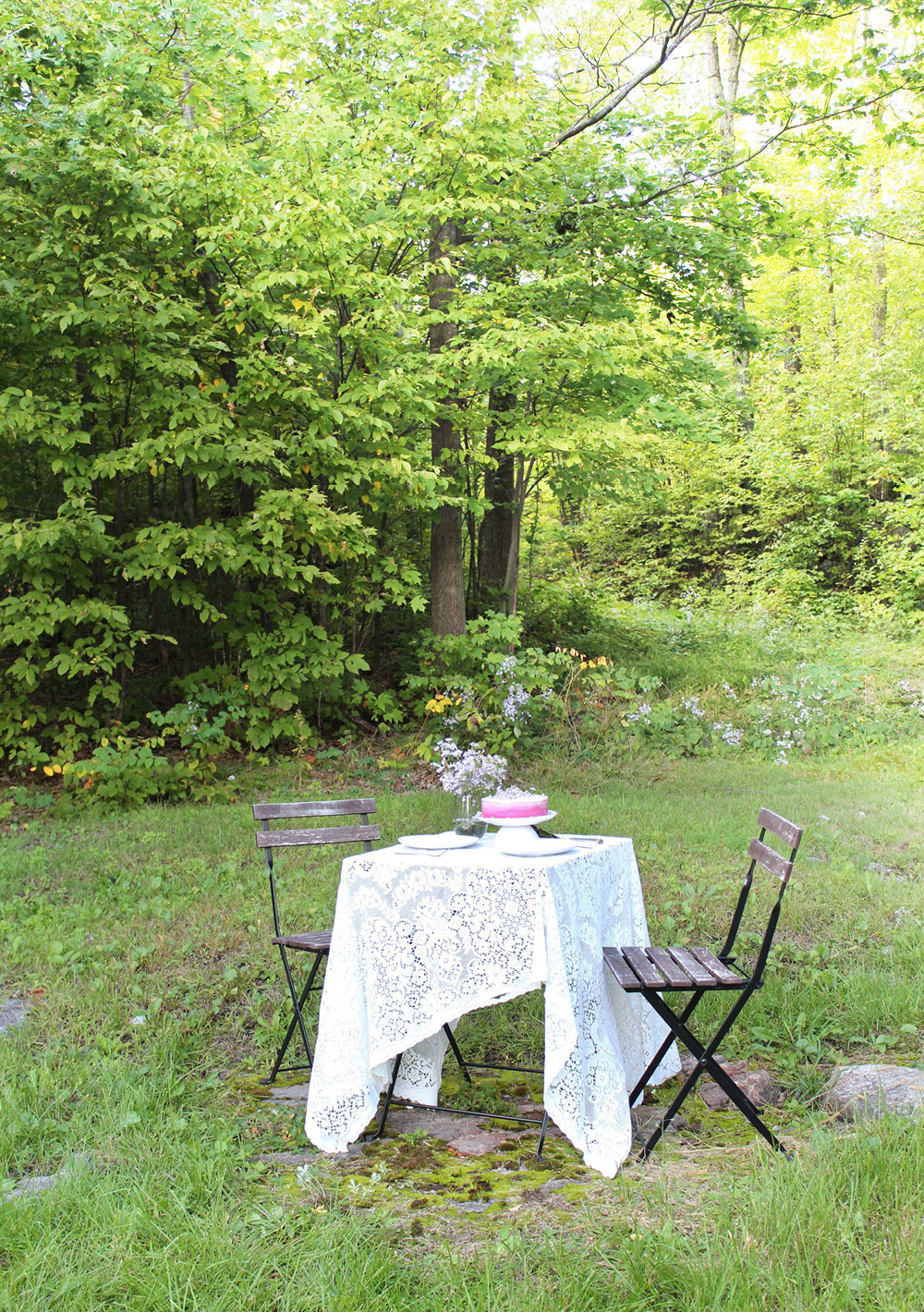 If you're following me on social media… you've had a glance at my birthday weekend up in Chelsea Quebec! Let's just say this was THE best weekend ever :) and you only saw bits and pieces… but what a lovely weekend it's been :)
I got to hang out with my little big sister (had to correct that because she's a wifey now and so much more mature than me at this time, probably LOL ;))
…. we went to the Ottawa Folk Fest to see Vance Joy!!
…. we stayed up late and drank wine and scotch (I'm the scotch drinker ;)) and made this cheesecake! ;)
…. we had a lovely breakfast on the deck overlooking the ravine
…. we danced a lot
…. we relaxed a lot
…. we fitted in an at-home sister spa session
…. we hiked around Pink Lake twice (first a walk, then a sweaty run!!)
…. we made lots of food
…. we ate this GORGEOUS dessert!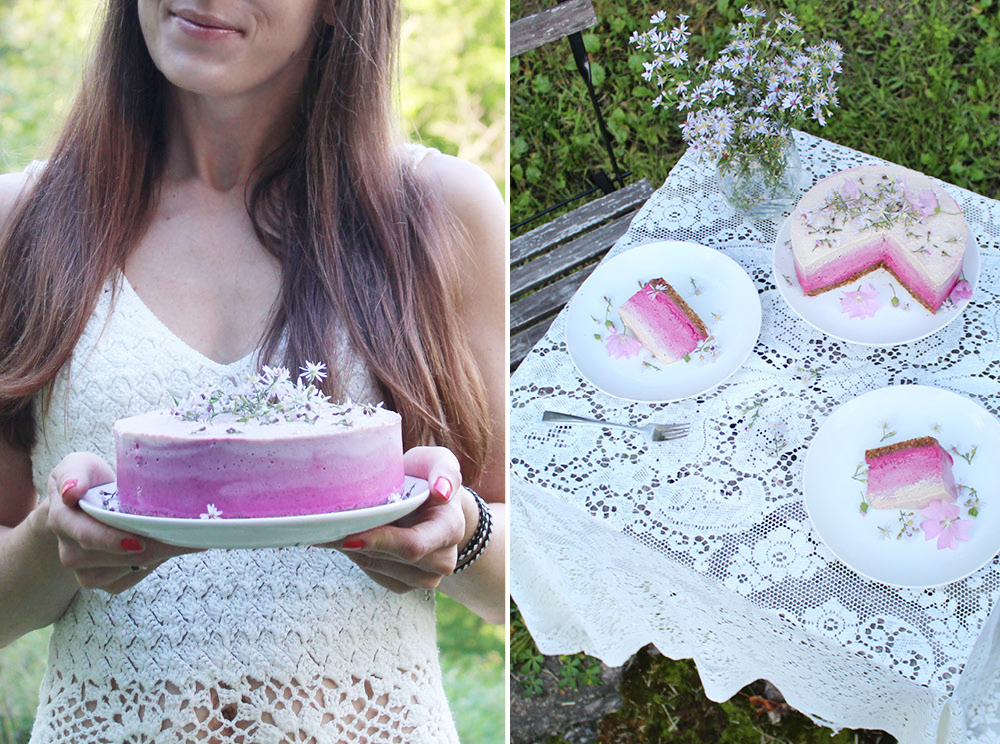 RAW VEGAN OMBRE CHEESECAKE
GLUTEN-FREE, VEGAN, PALEO
INGREDIENTS FOR BASE :
1 cup almonds
1/2 cup walnuts or pecans
1 cup Medjool dates
up to 3 tablespoons water
INGREDIENTS FOR MIDDLE LAYER :
3 cups raw cashews (soaked for 3 or more hours/ overnight) (if less time, soak in hot water)
1/2 cup coconut oil, melted
juice of 1 lemon
1/2 cup rice malt syrup, agave nectar or honey (not vegan)
1/4 cup filtered water
1 cup strawberries
1 medium beet, peeled and cooled (about 1/2 cup)
DIRECTIONS:
First, soak the cashews. If soaking for 2-3 hours, soak in hot water at room temperature. (If overnight, soak in cold water and store in the refrigerator.
Then, cook the beet until soft. You can peel it before cooking or after cooking, cut in half or quarters to speed up cooking and cooling if that's necessary. Use peeled and cooled in this recipe.
To make the crust:
In a food processor, pulse all the nuts until a fine grind. Add in the dates and continue mixing until crumbs form. Add water and continue mixing until the mixture starts to stick. Turn off mixer, and scoop out into the bottom of a spring-form baking pan*, firmly and evenly. Set aside. Wipe the food processor with paper towel so it's ready for the filling ingredients.
To make the filling: Rinse and strain the cashews and place them into the food processor. Pulse until fine crumbs form. Add in melted coconut oil, lemon juice, 1/2 the water, liquid sweetener of choice and continue processing on high until a very smooth mixture forms.
To make the ombre colour cheesecake filling:
Remove about 1/5 of the cashew filling into a bowl and set aside.
Add in about 1/3 of the strawberries and process until smooth. Remove about 1/4 of the mixture into a bowl and set aside.
Continue adding a few more strawberries and 1/2 the beets until a darker pink colour is achieved.
Add the rest of the strawberries and beets to make the darkest pink/ fuchsia colour. (be careful to not dilute this layer too much with the fruit. If it gets too runny, scoop some of the white layer into it to thicken a bit, the colour will lighten slightly but that's ok.)
You should have 5 bowls with different shades of pink cashew filling. At this point, you can just scoop from different bowls and adjust the intensity of your colours.
Add the remaining water into the white (lightest pink) mixture and mix well.
Scoop the darkest pink onto the nut base evenly. Follow with the second darkest and so on until all the layers of pink shades are layered and the lightest is on top. Be gentle when spreading each layer but you don't need to freeze each layer to let it set. Some blending is even better :)
Tap the pan gently to let the cheesecake settle and place in the freezer overnight or about 6 hours to let it set.
Before serving, remove the cheesecake from the pan while still fully frozen and place on a serving dish. Store in the refrigerator for about 3-4 hours before serving. Enjoy!
This dessert is great to make far in advance and it's so quick to thaw and serve. (keeps frozen, for up to 3 months, just wrap it tightly in plastic wrap once already frozen, then before thawing remove the wrap and slice when still frozen.)
*I used a 7″D spring form pan.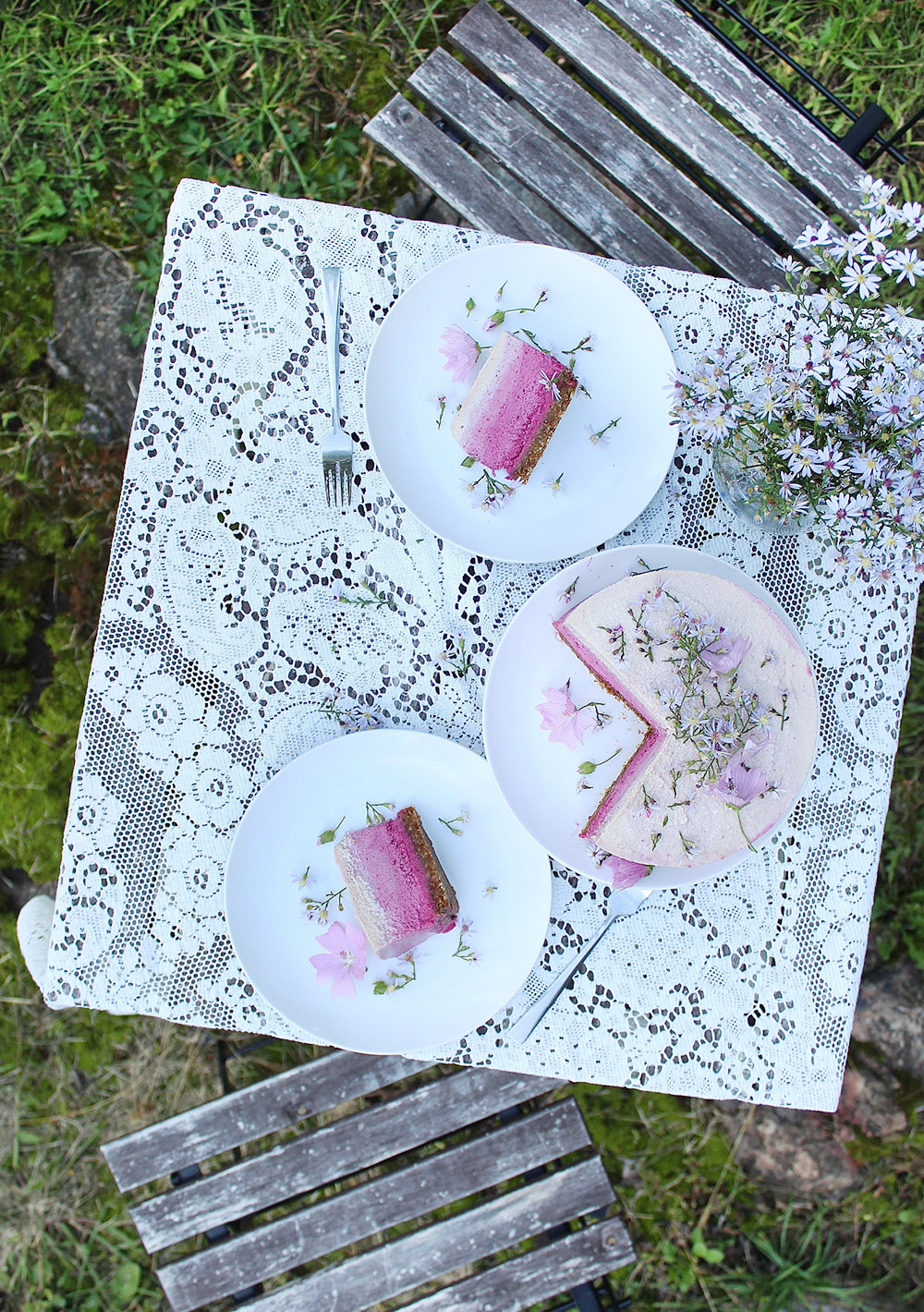 This was just the best weekend ever and we couldn't have ended it off in a better way… Sunday evening we gathered around on this cute table setting in my sister's wildly open garden overlooking the ravine and ate this amazingly beautiful and delicious Raw Vegan Ombre Cheesecake!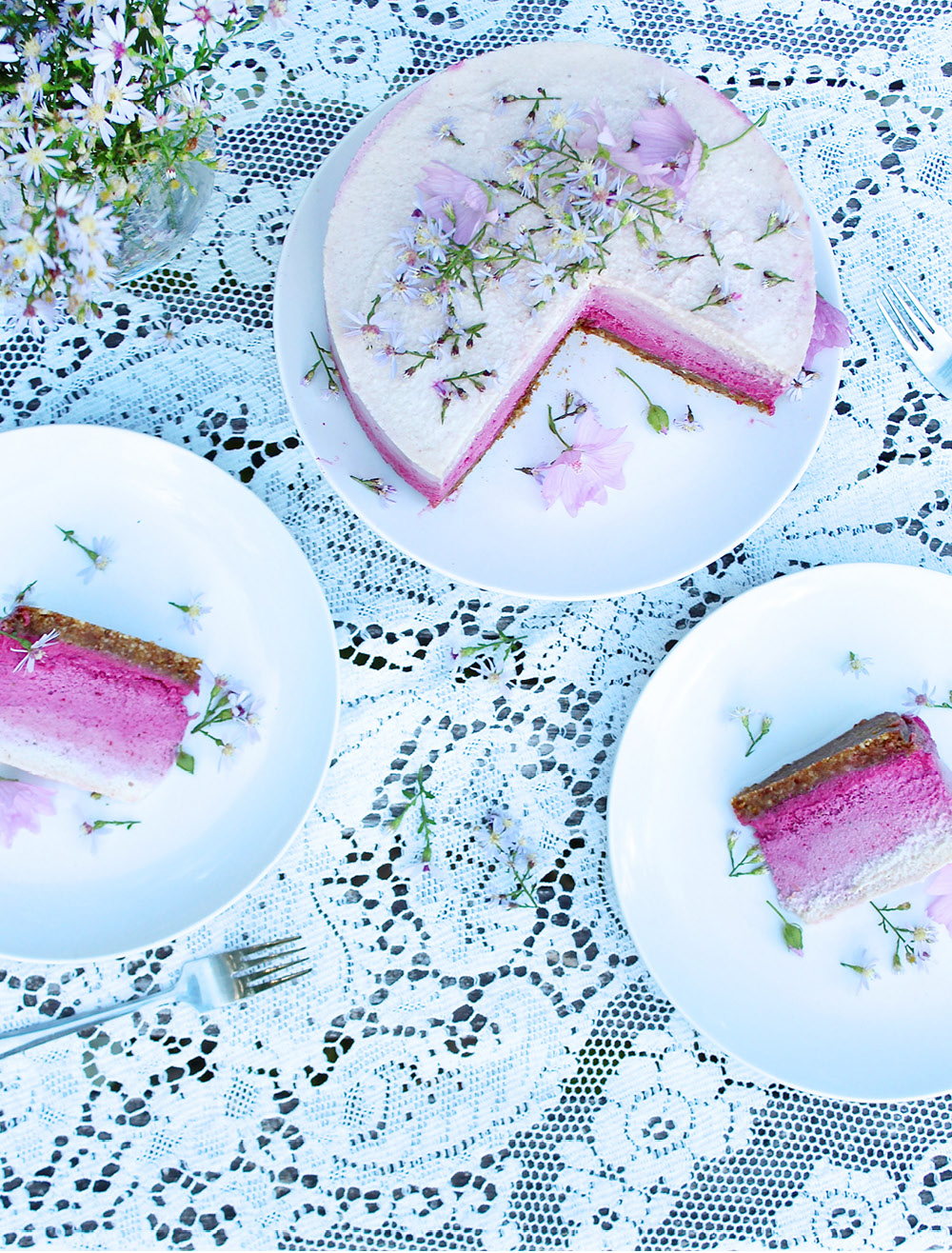 Now you know how important it was to stay up past midnight on Saturday and make this cheesecake! (those Instagram Stories don't lie ;))
Thank YOU all so much for making this year another amazing one for me!! I can't thank you enough for being a part of my life and letting me share my passion for healthy living with you all…. I love YOU and wish you could have joined us in eating this cake!! :)
~ ella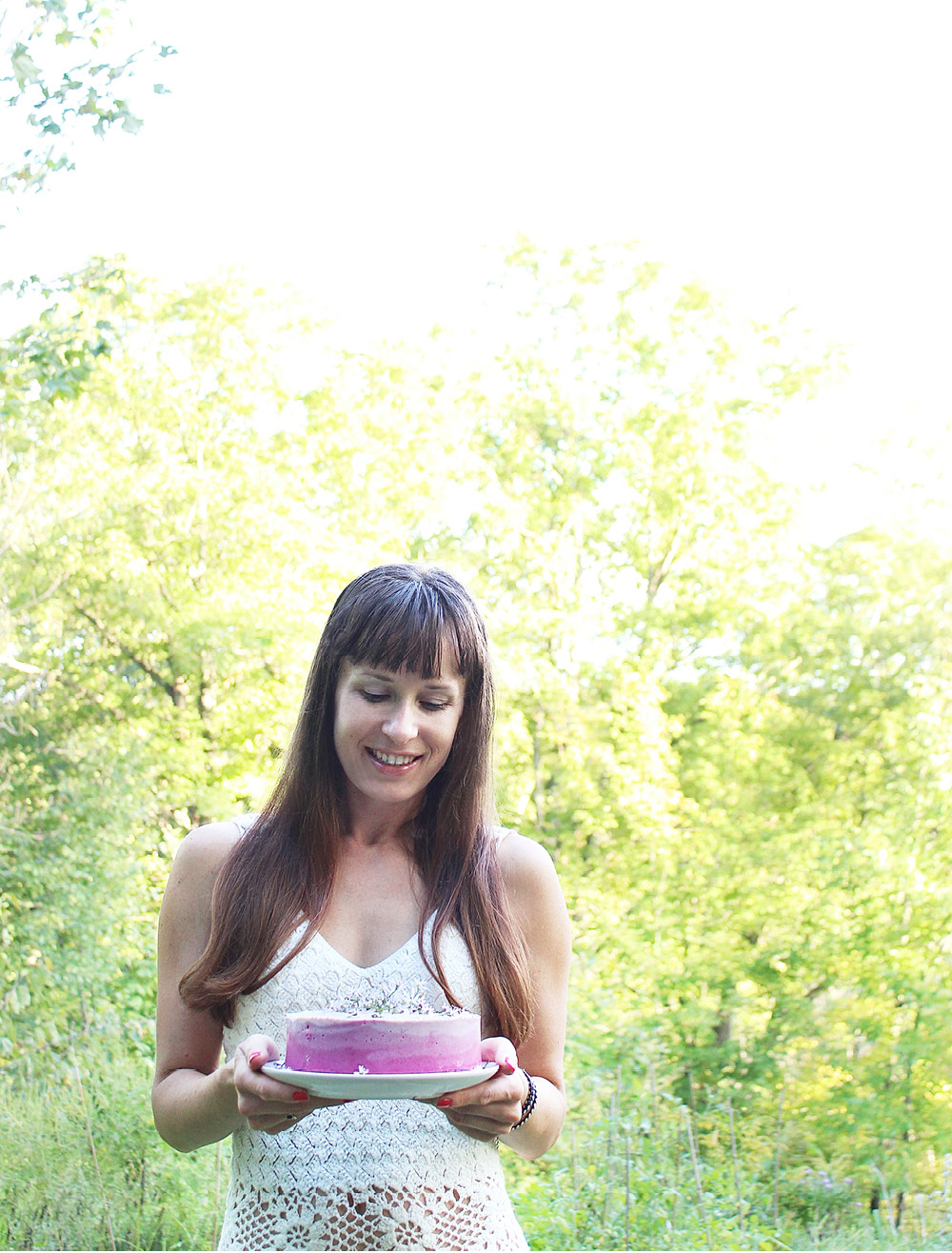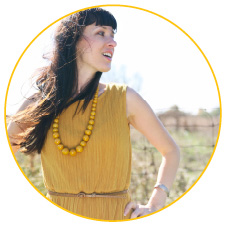 Ella Leché
is a cookbook author ('
Cut the Sugar
'), recipe developer, and photographer/stylist behind Pure Ella; where she shares delicious and healthy recipes. Eating PURE is clean ingredients, whole foods, plant-based nourishment and delicious desserts – with quality ingredients and sweeteners so they're treats with benefits so you won't have to feel deprived or restricted to eat healthier.
Thank YOU for being here!
Follow on social media for daily health & happiness inspiration:

ps. don't forget to share your Pure Ella (PE) recipe creations by tagging them #pureella and
@pure_ella
on Instagram – we repost our favourite photos!