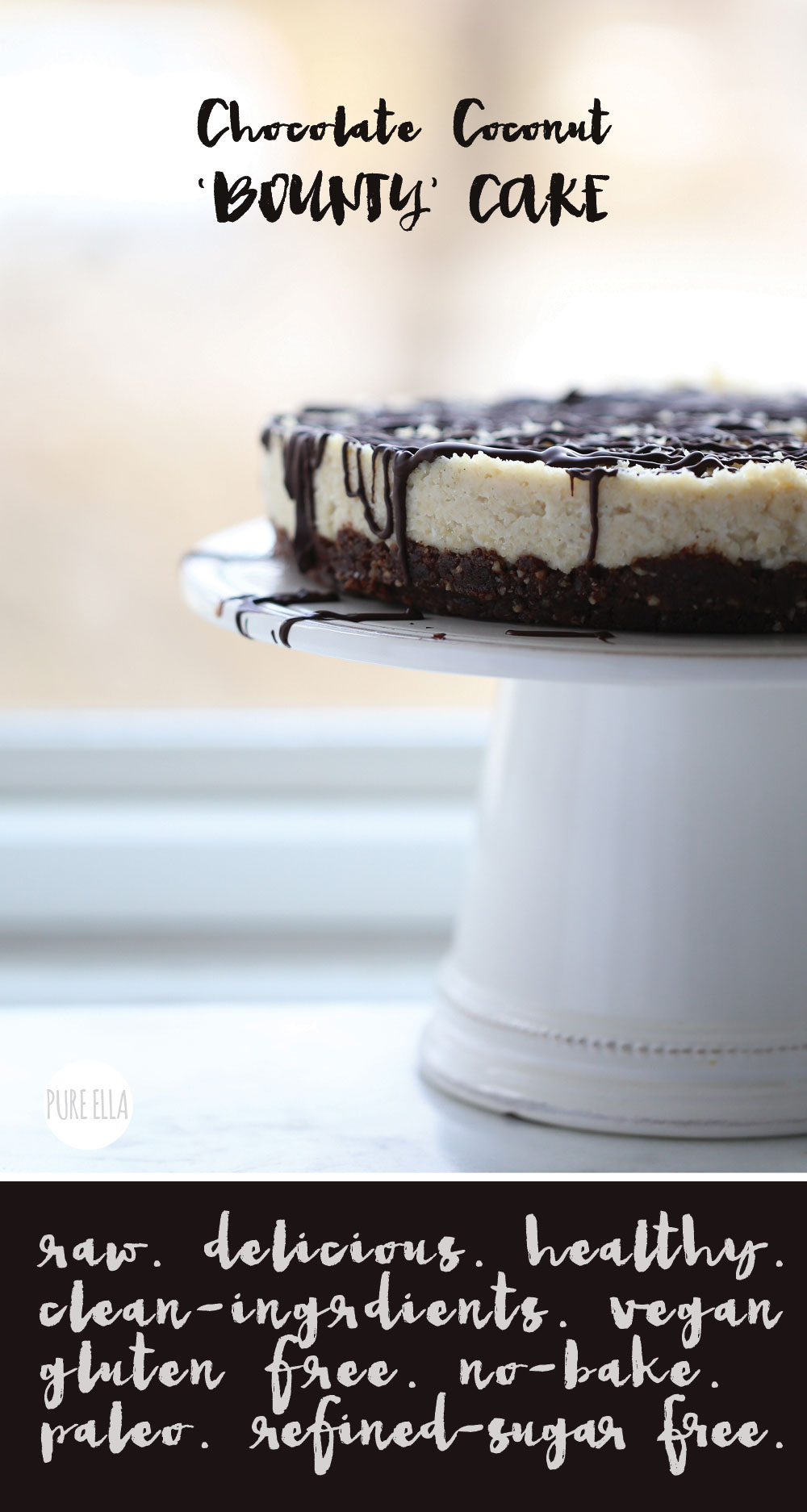 Ahhh… I think I just made your day with this amazing Raw Chocolate Coconut 'Bounty' Cake! Am I right? This raw cheesecake is made with amazing clean ingredients, it is gluten free, vegan, paleo and refined-sugar free AND it is still deliciously good and good-for-you! Yeah, you're welcome!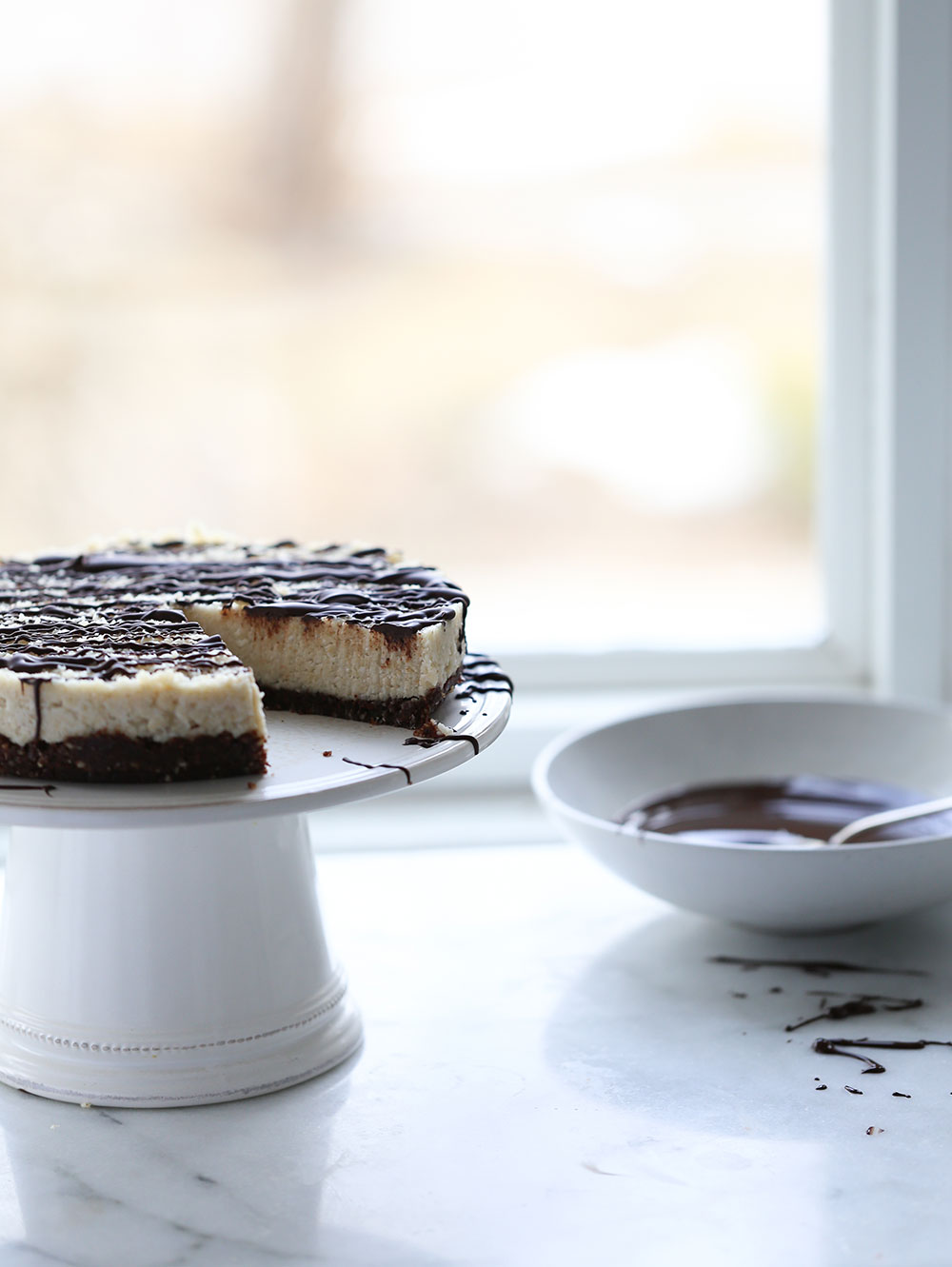 So it's February (still winter here) and oh man… am I itching for spring…. summer or a tropical vacation. I am teased from every side with vacation photos or the sunny happy life in the southern hemisphere (only one big drawback for Instagram) ;)
And although I don't really need a vacation, I can't say I don't want a vacation. But we still decided against one at this time. Is it really a vacation with a 21 month old? Right? So, it's ok, no beach, no palm trees, no fresh coconuts…. no problem. I've got myself (and you (if you're in the same boat)) covered!
Basically, if you can't go to the tropics, let the tropics come to you! That's pretty much my life motto… I'm the bring-your-own-sunshine kind of a person! :)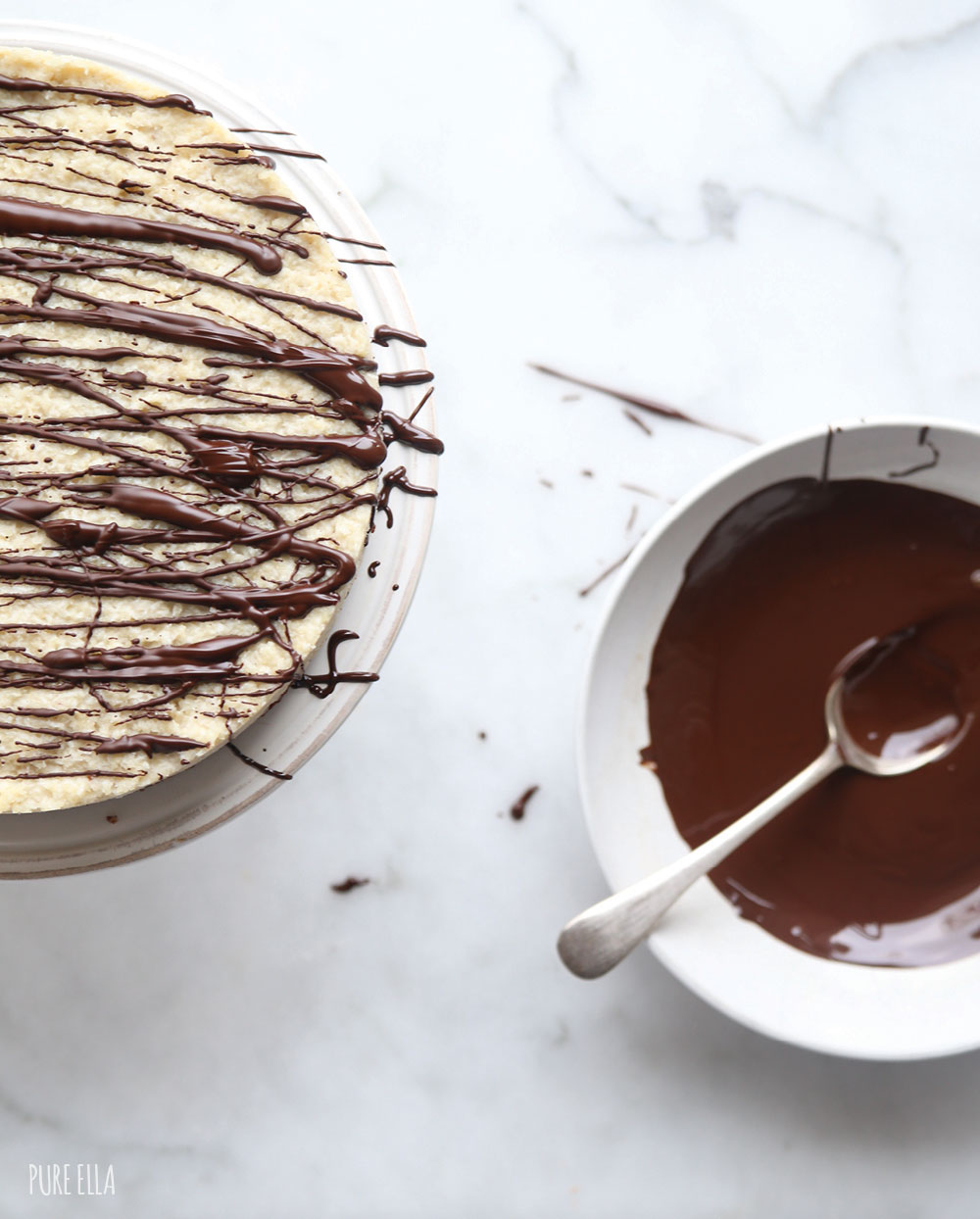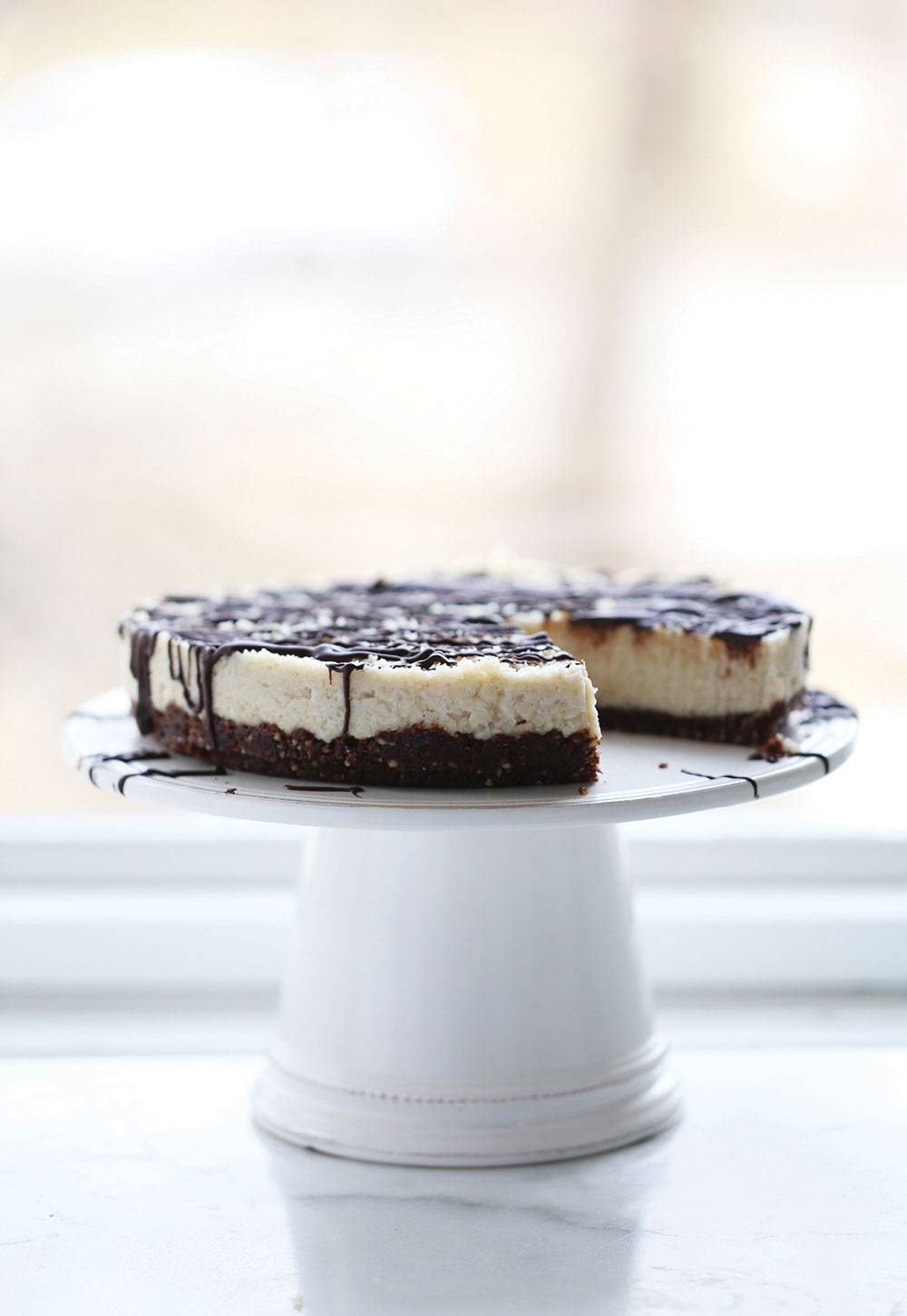 Raw Chocolate Coconut 'Bounty' Cake
2016-02-25 11:39:17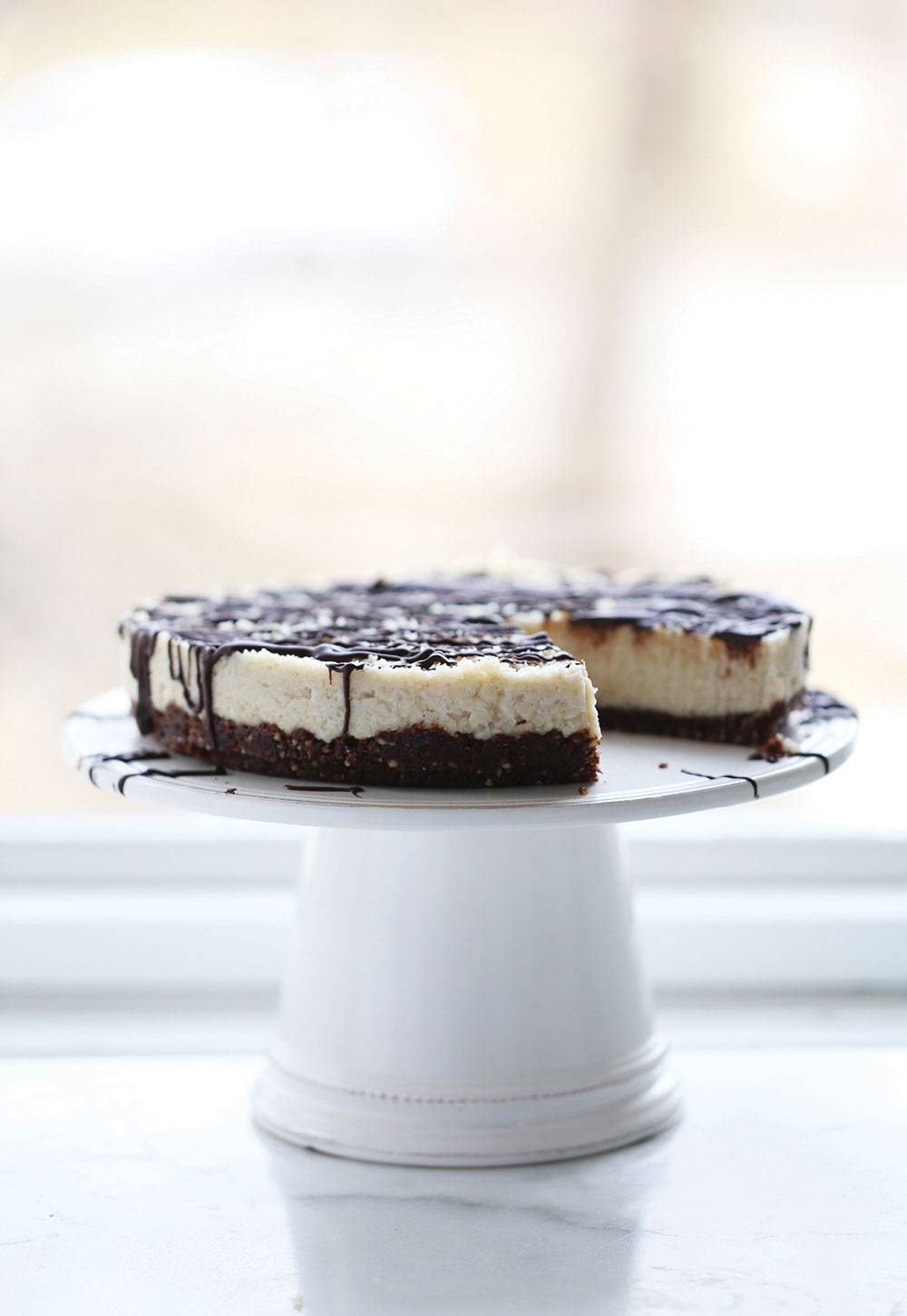 Serves 6
A delicious, raw, vegan, gluten-free, dairy-free, refined-sugar-free, healthy cake!
BASE INGREDIENTS
1 cup mixed nuts (I used walnuts, cashews, brazil nuts)
8 Medjool dates (pitted)
1/4 cup raw cacao powder
pinch of himalayan or sea salt
1-3 tablespoons of warm water
FILLING INGREDIENTS
2 cups raw cashews, soaked for 4 hours minimum
1 cup unsweetened coconut flakes (sulphite free)
3/4 cups coconut oil, melted
1/2 cup coconut nectar or raw honey
1 tablespoon pure vanilla extract
1/4 cup filtered water
TOPPING
6 squares of dark chocolate for topping (melted)
Instructions
First, soak the cashews for minimum 4 hours in the refrigerator or overnight.
Make the crust first
In a food processor, pulse the nuts until a fine grind forms.
Add in dates, cacao and salt. Continue mixing and check with your fingers if the mixture sticks in your fingers. (Be sure to turn off the mixer each time you check, and always form a habit of scooping with a spoon first!) If it's too dry, add in water one tablespoon at a time. Mix again, check again. Once it sticks together and still falls off your fingers – it's perfect.
Line a round 8" spring form pan with parchment paper at the bottom, and press the mixture into the bottom evenly. Set aside.
To make the filling
Soak the cashews for 1 hour at room temperature in hot water or overnight in the fridge, strain well. Wipe down the food processor with a paper towel and add : cashews, coconut flakes, warm but not hot coconut oil, coconut nectar, vanilla extract, water. Mix on high for about 5 minutes until a very smooth mixture forms.
Pour over the crust. Tap the pan gently to let it settle. Place straight into the freezer for about 4 hours or overnight to set. Before serving, place in the refrigerator to thaw for about 2 hours or at room temperature for 1 hour.
Melt chocolate and drizzle on top if desired.
Notes
Makes great mini cakes in silicone cupcake moulds - then the set time is only 2 hours and you can thaw out in 15 minutes! Enjoy!
Pure Ella http://pureella.com/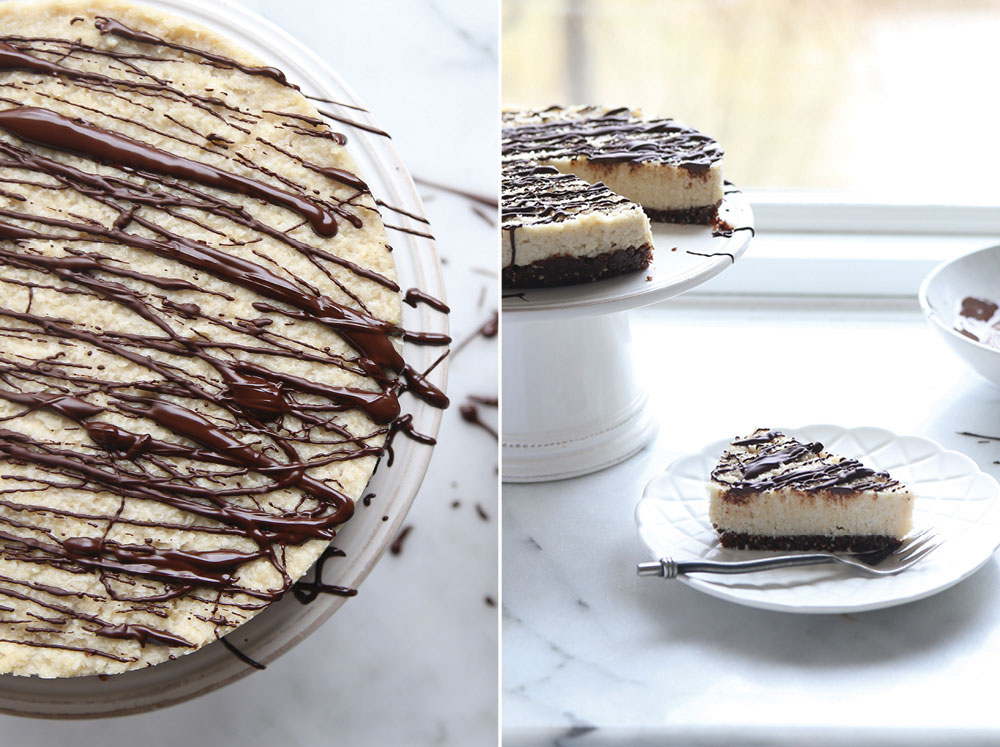 So I made this Chocolate Coconut 'Bounty' Cake as our staycation celebration last Sunday. And it was perfect… the kids had a blast helping to making and eating the cake, obv.
Little Miss Mia here was my supervisor and she kept waiting patiently as I took my photos. All these photos on top were taken with her right next to the cake ~ let's just say it was a really fun photoshoot! Food photography for me is never boring! ;)
After a while… she was like "ok, mom, that's enough now, I want to eat this now!" :) (well, that's just what I translated her "Miiaaa" for :) and then dragging the plate right off my 'set' :) and giving me this look (see photo on bottom right) waiting for permission :) She is a cutie I tell you!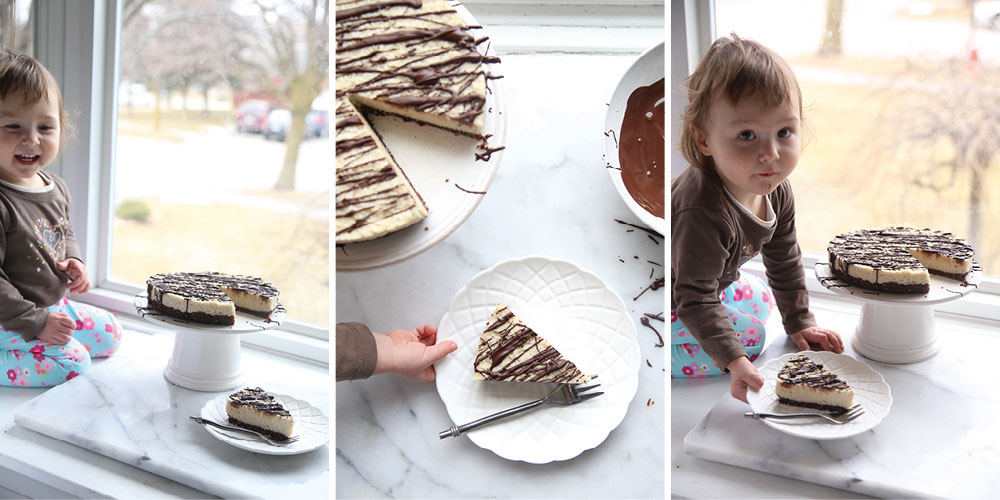 Then I let her enjoy it… :)
We call her Baby Boss for a reason. She runs this family now. But with such a big heart, patience and LOVE that I always say to my oldest "you should learn from Mia, she's teaching us so much about forgiveness and love" :) So yeah, this baby boss deserves all the 'Bounty' cake in the world ~ even though she'll never probably know the taste of a real Bounty bar :) lol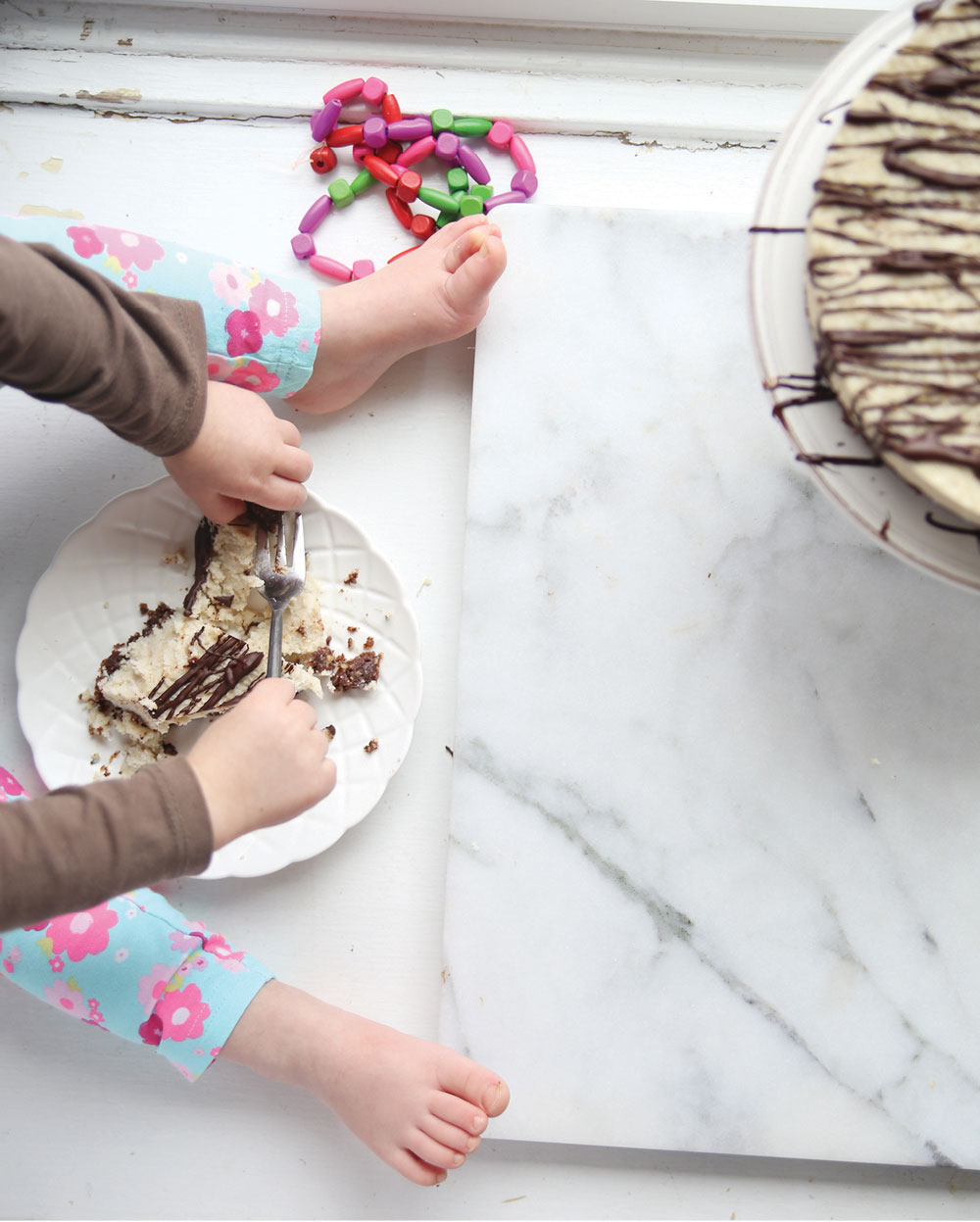 This raw vegan cheesecake pays homage to the Bounty Bar that I used to LOVE in my teenage years!! Sometimes I dream of the perfect choc-coconut combination of flavours and a piece of me dies and goes to heaven while thinking of those bars I used to love…. and you know if I kept eating those bars I probably would die and go to heaven – that's because that is a lot of sugar! And a lot of other ingredients I don't like anymore!
Bounty Bar 'nutrition' info :
28 grams of sugar in each bar (in my Cut the Sugar research I learned that 15 grams of sugar should be max for a snack bar).
only 2 grams of protein
270 calories
And here are the ingredients : Milk Chocolate 36% and Coconut 22%. Ingredients: Sugar, Desiccated Coconut, Glucose Syrup (Sources include Wheat), Milk Solids, Cocoa Butter, Cocoa Mass, Invert Sugar,Vegetable Fat, Emulsifiers (471, Soy Lecithin), Humectant (Glycerol), Salt, Natural Flavour (Vanilla Extract), Peanuts.
Wow! I'm so happy I've found a way to satisfy my sweet-tooth craving for Chocolate and Coconut with healthier pure ingredients! And aren't you happy you've found this recipe so you can also enjoy a healthy 'bounty' experience!! :)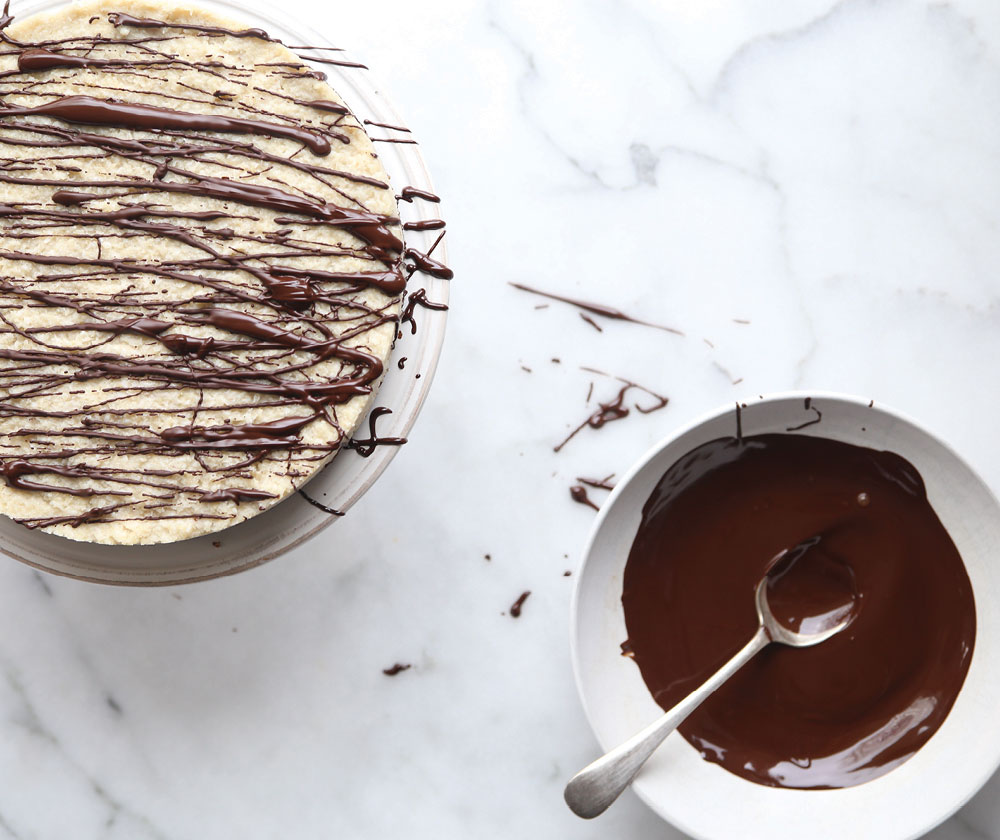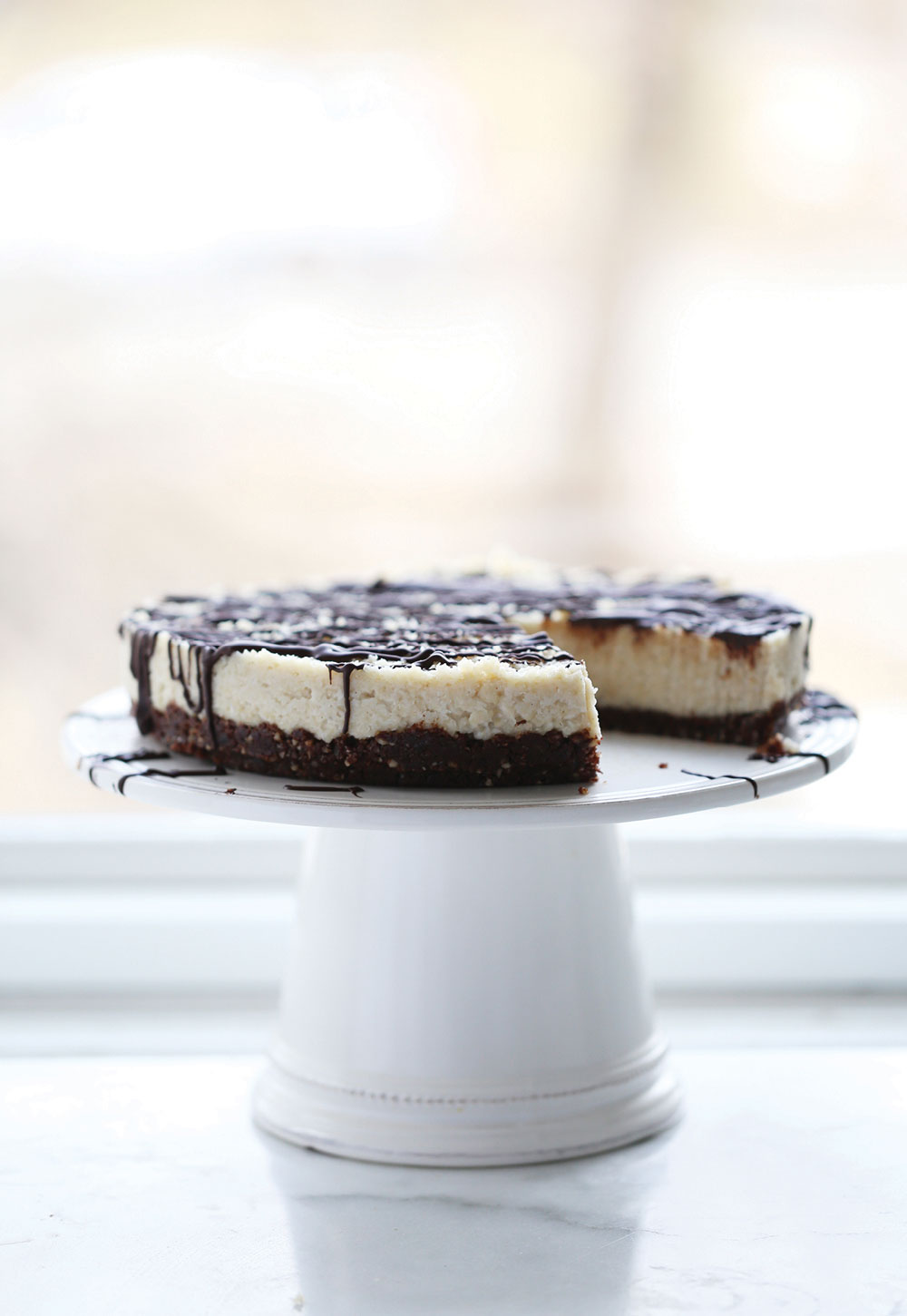 Summary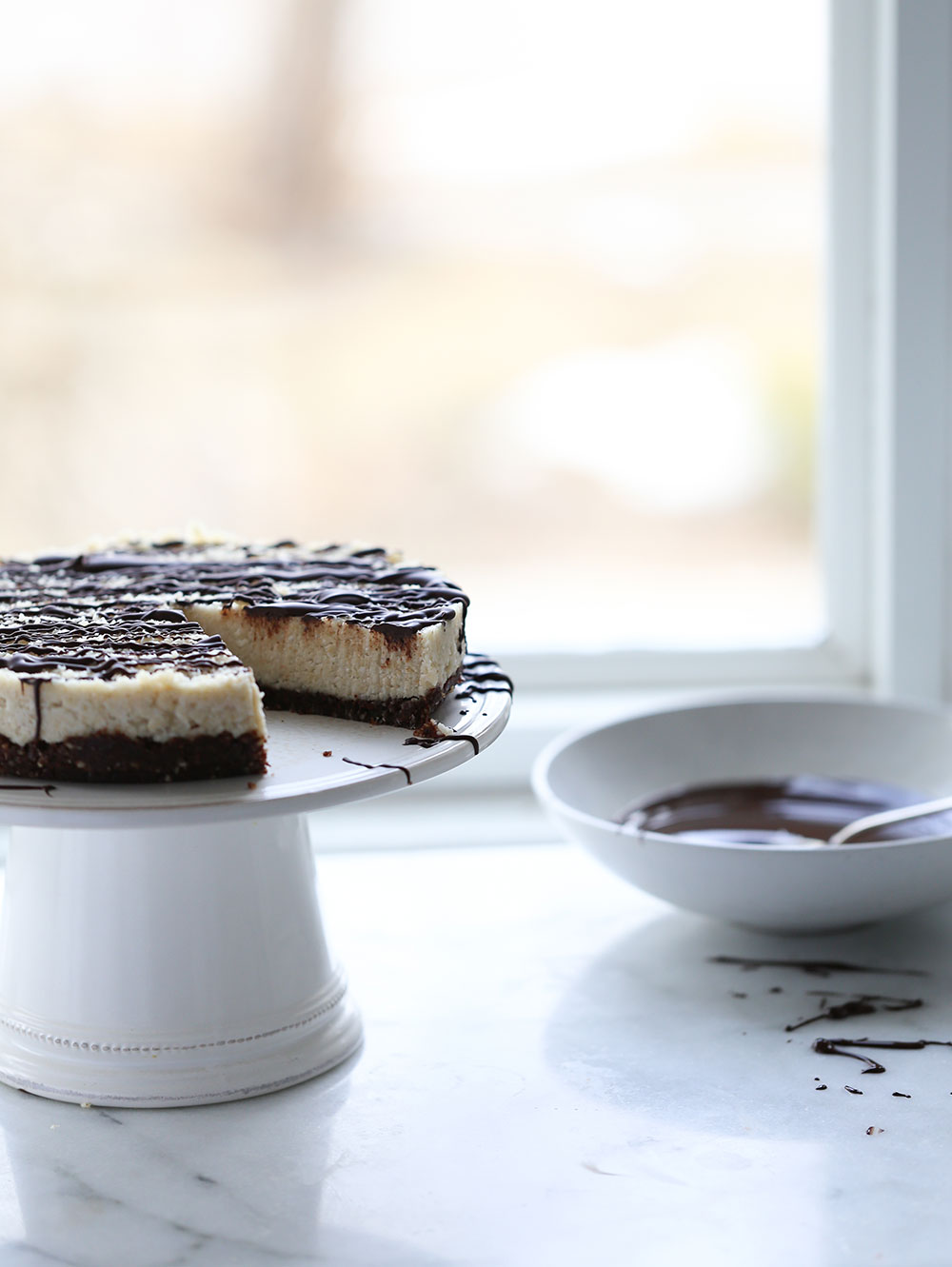 Recipe Name
Raw Chocolate Coconut Bounty Cake
Published On
Preparation Time
Cook Time
Total Time
Average Rating





Based on 1 Review(s)