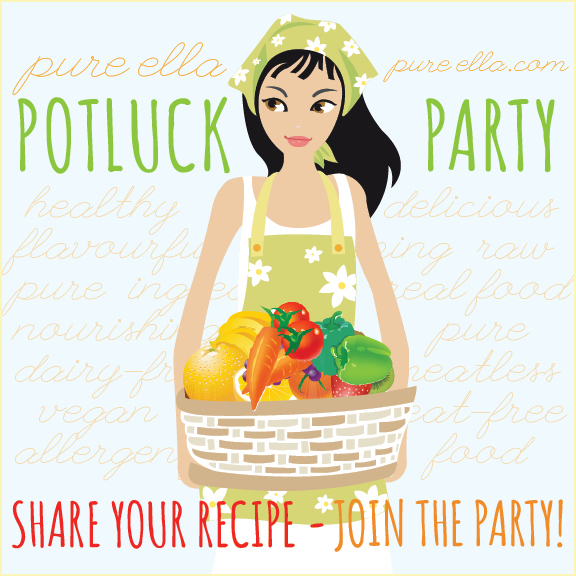 Do you feel it? Do you see it? I hate to be the bearer of bad news but Summer is going away! This is the end my friends! We're down to the last couple of weeks of true summer. And already I feel a hint of fall in the air…. Nooo! ;)
Mind you, I really do like fall, but I don't like it until it really gets here! For now, I'm in summer mode and I really want more pool days and summer dress days and flip flops and ice cream…. and more delicious summer recipes!
Today's Potluck Party is about paying tribute to Summer with all the great recipes you've made this summer!
So, let's kick off this week's….
SUMMER ROUND-UP!
BRING A DISH AND JOIN THE PURE FUN!
Just a reminder we're focusing on plant-based, egg-free dairy-free and meat-free dishes as well as gluten or wheat free dishes. Some exceptions apply such as using honey or ancient grains that have gluten like spelt and kamut which are very healthy. Recipes should be all natural, with no refined sugar and with no processed ingredients, no preservatives or artificial colours of flavours and organic as much as possible.
And if you're googling for "Roundup" products please note this is has nothing to do with Monsanto – in fact, we're totally standing up against Monsanto and throwing an ORGANIC party!!!
Please support organic companies and let's put Monsanto out of business!!!
Wishing you all a wonderful weekend everyone! Let's all hold onto that taste of Summer a little longer ~ and make these delicious recipes ;)
xo Ella
Back to Blog