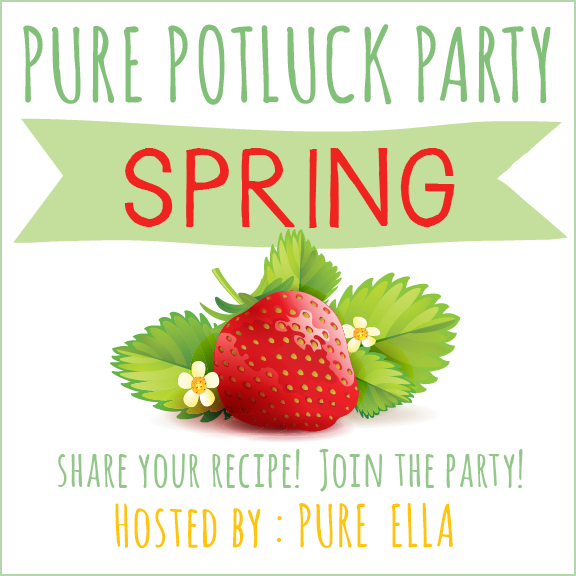 Hello my friends! It's been a while since the last Potluck Party… Oh dear how I've missed the fun and happiness and the great food and great friends that come and visit.
What can I say, I needed the break. The last few months have been so busy with work and life that I just couldn't pull myself to throw a party. There were either deadlines, or someone was sick or things got in the way. I think a little break helped me realize how I missed everyone and how I missed these lovely get togethers and seeing all this great food was pure joy!
So, please accept my apology for my 1 month absence, and let's resume the fun! Shall we?
As a reminder, we're focusing on mostly VEGAN and GLUTEN-FREE recipes, some exceptions are allowed for ancient grains such as spelt or kamut, or honey. No artificial or processed ingredients and no refined sugar or artificial sweeteners, ingredients etc. We're striving for healthy and "pure" recipes!
This week also is Allergy Awareness Week. Which is just perfect because all the recipes here cater to allergen sensitive people.
I am very respectful of the special diets out there and do offer support and understanding when it comes to food allergies. My approach to food however is very positive, I do not dwell on what you can't have, I enjoy all* good food to the fullest ~ there really is nothing missing! ;) (*allowed)
THANK YOU! DON'T FORGET TO SPREAD THE EXCITEMENT!
ps. If you are linking up, don't forget to spread the word where your fantastic recipe has been shared!  Simply, click 'like' at the bottom of the post to tell your friends where your recipe has been! Everyone is invited… so if you have friends who you think might like to join the Party, please let them know.
I'm sure you have noticed, that I recently changed the name of my blog from Lifeologia to Pure Ella ~ this was a big decision that I'm very happy with. My life, especially in the last 5 years has really been all about pure living. From cooking to everyday products I use at home for cleaning to pampering are natural, chemically free. So, I think the name Pure Ella suits me so well that I love to share more tips and recipes on a journey of pure living.