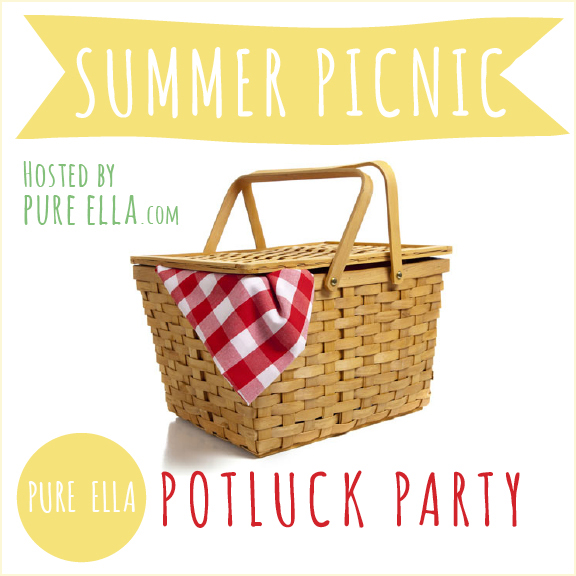 Hello friends! Happy Friday and happy almost-weekend! This week let's have tons of fun over a Summer Picnic Potluck Party! How does that sound? Amazing, right?! ;)
I love picnics and always always have a pretty vintage yellow blanket in my car. Whenever we want to hit our favourite spots by the lake or in the park, we grab some snacks, some quick homemade meals that easily pack for a trip – and we're off! ;)
It doesn't have to be hard to pack a healthy picnic. Going for vegan picnic foods is especially easy here as food spoilage is not an issue. (So one other reason it's good news – you don't get sick like a dog from spoiled meat or dairy – and these go bad after 20 minutes out of refrigeration.) (true story!)
So, I can't wait to share some of my favourite recipes to bring on a healthy summer picnic. I hope you'll join me in sharing your wonderful delicious healthy recipes that are mostly vegan and gluten free too! ;)
So, welcome to this week's
SUMMER PICNIC POTLUCK PARTY!
BRING A DISH AND JOIN THE PURE POTLUCK PARTY!
Just a reminder we're focusing on plant-based, egg-free dairy-free and meat-free dishes as well as gluten or wheat free dishes. Some exceptions apply such as using honey or ancient grains that have gluten like spelt and kamut which are very healthy. Recipes should be all natural, with no refined sugar and with no processed ingredients, no preservatives or artificial colours of flavours.
 Here's to a great weekend! Perhaps over a nice little picnic? I'm off to pack a picnic basket! ;)
Have a great weekend everyone! ;) xo Ella