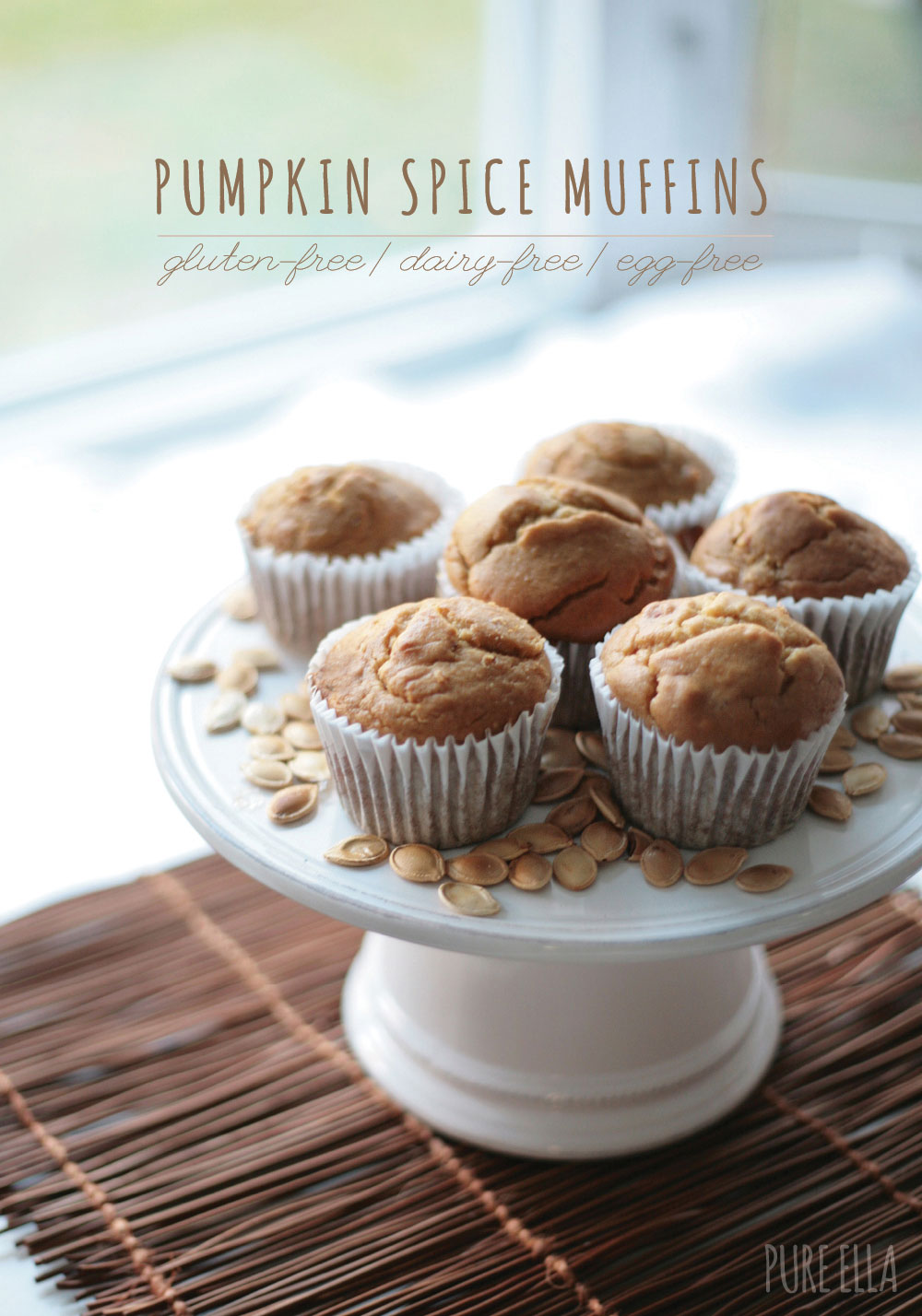 Can't get enough of Pumpkin Spice everything? Well, I've got you covered!! These Vegan Pumpkin Spice Muffins are AMAZING!!
I did these delicious muffins just the other day with my little pumpkin – and she LOVED them. Since our pumpkin that we had for decoration wasn't carved – I though why throw away perfectly good food!
So we got to work ;)
Do you do your own pumpkin puree? I don't do it all the time, sometimes I buy organic pumpkin puree in a can for convenience, (the real, all-natural stuff though – not pie filling ;) but this time I had this big pumpkin sitting around so I though I would make some fresh puree.
How to make pumpkin puree: slice a pumpkin into chunks, spoon out the seeds and strings, and bake in a preheated oven at 350 degrees for about 1 hour. Let it cool or you will get burned and then just peel the skin with a knife. The skin becomes very soft and easy to peel now. Then you can blend the chunks into your puree. That's it ;) I placed the extra puree into a freezer ziplock bag and froze it for another quick recipe in the near future.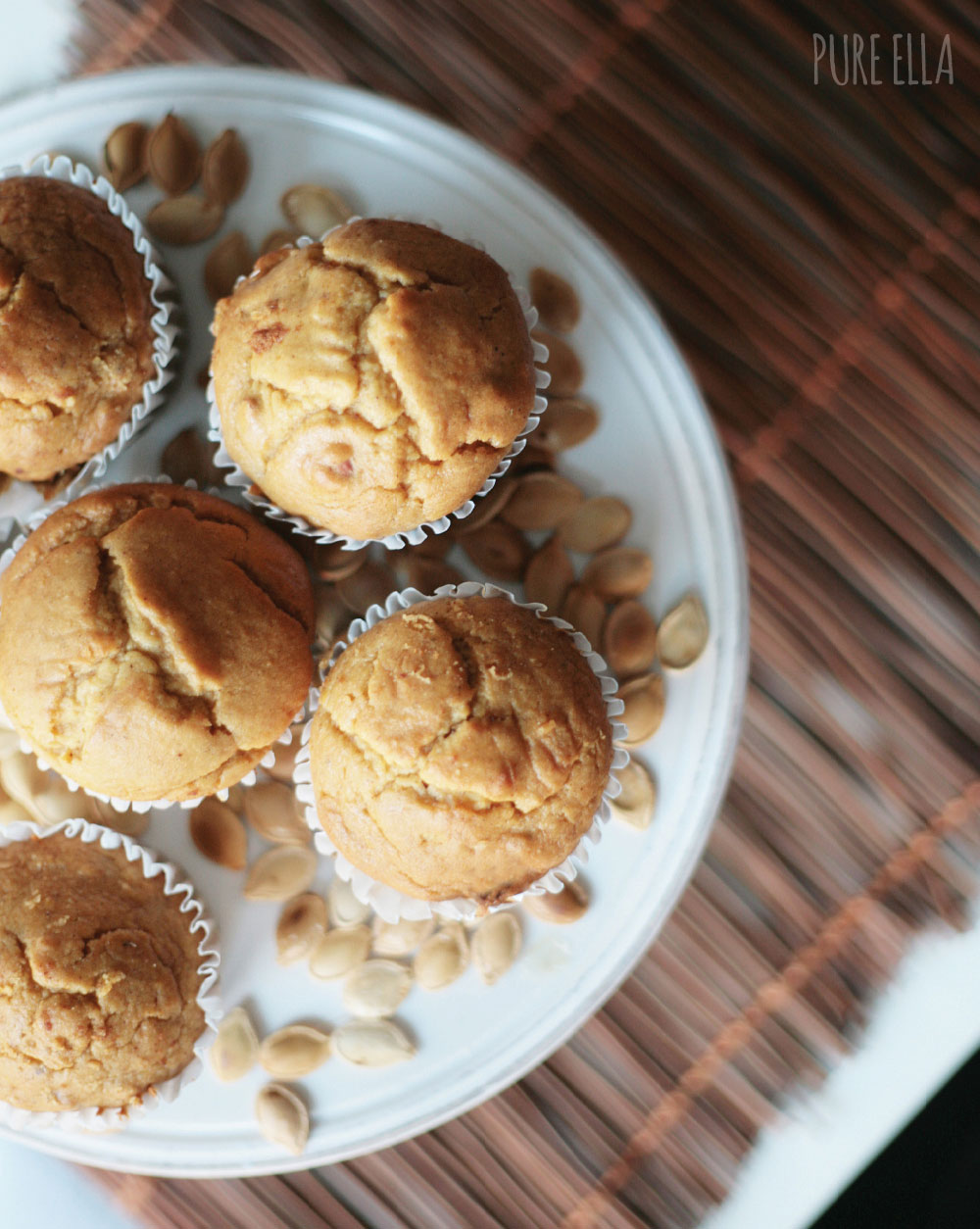 My vegan, gluten-free recipe is delicious and you won't feel like you're giving something up! Besides, I've got some extra nutritious ingredients mixed in there – like quinoa flour and coconut flour. They were so soft and moist – I love baking with pumpkin ;) Here is my recipe:
VEGAN PUMPKIN SPICE MUFFINS
gluten-free, dairy-free, egg-free, vegan



prep time: 10 minutes cook time: 25 minutes makes 12 muffins
Ingredients:
2 tablespoons ground flax seeds
6 tablespoons hot water
1 3/4 cups all purpose gluten-free flour or light spelt flour
2 teaspoons baking powder (aluminium free)
1 teaspoon ground cinnamon
1 teaspoon ground ginger
1/2 teaspoon nutmeg
1/4 teaspoon fine sea salt
3/4 cup coconut palm sugar
1/2 cup almond milk or coconut milk
1/2 cup pumpkin puree (canned organic pumpkin is fine)
1/3 cup grape seed oil
2 teaspoons vanilla extract
1 teaspoon apple cider vinegar
1/4 cup each roughly chopped almonds (optional)
* OR use these flours instead of the all purpose gluten free flour mix:
1 cup rice flour
1/3 cup organic coconut flour
1/2 cup quinoa flour
1/2 cup tapioca starch
DIRECTIONS :
Preheat oven to 350F. and line a muffin pan or use a silicone baking pan.
In a large bowl, mix the ground flax seeds with water and set aside.
In a medium bowl, combine the dry ingredients: flour, baking powder, spices and salt and set aside.
Into the flax seed mixture – add in sugar, milk, pumpkin puree, oil, vanilla extract, ACV and mix to combine well.
Add more milk if the consistency is too thick.
Pour in the liquid mixture into the dry ingredients and mix gently to combine the ingredients well.
Stir in the almonds.
Pour into a muffin pan and fill right to the top for fuller muffins or 3/4 full for smaller muffins
Bake for 25-30 minutes at 350°F or until slightly golden.
Remove from the oven and allow to cool on a cooling rack 15 to 30 minutes before serving.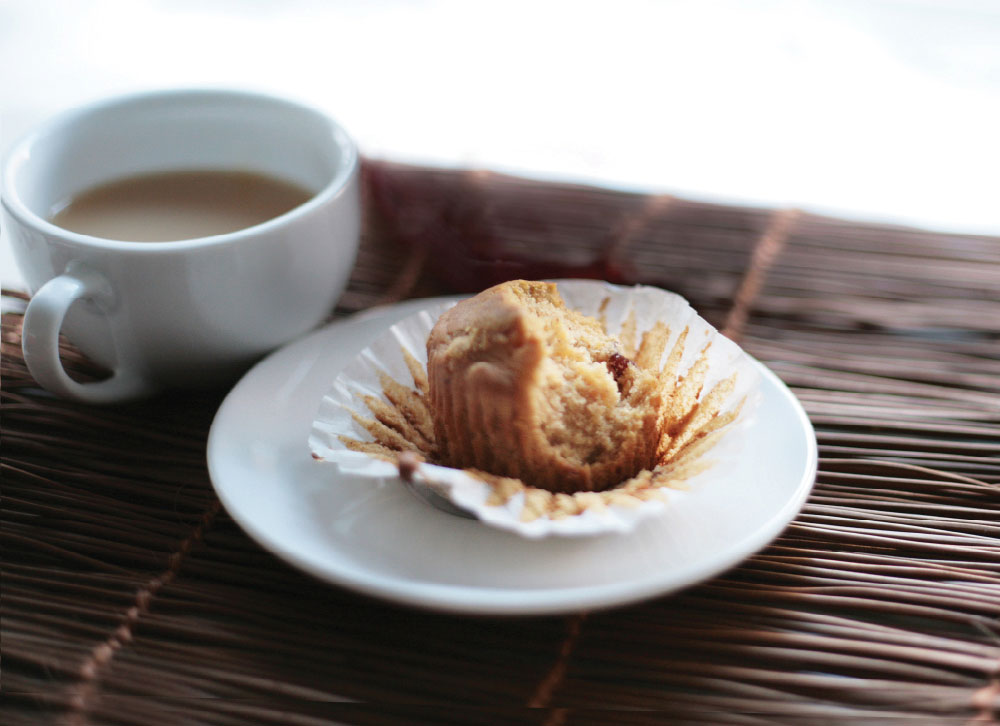 This was the first time I made anything sweet with quinoa flour and it takes some getting used to, but it's great for the added protein and nutritional value. (fyi: this link is fantastic for looking up the nutritional value for every kind of flour available)
I enjoyed my muffin with a nice rich Chai Tea. Did you know that in India, Chai just means tea – so we, english speaking citizens just call this tea "tea tea" – just a little randomness you can bring up when you're having a 'tea tea' with someone next time ;)
Oh, by the way, I made so much of pumpkin puree from that one pumpkin. I don't know what to do with it now! Maybe Pancakes?
Do you have any recipes or suggestions of what you'd do with that pumpkin puree?