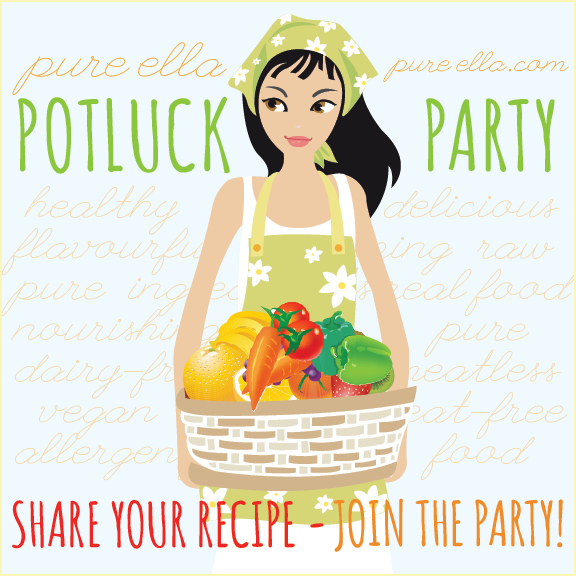 Hello everyone! TGIF!!! It's finally here! And we can finally celebrate with another Potluck Party! Yay!
We're in the full Fall swing of things and it's getting colder and colder day by day. Although we were pretty lucky to have a gorgeous September and a great start to October with a few days of Indian Summer. It was hot and beautiful but I do know this is the end…. in fact today is one of those days I've been dreading…. colder and rainy and to think it will be like this for the entire weekend… blah… good thing there is good old Comfort Food to warm us up ;)
It is now a time to heat up the stove and oven and create some delicious recipes that bring comfort to the whole family…
With this in mind, let's celebrate with a….
COMFORT FOOD POTLUCK PARTY!
BRING A DISH AND JOIN THE PURE FUN!
Just a reminder we're focusing on plant-based, egg-free, dairy-free and meat-free recipes as well as gluten or wheat free dishes. Some exceptions apply such as using honey or ancient grains that have gluten like spelt and kamut which are very healthy. Recipes should be all natural, with no refined sugar and with no processed ingredients, no preservatives or artificial colours of flavours and organic as much as possible.
Linking up? Thank you! By doing so, you allow Pure Ella permission to share your recipe and photo on other social media such as Pinterest. Please be sure to add a link to your post that you shared this recipe here on the Potluck Party. Thanks!
Wishing you all a wonderful weekend!
Are you enjoying this colder season (if you are in one!)?
Me? I'm kind of having mixed feelings right now ;)
♥
Pure Ella