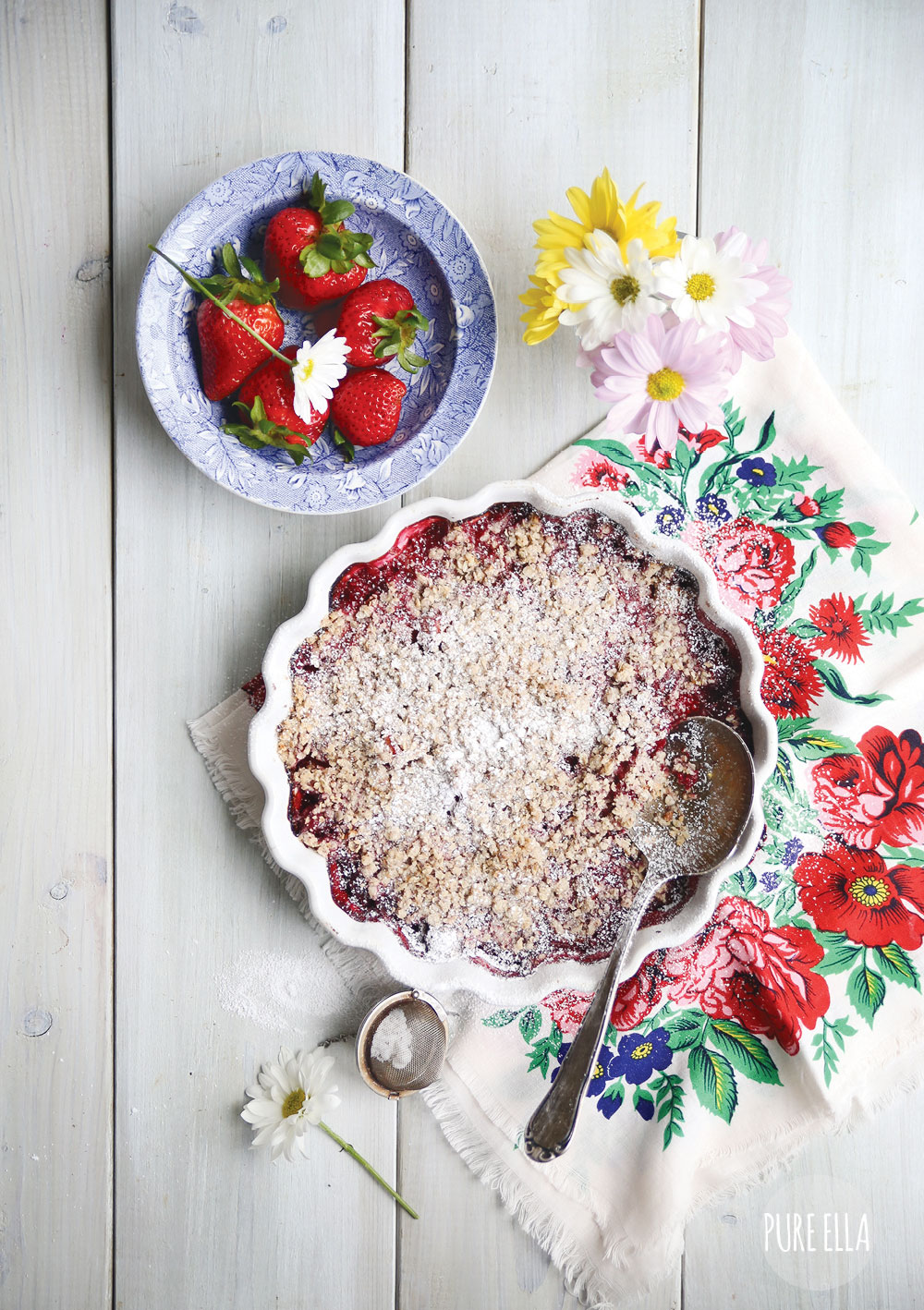 How about a healthy Raspberry Rhubarb Crumble? Yes, it must be spring!
So far it's been a beautiful start to spring… The pop of green freshness, the blooming tree blossoms, it's crazy gorgeous out there.
And if you're just tuning in, we got ourselves a puppy and it's so much fun going for walks on these beautiful days. Mind you it's a bit crazy with a baby and puppy around – but they are such cuties individually but especially together.
Mia and Moxie have bonded so well that it's just the sweetest thing to watch them. They also like to help mommy with food styling…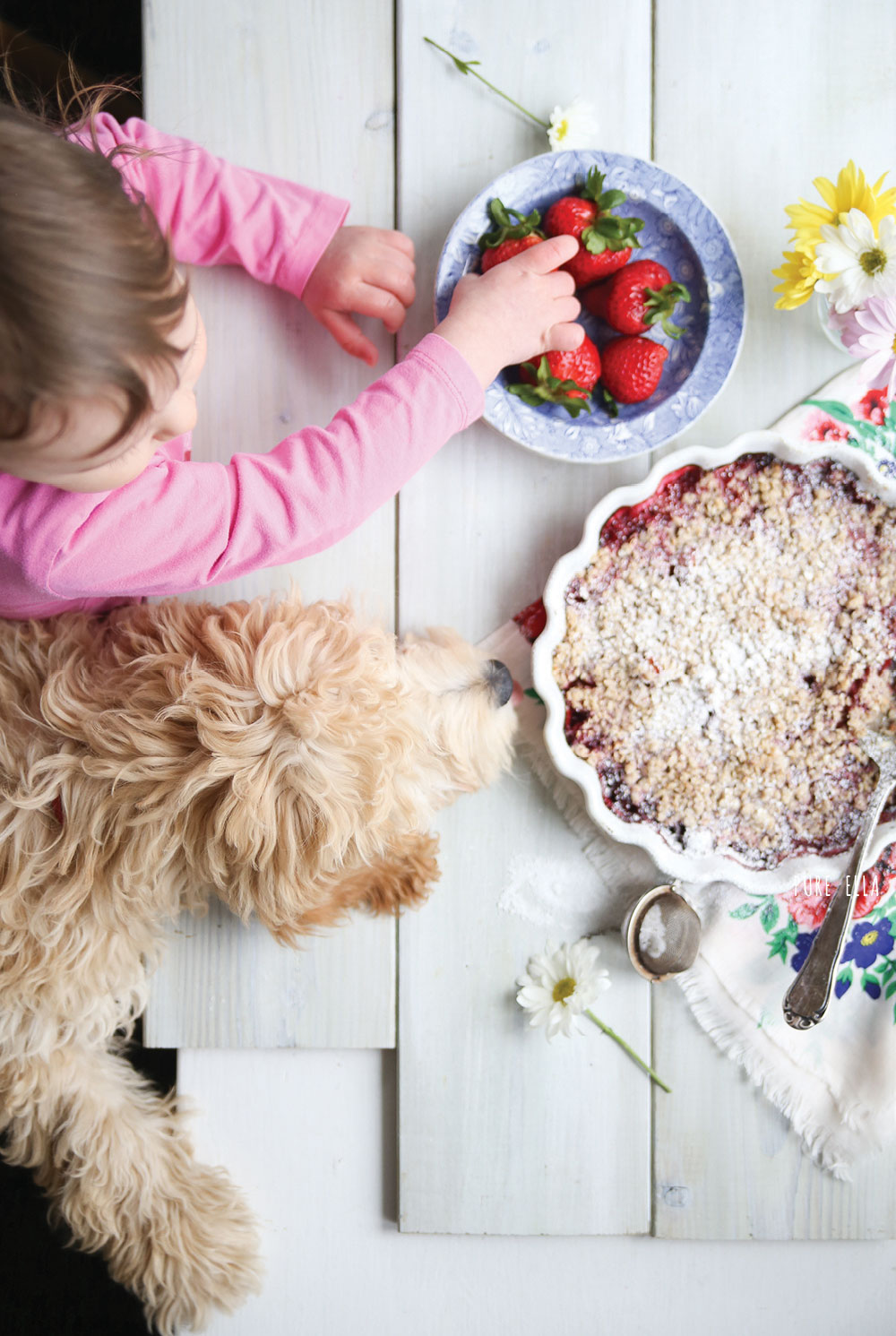 Now let's chat about that delicious and actually healthy crumble recipe…
Making a crumble is very easy. It's pretty much the easiest baked dessert you could make.
I like to make mine healthier by making it gluten-free and vegan. This way you avoid cholesterol, belly-bloating gluten and I also add protein to it so you feel more satisfied with less. And I also use low-sugar sweeteners along with the raspberries and rhubarb which already contain natural sugars.
I used frozen raspberries and frozen rhubarb too for this easy crumble recipe. I once got a whole bunch of rhubarb but I got too busy and knew I couldn't use it so and cleaned it and chopped it up and froze it for a future yummy dessert – just like this. (I already made delicious muffins with it so wait till you see those soon :))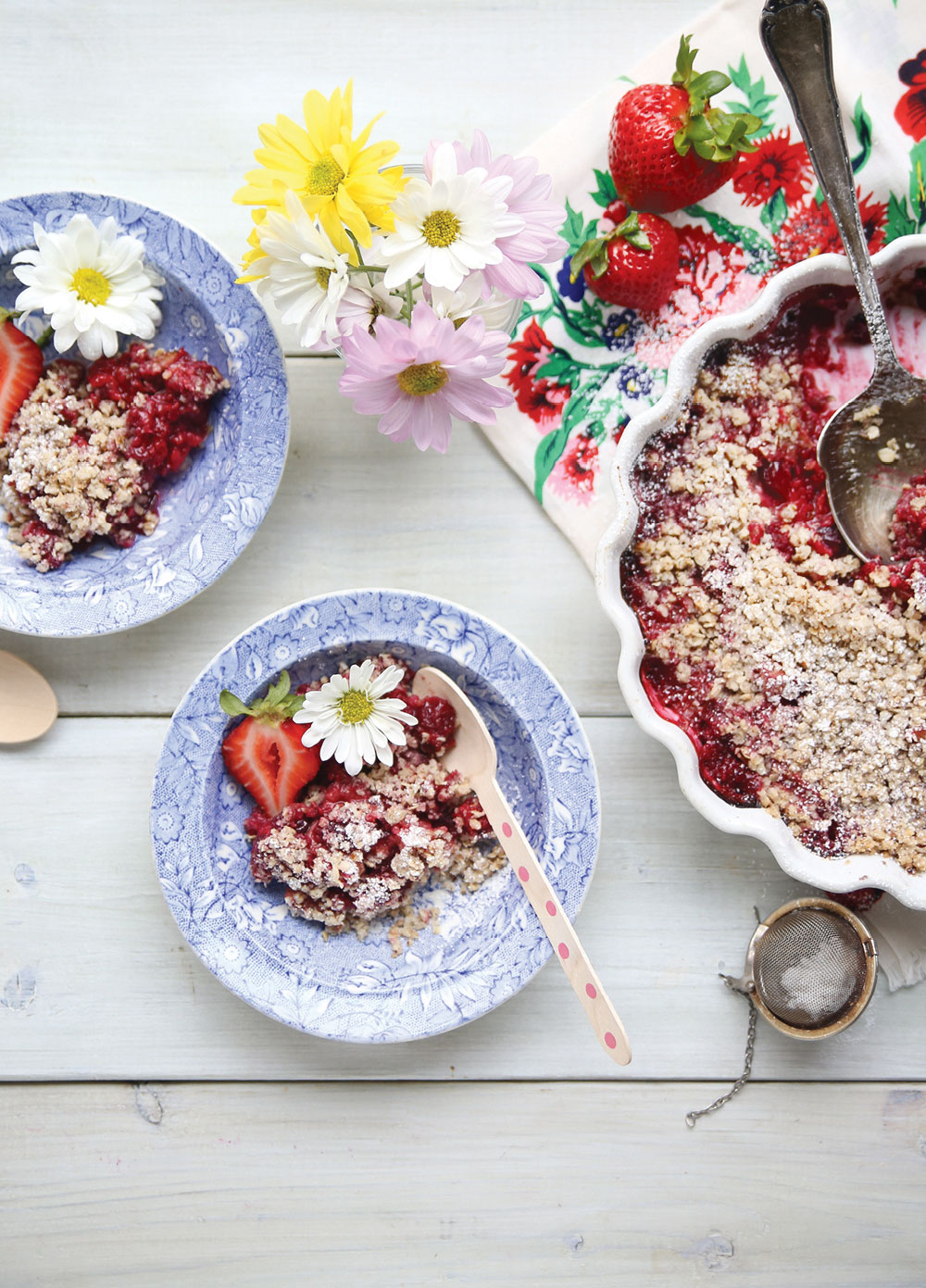 Healthy Raspberry Rhubarb Crumble
prep time : 5 min bake time : 25 min serves 3-4
For the crumble:
1 cup almond flour
1/2 cup rolled oats
4 tablespoons coconut nectar or honey*
4 tablespoons coconut oil
pinch of salt
2 tablespoons of powdered sugar (optional)
For the filling:
2 cups frozen or fresh raspberries (you could use chopped strawberries also)
1 cup chopped rhubarb
2 tablespoons coconut nectar or powdered stevia to taste (optional)
Directions:
Preheat oven to 350F.
In a medium bowl, mix the almond flour, oats, sweetener, coconut oil and salt. Set aside. (Alternatively you can use a food processor to mix these ingredients).
In an oven safe dish (6-8″d) sprinkle the raspberries and rhubarb and sweetener and mix with a spoon or your hands to distribute the sweetener evenly (if using). Otherwise just throw the fruit onto the pan and spread out evenly at the bottom of the pan.
Sprinkle the crumble topping on top and bake for about 25 minutes or until the crumble starts to brown slightly.
NOTES :
You can choose any quality sweetener that you like. My latest favourite is coconut nectar but I would also recommend maple syrup as it's much easier to find.
You can definitely omit the powdered sugar but in my case I really needed it for my photos… I am sure you understand ;)
*honey is not considered vegan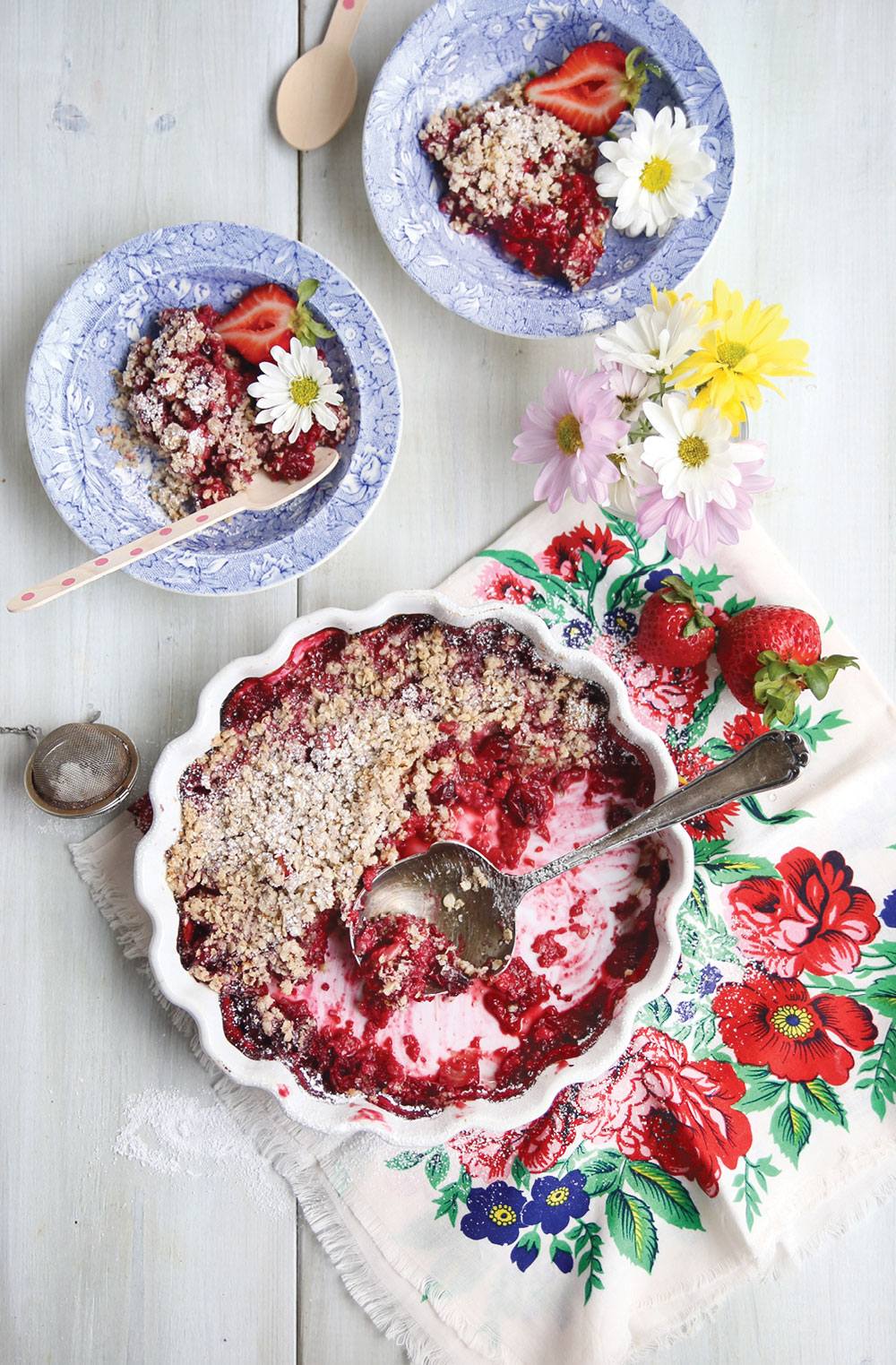 There you have it my friends. A beautiful and easy dessert that will please everyone… and it's made with amazingly healthy ingredients too because eating well shouldn't feel like you're depriving yourself. Food (even desserts) should be fun and enjoyable, right? :)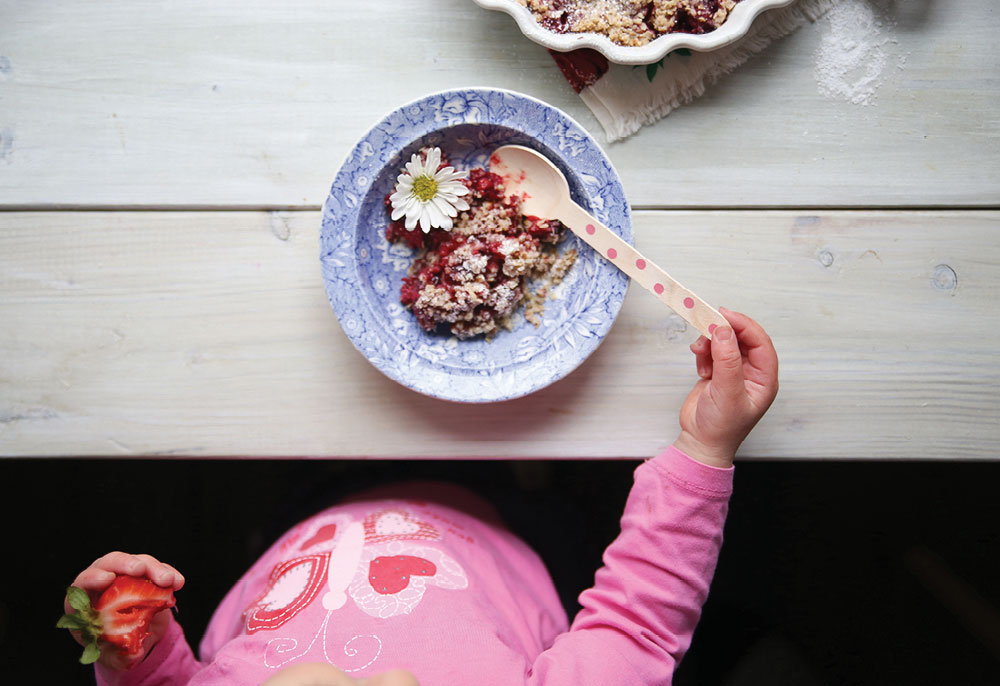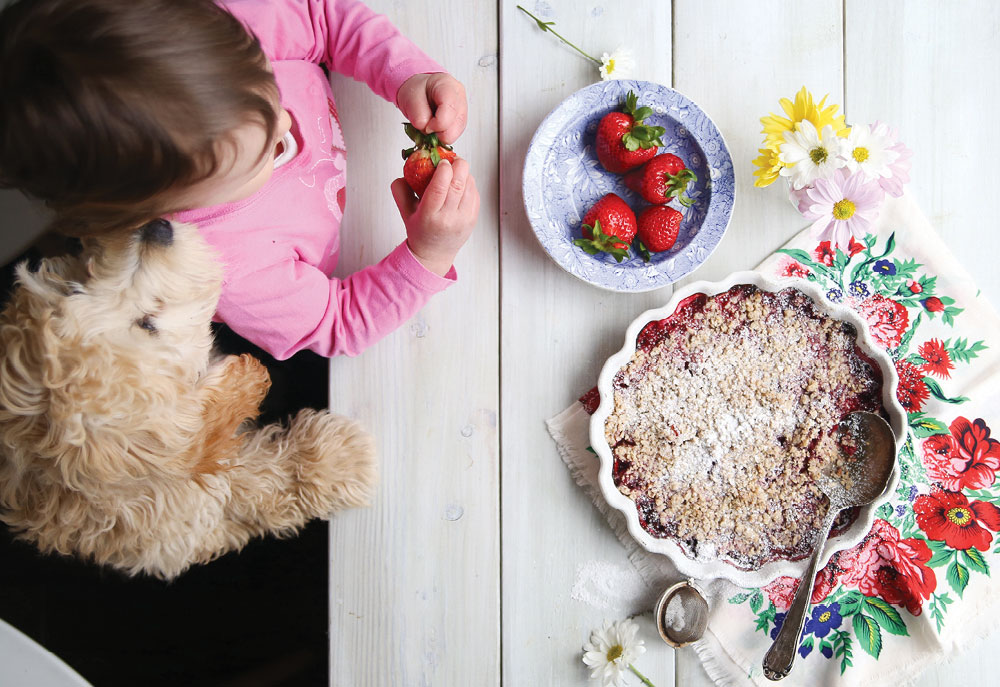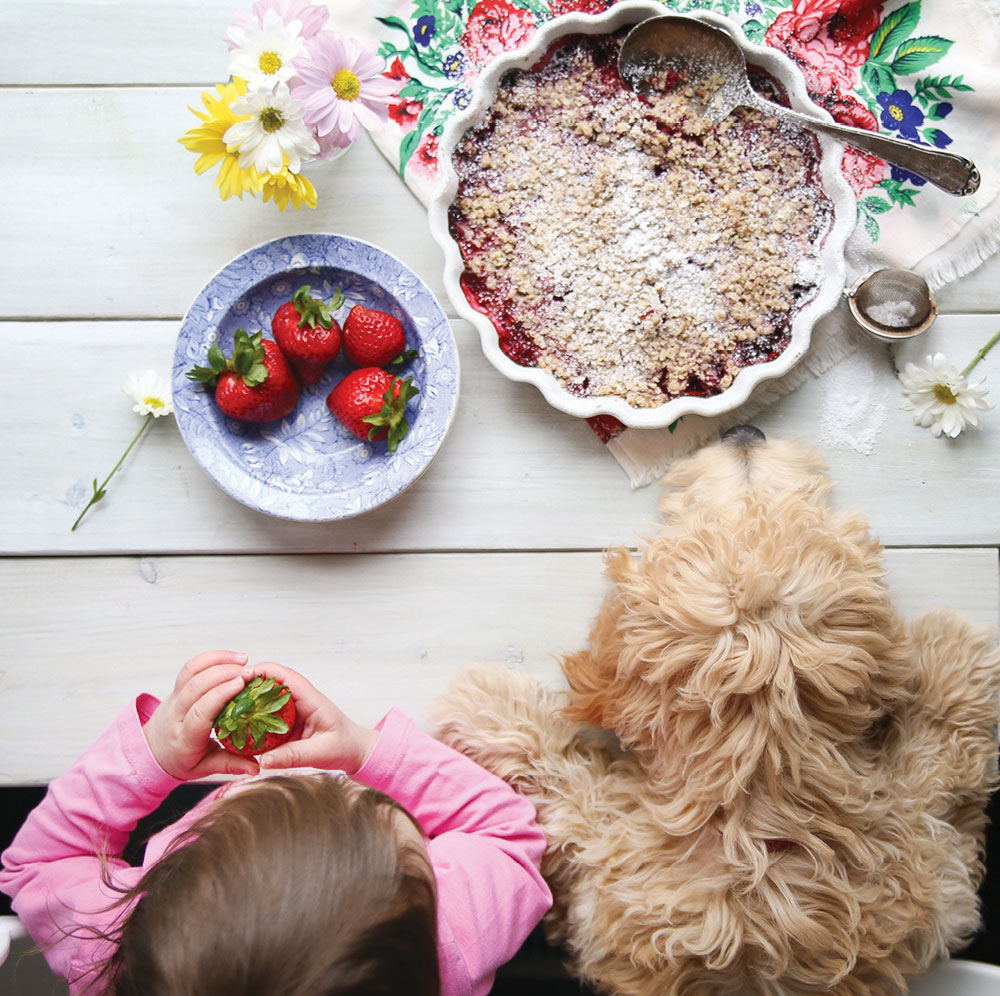 Cut the Sugar Tip :
For this recipe I used almond meal instead of flour or oats only. Almond meal doesn't contain any carbohydrates which means it also does not contain sugar.
Almond meal is also high in protein which means it will help you feel fuller so you're naturally satisfied with less – this ultimately helps reduce sugar cravings.
I used a low-glycemic sweetener which means it does not spike your blood sugar as fast as other sweeteners even honey, agave or maple syrup pretty much affect blood sugar the same way.
I used rhubarb which is a very low-sugary fruit (is it a fruit even?)
I used raspberries which contain vitamin C and antioxidants as well as natural sugars that are much healthier for you than a dessert sweetened only with refined sugar.
I also served this as is and did not top it off with vanilla ice cream – I know that's usually the serving suggestion but you really don't need the extra treat and ice cream (unless homemade with quality low sugar ingredients is loaded with sugar it can really put a treat over the top in not even a good way (Less is more in this case as you really taste these delicious ingredients and don't overpower a dessert with bad sugar.)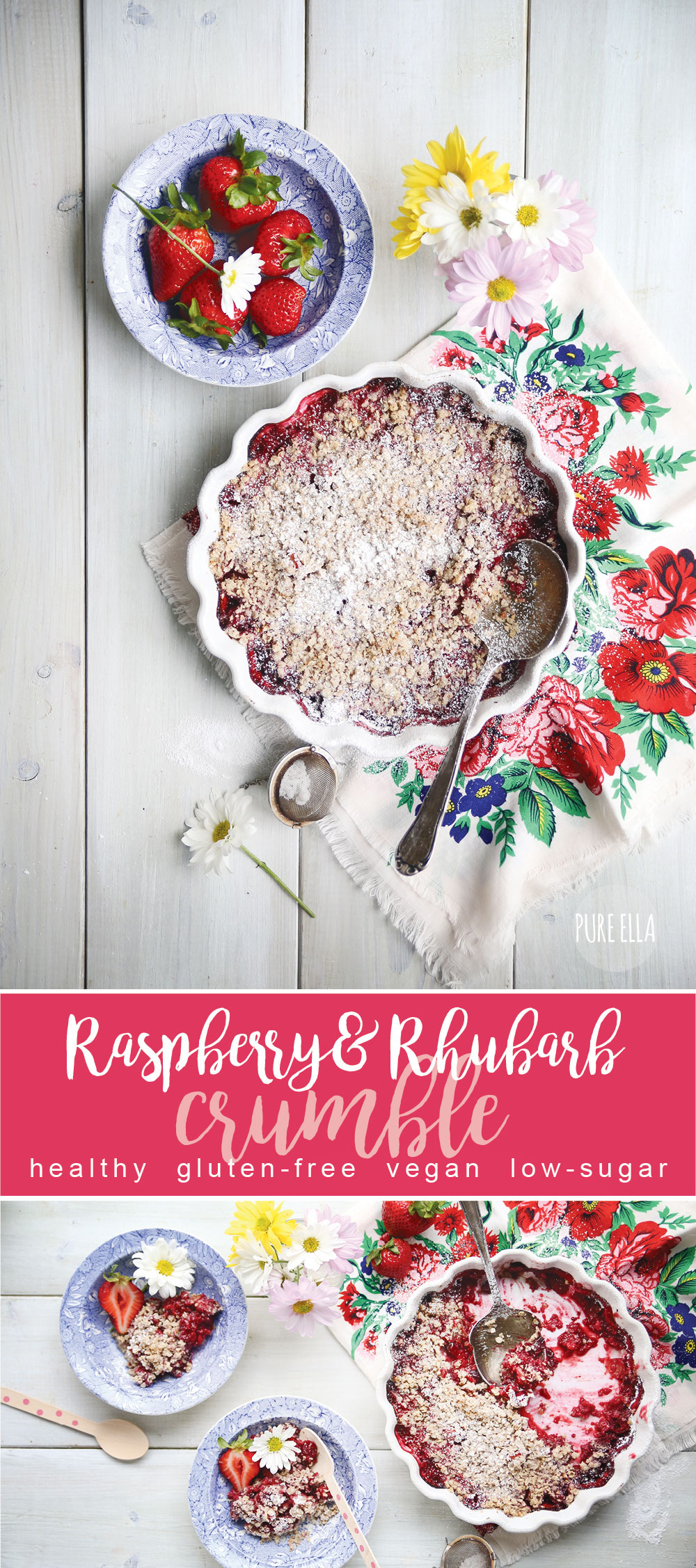 I do hope you'll enjoy this healthier crumble recipe soon! It's been our absolutely favourite treat as of late and I can't wait to make this again this weekend. (I am sure glad for those frozen raspberries and rhubarb in the freezer! ;))
Do tell, what's your favourite spring time treat? (I bet it's this healthy crumble ;))