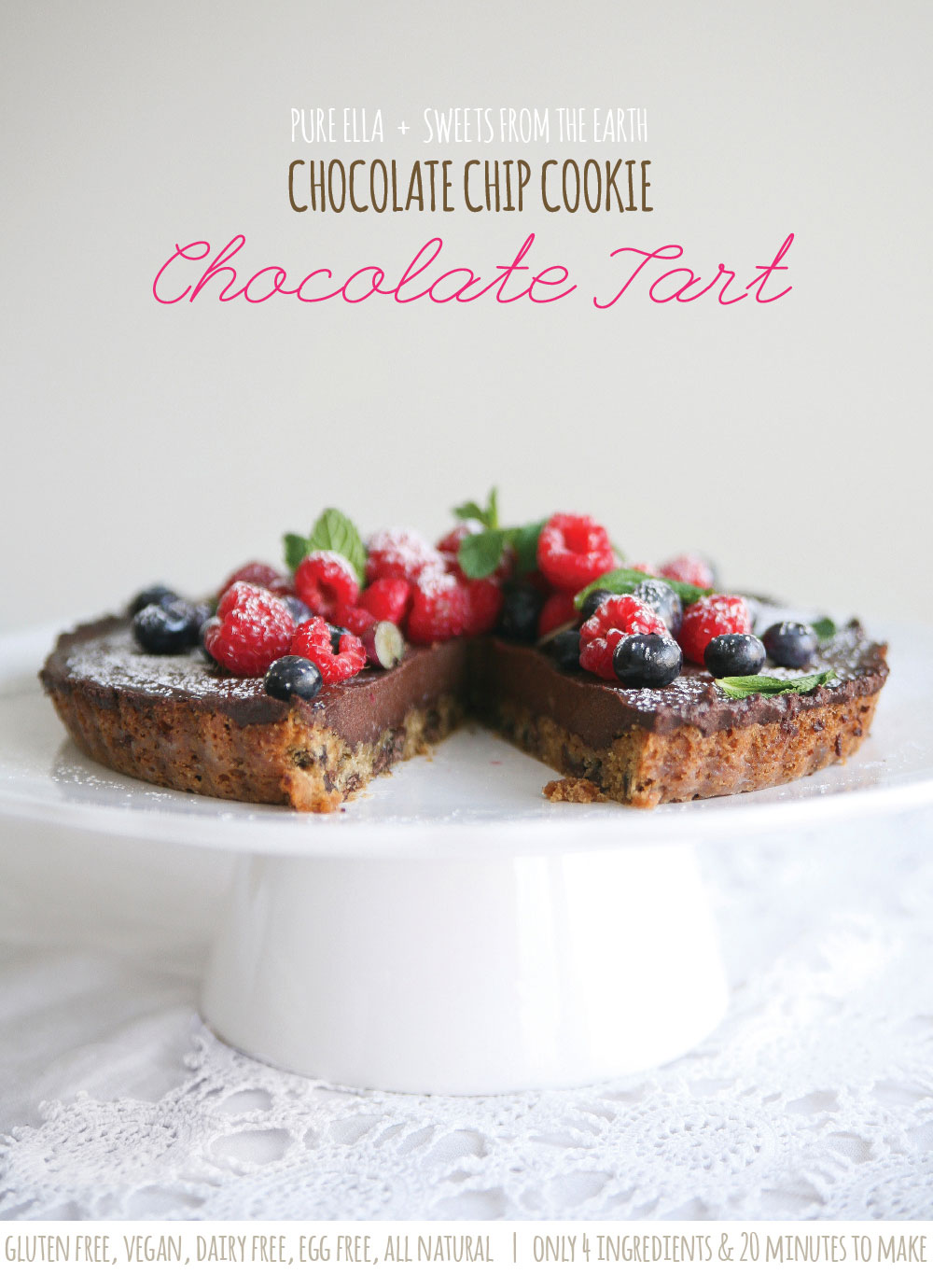 Today, I have for you my friends incredibly amazing things!!! ;)
A Chocolate Tart that is amazingly delicious with pure natural ingredients and a Giveaway from one of my all-time favourite dessert brands : Sweets from the Earth!!
I don't know where to start…. do I tell you about this tart that comes together with only 4 ingredients and can be all done in under 20 minutes???
Or do I tell you about these amazing quality ingredients in this chocolate tart that are gluten-free and vegan/ dairy-free and egg-free and all natural???
Or maybe I should just jump in to tell you how much I really truly love Sweets from the Earth products??? They have been my lifeline for quick quality gluten-free and vegan desserts for the last 5 years and I'm thrilled to be sharing these goodies with you ;)
Oh let's start with that Chocolate Chip Cookie Chocolate Tart! Because I know you're now salivating and are licking your screen – and are possibly wondering how on earth 4 ingredients and 20 minutes can make THIS DELICIOUSNESS happen! ;)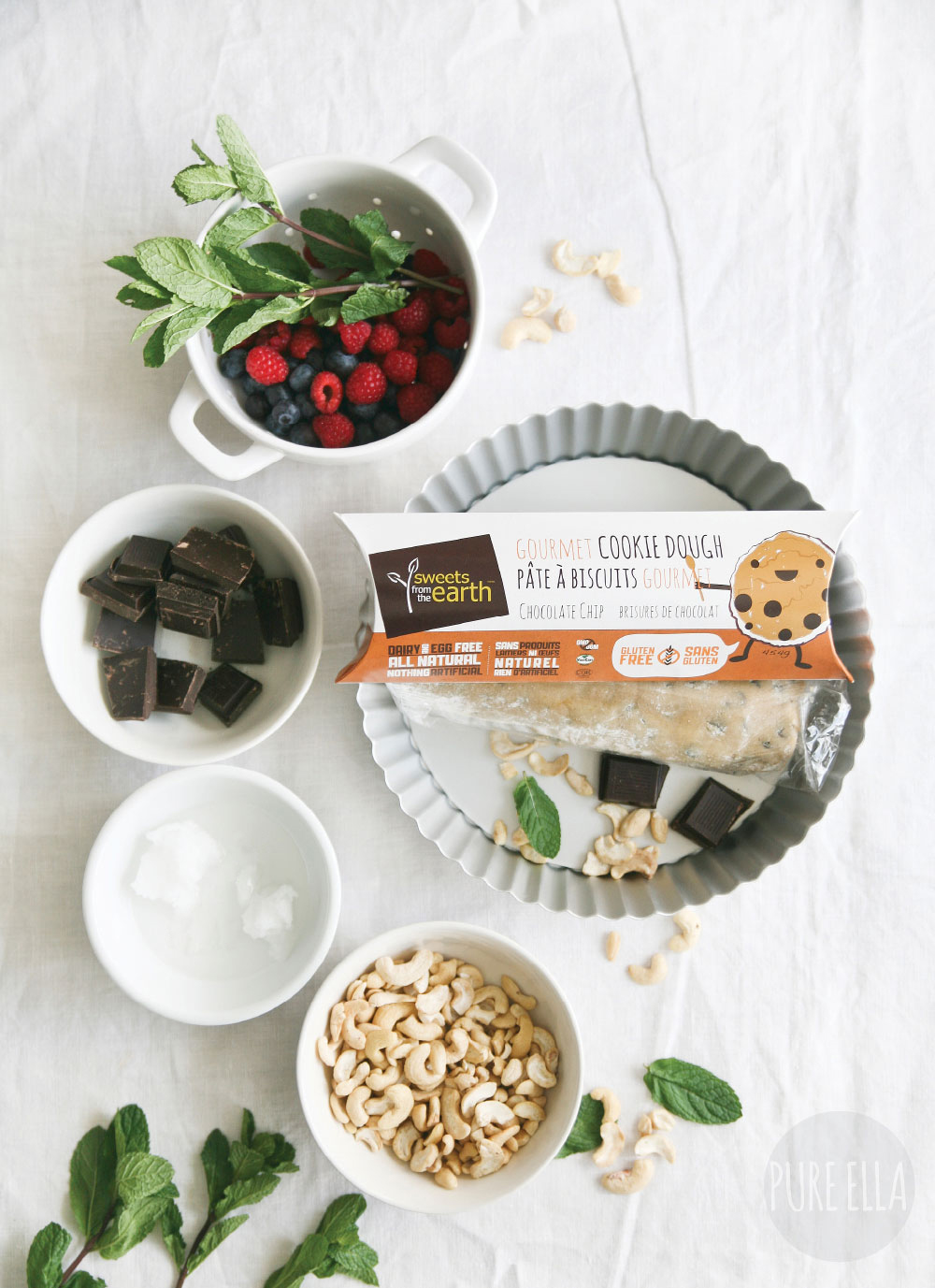 Sometimes you want big results with little effort, right?
Sometimes you want to work smarter not harder, right?
And sometimes you just want to serve a stunning Chocolate Tart that takes up very little of your time but looks and tastes amazing!!! Am I right?
I love homemade desserts but sometimes I just want something quick and beautiful on the table without spending hours baking or mixing in over a dozen of ingredients. But I still have high expectations and I won't settle for anything less than excellent! For baked goods that means, all the ingredients need to be all-natural, gluten-free and vegan and completely pure with no refined sugar, artificial flavours or colours or preservatives. This stunning Chocolate Tart is all of the above, would you believe?
The secret behind the Gluten-free and Vegan Chocolate Chip Cookie Chocolate Tart is the Chocolate Chip Cookie Dough from Sweets from the Earth! The full base of the tart is one giant cookie ~ which naturally is gluten-free and vegan!
The next ingredients are a quick blend of cashews, dark chocolate and coconut oil – together making the richest mousse-like chocolate layer!!! To die for!!! ;)
Chocolate Chip Cookie Chocolate Tart | vegan & gluten-free
Ingredients :
1 package Chocolate Chip Cookie Dough from Sweets from the Earth
1 cup raw cashews, soaked for 2 hours
3/4 cup dark vegan chocolate squares or chocolate chips
1/2 cup coconut oil
1/4 cup warm filtered water
+ fresh berries, mint and powdered sugar to sprinkle on top (optional)
Directions :
Preheat oven to 350 F.
Line a tart dish with parchment paper and grease the sides. Press the Sweets from the Earth Chocolate Chip Cookie Dough into the baking dish, pushing some dough onto the sides and making sure the dough is spread out evenly. Bake at 350 F for about 12 minutes. Remove from the oven and allow to fully cool.
In the meantime as your Chocolate Chip Cookie Dough is baking, you can quickly make the chocolate mousse layer.
Set up a double boiler, or a bowl overtop a pot with water to melt the chocolate. Heat on medium until the chocolate melts completely.
In another small pot, heat the coconut oil until it's fully melted but not boiling, turn off heat once it's melted.
Rinse and drain the pre-soaked raw cashews and mix on high in a food processor. Add in the melted chocolate, warm water and coconut oil. Continue mixing until all ingredients are fully mixed. Be sure to turn off the food processor and scrape down the sides to get all the ingredients incorporated well.
Pour over the Chocolate Chip Cookie base and place in the refrigerator to set. For a quick serving, place in the freezer for about 5 minutes or longer until it's fully set.
Top with fresh berries and mint and sprinkle some powdered sugar on top to finish it off! That's it!! Enjoy! ;)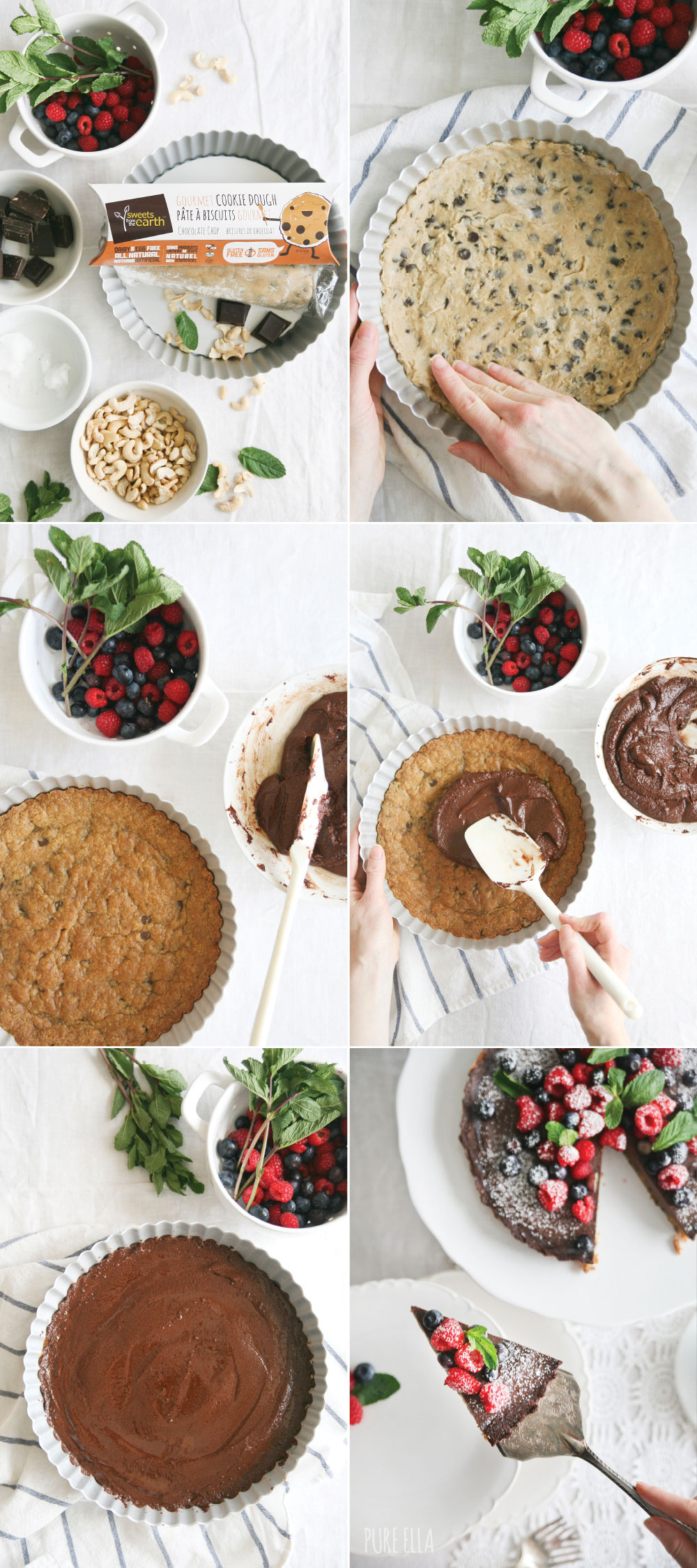 If you have little ones excited to help… do let them ;)
About 20 minutes later….. this amazing Chocolate Chip Cookie Chocolate Tart was ready to be eaten up! It was pure perfection ~ rich and heavenly at every bite and best of all, I felt great about what was in it ;)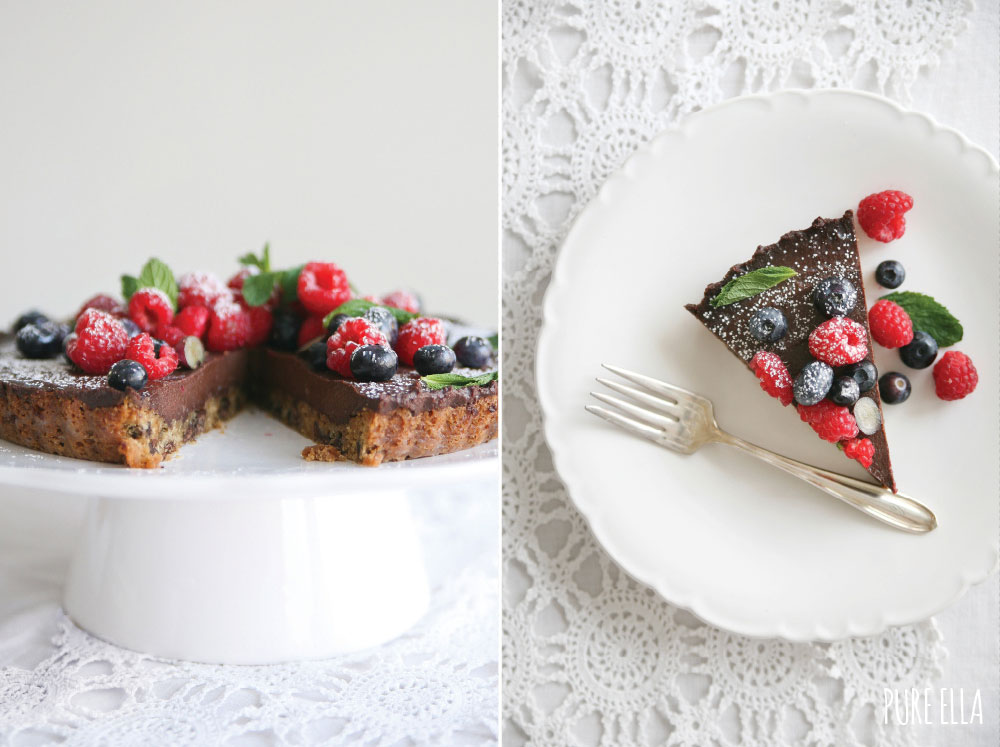 The Chocolate Chip Cookie Dough makes the best cookies (we already knew that!) but it also makes for a wonderful tart base! Oh my, it was decadent and amazing – the whole family raved about it! And I can't wait to make this again!! My daughter was overjoyed with this fanciness at the table… I was overjoyed I could easily make a little one so happy ;)
What's great is that you can have the Sweets from the Earth Cookie Dough in your freezer at all times and break out a quick and delicious tart whenever you feel like it ;)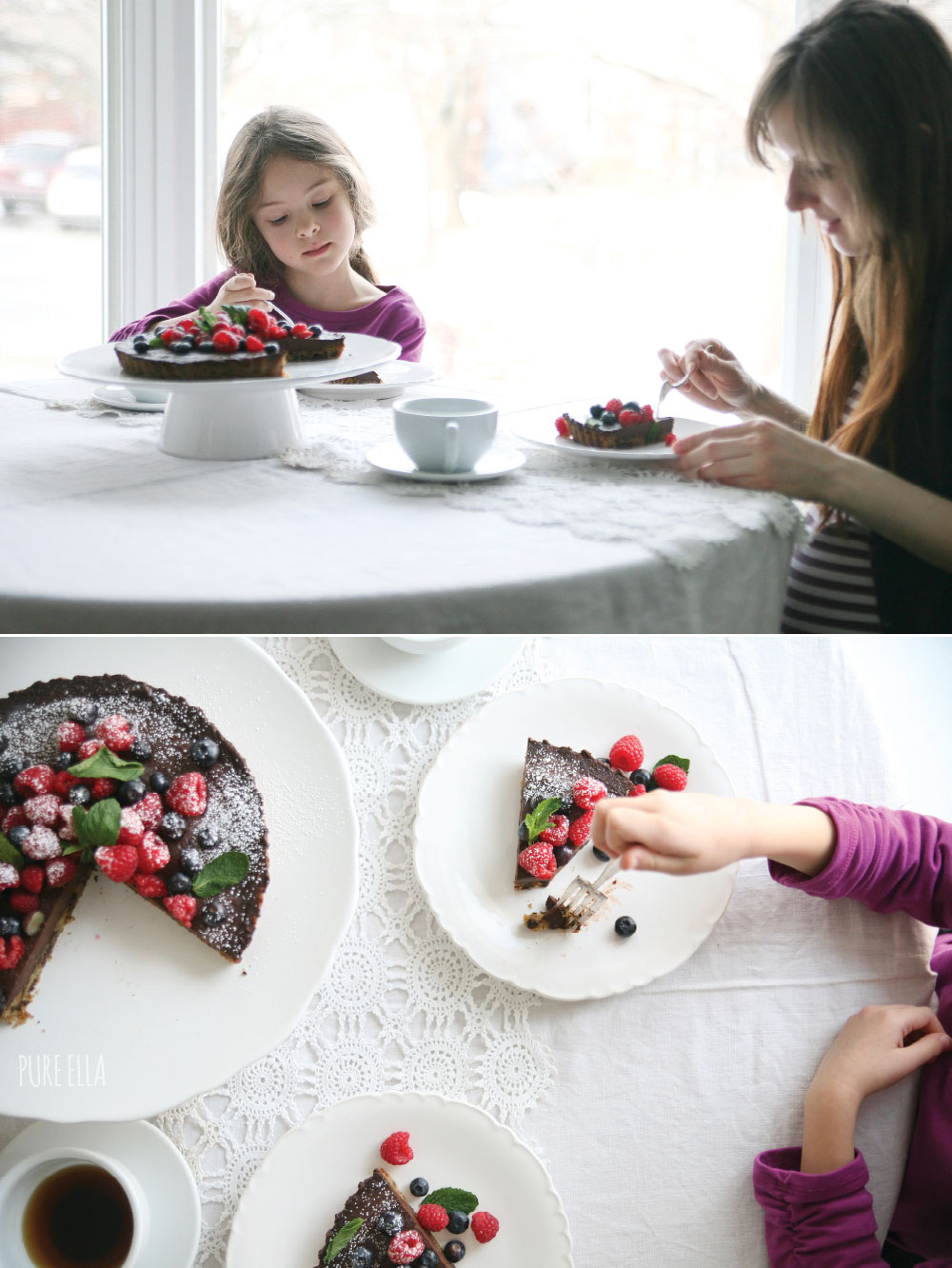 Now here's the next best part!!!!
Sweets from the Earth is generously offering a Prize Package for a range of their desserts!!! Awesome, right?
About Sweets from the Earth
Sweets from the Earth is a Toronto-based bakery that is dedicated to amazing desserts that are all vegan with gluten-free, nut-free options – making their devoted customers happy since 2002. Their product selections are all natural, 100% vegan, trans fat free, non-hydrogenated, GMO-free, made without artificial flavours and colours (they use natural fruit and vegetable extracts for colouring), preservative free and free from refined sugars! And amazing + delicious at the same time!
The cookie dough made alone as cookies is so convenient – keep a bunch of flavours in your freezer, defrost for about 5 minutes and pop into the oven for some quick, gourmet cookies at a moment's notice. The cookie dough comes in gluten-free and regular variety, all vegan/ dairy and egg free.
For more about Sweets from the Earth, visit their website, facebook, twitter to connect and get the latest scoop on promotions and latest products!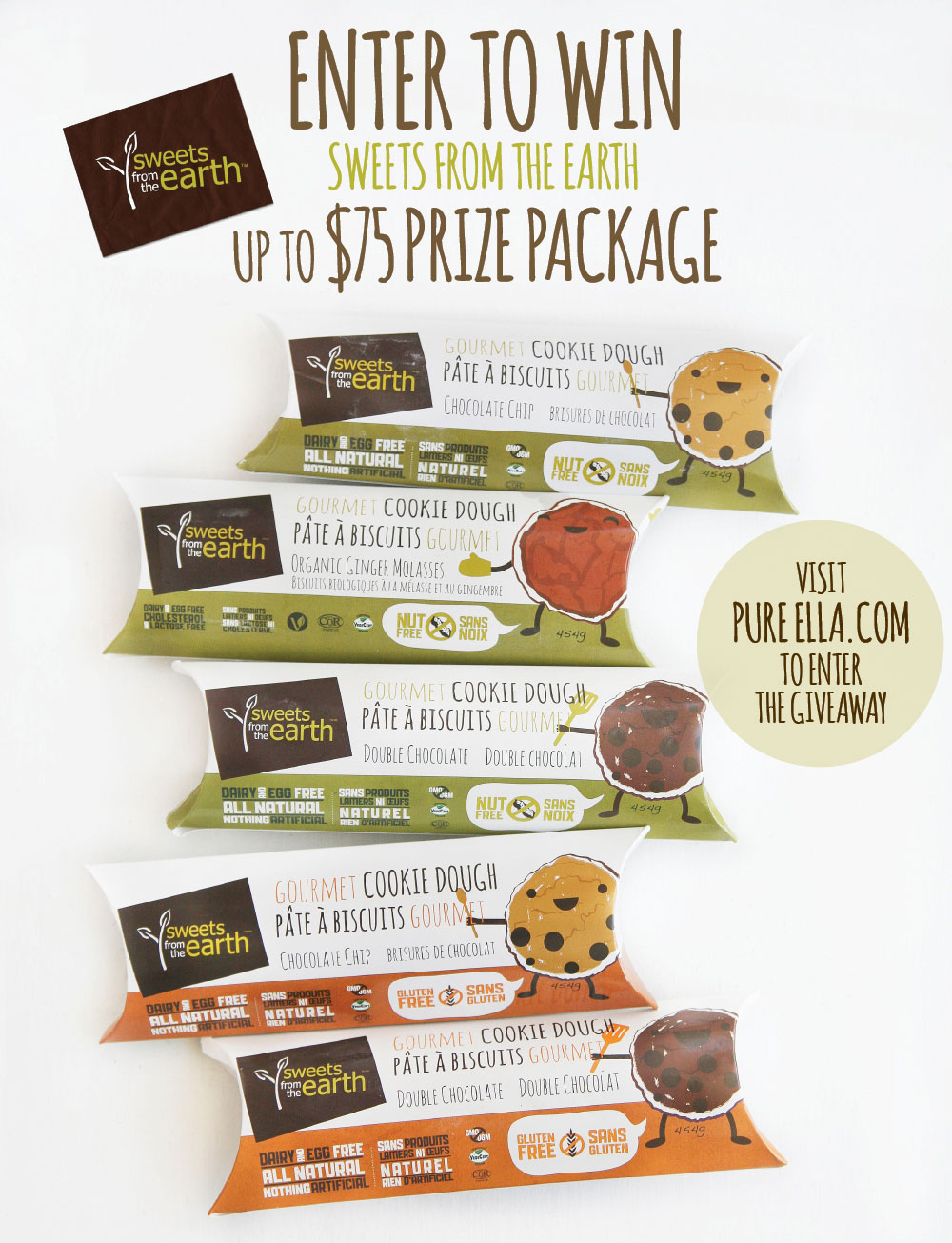 Contest open to Canadian residents only. Entries accepted until April 13th 2014.
Can't find Sweets from the Earth products in a specialty retailer near you? Talk to the manager or write to your store suggesting they carry SFTE!
It's a fantastic line of healthy convenient desserts that are great to pick up and treat yourself!
I could not be happier with this company and everything they do ;)
All opinions are my own. Thank you for supporting companies I believe in.
♥
Pure Ella
If you're new to Pure Ella, please sign up for email updates and join me elsewhere:
Facebook

//

Pinterest

//

Twitte

r //

Instagram

@pure_ella