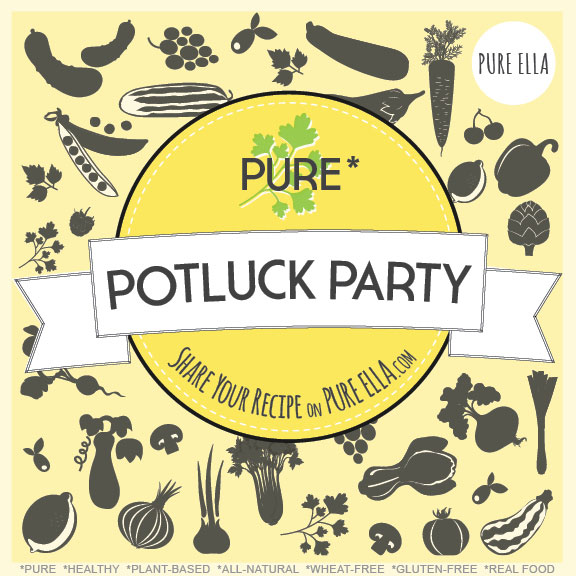 Hello my friends! Happy Friday and Welcome to the first Potluck Party of 2014!!
It's been a fun break but we've got get going with great food and great recipes – there's a lot of New Year's resolutions relying on *us* ;)
I want to kick off this year with something more simplified – I want to use this look of the badge for all the parties – I find I waste a lot of time coming up with new ideas and looks, where really that's not important – what's important is so that we can share yummy recipes quick with no delays!! So, that's one of the call-it-resolutions I want to keep up this year – is stick to scheduled things! I am a little free bird… I don't like constricting myself, but this will make better sense to all of us (and I will build on some top-notch life skills! And, at this time… no themes either! Sorry! I know those were super fun – but again, constricting and delayed sharing! You are free to share what you like and we will throw in an occasional theme here and there if there's a Holiday coming up or a special occasion ;) And we'll focus on subtle themes such as a word or diet or season in a few words…
To kick off the New Year, let's focus on recipes that are a Clean Start!
Just a reminder we're focusing on plant-based, egg-free, dairy-free and meat-free recipes as well as gluten or wheat free dishes. Some exceptions apply such as using honey or ancient grains that have gluten like spelt and kamut which are very healthy. Recipes should be all natural, with no refined sugar and with no processed ingredients, no preservatives or artificial colours of flavours and organic as much as possible.
Linking up? Thank you! By doing so, you allow Pure Ella permission to share your recipe and photo on other social media such as Pinterest. Please be sure to add a link to your post that you shared this recipe here on the Pure Ella's Pure Potluck Party. Thank you!