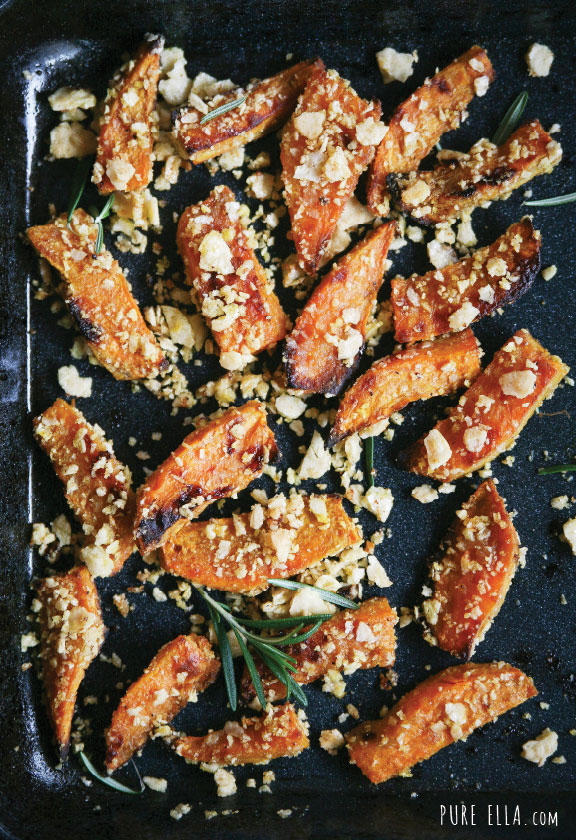 Sweet potatoes… yum… such a great winter tuber gem. It used to be that I would have white potatoes all the time at our house. They were the food we always depended on, it was a staple item that we made sure we always had stock of. Now, I seldom even buy white potatoes. Seems like white-anything is just not that really good for you. What's better than white ~ colour! A simple rule of thumb is that the more colour the food has (natural colour of course) the better it is for you! It's a simple rule to remember, right?
So sweet potatoes are now a staple food we often buy and white potatoes very rarely hit the shopping cart. When you learn about better options out there… you choose and learn to love those better options…
Sweet Potatoes are loaded with Vitamin A (283% of your daily value) – that is the vitamin which helps your skin look great! Ever hear of retinol and retinoic acid in cremes – that is actually derived from Vitamin A. And beta-carotene is that pigment naturally found in orange foods that combat free radicals which result in skin aging.
They are low-glycemic food. That is good news because high glycemic foods spikes your blood sugar which is not good. This is important for Diabetics – but not only as you want to incorporate a healthy dietary lifestyle and going for most of your foods as low-glycemic is very healthy. To compare a Sweet Potato to a white potato it is 17 (sweet) vs. 29 (white).
High in Potassium – great for anti-stress!
And there's also Calcium, Iron Magnesium, Vitamin C, Vitamin B-6 and some protein found in each sweet potato.
So there you have it! Sweet Potato nutrition facts are amazing… now let's make a fun recipe!!!
These also make a great addition to a Thanksgiving dinner if you are looking for a big crown pleaser and want something different non-traditional on the table!
These Crispy Sweet Potato Wedges are super tasty and just awesome!! They make a great side dish but they are also great for snacking just like that. (I actually made them to accompany dinner but they were gone within minutes of coming out of the oven and never even made it to the dinner table). Yes, they are so delicious!
CRISPY SWEET POTATO WEDGES
Ingredients :
4 large sweet potatoes (count 1 per person)
1 cup original rice crackers
1/4 cup olive oil
sprinkle of sea salt
freshly cracked black pepper to taste
.Directions :
Preheat oven to 350F and place a baking dish in the oven to get hot.
Wash and dry the sweet potatoes. (It's optional to peel them. Keep the skins on if they are organic). Cut into wedges of equal size to bake evenly. Place in a large bowl and drizzle with half the olive oil and season.
In a food processor, pulse the crackers until crumbs form. Some larger pieces are ok to leave for a bigger crunch! Alternatively, you can place the rice crackers in a plastic bag or between sheets of parchment paper and slam down with the back of a wooden spoon to smash into crumbs. Add the rice cracker crumbs to the wedges and toss to coat evenly.
Carefully remove the hot baking dish from the oven, drizzle with the remaining olive oil and spread out all the sweet potato wedges and every little bit of cracker crumbs on top. Spread out evenly and bake for about 30 minutes, turning them over once half way through.
Remove from the oven and serve immediately. Enjoy!
What are your favourite ways to eat Sweet Potatoes? And are they winning the battle of Sweet vs. White at your house?