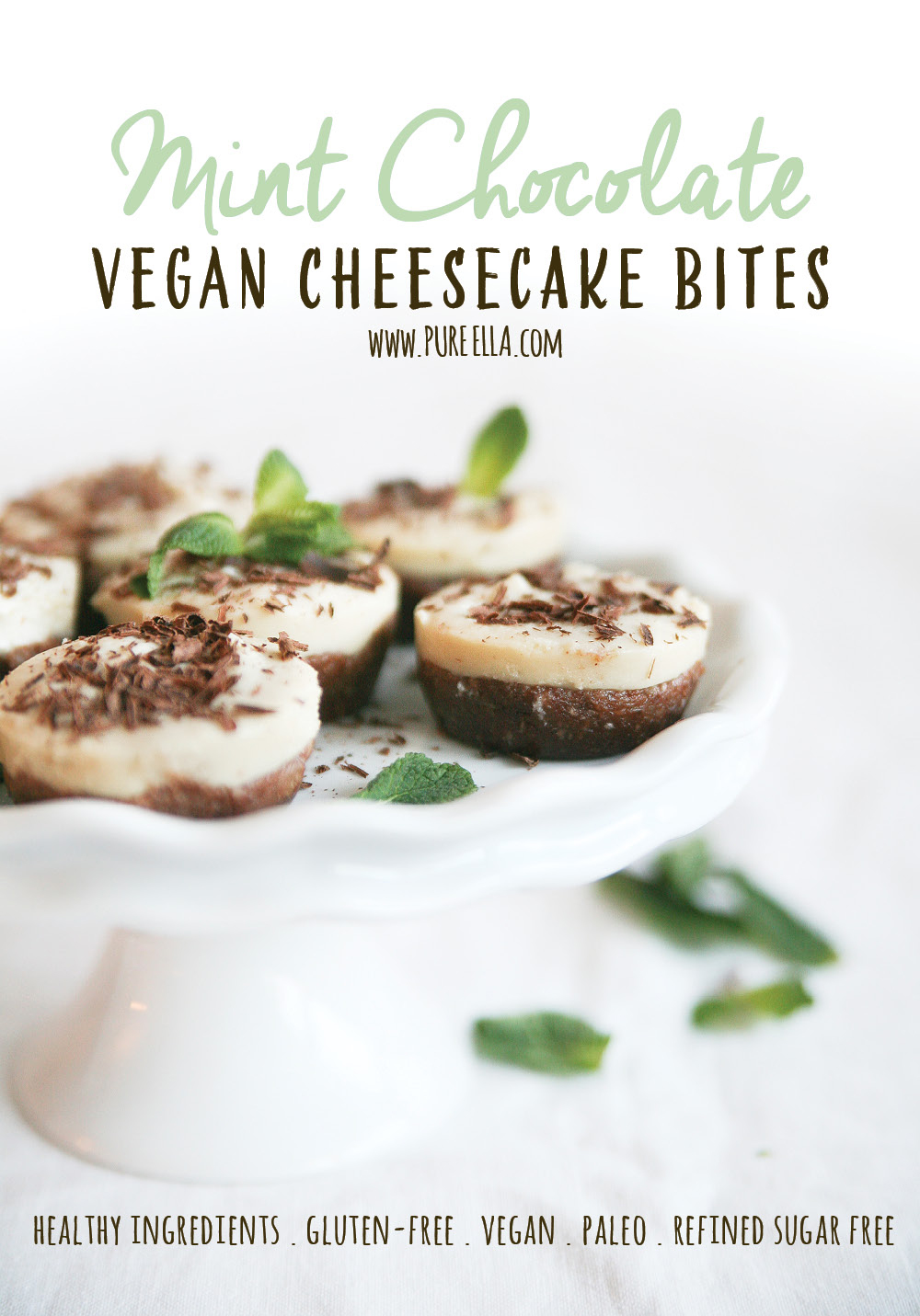 Who does not LOVE mint chocolate anything???
In this delicious recipe I combine the best ingredients for an easy, quick and amazing dessert! These Mint Chocolate Vegan Cheesecake Bites are not only dairy and egg free, but also gluten-free, paleo and refined sugar free! A must try this Holiday Season!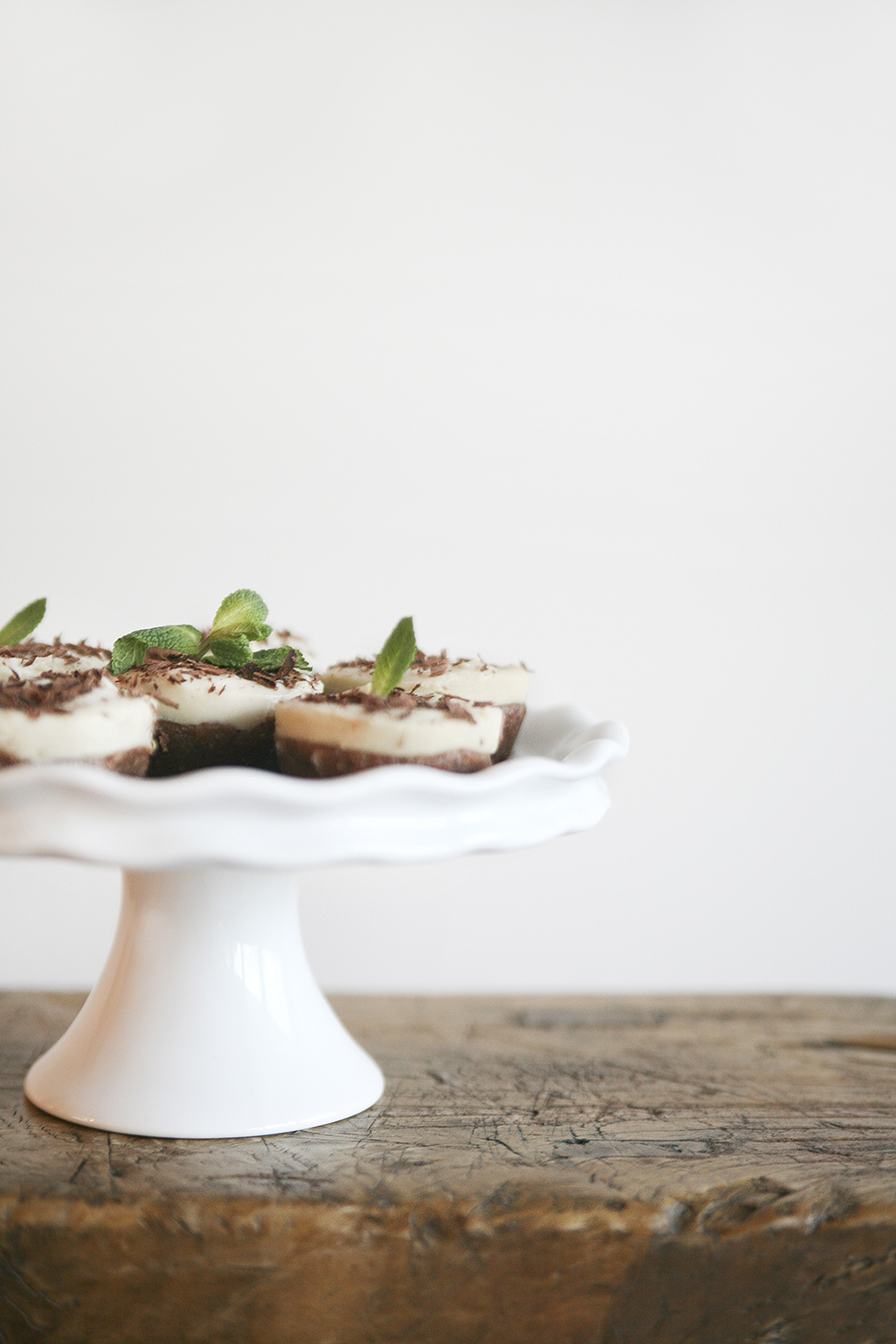 Mint Chocolate Vegan Cheesecake Bites
gluten-free, vegan, paleo, refined sugar free
INGREDIENTS FOR THE BASE :
1/2 cup walnuts
1/2 cup pecans
1/2 cup Medjool dates, pitted
4 tablespoons raw cacao powder
pinch of sea salt
1-3 tablespoons of water (optional)
INGREDIENTS FOR THE CHEESECAKE FILLING :
2 cups raw cashews, previously soaked
1/4 cup coconut oil
1/4 cup filtered water
1/2 cup pure maple syrup
1 teaspoon mint extract
chocolate shavings of 72% or higher chocolate bar
DIRECTIONS:
Make the crust first: In a food processor, pulse all the nuts until a fine grind forms. Add in the dates, cacao and pinch of salt. Continue mixing and check with your fingers if the mixture sticks in your fingers. (Be sure to turn off the mixer each time you check, and always form a habit of scooping with a spoon first!) If it's too dry, add in water one tablespoon at a time. Mix again, check again. Once it sticks together and still falls off your fingers – it's perfect.
Using a cupcake pan, preferable a silicone one, press the mixture into the bottom evenly and set aside.
To make the filling: Soak the cashews for 1 hour in hot water at room temperature or overnight (6-8 hrs) in the fridge, strain well. Add all the ingredients into a clean food processor again : cashews, melted (but not hot) coconut oil, water, maple syrup and mint extract. Mix on high for about 5 minutes until a very smooth mixture forms.
Scoop over the bases in the cupcake pan. Tap the pan gently to let it settle. Place straight into the freezer for minimum 1-2 hours to set. Then remove when still frozen onto a serving dish and allow to defrost about 5-10 minutes in the refrigerator. (they defrost even faster at room temperature so give them enough time to defrost slightly before serving.) Top with chocolate shavings and mint leaves to serve. Enjoy!
NOTE : If you want to keep them frozen for longer and just have them ready whenever the occasion calls for a great impromptu dessert. Simply freeze for 1-2 hours, then be sure to wrap the pan with plastic wrap as tight as possible and return to the freezer for up to 1 month.
This is an amazing dessert that's made with great ingredients! This is my kind of dessert! :)
It's filled with protein, healthy fats and natural unrefined sugars! A combination of nutrients that are a true winner in my book! (literally in Cut the Sugar! *wink*)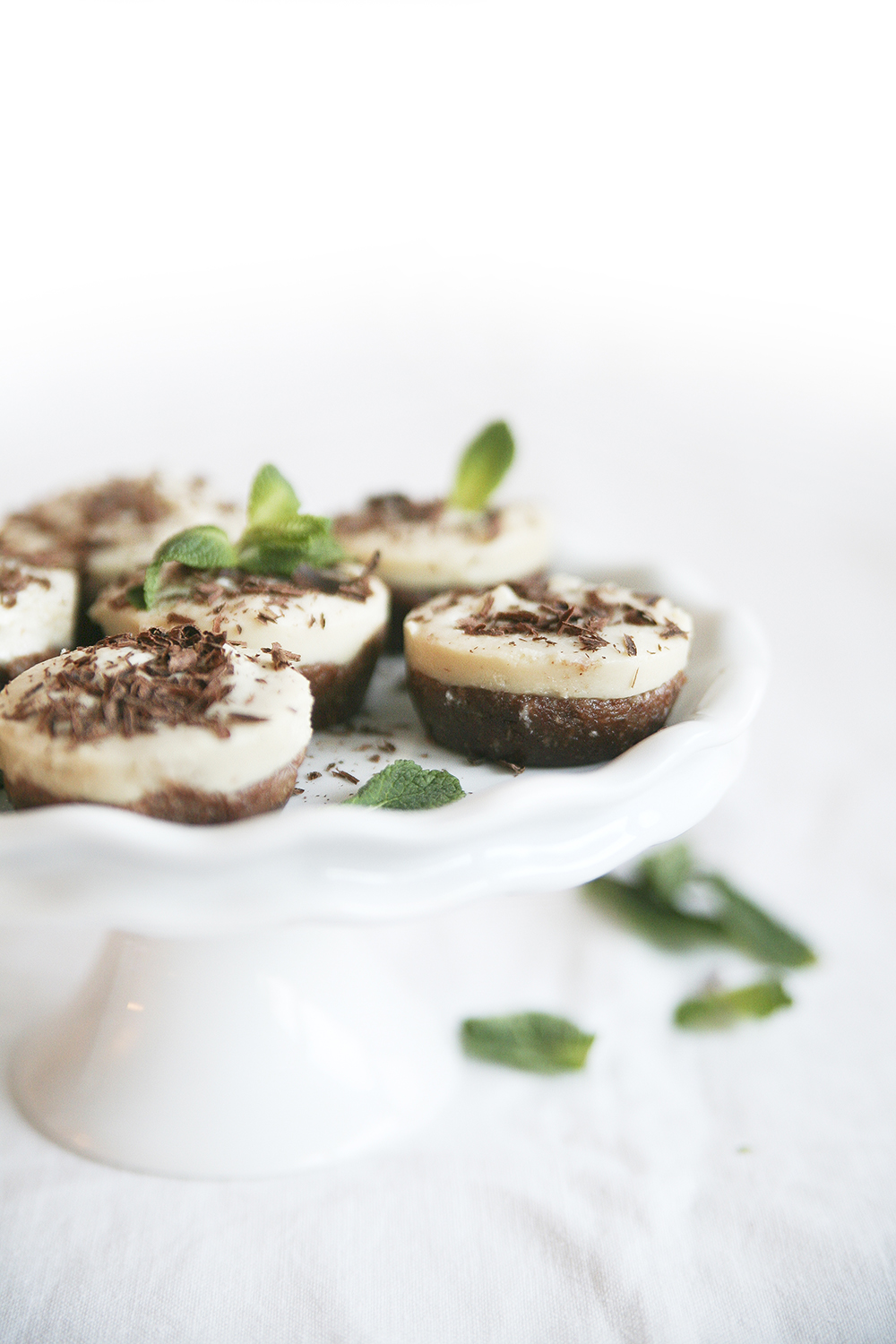 I hope you'll enjoy this recipe soon! If so, don't forget to tag your creations #pureella & @pure_ella on Instagram and share your photos! I share my favourites on social media!
I wish you a very Happy Holiday!
With love, ella