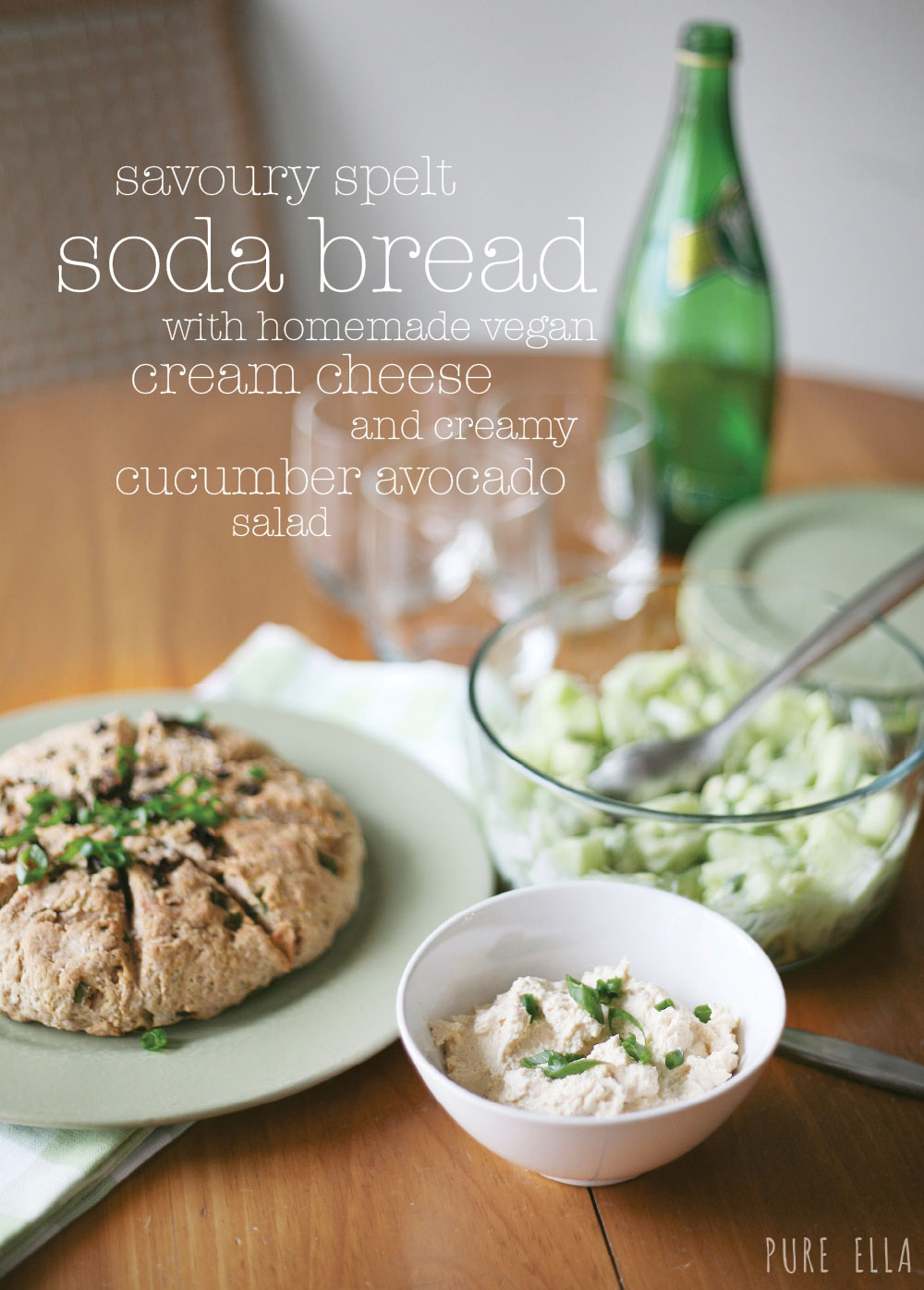 I promised you a feast, and a feast it shall be today! I hope you're hungry right now and I do hope you have these ingredients already around in your kitchen. This is a little look at the lunch I made for St. Patty's day over the weekend. It ended up to be such a tasty lunch – all vegan and wheat-free that we all enjoyed. Really. With big smiley nodding faces that this IS really all so good ;)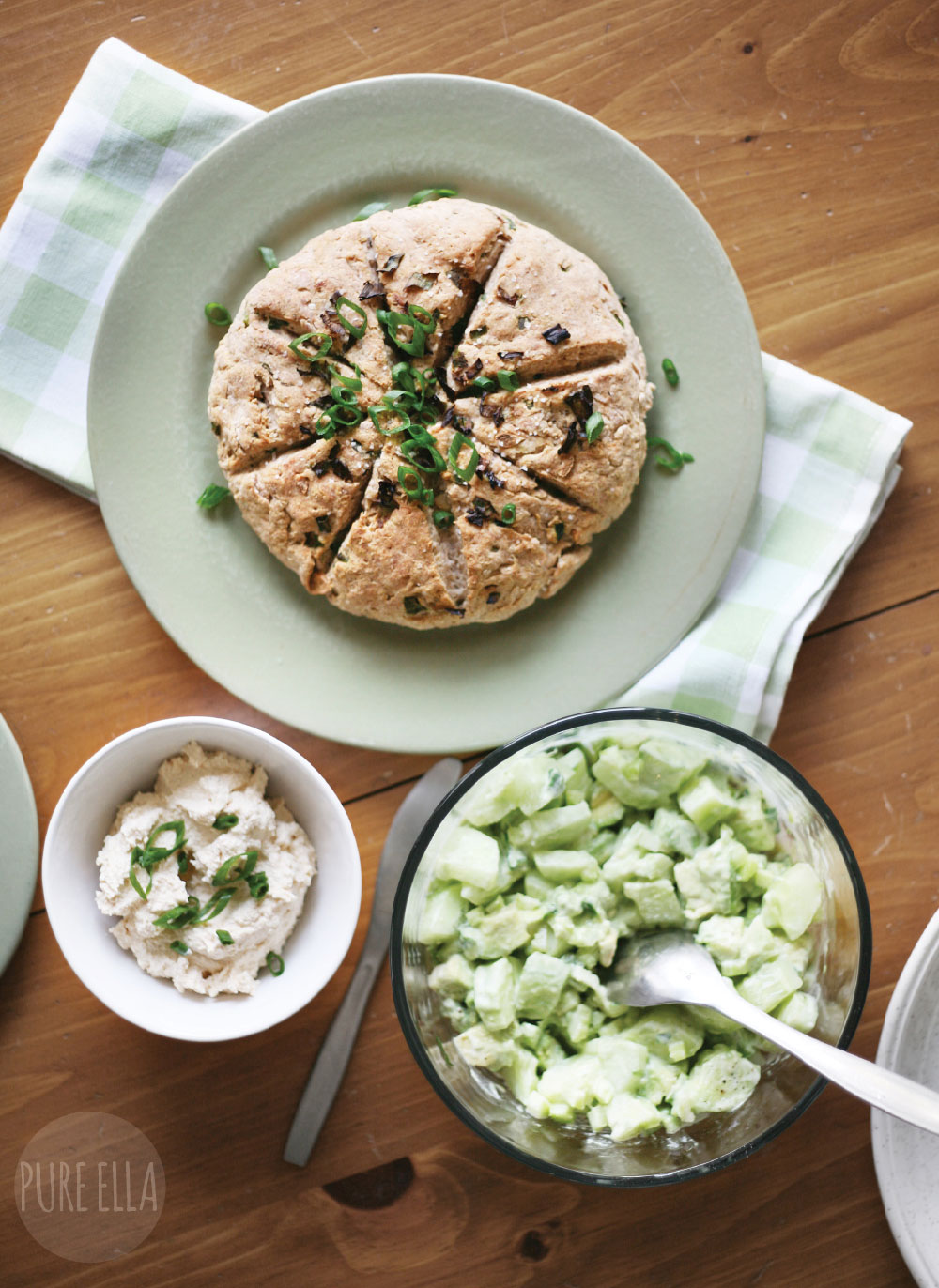 This Soda Bread or Quick Bread, as you don't need it to sit and 'rise', is really fantastic and I will be making many versions of this one!
Prep and cooking time for all 3 recipes : under 1 hours. Serves 4-6.
SPELT SODA BREAD | WHEAT FREE AND VEGAN
Ingredients:
1 cup rice flour
1 cup spelt flour
1 tbsp baking powder
1 tbsp baking soda
1/2 tbsp sea salt
2 teaspoons ground chia seeds *
2 tbsp raw sugar (mix with wet)
1/2 vegan/ soy yogourt
1/2 cup water – or as much as needed
1 tbsp apple cider vinegar
1/3 cup olive oil
1/3 cup chopped green chives
2 tbsp died garlic flakes
fresh ground pepper, about 1/2 tsp
extra sprinkle of sea salt and chopped chives for top
* if you don't have chia seeds available, omitting them is ok but it will make the dough just a little more crumbly but still delicious.
.
Directions:
Preheat oven to 375F.
In a medium bowl (#1), sift all the dry ingredients together,(rice & spelt flour, baking powder, baking soda, sea salt) mix gently and set aside.
In another very small bowl (#2) mix the chia seeds with 4 tablespoons of water and set aside for 3 minutes.
In yet another bowl (#3), mix all your wet ingredients: yogourt, vinegar, olive oil and sugar) until combined.
Pour wet mixture + your chia mixture into the centre of your flour mix in the medium bowl.
Mix with a wooden spoon until the wet and dry ingredients bind together, add in water, by 1/4 cup and fold in, use as much water as is needed to form a good dough – moist but not too sticky. (you should be able to hold it in your hands as one piece).
Prepare a large flat surface dusted with flour and set your dough to knead onto it.
Fold in the chopped green chives, garlic flakes and pepper, knead until combined well but not for too long as the dough may harden more with more kneading.
Shape into a ball, press down to flatten slightly, cut into the dough just a but about 1/8 of an inch across with a knife twice (or four times – I liked creating 8 slices so you can just follow those guides when cutting your bread once it's done).
Rub the top surface slightly with water and sprinkle the remaining chives and sea salt on top.
Bake at 375 degrees fahrenheit for 30 minutes.
Leave out to cool for 15 minutes before serving.
One thing I do want to point out though, is that it does have a bit of a grown-up taste with all the garlic and pepper and chives…. my 4 year old was not a huge fan – but she's also not used to having bread on the savoury side, but prefers it neutral tasting. If you are baking this for your kids, keep this in mind and either reduce the garlic, or a good idea would be to split the dough into two and have an adult and child-friendly version. (But then, I think the slices might be too small and you won't have much of a bite to it…. you know what, I'll let you sort this out with whatever works for you. While I will quite possibly change up the recipe once a while so we're all happy). Because let me tell you, this flavour combination was really really good! ;)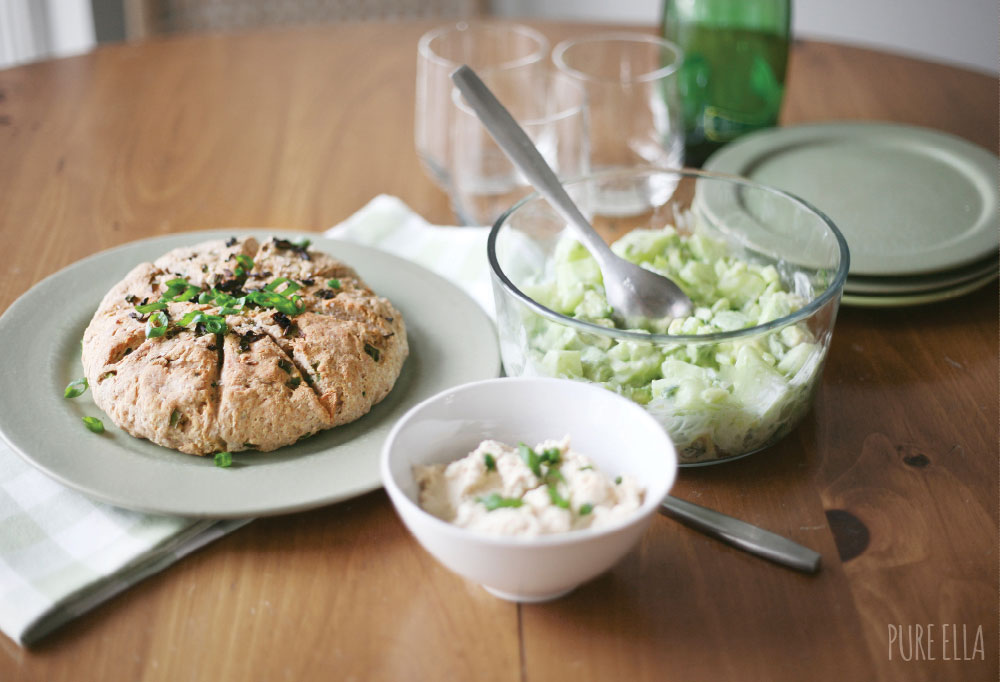 Now, for this tasty bread, you'll need a great creamy spread that's full of flavour ~ and one that cheese-lovers Love. I actually often say "I crave tofu"! Each time, my husband things I'm weird. But little does he know, that tofu is so versatile and easy to work with. Little by little I'm teaching him to enjoy it too ;)
VEGAN CREAM CHEESE | GLUTEN AND DAIRY FREE
Ingredients:
1/2 package of Organic firm tofu
2 heaping tablespoons of Vegenaise
1 tsp of dried paprika
sea salt and pepper to taste
1 tbsp finally chopped sweet onion*
chives for garnish
.
Directions:
Mix all the ingredients except for the onions in a mixing bowl. Fold in the onions* (my 4 year old does not like onions and I do omit them for this recipe for her or have two batches going on.) I think a little onion is great though.
For a smaller quantity, for recipe above, the hand blender is the best to use, or you could press all the ingredients down with a fork even until well combined, if you don't have an electric hand blender. For a full size (double all the ingredients) I would recommend using a food processor.
This Paprika Tofu Spread is fantastic as a sandwich spread alone or with a slice of organic tomato on top – yum! With a great source of protein – a couple of sandwiches like that will keep you energized and full longer. The tofu spread really has a taste and texture of creamed cheese, – hello, my husband ate it and Loved it! Enough said ;)
Now you need a great spring-like salad to go with your bread and tofu spread:
CREAMY CUCUMBER AVOCADO SALAD | GLUTEN-FREE AND VEGAN
Ingredients:
1 large cucumber, diced
1 large ripe avocado, diced
1/4 sweet onion, finally diced
1/4 cup green onions, chopped
4-5 spoonfuls of Vegenaise
1 tbs apple cider vinegar or squeeze of lemon
sea salt and pepper to taste
.
Directions:
Mix all the vegetables with the Veganaise and seasoning. Done!
To serve, I cut the bread slices as per marked notches on the crust. See – awesome to do 8 slices! You get pretty little triangular pieces this way, now cut them lengthwise to create a top and bottom. Fill with the Paprika Tofu Spread. Serve with the Cucumber and Avocado Salad and you have a great lunch or brunch.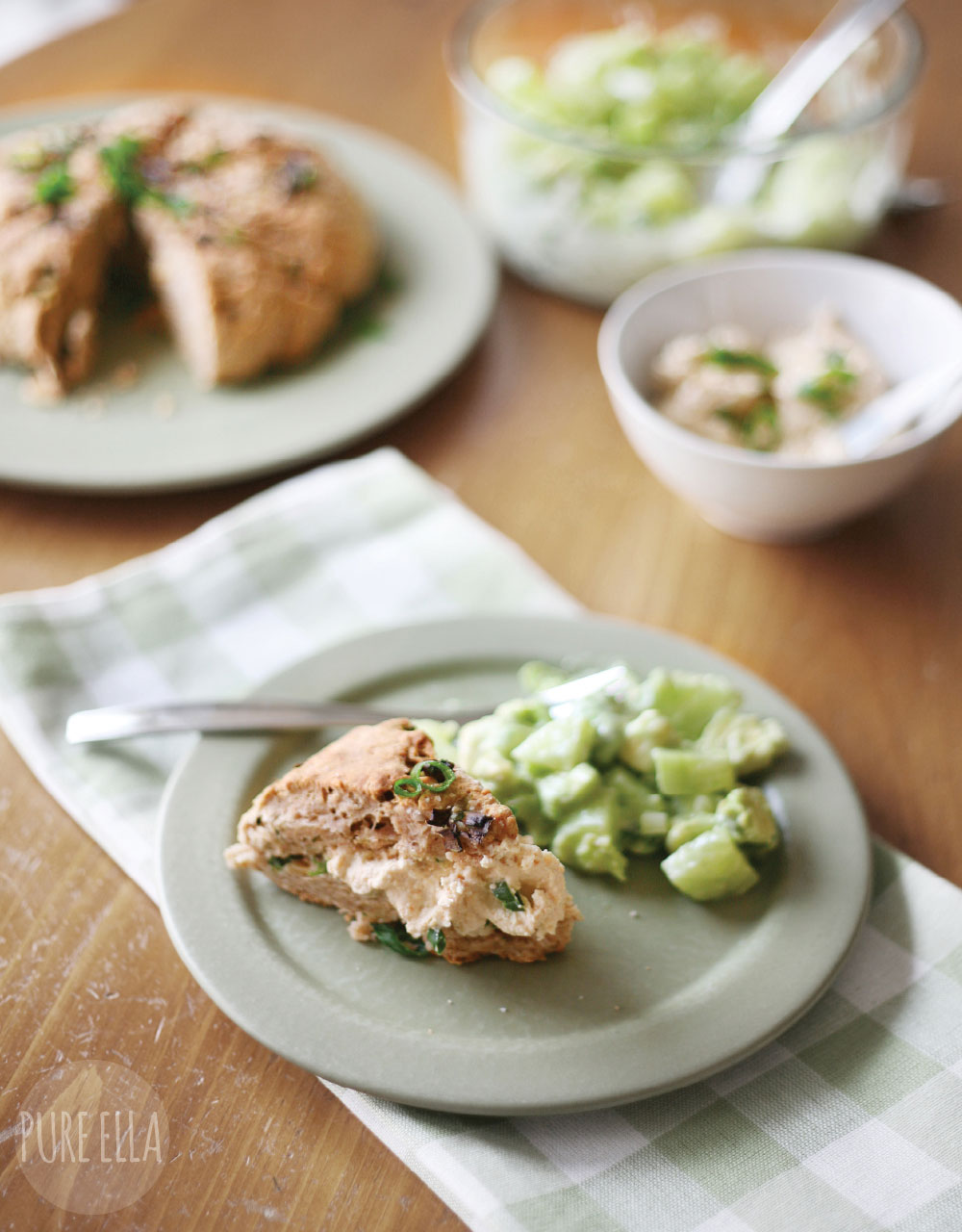 This is a really great lunch or brunch idea for anytime but especially Right Now to welcome Spring. The green colours and the freshness of the bread and the vegetables really go well together and are super tasty. This isn't a lot to deal with…. actually I think it could all be done in under 1 hour. Start with the bread, then once it's in the oven, you can whip up the spread and the salad. The ingredients are very simple and healthy.
Easy, quick and delicious. Vegan and gluten or wheat-free food doesn't have to be complicated or sacrifice on taste. If you're not 100% switched to gluten-free but want to ditch the wheat – than I applaud you! Wheat's not that great of a grain, there's far better, more nutritious grains out there – like spelt. This will be a great feast to serve very soon. Enjoy!
I hope you liked having lunch with me.
What are your favourite recipes to celebrate St. Patrick's Day?