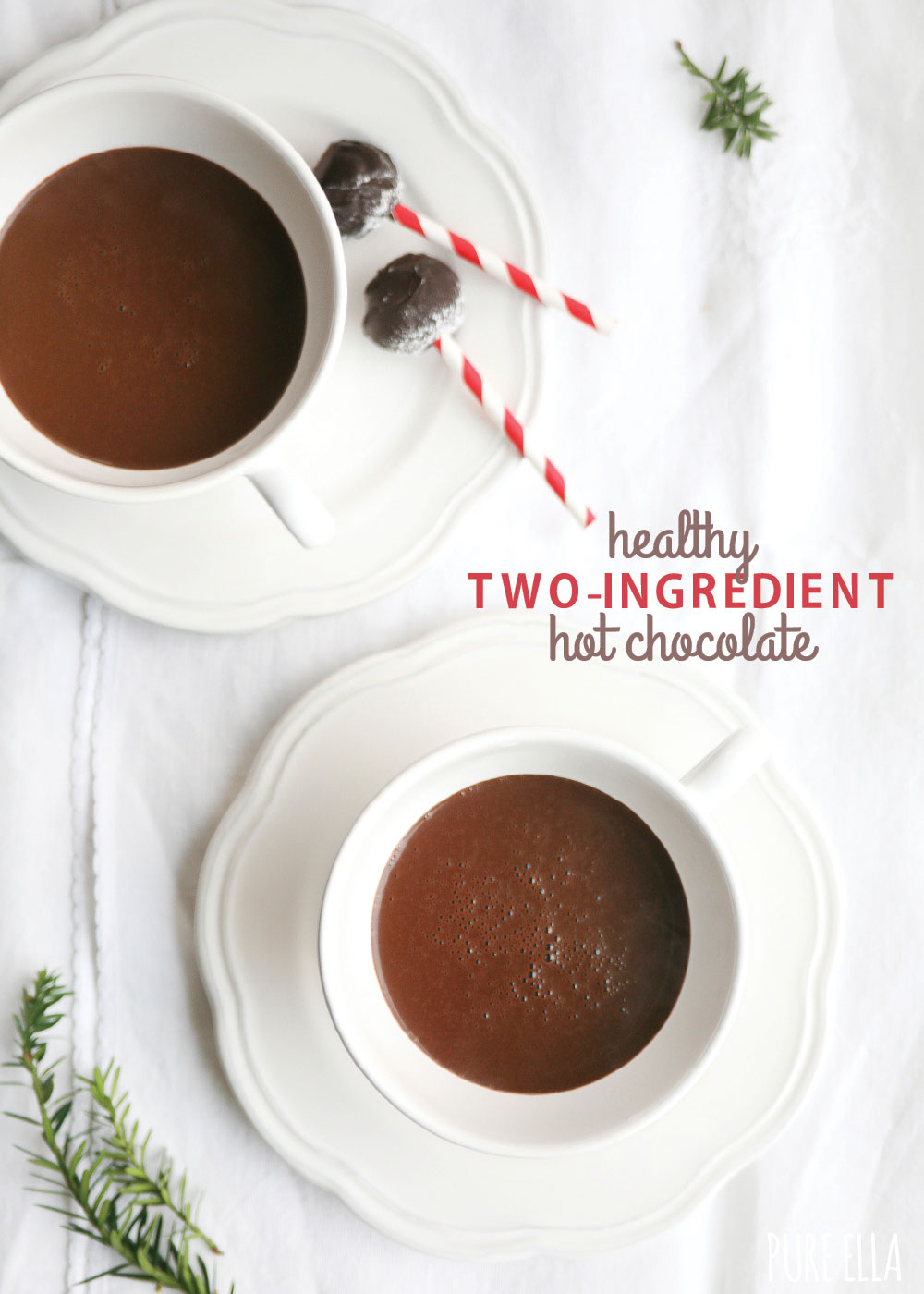 Baby it's cold outside…
better warm up with a mug of this hot chocolate… gosh, it tastes so delicious!
Whenever we come home from the wintery cold there's always one thing on my mind (and now my daughter's mind) – a big mug of hot chocolate!
I remember the days when we had Quick at our house and we'd all get excited for hot chocolate. Now, that I know better and we eat clean and healthy. I wouldn't allow an artificial hot chocolate mix into the house. It's not only because it has bad ingredients – but also because making our own hot chocolate is so easy and so delicious!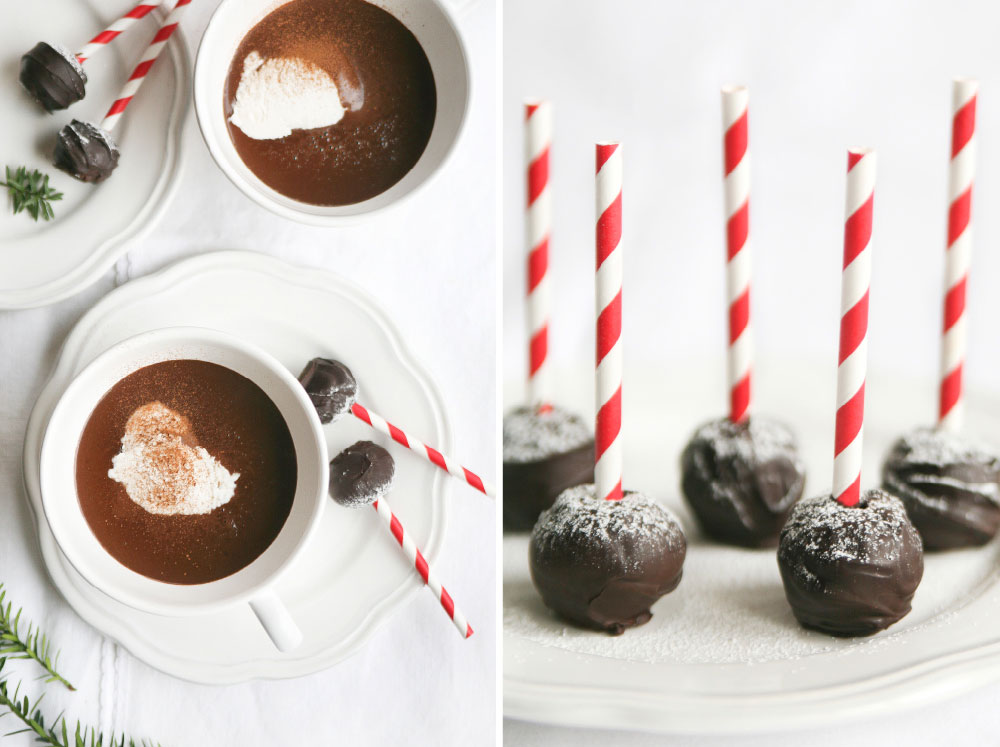 This Healthy Two-Ingredient Hot Chocolate really is what the name says it is!
It's healthy – because I use dark chocolate, 72% that is pure, organic with clean simple ingredients (you can go healthier, and use 80-90% also)
It's only two ingredients because I only use melted dark chocolate and almond milk! It really is that simple and easy and quick – best of all, it's really so amazing!
It's rich and creamy and truly decadent. You could serve these for a special occasion – maybe with a little liquor like amaretto or rum! Ahh, yes!!
And or top with a scoop of your favourite ice cream! I used So Delicious Coconut Vanilla Ice Cream that's sweetened with
Healthy Two-Ingredient Hot Chocolate
gluten-free, dairy-free, egg-free, clean, low-fat, refined sugar-free
Ingredients :
2 cups almond milk or other non-dairy milk
1/2 cup organic 70% dark chocolate bar squares
optional : 2 scoops organic non-dairy vanilla ice cream
optional : sprinkle of cinnamon
Directions :
In a small pot over medium heat, heat the milk and chocolate squares until the chocolate is fully dissolved. Whisk to combine and break down the pieces well.
Keep stirring for about 2 minutes. Mixture should thicken slightly as natural emulsifiers in the chocolate bar will change the milk's consistency also.
Remove from heat and pour into two large mugs.
Top with a scoop of vanilla ice cream and add a sprinkle of cinnamon on top. Enjoy!
The healthy aspect of this hot chocolate really is dependent on the chocolate you buy. Do invest in a quality bar. Choose organic dark chocolate that's 72% or higher with only clean simple ingredients. I always have a stash of dark chocolate around so that I can have a healthy occasional snack or use it in baking or other desserts like this vegan hot chocolate recipe.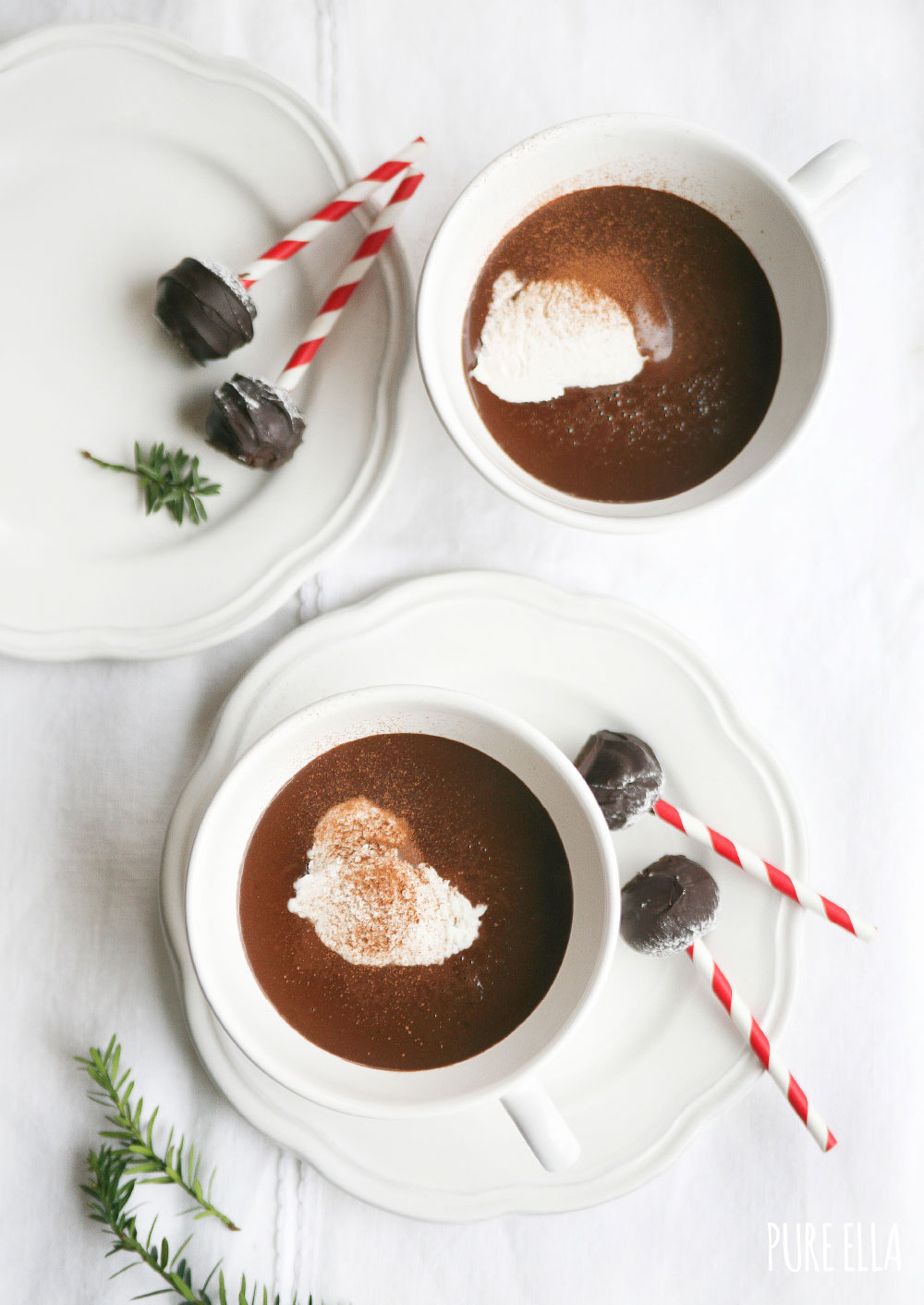 This healthy homemade hot chocolate recipe is so decadent it's like dessert all on its own. But to make things more fun and special, I like serving the hot chocolate alongside my Rum Ball Cake Pops – find the recipe for those here.
The Rum Ball Cake Pops are all natural, gluten-free, vegan and paleo and refined sugar free. Yes, another beautiful dessert that's absolutely delicious and guilt-free. Treat yo self! ;)