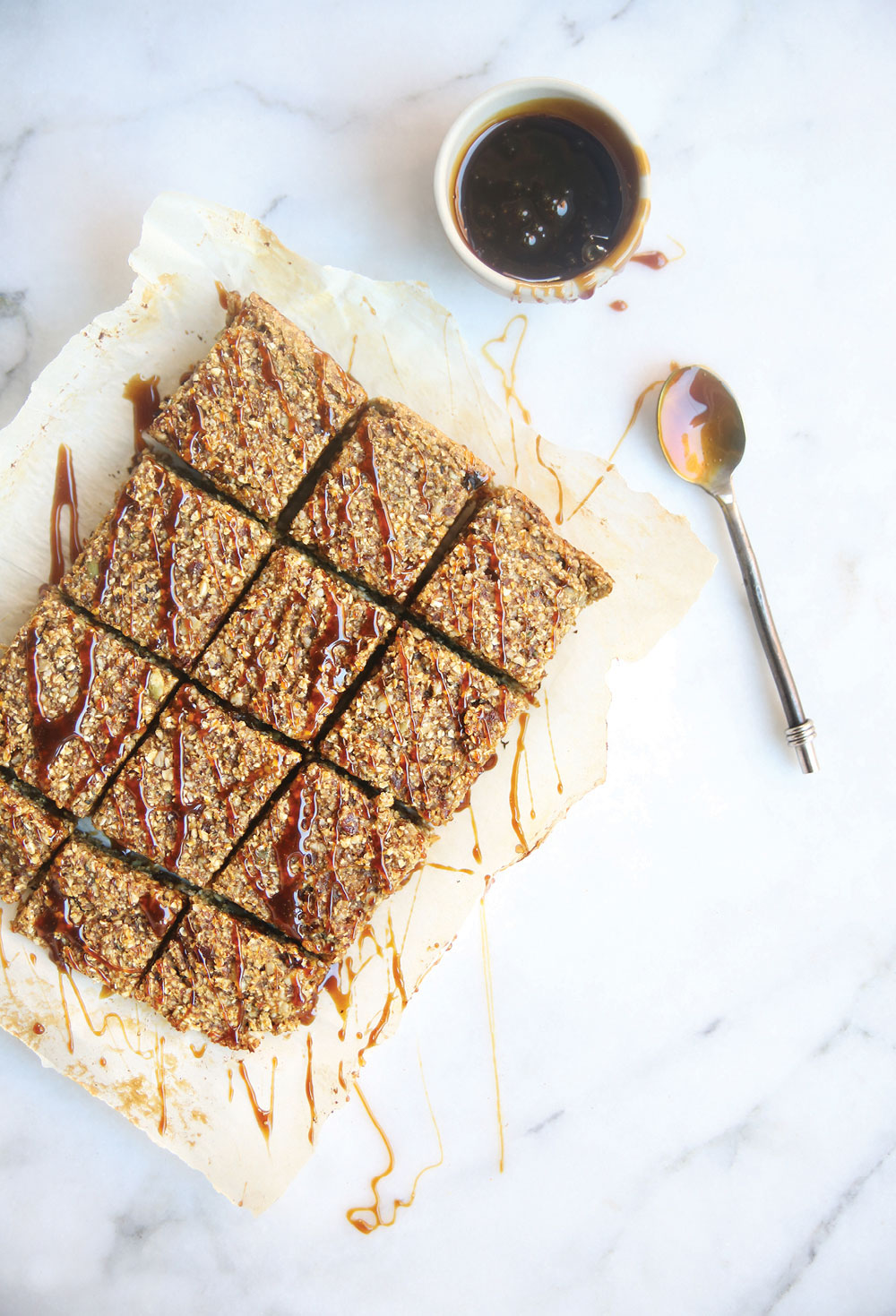 Hello!! If this is the season for everything PUMPKIN then I am so so sorry!! Where have I been… I've had a hard time embracing this fall and pumpkin thing… and now I'm kicking myself because like – these Superfood Healthy Pumpkin Breakfast Bars with Molasses Caramel are so freaking GOOD!! If I just went ahead and jumped into this season sooner I could have been enjoying these weeks ago!!
BTW, these are not only amazing and loaded with superfood power, but they are also naturally gluten-free, vegan and refined sugar free. And these are also nut-free which means school-safe!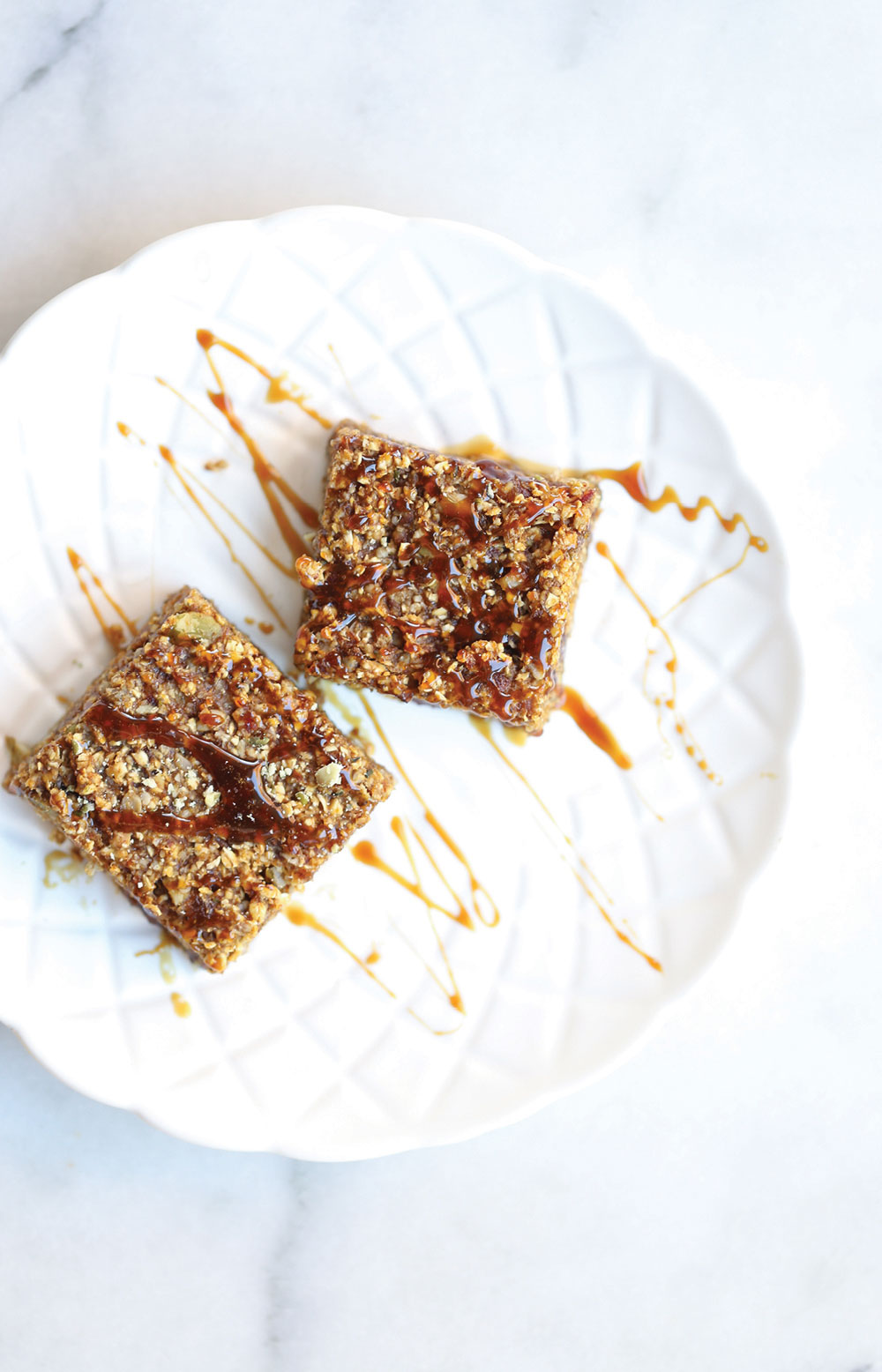 But, better late then never!! And I think I'm not alone to jump into this pumpkin thing in mid October… right?
Hurry, make these amazing Superfood Healthy Pumpkin Breakfast Bars TODAY before we get all into cranberries and gingerbread spice. This food world sure does change fast… I can't keep up ;)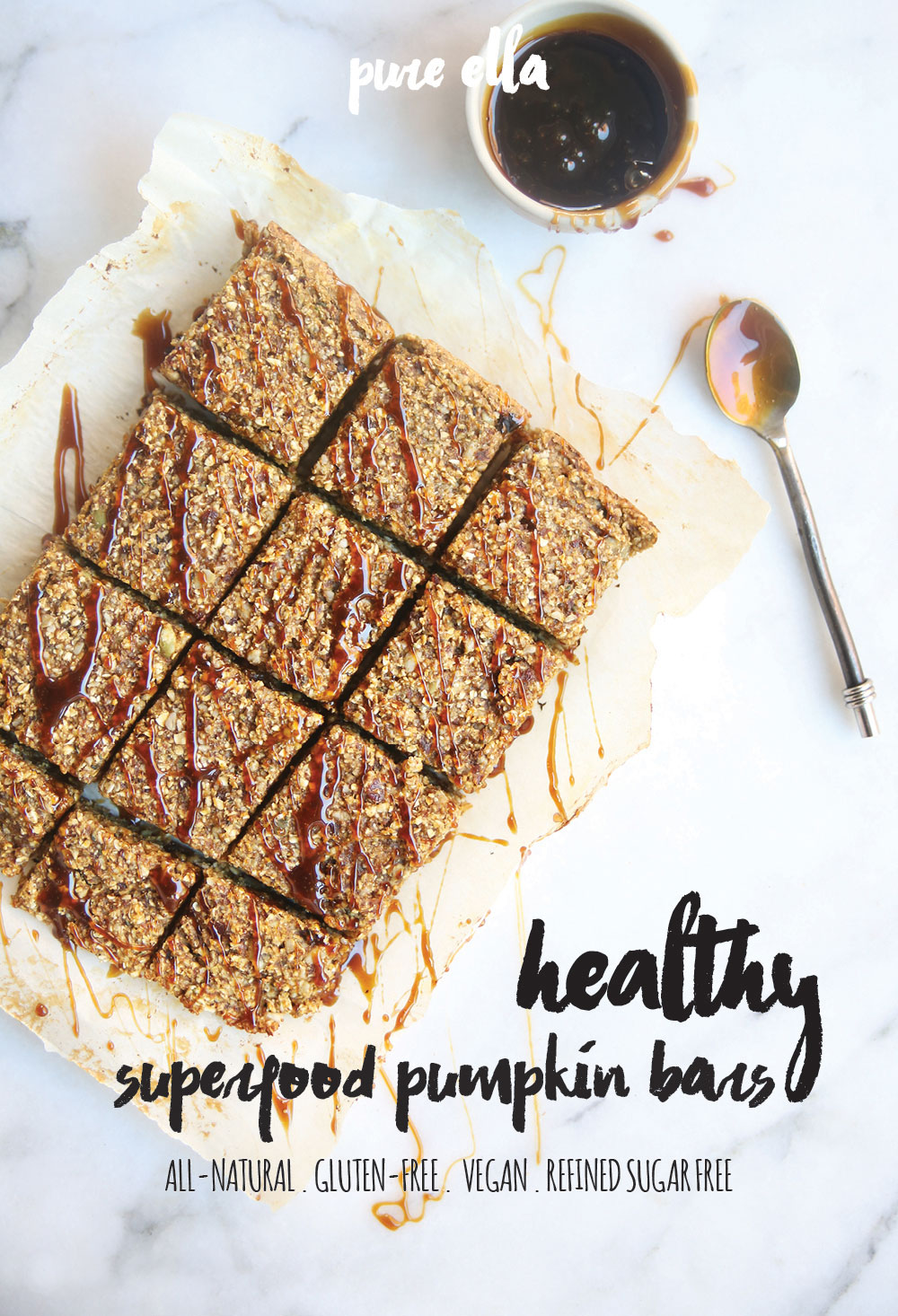 Superfood Healthy Pumpkin Breakfast Bars
gluten-free, dairy-free, vegan, refined sugar free, nut free
Ingredients:
2 tablespoons ground flax
6 tablespoons hot water
2 cups rolled oats
1/2 cup sunflower seeds
1/4 cup hemp hearts
1/2 cup pumpkin seeds (divided)
8 Medjool dates
1/2 cup pumpkin puree
3 tablespoons maple syrup
1/2 teaspoon cinnamon
1/4 teaspoon ground cloves
Directions:
Preheat oven to 350F and line a baking pan with parchment paper. (I used an 8″ x 8″ pan)
In a small bowl, mix the ground flax seeds with water and set aside.
In a food processor, process all the ingredients: oats, sunflower seeds, hemp hearts, 1/4 of the pumpkin seeds, dates, pumpkin puree, maple syrup, cinnamon, ground cloves. At the end add in the flax mixture.
Mix on high until the ingredients break down and the everything is blended.
Add in the remaining pumpkin seeds and pulse just a few seconds. (I like leaving some texture of the pumpkin seeds in these bars.)
Scoop onto the baking dish and press down firmly and evenly.
Bake at 350F for 15 minutes.
Once baked, remove from the pan onto a cooling rack and cool for about 10 minutes.
Slice and enjoy plain or drizzle with Molasses Caramel (recipe below).*
*The drizzle is completely optional and definitely not recommended if you're grabbing these to go and need to eat these with your hands. The drizzle adds a bit more extra sweetness so you could do 1 tablespoon less of the maple syrup in this recipe.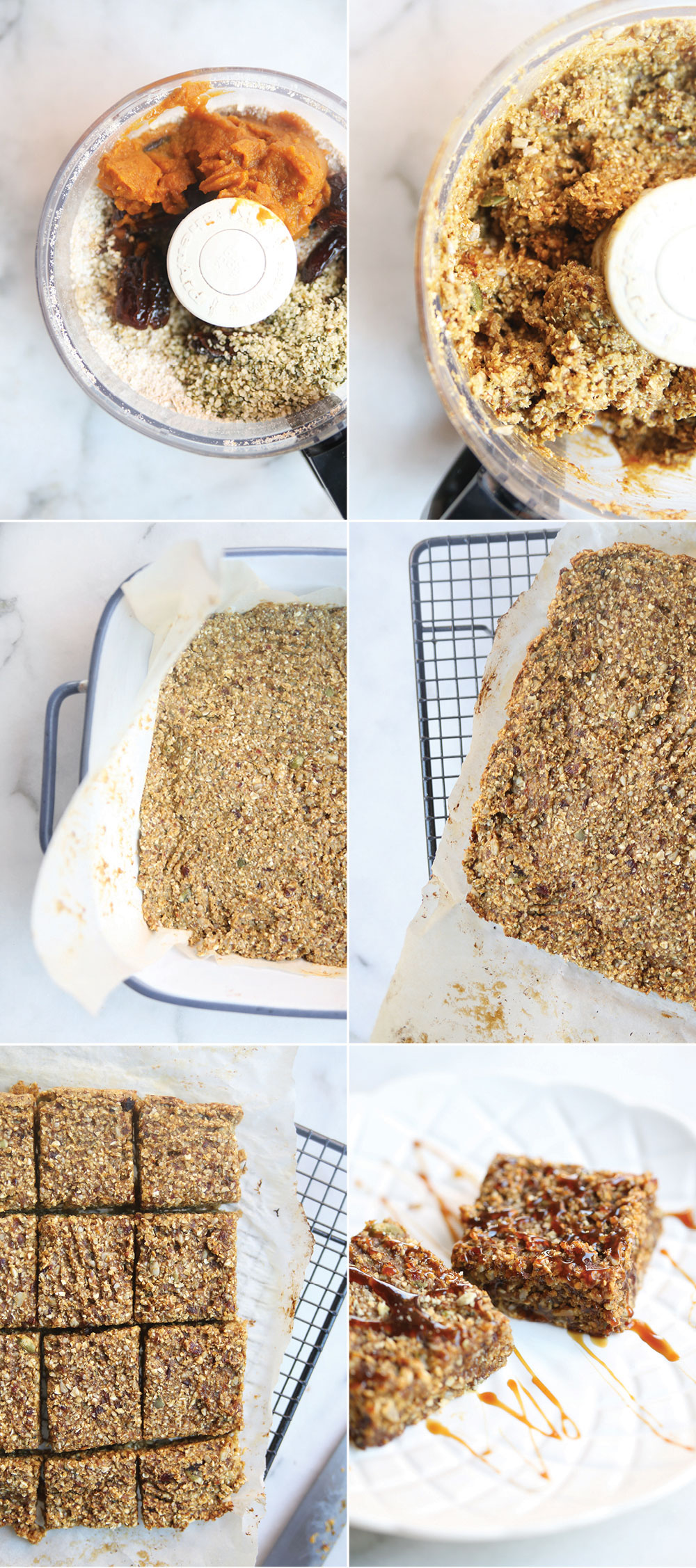 Molasses Caramel (a healthy caramel recipe)
Ingredients:
3 tablespoons fancy molasses
3 tablespoons coconut nectar (or other natural liquid sweetener)
Directions:
In a small bowl, mix equal parts of molasses with coconut nectar and drizzle over bars.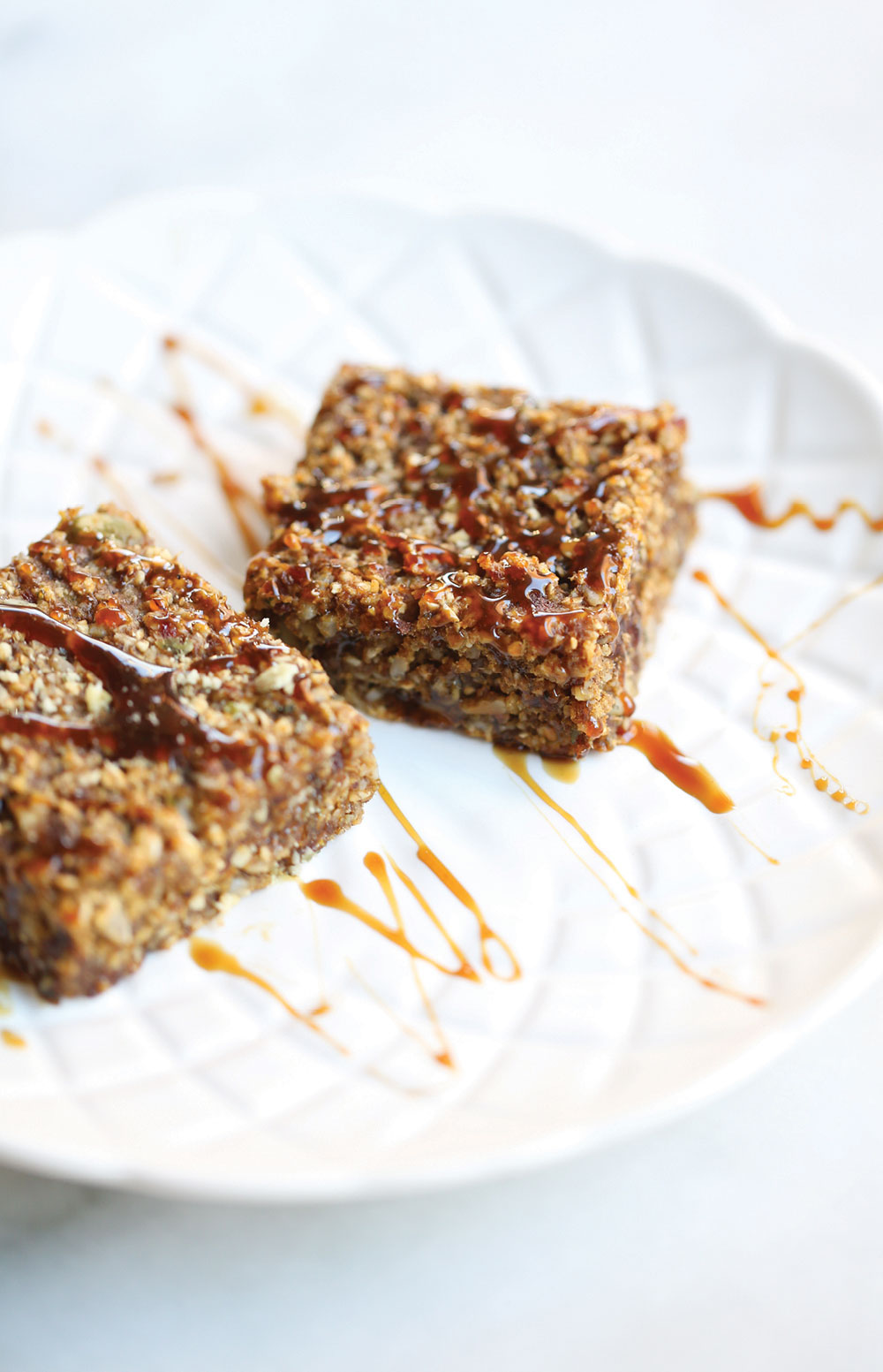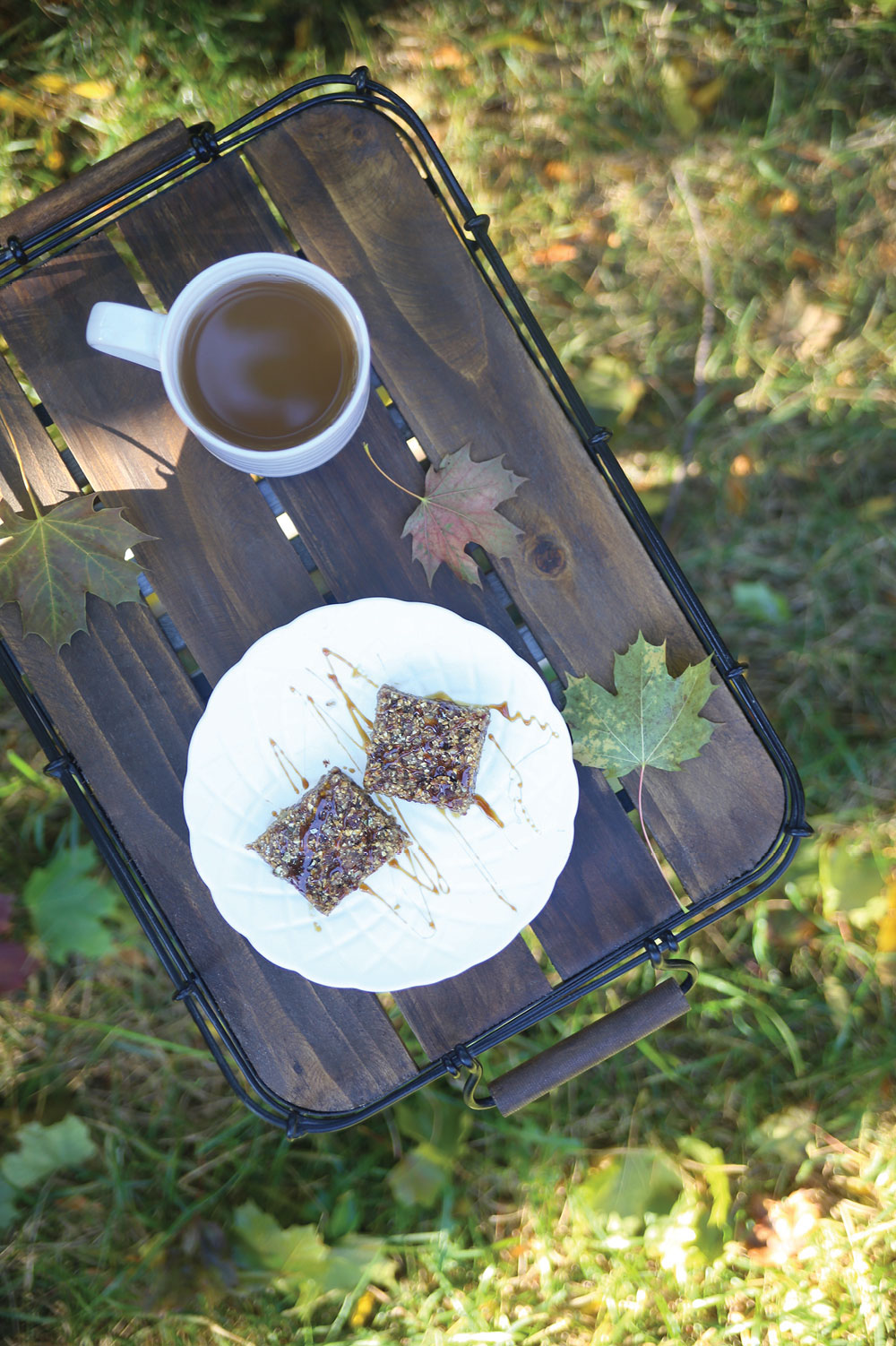 These bars have sugar in them but it's the healthier kind. And that makes a huge difference then processed sugars.
I used a combination of different natural sweeteners: dates, maple syrup, coconut nectar and molasses. All these are refined-sugar free and are healthier then other sweeteners.
I added lots of protein into these from the hemp hearts, sunflower seeds and pumpkin seeds as well as the oats. Adding protein to your snack or treat makes a huge difference in how you snack – when you feel full and happy with one bar, you'll eat less which makes it easier for self-control :)
Also, I've added healthy fats into this recipe, also from the seeds which help you feel satisfied more and digest better too.
These are homemade which also means you can adjust the sweetness level further!! If you need to cut back more, use a few more dates maple syrup or replace the maple syrup altogether with liquid stevia.
These breakfast bars are made with oats and added sugars so if you're watching your carb intake, you'd need to watch your serving. Because all carbs have sugar in them.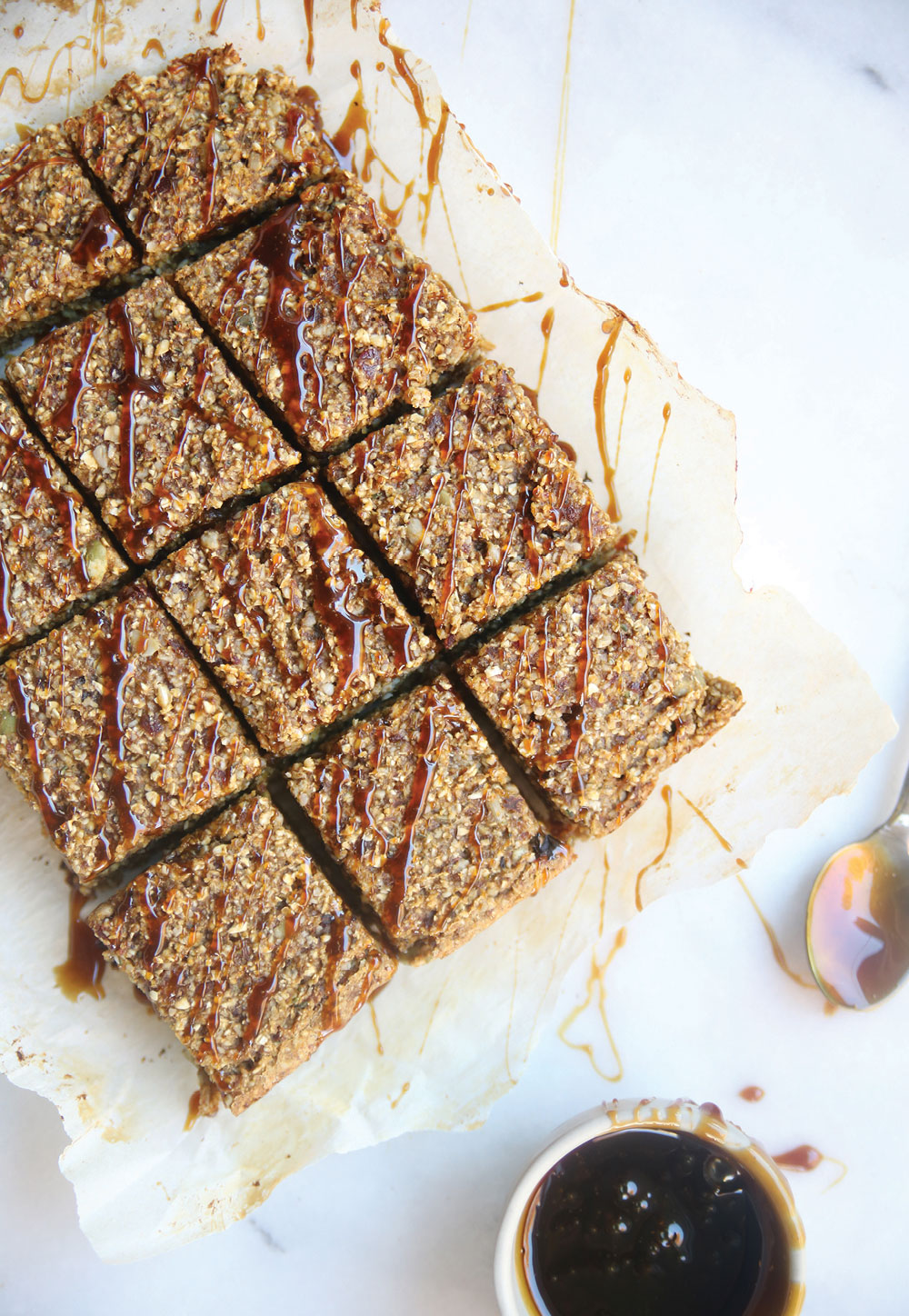 Ella Leché
is a cookbook author ('
Cut the Sugar
'), recipe developer, and photographer/stylist behind Pure Ella; where she shares delicious and healthy recipes. Eating PURE is clean ingredients, whole foods, plant-based nourishment and delicious desserts – with quality ingredients and sweeteners so they're treats with benefits so you won't have to feel deprived or restricted to eat healthier.
Thank YOU for being here!
Follow on social media for daily health & happiness inspiration:

ps. don't forget to share your Pure Ella (PE) recipe creations by tagging them #pureella and
@pure_ella
on Instagram – we repost our favourite photos!