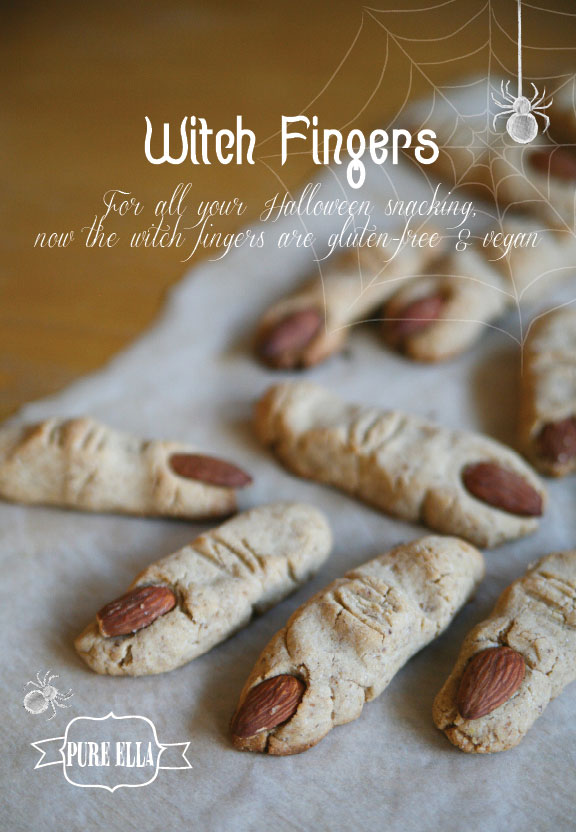 Hello and Welcome…. so nice that you could come for a visit…. Here, come closer… I have a little treat for you… how would you like to munch on some delicious Witch Fingers? And they are healthy too! Ha Ha Ha!!!! Please don't be frightened! These can be a little scary… but they are also delicious sugar cookies that you will Love! It's true! ;) And they're also a *healthier* sugar cookie and one that everyone can enjoy… these Witch Fingers are gluten-free, dairy-free, egg-free and refined sugar free. And they're quick and simple to do…. watch even a 6 and 3 year old can do them ;0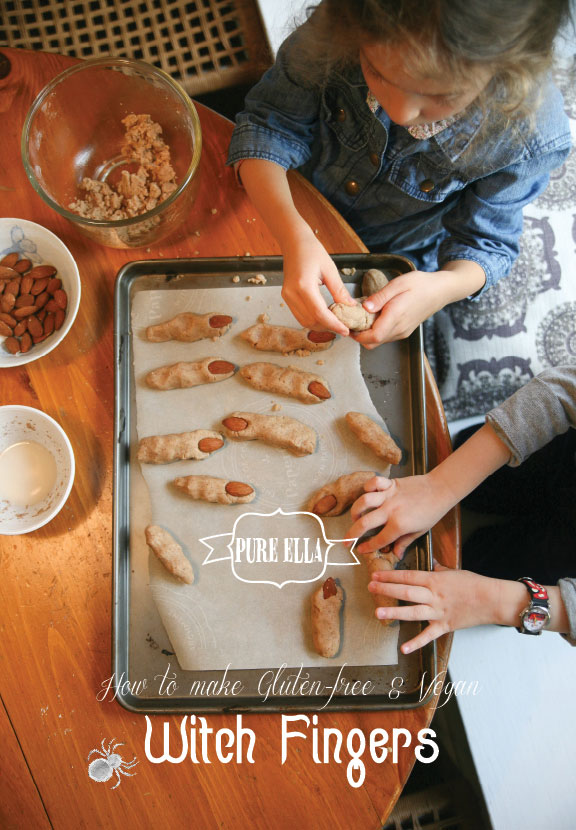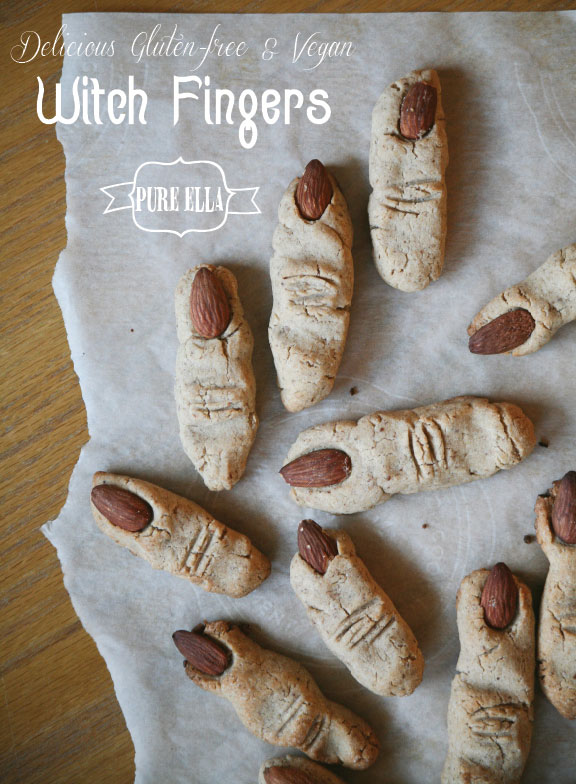 Gluten free Vegan Witch Fingers
2013-10-28 20:39:06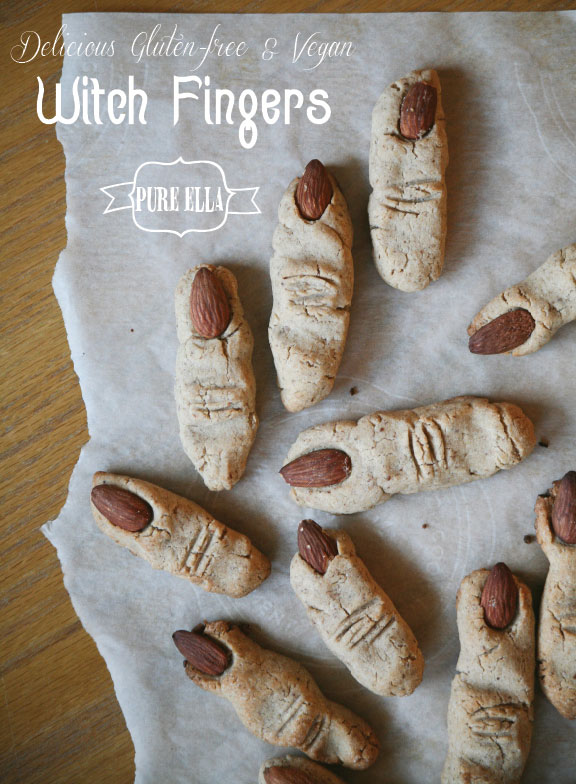 Healthy Sugar Cookies | Gluten-free, Dairy-free, Egg-free Recipe
Ingredients
2 tablespoons ground flax seeds
1 3/4 cups gluten-free flour or light spelt flour
1/2 cup organic vegan margarine (Earth Balance Buttery Spread)
3/4 cups organic brown sugar or coconut palm sugar
2 teaspoons vanilla extract
about 1/4 cup almond milk or any other plant milk
about 16-20 whole almonds
Instructions
In a small bowl, mix the ground flax with 4 tablespoons of hot water and set aside.
In a mixing bowl equipped with batter beaters, whip the vegan margarine until fluffy, add the brown sugar and vanilla extract and continue mixing until the sugar has dissolved and the mixture has a whipped texture.
Slowly, one tablespoon at a time, fold in the flour.
If the dough is too crumbly, you can add a tablespoon of dairy-free milk to moisten the dough slightly so it sticks together.
To create the cookies
Scoop a small portion of the dough, form into a ball and then press and roll between your hands to make a long 'finger'. Place on parchment paper.
Take each almond, dip one side into milk and press into one side of the finger.
With your fingers, squeeze the cookie in 1/3 and 2/3 of the way down to add more of a real finger shape. With a teaspoon, mark little lines in the middle for skin folds.... ;)
Place into a preheated oven at 350F for 15-18 minutes or until a slight golden colour appears near the bottom. Be careful not to burn the bottoms, the cookies will have a slight uncooked look. Remove from oven and carefully transfer to a cooling rack, wait until they are completely cooled before serving. About 30 minutes. Enjoy this Spooktacular treat! ;)
Notes
Be sure to make all the fingers the same size so they bake evenly.
Pure Ella http://pureella.com/

 Oh my gosh, the kids had so much fun doing these over the weekend! They took a few to our neighbours who have kids and the rest got gobbled up really quick.   My daughter right away put in a request to make more for her school's Halloween party! So that order's in place and I can't wait to get started on these spooky cookies again… I think the kids will go wild over these! ;)  I do have one dilemma though, our school does not permit almonds as they are a type of nut ~ so I have a question, what do you think would make great gory nails on these Witch Fingers? I'm thinking pumpkin seeds!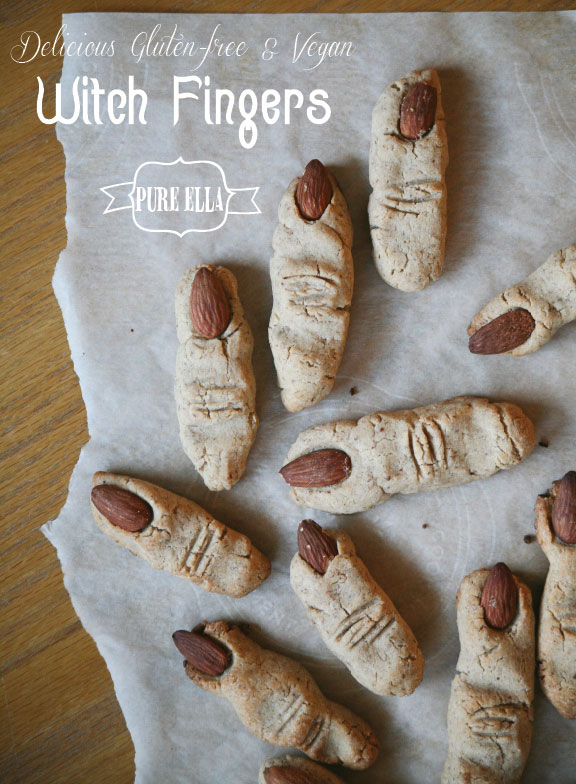 Other than the almonds, these Halloween Witch Finger Sugar Cookies are completely free of most allergens. They are wheat and gluten free, egg free, dairy free, refined sugar free and have no artificial flavours or colouring. So it's one good thing on Halloween…. because I'm already afraid of all the nasty stuff my daughter will bring from trick-or-treating!
Of course she only gets a handful of the better stuff (as she's only 6, we get away with it) but I really don't like all that unhealthy candy out there filled with unsafe artificial flavouring and colouring and so much awful sugar and GMO's. As a parent I really don't want her eating up this nasty stuff… which is why having fun treats at the house is really  great ;)  What are some of your fun Halloween traditions you like to do? Do you make special gory treats? I bet the whole family would love these ;)