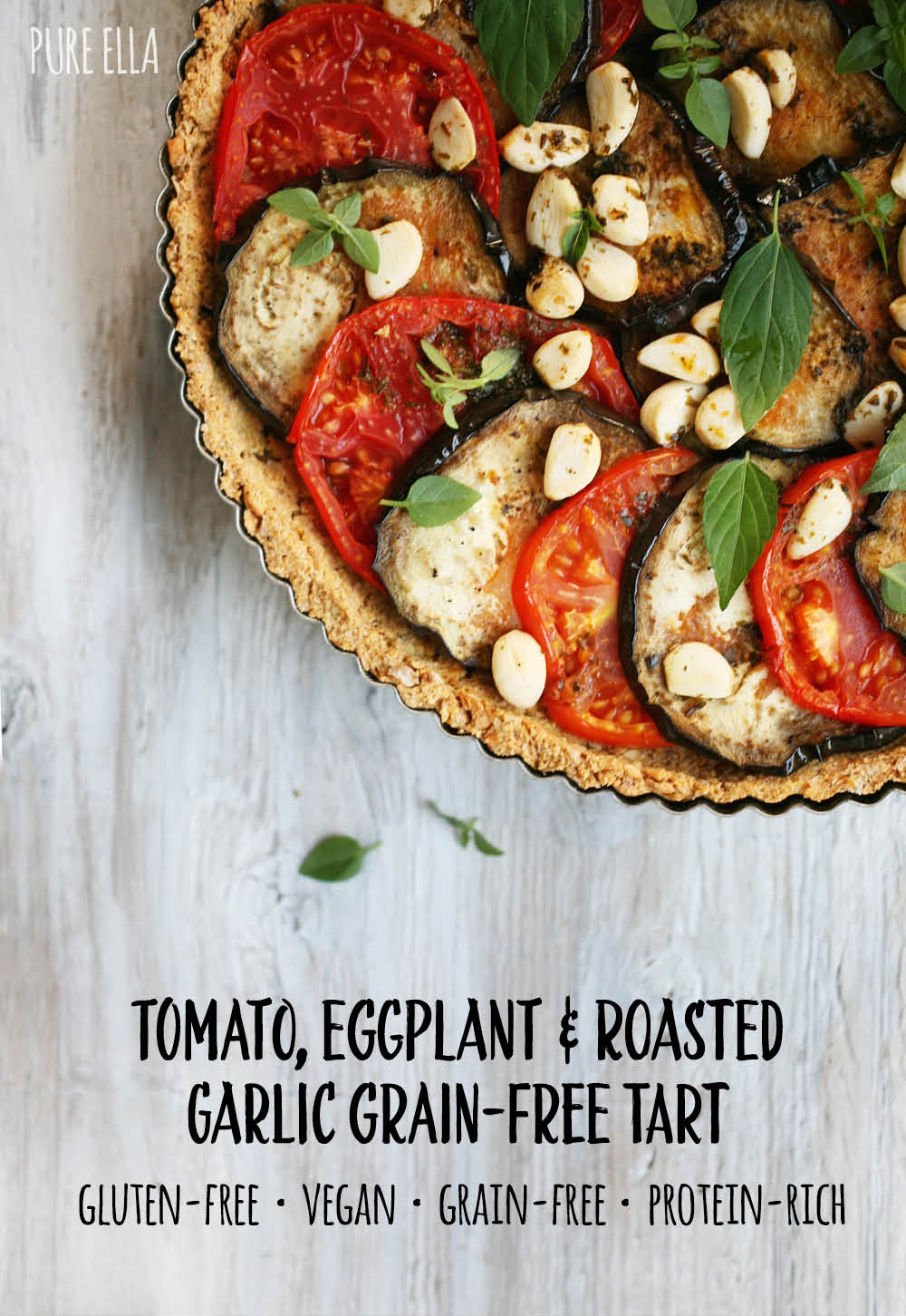 Don't you wish you had a recipe up your sleeve that was healthy, delicious and easy to do! Well, I live for recipes like this – and I'm here to get you excited that YOU have just found the holy grail!
This tart recipe isn't only delicious and easy to do – but it meets all criteria of what a healthy tart means to me. The whole-food, all-natural amazing ingredients are what makes it great! And making this tart gluten free grains and dairy and egg-free is what makes it great. There is no wheat, yeast or sugar in it so it does not feed yeast. Making it allergen-friendly and Candida friendly also.
So if you're just experimenting with a healthier diet or do have allergy concerns – then this gluten free grains tart is for you. ps. It also tastes divine. I loved it with a salad and on its own. But it also makes a great brunch dish for a potluck or buffet style table. And it makes great leftovers too, just a quick reheat for 15 minutes and bam! It's so good! I hope you'll make this soon.
Gluten Free Grains Tomato, Eggplant and Roasted Garlic Tart
gluten-free, grain-free, egg-free, dairy-free, vegan
bake time : 40 minutes serves : 4 to 6 if served with a side dish eg. a salad
Grain-free Crust Ingredients :
2 1/2 cups dried chickpeas (soaked 6-8 hours) (or 2 cans, drained & rinsed)
1 teaspoon ground flaxseeds
2 tablespoons whole flaxseeds
2 tablespoons potato starch
1 teaspoon turmeric
1 teaspoon cumin powder
1 1/2 teaspoon sea salt
1/2 teaspoon ground pepper or more to taste
2 tablespoons olive oil
3 tablespoons chickpea flour or other flour or bread crumbs to dust the tart shell.
Topping Ingredients :
2 large tomatoes
1 eggplant
1 jar of roasted garlic OR 2 heads of garlic
drizzle of olive oil, about 4 tablespoons
salt and pepper to taste
fresh basil for serving
Directions :
You need to pre-bake the crust on its own. You can do this the day before and then just add toppings and heat for 20 minutes and serve.
To make the crust : Grease and flour the tart dish and set aside. Preheat oven to 350F.
Place the chickpeas in a food processor and grind until a fine texture forms. Turn it off and scrape the sides to get all the chickpeas ground up. Add the flaxseeds, starch, turmeric, pepper and oil in the and mix until well combined.
Press into the tart pan evenly and firmly. Be sure to press some of the mixture onto the sides.
Bake at 350 for 20-25 minutes or until slightly golden.
Remove from oven and proceed with toppings or allow to fully cool, cover with plastic wrap so it doesn't dry too much and place in the refrigerator until ready to make the tart.
For the toppings : In the meantime, cut the middle portion of the eggplant and slice thinly, about 1/4″ discs. Cut the mid-part of the tomatoes also and set aside.
Heat a large skillet coated with oil and fry the eggplant on both sides until soft. Remove from pan and proceed to assemble the tart.
To assemble the tart : Distribute the eggplant and tomatoes all around interchanging the slices of vegetables. Fill the centre with extra slices. Top with the roasted garlic and drizzle with the olive oil.
Place in the hot oven set at 350F again and bake for 20 minutes or until vegetables appear soft. Once baked, remove from the oven and allow to cool 10 minutes before serving. Top with fresh basil on top and serve.
If you've wondered how to make a healthy tart recipe, then going with lots of plant-based protein is really important. The protein is what makes you feel fuller so you're more satisfied. Your cravings are satisfied and you don't overeat. This is why carb filled tarts or say pizza is less healthier. It lacks the protein and has too much belly-bloating-wheat and yeast. Both great things to avoid when you're trying to eat healthier.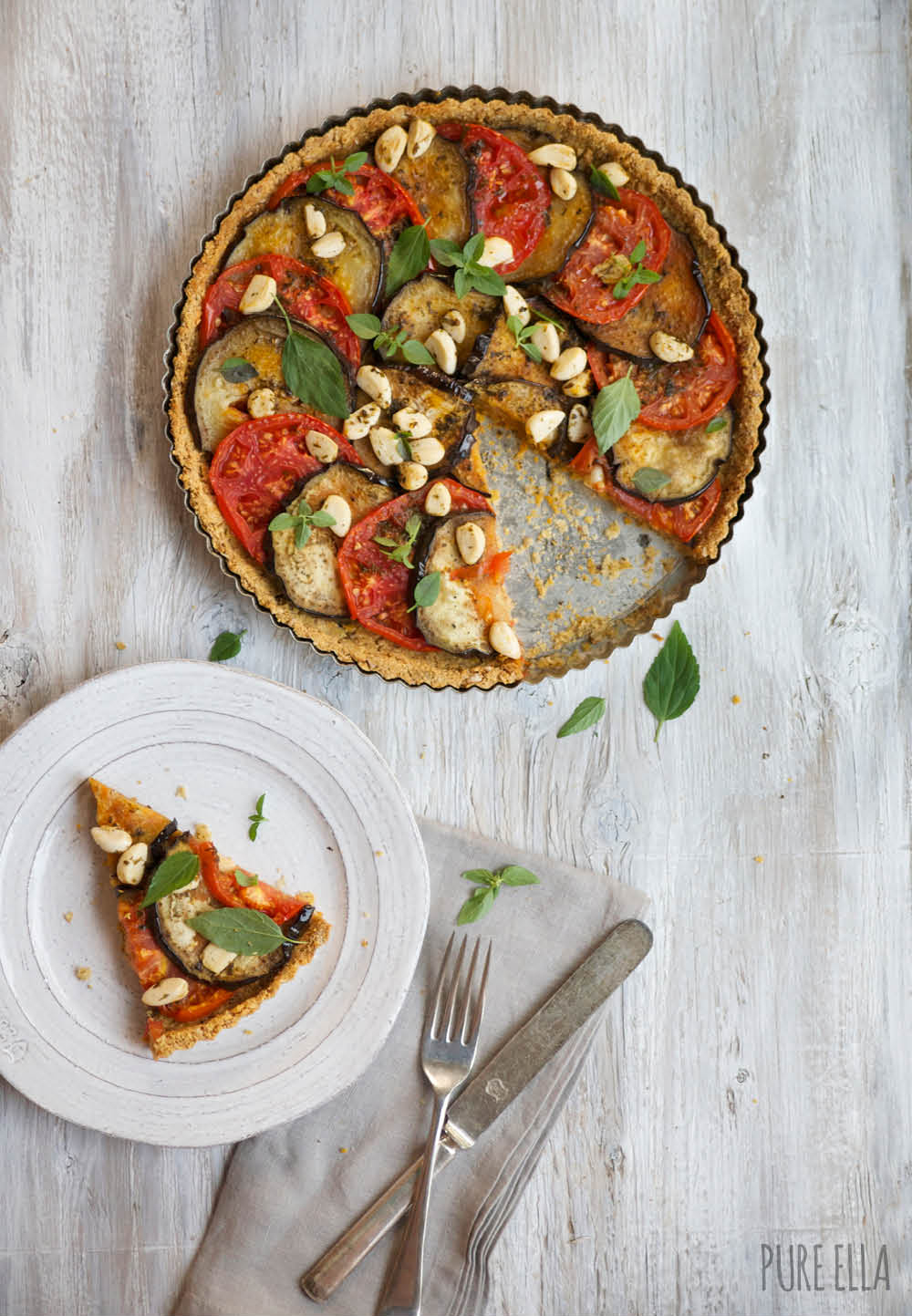 This gluten free grains tart recipe takes care of that and going plant-based means you avoid the extra fat, cholesterol that you also don't need. So it gets many points for being super healthy… but it's also super delicious.
Let's just say that I have to admit that if I were still writing my book Cut the Sugar, You're Sweet Enough! than this would be a recipe I would LOVE to include there. Lucky for you, you get it right here right now ~ enjoy!! :)