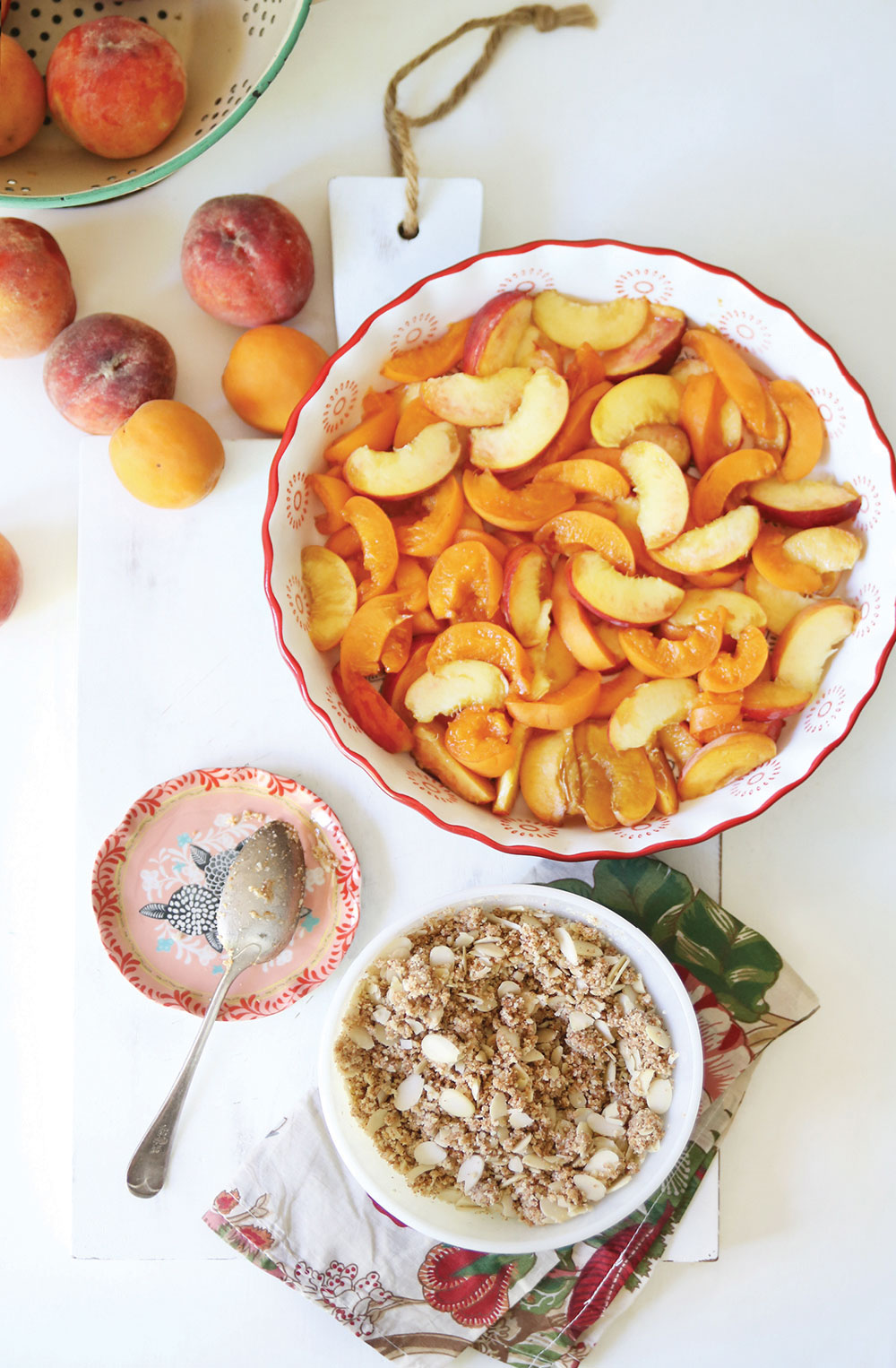 It's the last bit of summery days and I'm reminded to soak it up big time with nature, sunshine, friends and fresh local fruit AND especially beautiful desserts that I love to make… this Grain free Peach Apricot Crisp is like… oh my… PERFECTION as I am sure you'll all agree soon when you give this recipe a try soon.
I've had back-to-back friend visits this week and I made this exact delicious and healthy dessert because it's that good! We picked up a few baskets of Niagara On The Lake peaches and apricots on Sunday. And this dessert was just too good to eat just once. A new peach apricot crisp was in the cards… and we devoured it again, my friends LOVED it ~ life is good sometimes like that :)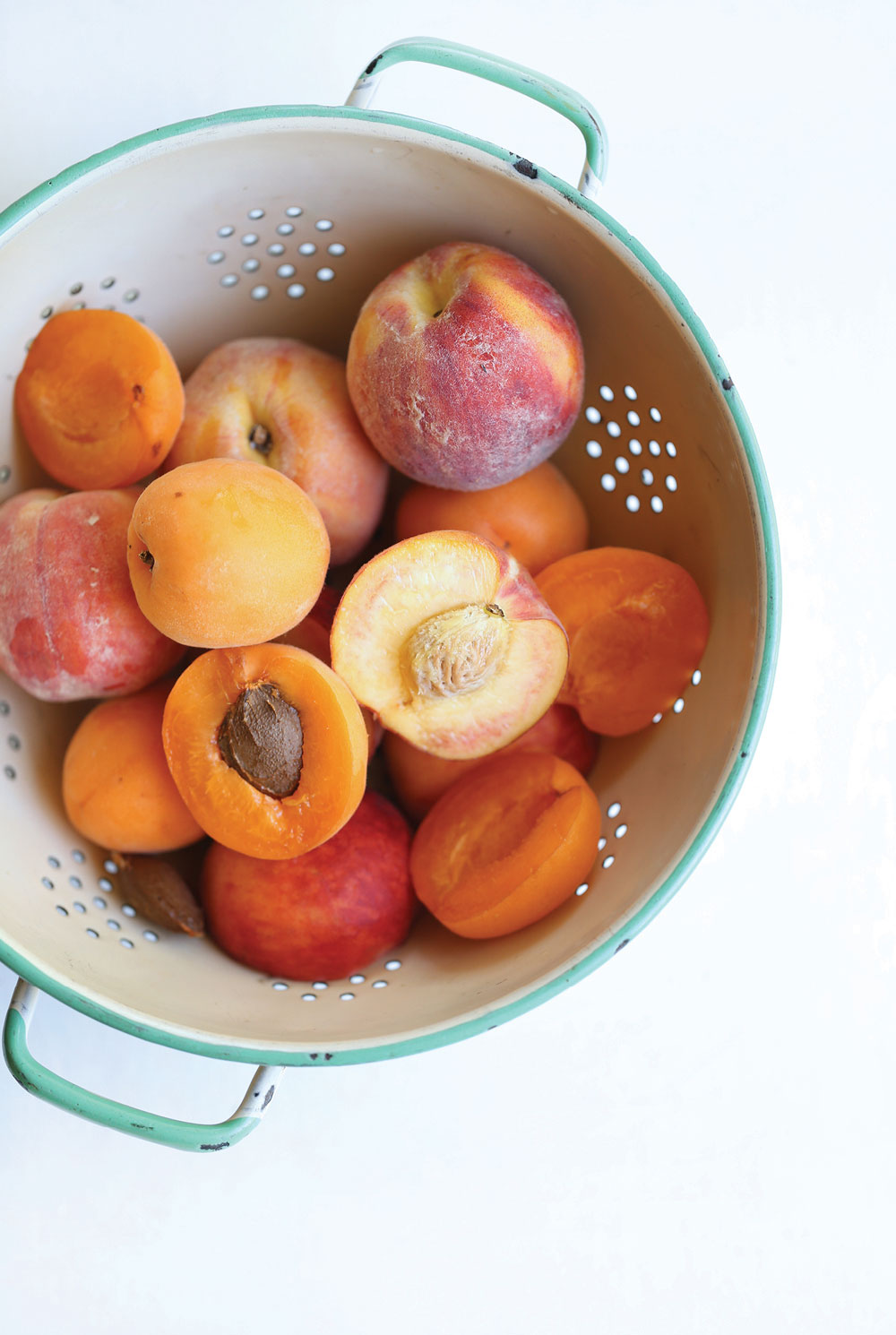 Did I say it's just 6 incredibly good-for-you ingredients! (5 ingredients if you just go with peaches or apricots only).
Oh and the prep work is just under 10 minutes and then you pop in the oven and voila – a gorgeous Peach Apricot Crisp is all ready to eat just slightly cooled from the oven! Your friends and family will ADORE YOU. Promise :)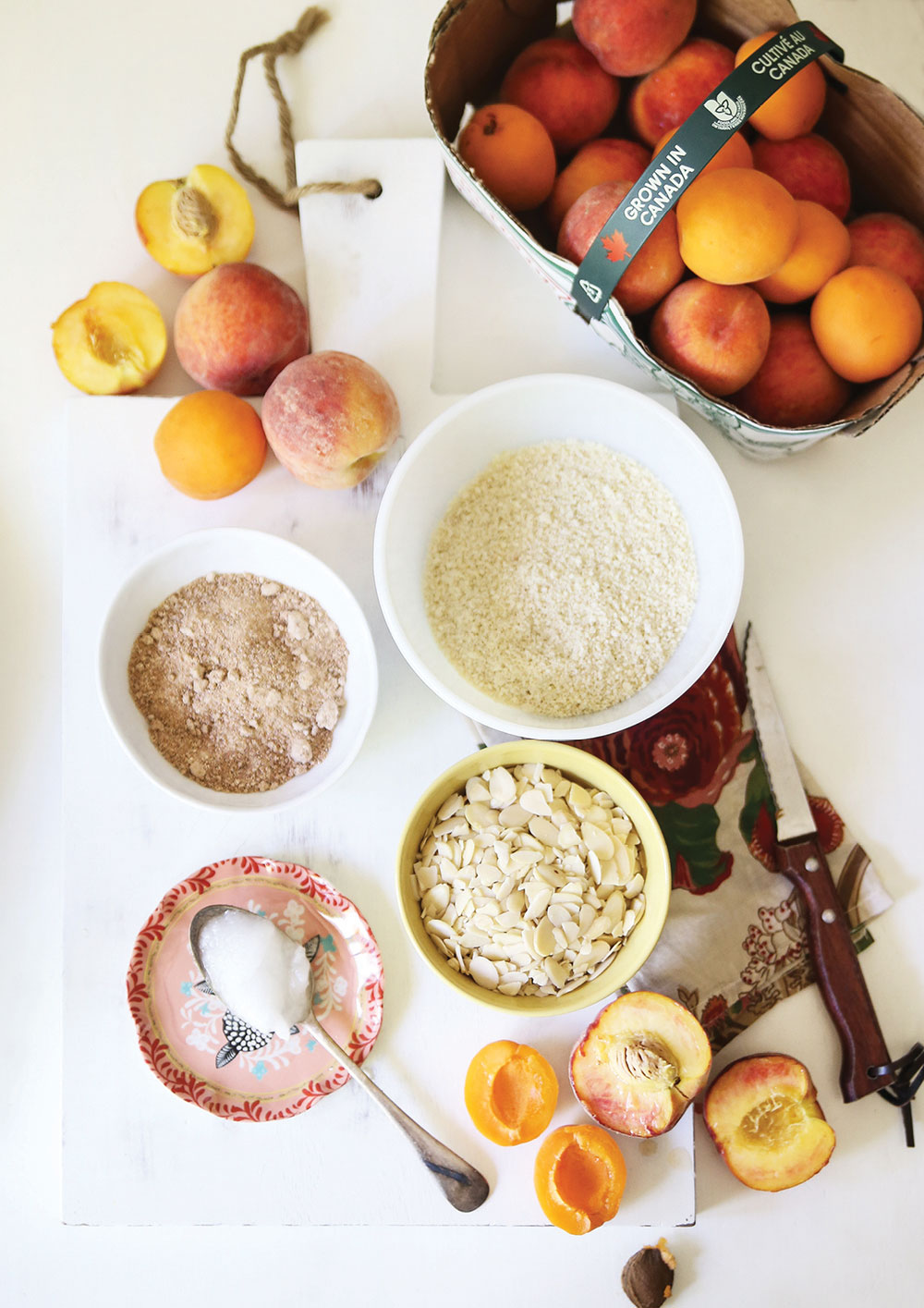 I love easy no-fuss desserts that still impress but are really super easy and quick to do.
I mean, after all, not everyone needs to know this, and you don't have to advertise that to everyone that you spent like 5 minutes tossing a dessert together. This no-fuss easy-peasy thing could be our little secret ;)
'Homemade' usually implies that you poured in so much care and love into something… and this is still true with this recipe too – but seriously? I'm a busy girl and I don't care to fuss too much in the kitchen. I like to cut corners everywhere (just not on taste and appeal) but I don't sweat it out in the kitchen (this is probably the reason why I actually enjoy cooking and being in my kitchen making food ;))
So there's a reason why there isn't a single fancy tart on this blog with a flaky rolled out dough and cut out leaves or such nonsense…? And it's not because I don't care for fancy tarts (I do) or fancy leaves out of dough (?), but I just know real life – I know that usually people want to spend less time hustling in the kitchen to make food – they would usually prefer to spend more time sitting and eating with their family. I value my time and everyone's time and I think most of my readers will agree that time is precious and you want to savour every moment, including dessert, right?
Well, here you get to do all that – savour this lovely Peach and Apricot crisp and savour time and friends and family. What you don't need to do is spend an hour prepping it. You can toss this deliciously amazing dessert within 10 minutes. If you're well organized, and you know where your ingredients are (unlike me) than it should take 5 minutes to prep. Then just pop in the oven and forget about it for 30 minutes. Remove and enjoy still warm and aromatic and incredibly tasty.
Enjoy! You're welcome. See, life just got simplified and more delicious. I LOVE that!!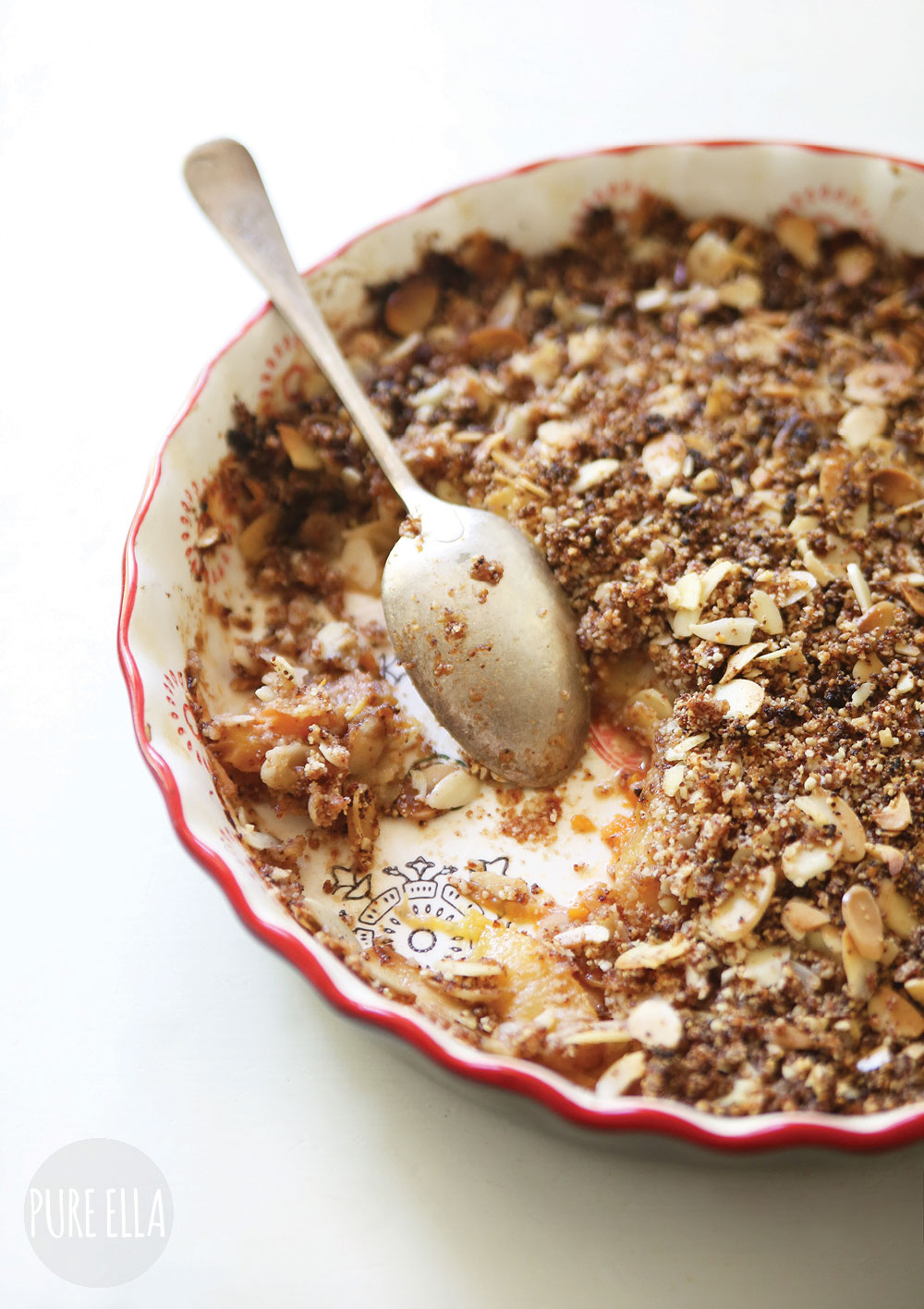 For the recipe and Cut the Sugar tips, click below:
Grain free Peach Apricot Crisp
grain-free, gluten-free, paleo, vegan, egg-free, dairy-free, wheat-free,
Ingredients:
1 cup almond flour
1 cup slivered/ sliced almonds
1/4 cup coconut oil (melted)
1/3 cup date sugar or coconut palm sugar
4-5 ripe peaches, sliced and pitted
4 apricots, sliced and pitted
How to make a Grain free Crisp recipe:
Preheat oven to 350 F.
Wash, dry and slice and pit all the fruit,
Place them all in a baking dish (I used an 8×8″ tart dish) and bake for 15 minutes.
In the meantime, in a medium bowl, combine the almond flour, slivered almonds, coconut oil and sugar and mix well to fully combine.
Sprinkle evenly on top of the fruit after 15 minutes of being in the oven, then place back into the oven for another 15-20 minutes or until slightly golden on top.
Remove from oven and let stand for about 10 minutes before serving. Enjoy!
NOTE: you can easily just make this a peach crisp and then just have 5 ingredients total! Also, berries, or other soft-flesh fruit work great in this like plums :)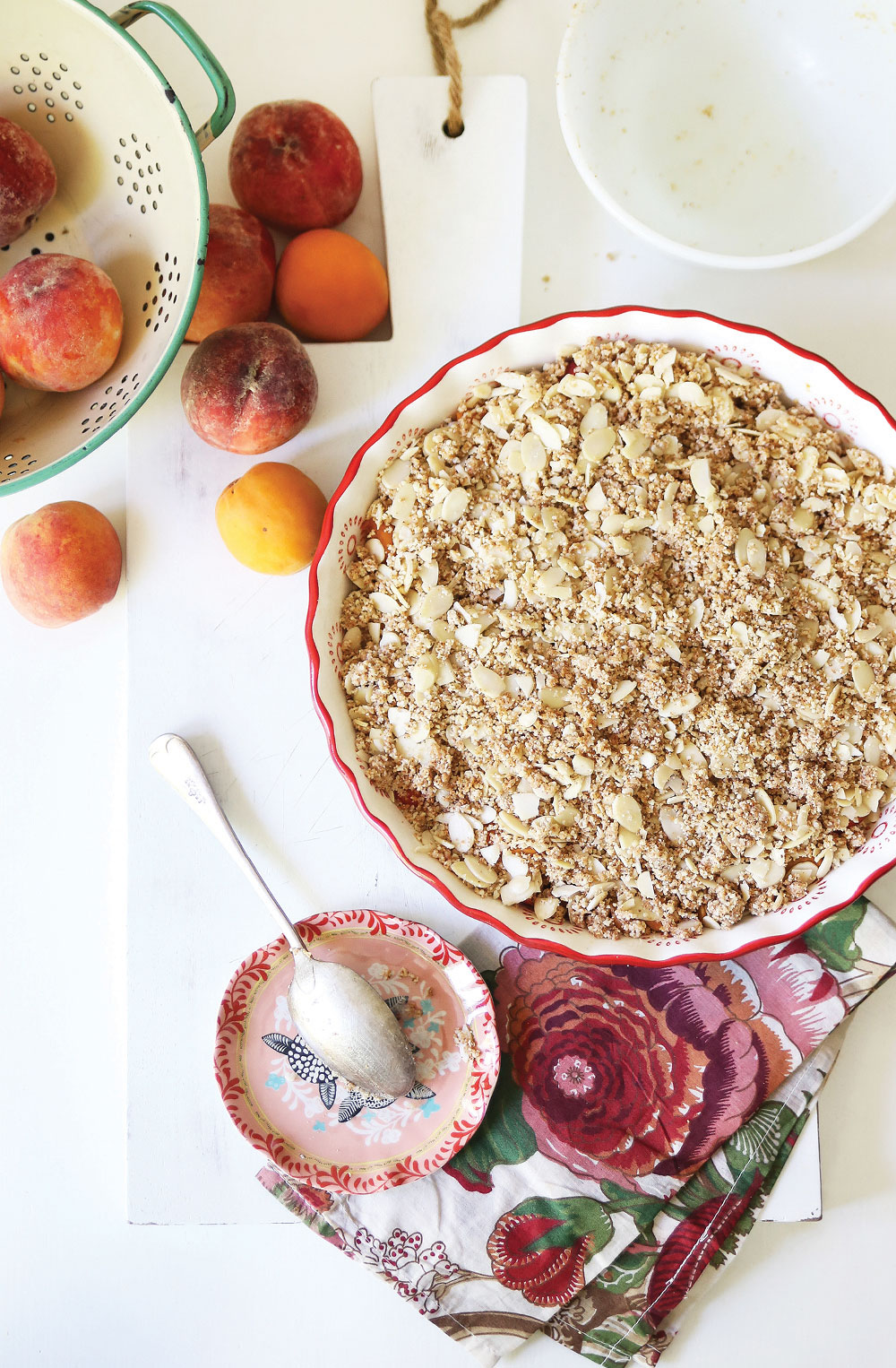 So just 6 ingredients and like 5 minutes gives you this amazing Peach and Apricot Crisp.
I think I might just make this again today and you should too!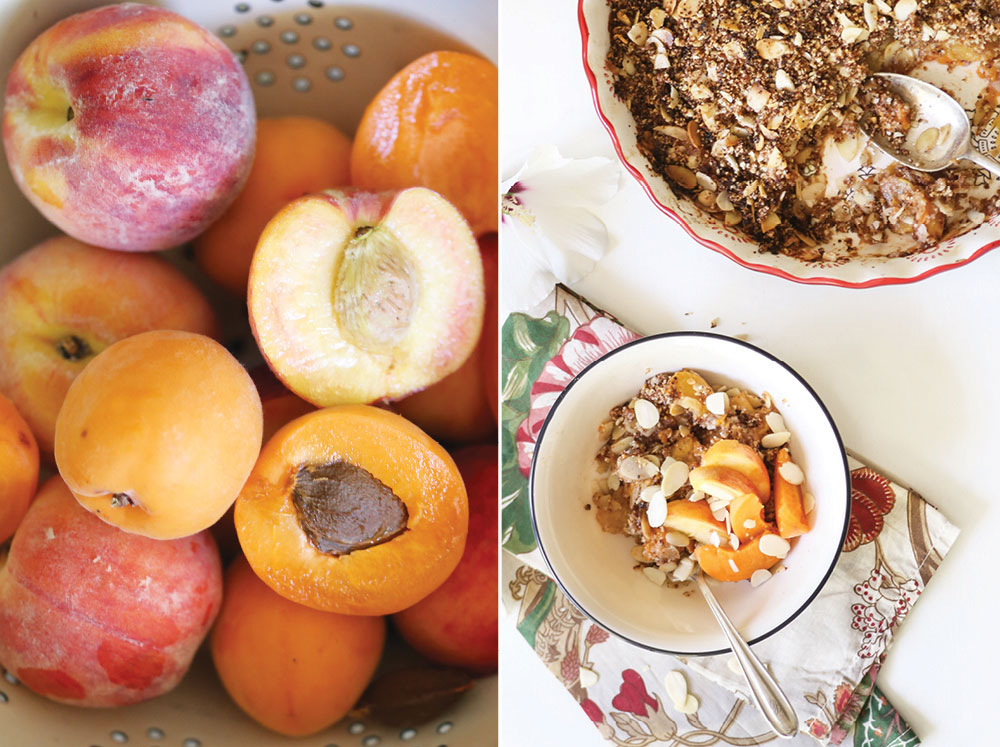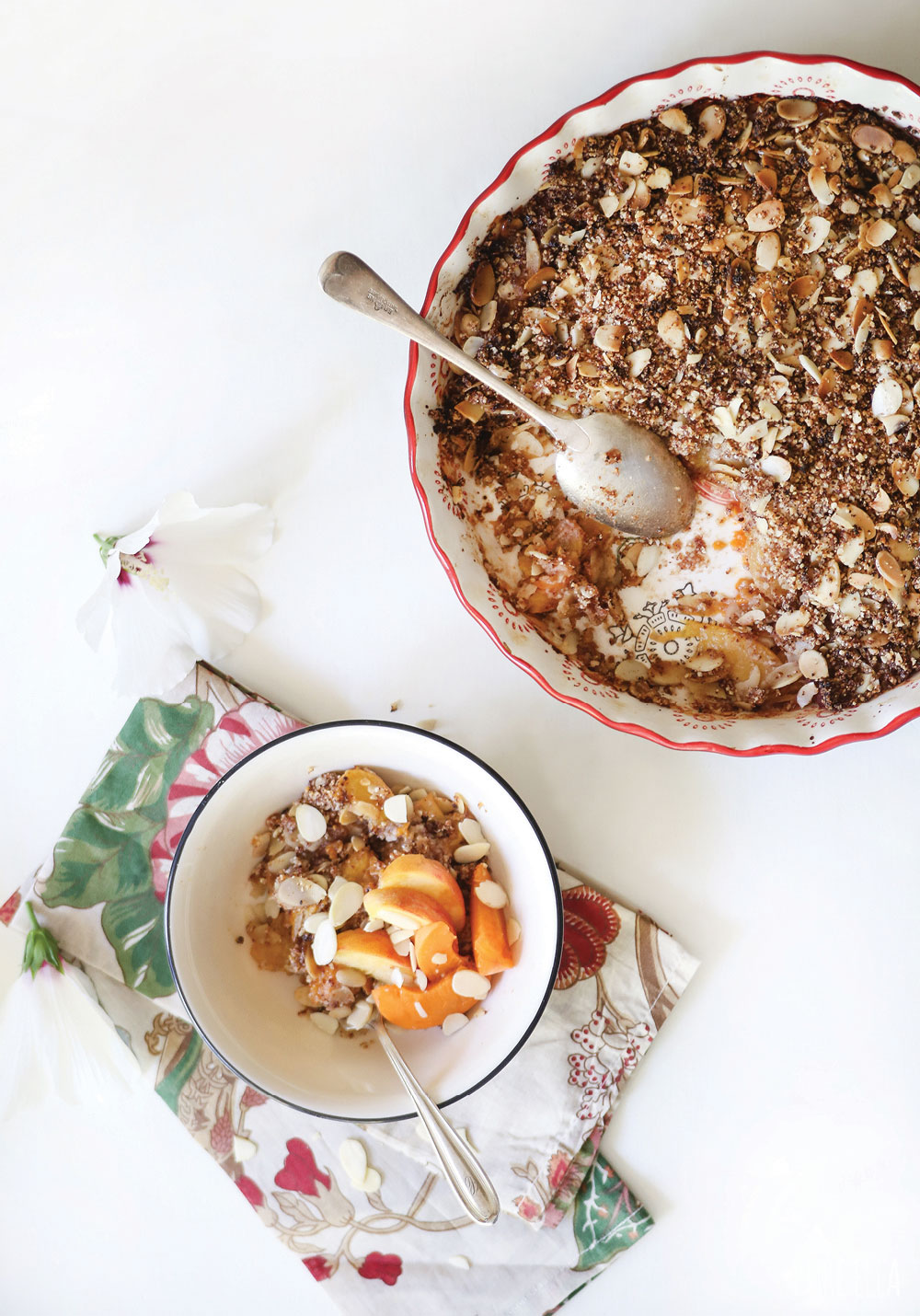 Cut the Sugar Tip:
This is a great 'cut the sugar' recipe if you're following the tips every week…
It's grain-free/ flourless! This means you don't get the additional carbohydrates AKA sugar/ glucose when you eat this dessert. So the whole amount of sugar you actually digest and that gets into your bloodstream is actually less if this recipe had flour, oats etc.
The only sugar you get here is the 1/3 cup date sugar for the whole dessert that can feed 4-6 + the fruit sugar.
I used date sugar which is a great sweetener. It's minimally processed (it's just dried dates) and has a lower-glycemic than refined sugar. (we discuss the Glycemic Index + why it's life changing here)
There is lots of protein in this dessert! This is the magic ingredient to why you're often not satisfied with sugary foods/ desserts – (they probably lack in protein and are high on the glycemic index chart.) I discuss this importance in my book Cut the Sugar and it's life changing when you combine protein with a dessert OR have adequate protein within the same time frame (say, for dinner, then have dessert).'
I don't serve this with vanilla ice cream ~ as popular as it is to serve a crumble with vanilla ice cream, do try to avoid that scoop of sugar if you can. Less is always a good idea when it comes to sugar. Remember, it's the quality AND quantity when it comes to sugar.
As you're learning these 'cut the sugar' tips, I hope you're also learning that the big message here is not just about saying NO to desserts. You can actually enjoy sweets in your life and not feel restricted – that's why I didn't want to write a sugar detox book but a cookbook and guide to a healthier sweet life that looks at developing healthy sugar habits rather than deprivation and restrictions.
I think life should be sweet ~ do you? Now, go make this Peach Apricot Crisp Asap!!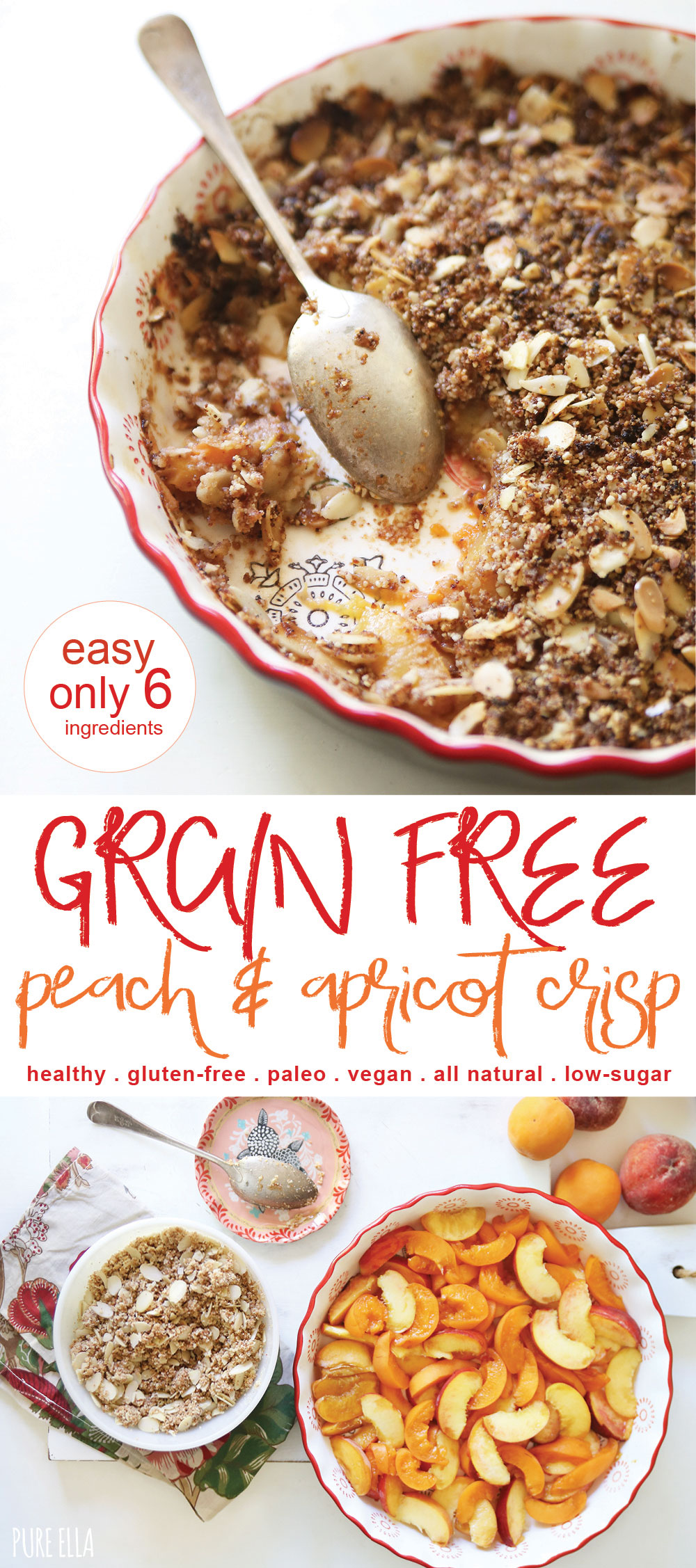 .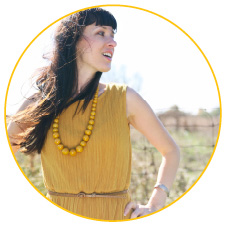 Ella Leché
is a cookbook author ('
Cut the Sugar
'), recipe developer, and photographer/stylist behind Pure Ella; where she shares delicious and healthy recipes. Eating PURE is clean ingredients, whole foods, plant-based nourishment and delicious desserts – with quality ingredients and sweeteners so they're treats with benefits so you won't have to feel deprived or restricted to eat healthier.
Thank YOU for being here!
Follow on social media for daily health & happiness inspiration:

ps. don't forget to share your Pure Ella (PE) recipe creations by tagging them #pureella and
@pure_ella
on Instagram – we repost our favourite photos!