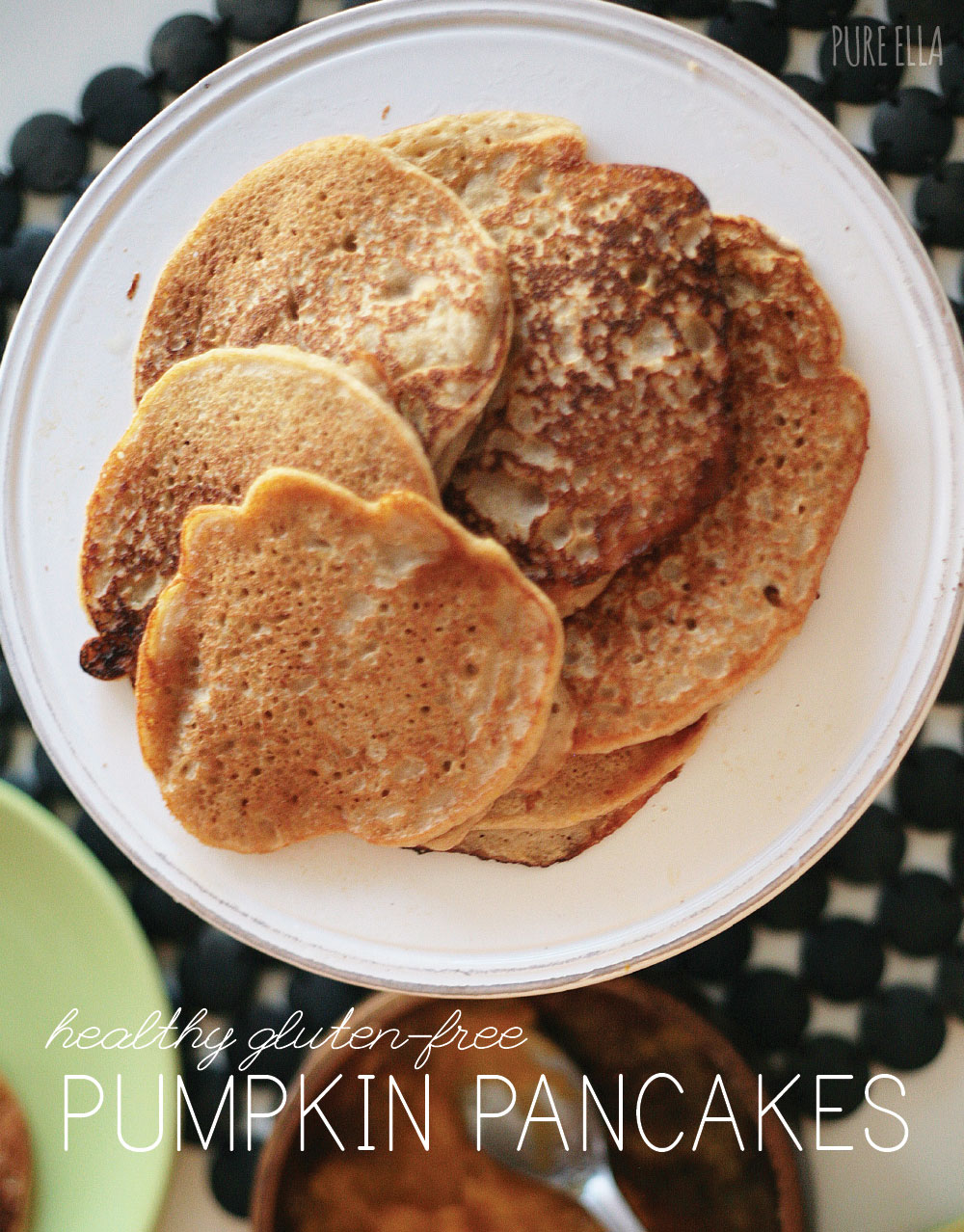 Pumpkin Season is here and these chilly mornings will definitely call for these tasty, soft and moist, delicious gluten free, dairy free and vegan Pumpkin Purée Pancakes.
This is definitely a recipe I will make over and over again. And not just for fall because it's Pumpkin Season and these have pumpkin purée in them. No, these are delish all year round. They don't have a strong pumpkin taste at all – in fact they're aromatic and flavourful because of the cinnamon, nutmeg and ginger in them. And they have the nicest moist and soft texture because of the pumpkin purée – you'll have to make them Asap to believe me ;)
I used my blender because lately it's getting a lot of action and it just sits on my counter waiting for more fun but you can just mix these ingredients in a bowl. Easy peasy!
Gluten free Vegan Pumpkin Purée Pancakes
gluten free, dairy free, vegan
Ingredients :
Mix in a small bowl and set aside :
2 Tablespoons of chia seeds or ground chia seeds
6 tablespoons of warm water
Dry ingredients:
1/2 cup rice flour
*
1/4 cup coconut flour
*
1/4 cup quinoa flour
*
1/4 cup tapioca starch/flour
*
OR 1 1/4 cup all purpose gluten-free flour
1/2 teaspoon fine sea salt
2 teaspoons baking powder
Spices:
1/2 teaspoon cinnamon
1/2 teaspoon ground ginger
1/4 teaspoon nutmeg
Wet ingredients:
1/3 cup pumpkin purée (canned pumpkin
is fine (but not 'pie filling'), (or apple sauce)
2 tablespoons light olive oil,
2 tablespoons maple syrup
1 cup almond milk, more if needed
+ Chia and water mixture
Coconut oil or grape seed oil for cooking
Directions :
In a small bowl, mix together the chia seeds with water and set aside. In a medium bowl, whisk together the dry ingredients and set aside. In another bowl combine the wet ingredients and pour into dry.
Mix the batter until it is smooth and silky- and not too thick. If it is too thick add more milk or warm water and mix to get a 'pancake batter' consistency. Heat a large skillet on the stove with a teaspoon of coconut oil or grape seed oil. Spoon a couple of tablespoons of the batter onto the hot pan and cook until they brown nicely for about 2 minutes then flip over for another minute. Continue with the rest of the batter, adding oil in between cooking.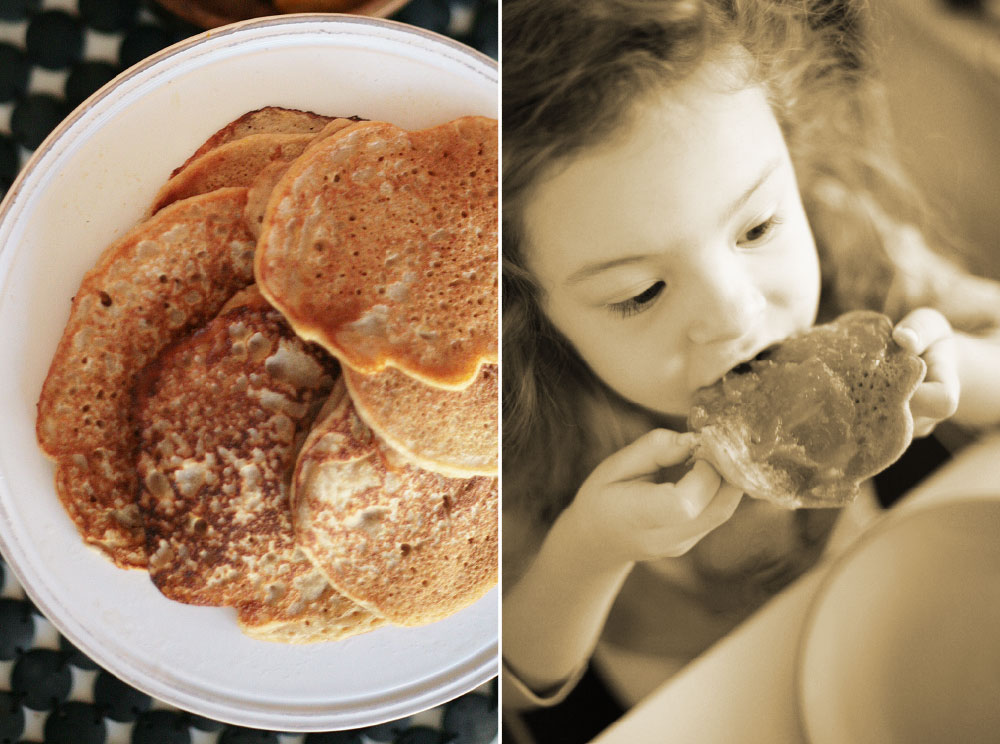 I didn't really plan what would be served with them, but I knew maple syrup was out of the question. Feeling creative in my kitchen, I reached for an orange jam and added some of that pumpkin puree to it – and it came out so good! It cut down the sweetness so much from the orange jam and I was very happy with that.
To make your own Pumpkin Orange Jam:
mix equal parts jam with the pumpkin purée – mix and serve over those warm pumpkin pancakes ;)
My daughter just loved these! She had 3 1/2 large pancakes for breakfast alone – she NEVER eats this much – but this time she just kept munching on her yummy breakfast only taking breaks in between each one to say things like "that was delicious", "so yummy", "can I have one more"…. that made me extra HAPPY!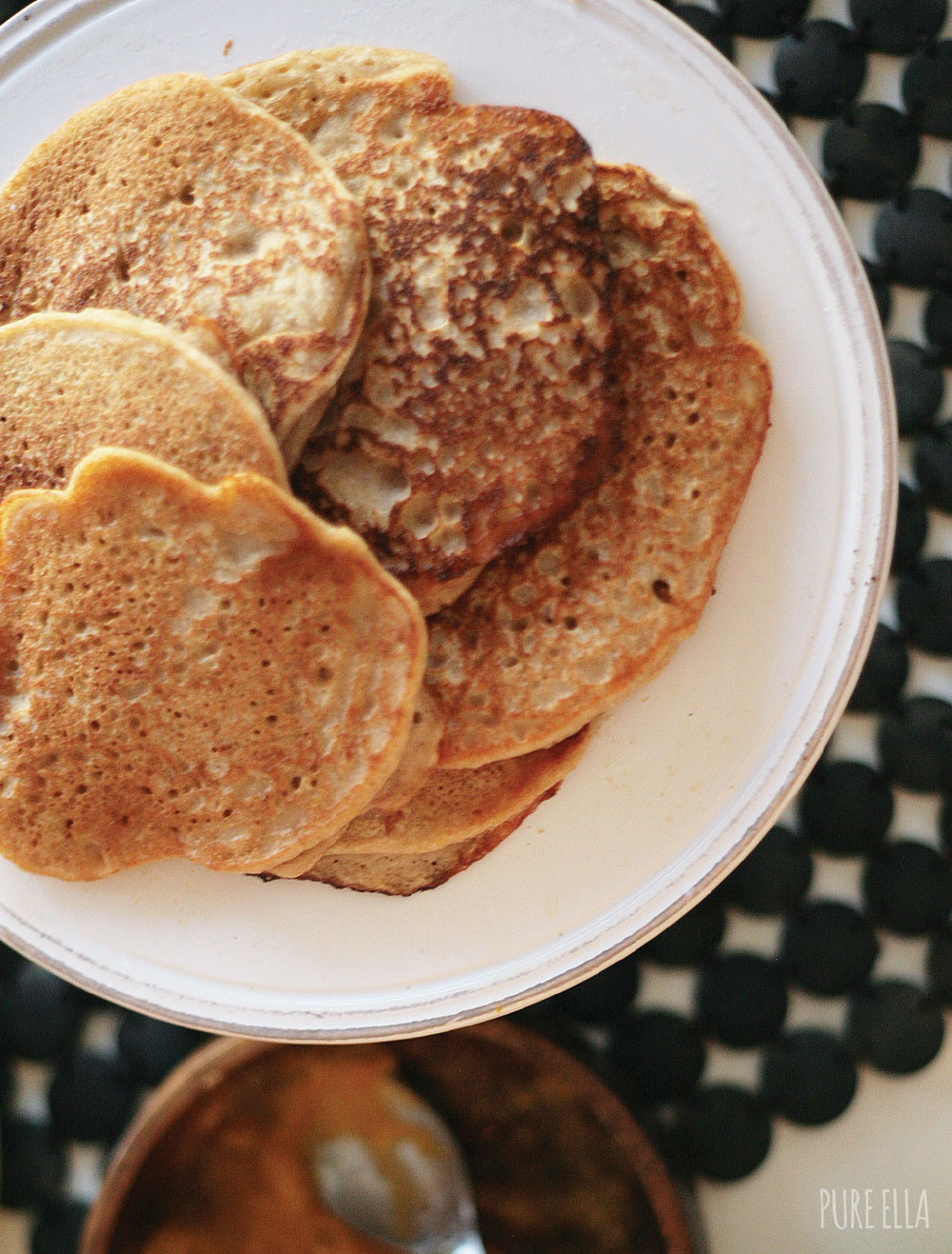 This was such a beautiful breakfast… healthy, gluten-free pancakes with pure natural ingredients, a lovely orange-pumpkin purée jam to go with them was the perfect addition. And my little girl loved them too, win! I hope you and your family will enjoy these soon…
PS. If you're in the pumpkin mood… don't forget to try my Pumpkin Muffins also ;)
Wishing you a beautiful day!