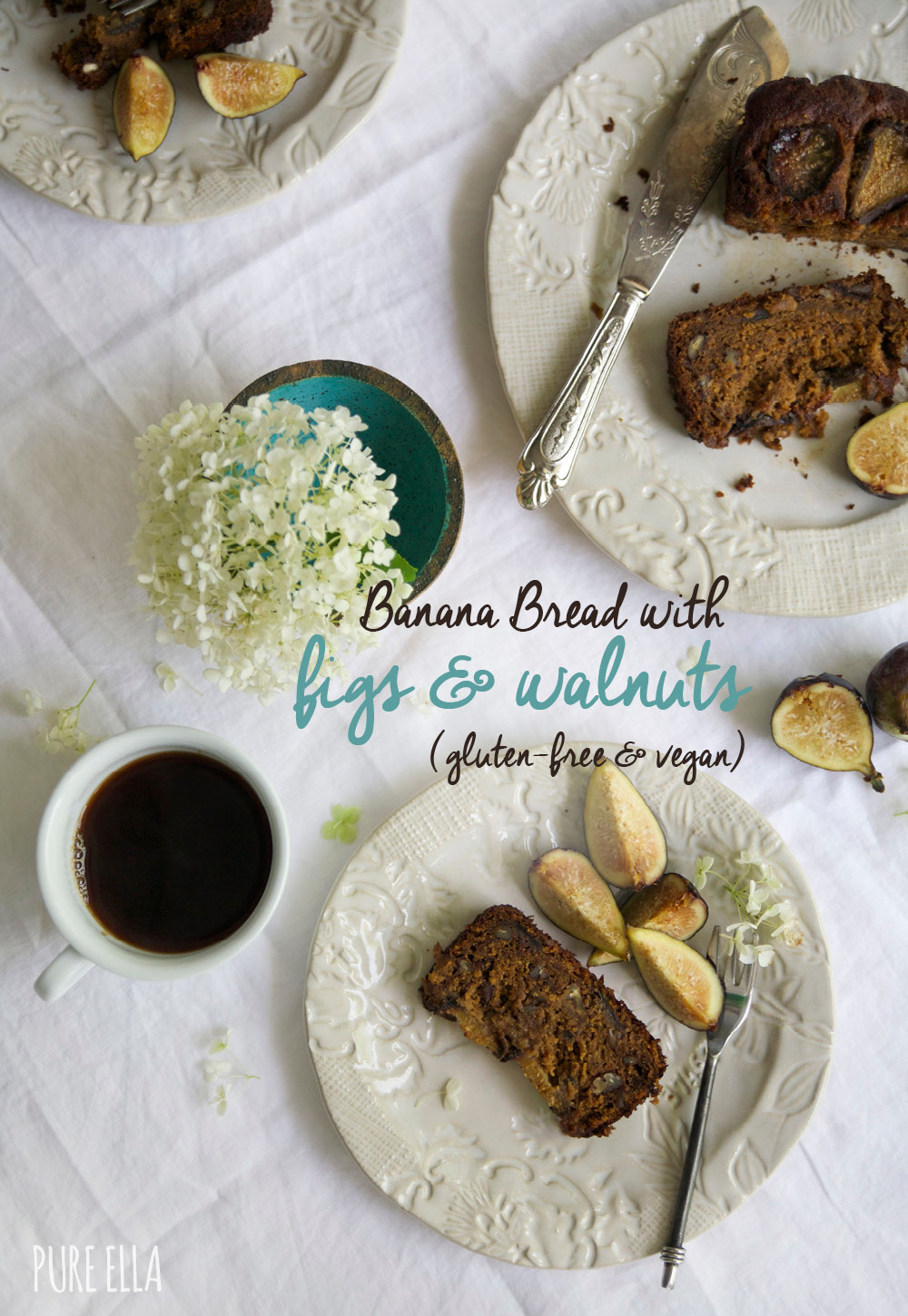 Well hello you!
And hello September! I still loose track of the days (summer's still in my head) but things are definitely different these days. The days are perfectly warm, not too hot and humid that it makes it impossible to sit outside. But really truly perfect with mid 20's C, bright happy sunshine and freshness in the air with a slight whisper of fall in the trees above, and no rustling leaves outside at my feet, just yet.
This is also the time of the year I start to turn back to soups, comfort-food dinners and baking. Not all in one go, just yet. But slowly our menu will switch over… or more like mingle over with the late summer's bounty with fall flavours.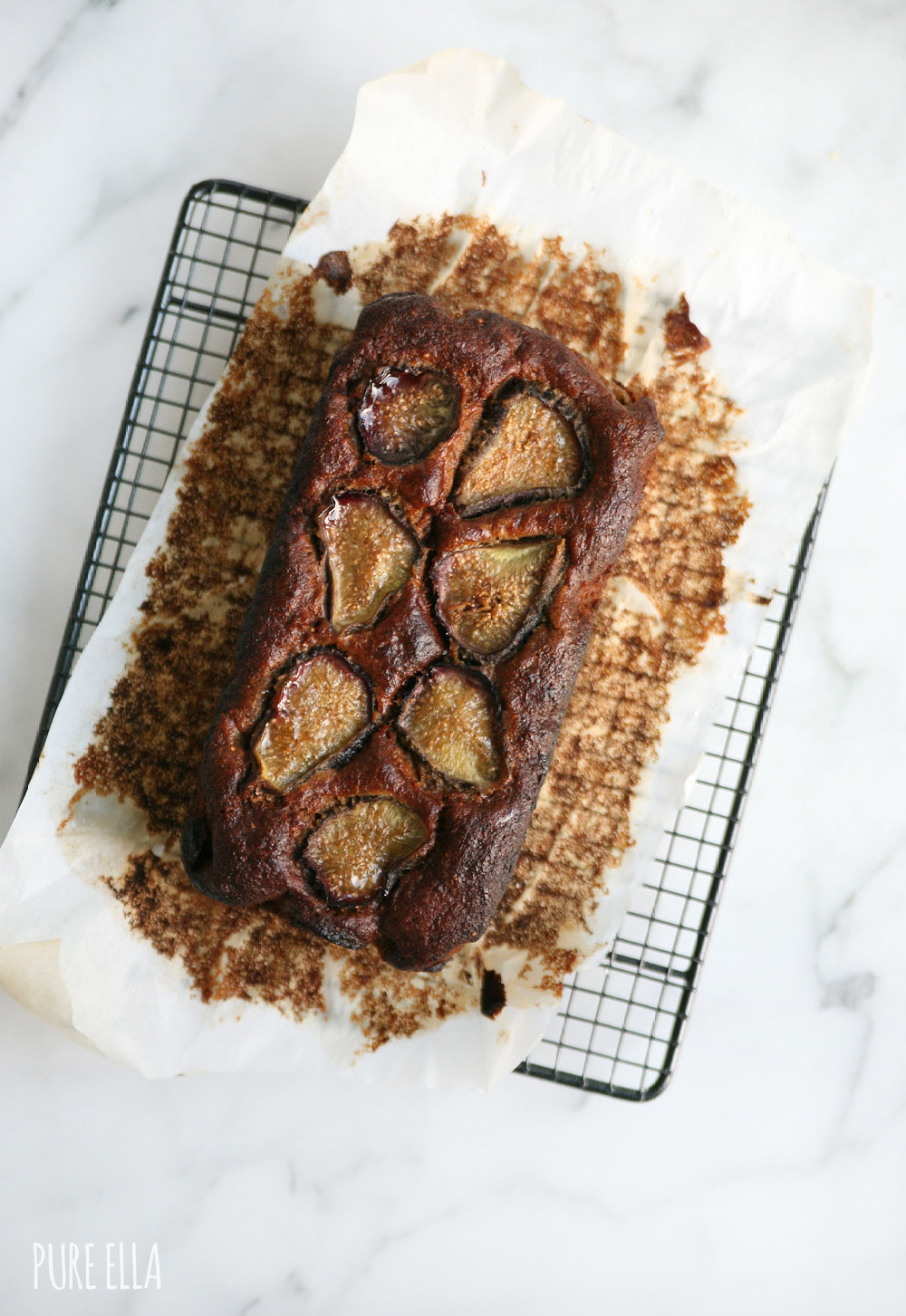 So this sudden craving for Banana Bread makes perfect sense. It's perfect too, for the season and for the flavours.
I used fresh figs in this one which makes it a true beauty. (But you could use dried figs too, if you happen to read this post in a few months when fresh figs are no longer in season). But you'll be glad to get fresh figs because they are delicious just whole like that eaten straight up and also in this Gluten Free & Vegan Banana Bread with Figs and Walnuts. A beautiful rich loaf cake that is light and moist and made healthier by being gluten-free and sugar-free.
Gluten Free & Vegan Banana Bread with Figs and Walnuts
INGREDIENTS :
2 tablespoons ground flax
6 tablespoons warm water
1 cup all-purpose gluten-free flour
1 teaspoon baking powder, aluminum free
pinch of fine sea salt
1/2 coconut palm sugar or date sugar
1/2 cup grapeseed oil or coconut oil, melted
2 very ripe bananas (total of 1 cup smashed)
1 teaspoon vanilla extract
4 fresh figs, divided (2 figs chopped, 2 sliced) + extra for serving if preferred
1/2 cup chopped walnuts
DIRECTIONS :
Preheat oven to 350F. And line a 6×9″ baking dish with parchment paper.
In a small bowl, mix ground flax seeds with warm water and set aside.
In a large mixing bowl, sift flour, baking powder and mix to combine.
In another bowl, smash the bananas. Add in all the liquid ingredients, including the ground flax mixture and sugar to the bananas and mix well.
Combine the wet and dry ingredients and mix well.
Fold in 2 chopped figs (stems discarded) and chopped walnuts. Pour into the baking dish and smooth the top.
Top with the slices of fresh figs on top.
Notes : If using dried figs : chop all 4 figs and add to the batter, do not slice for the top of the cake as they will burn.
Bake at 350F for about 45 minutes or until it darkens and looks set on top and a toothpick inserted into the centre comes out dry. Allow to cool for about 30 minutes before cutting into it – I know – – the hardest part!! Enjoy!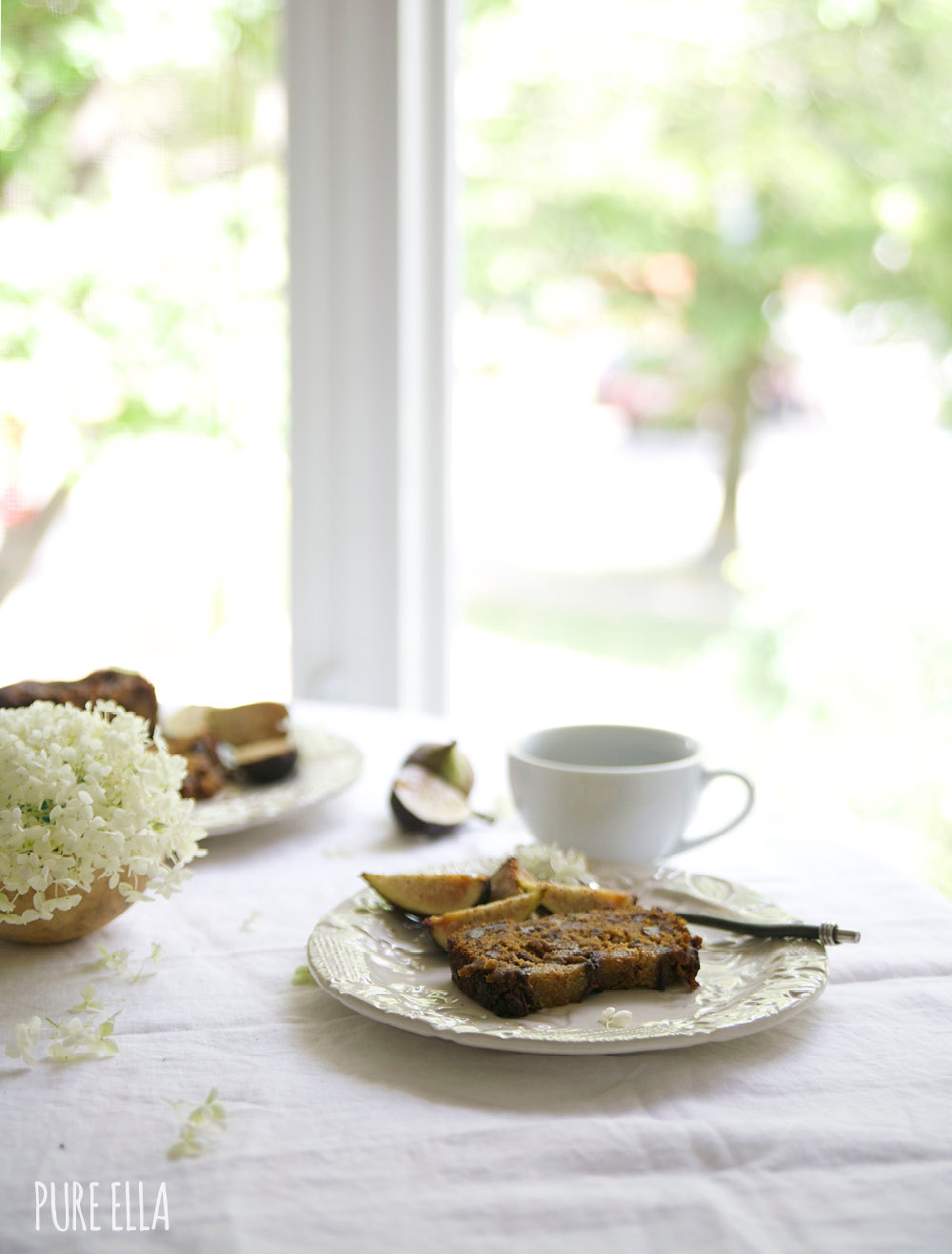 Sometimes a home baked dessert makes everything better. I love how the aroma from it baking in the oven already draws in a crowd. It's like magic. Delicious magic.
So now that the days are cooler and shorter I see myself baking more delicious cakes like this. They are easy and so much healthier than store bought. You control the ingredients and sweetness.
You don't need much sugar in this because the bananas and figs contain sweetness so a little goes a long way in this recipe. And I chose Coconut Palm Sugar because it's just the best sugar in my book to use. But Date Sugar or Raw Cane Sugar or Damara will also work well. 1/2 cup for a whole loaf is not much. I drink unsweetened coffee or chai tea with my cake and that makes a difference too. It's easy to cut down on sugar – you bet I have more tips up my sleeve (or actually in my book; Cut the Sugar) :) (Oh do forgive me for these mentions – I still can't believe I will have a book out soon!) :)
Oh my, can you believe this moment I captured of my girls holding hands while enjoying their banana bread? I tell you: magic happens!
By the way, my book Cut the Sugar is now available for preorders and it's a sweet thing!
Reserve a copy today on Amazon or any major book retailers. I think you will love it!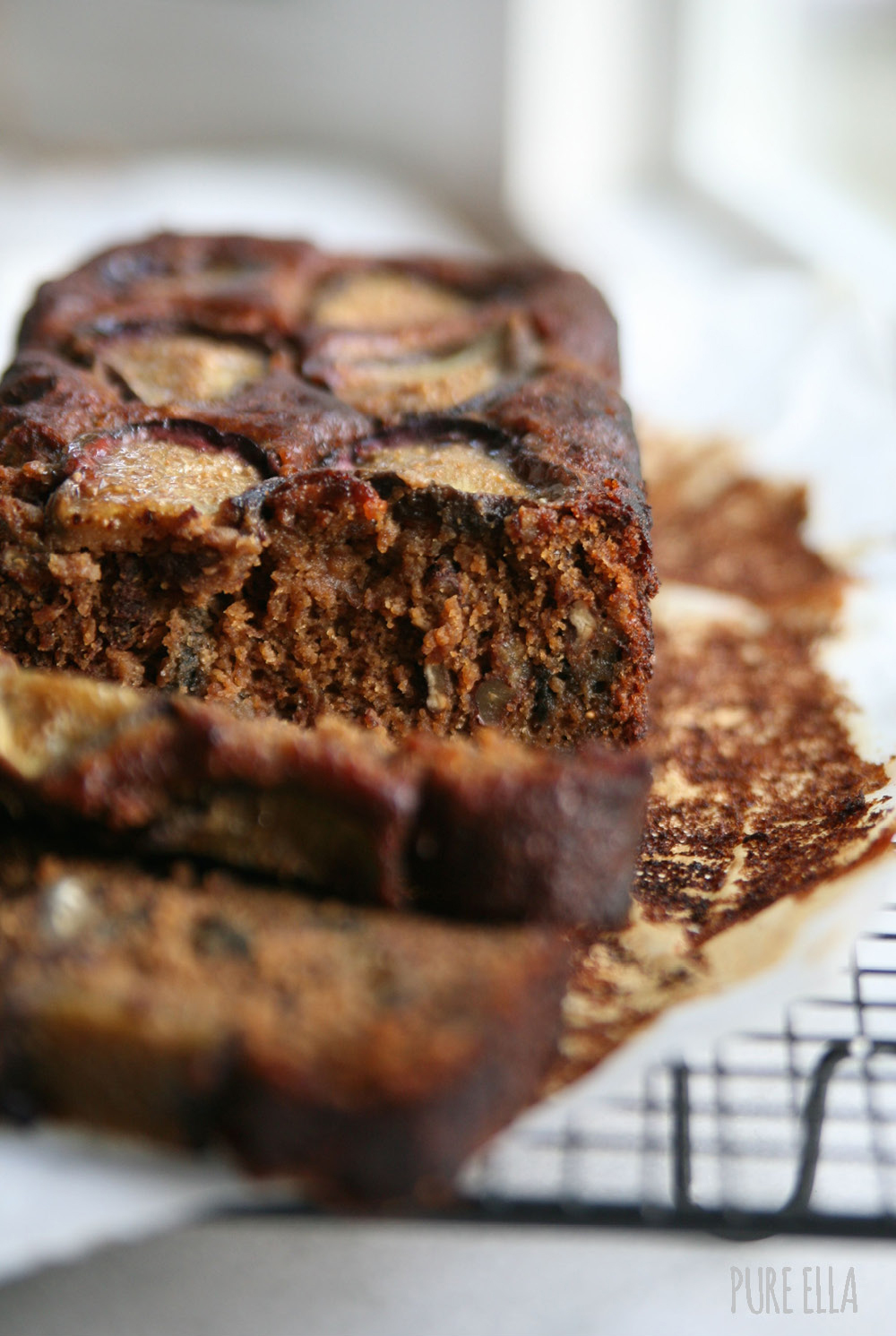 Summary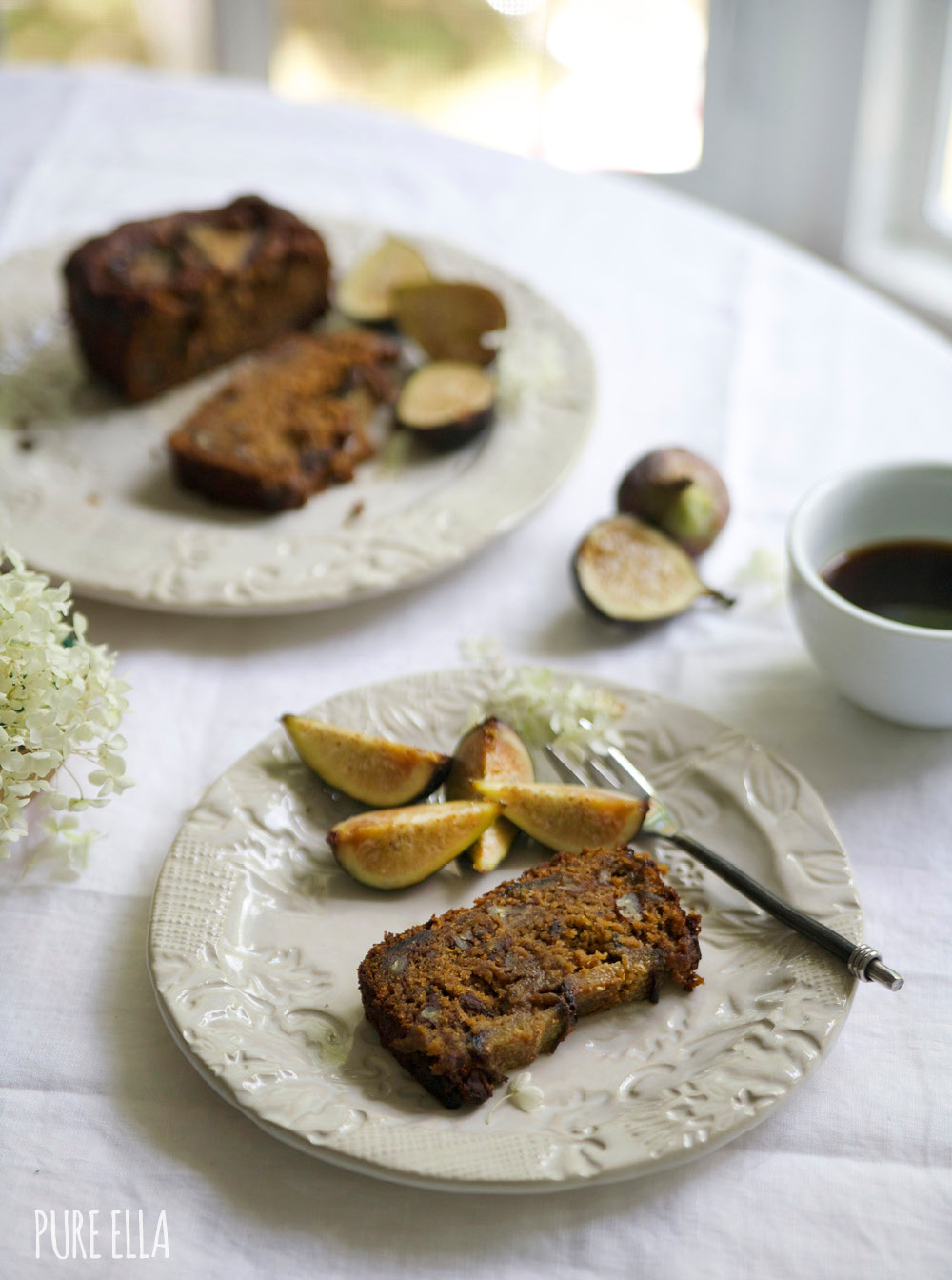 Recipe Name
Published On
Preparation Time
Cook Time
Total Time
Average Rating





Based on 1 Review(s)