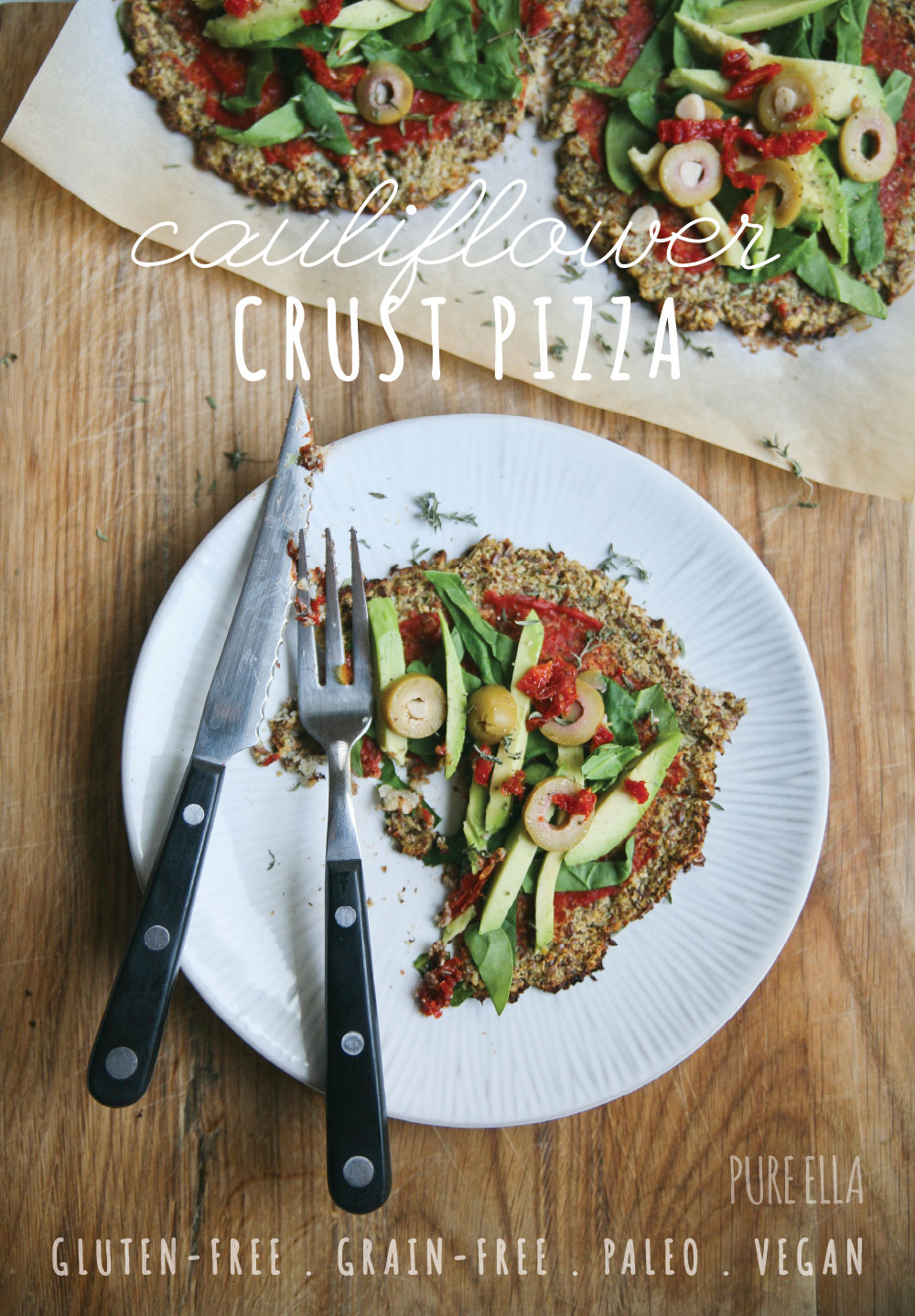 I have always loved pizza! Of course, as a kid… there's nothing better! But one thing I don't miss is that doughy, oily, fat-dripping slice of junk.
Thank goodness that times have changed for me and I have embraced a healthier way of living. Now I love to recreate those foods I always loved but with healthier ingredients that are still delicious and good-for-you.
I made these Cauliflower Crust Pizzas over the weekend and they were a big hit!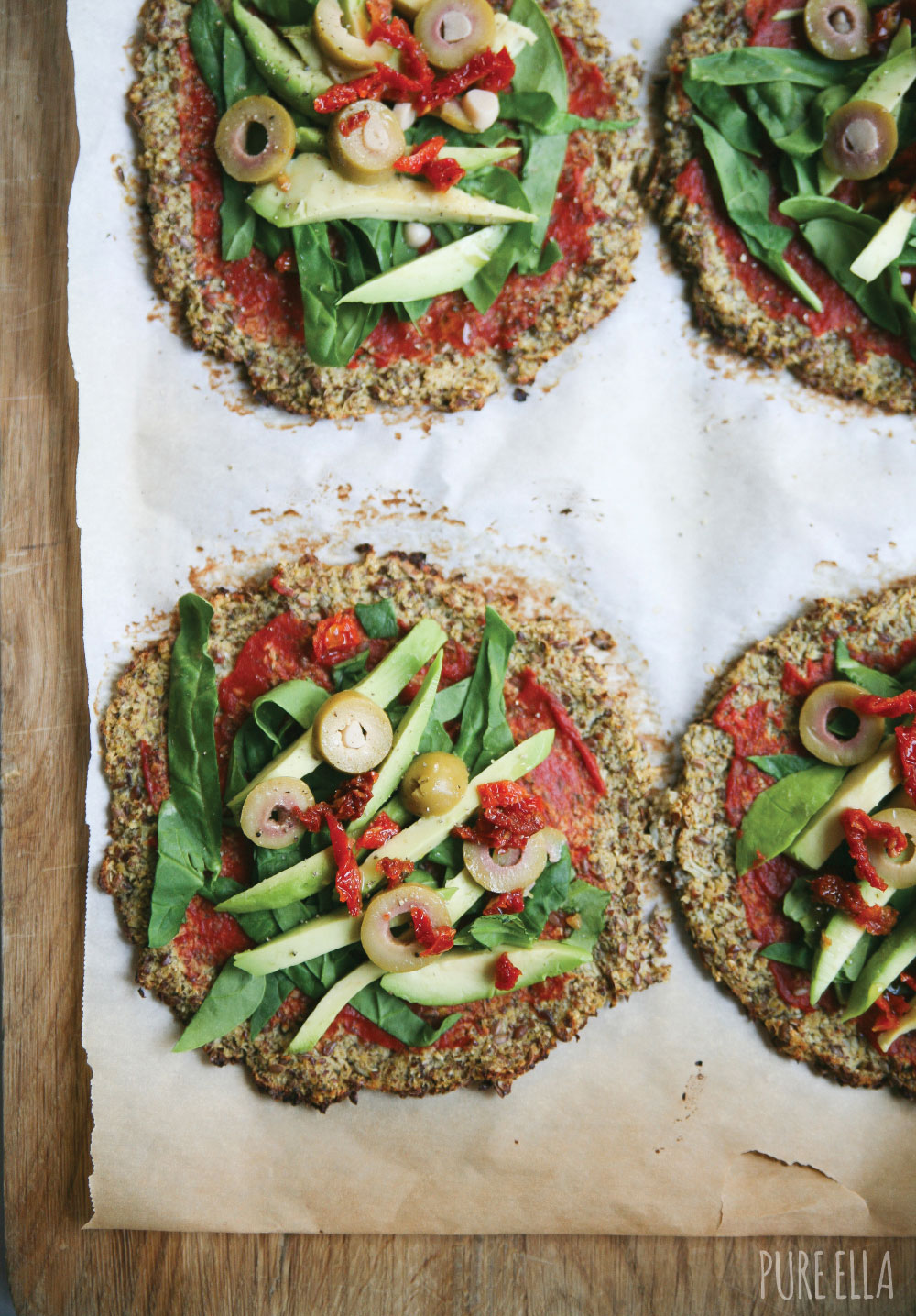 CAULIFLOWER CRUST PIZZA
gluten-free, grain-free, paleo, vegan
Cauliflower Crust Ingredients :
2 cups packed shredded cauliflower (about 3/4 medium-sized cauliflower)
3 T ground flax seeds
2 T whole flax seeds
2 T nutritional yeast (optional)
1 T olive oil
1/2 teaspoon dried basil or oregano
1 t sea salt
1/4 t freshly cracked black pepper
toppings :
1/2 can tomato paste mixed with a drizzle of olive oil and dried oregano and salt and pepper to make a pizza sauce
1 cup of spinach, chopped up
1 large ripe avocado, cut into thin strips
6-8 garlic-stuffed green olives
2 T sundried tomatoes, cut into small pieces
Directions :
First, in a small bowl, mix the flax with water and set aside until a jelly-like mixture forms to make a flax 'egg'.
Wash the cauliflower and pull apart into chunks. Process in a food processor for about 3 minutes until fine 'crumbs' form. Set a pan on the stove with 1/4 cup of water and steam the cauliflower crumbs until softened, about 3-5 minutes.
In a medium-sized bowl (or back in the food processor) place the softened cauliflower along with the flax 'egg' and all other ingredients and mix to incorporate well.
On parchment-covered baking sheet, scoop out the mixture into 4 equal parts and press down with the back of a spoon to flatten to about 1/3 of an inch. Bake at 400 F for 20-30 minutes.
This bakes a softer crust which is harder to lift off with your hands. So it's best to use utensils to enjoy them.
For a crispier crust that holds up better together, you will need to flip the pizza crusts halfway through the baking time. But they are very crumbly at this point so the best technique to do so is to place another parchment paper on top, then another baking sheet, pressing down to 'sandwich' the pizza crusts flip over the whole thing. Be sure to wear your oven mitts as one of the pans is still extremely hot.
Once you have the crusts baked, top with your favourite toppings and enjoy!
I made these over the weekend and they were a big hit! My sister came and she is happily joining my 'diet' of no wheat and eating only healthy, plant-based and pescoterian food. So she really loved these! I thought you did need an acquired taste for indulging in Cauliflower-Crust Pizzas but apparently not – my husband who eats with no rules, really enjoyed these too and loved the crust! He is looking forward to more different toppings on his in the near future ;)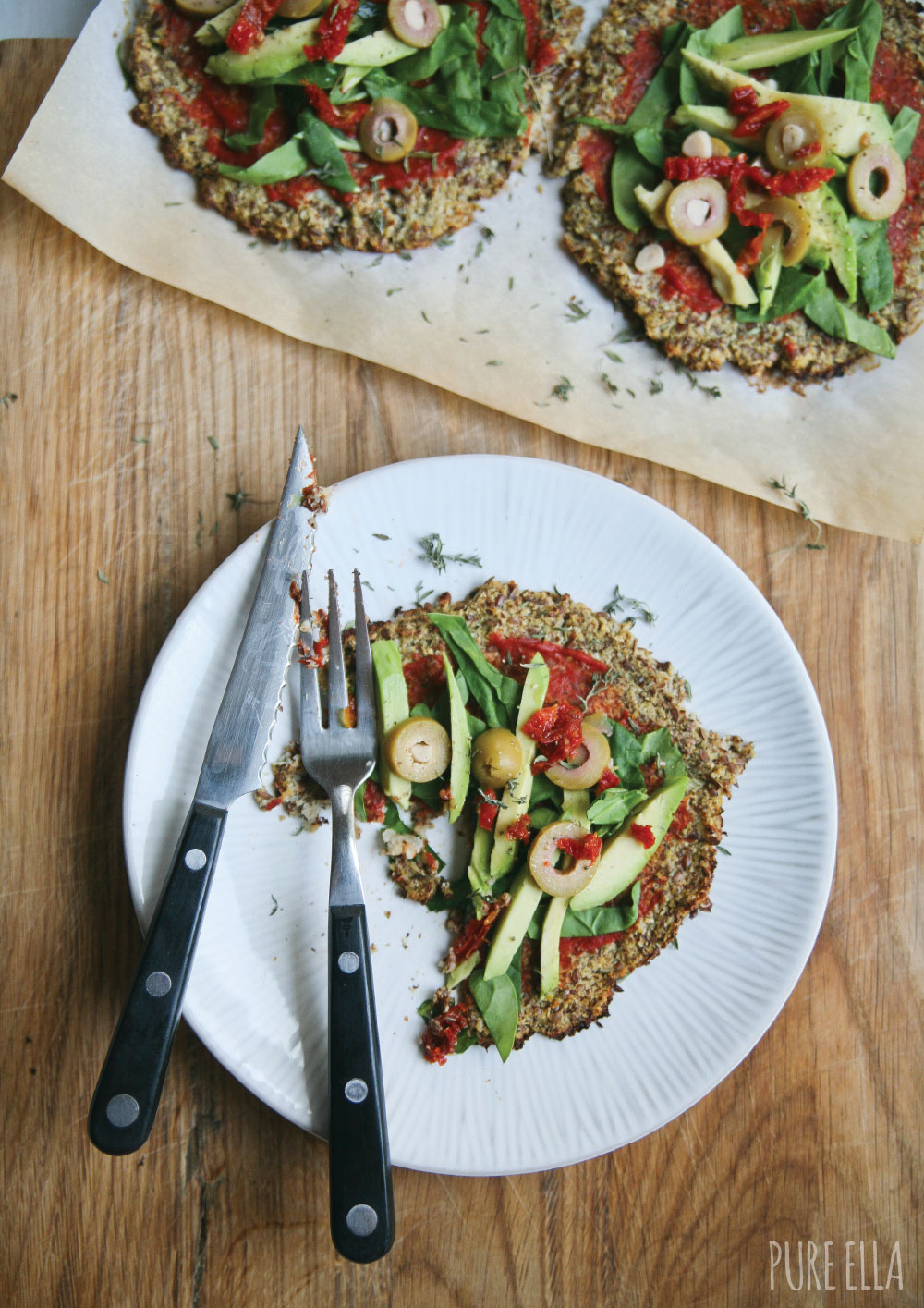 My 'little' sister came over from Quebec and stayed with us for the whole week. We had the best time cooking some great food (like these Cauliflower Crust Pizzas), making smoothies, experimenting with new fun ingredients and of course – hanging out with the kids! She is a wonderful aunt to my kids. And does not fear a dirty diaper or a red-flushed screaming 7 week-old! She is getting good practice with my kids for sure;) And on her last day I clearly admitted 10 days of her with us it wasn't long enough!
Looking at my girls I am overwhelmed with so much happiness that they too will say this to each other one day…. and make pizzas and just hang out ;)
♥
Pure Ella
If you're new to Pure Ella, please sign up for email updates and join me elsewhere:
Facebook

//

Pinterest

//

Twitte

r //

Instagram

@pure_ella