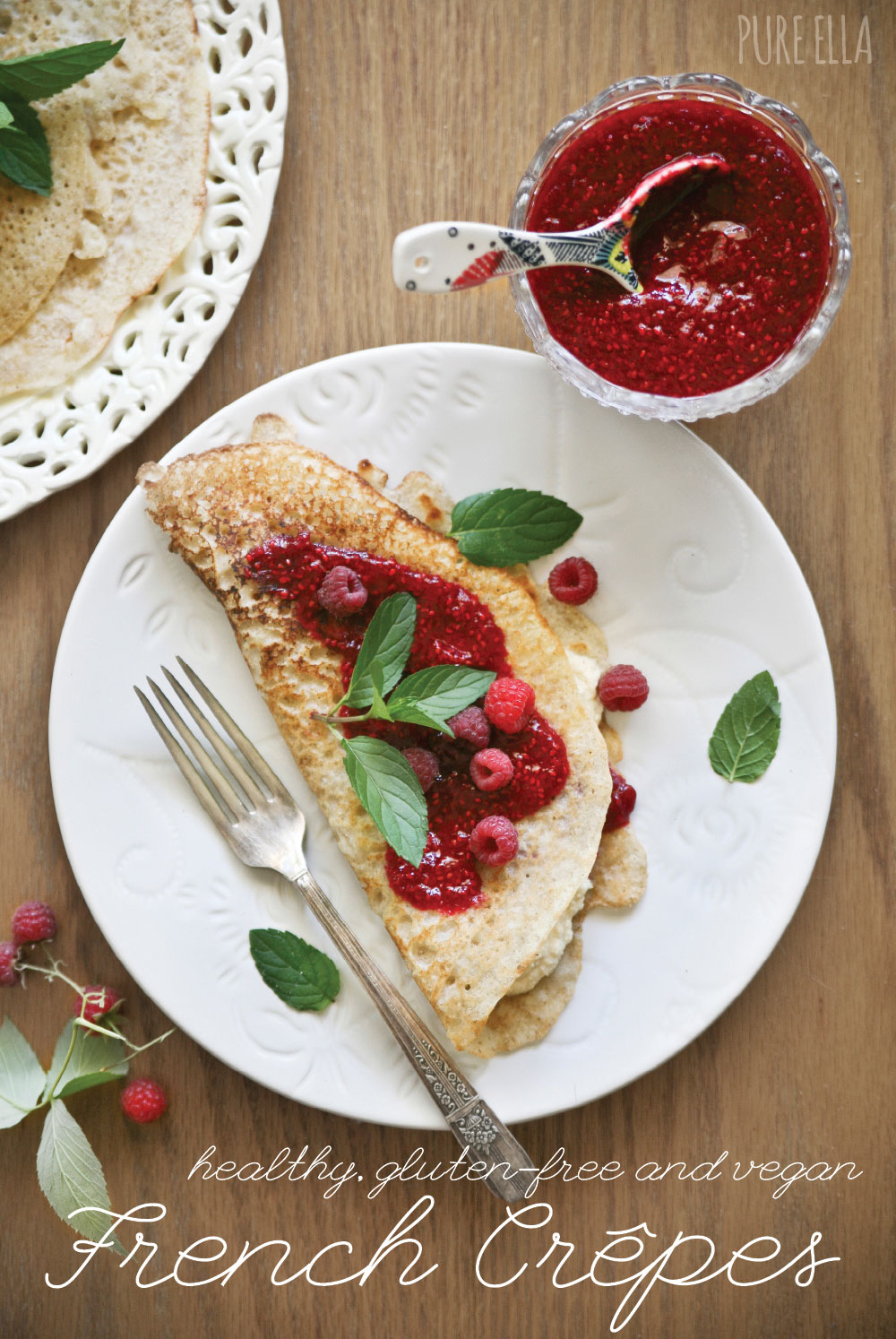 On of my all time favourite breakfasts must be a scrumptious plate of fresh French Crêpes!
Growing up, my mom would make crêpes for no occasion – we didn't even have to wait for the weekend to enjoy these delicious light and fluffy delicious things… I would often burn my fingers while quickly (when mom wasn't looking) grabbing a freshly cooked crêpe off the serving plate… and I would devour it – just plain as is – and just enjoy the amazing light sweetness and flavour of my favourite food… often times, we wouldn't even get fancy with toppings, just a little bit of homemade jam and maybe some fresh berries, when in season – rolled up and enjoyed. As a kid, I always preferred to hold my crêpe 'flute' anyway ~ so the less mess, the better. And often times, no plate or cutlery required. Win!
Whenever I think of making crêpes now, I always think of my mom. She made making them so effortless. Threw the batter together in a few minutes and whipped up huge stacked batches of delicous, perfect-every-time crêpes! Even now when she visits and wants do something to help out (this woman does not know how to sit still!) she asks if maybe she should make crêpes…. ;)
My daughter loves them and they're always much appreciated with a smily jammy mouth at the end of the meal!
But times have changed. I don't even own a bag of wheat flour. I don't eat eggs, or milk or butter. And we prefer to eat healthier ingredients without the gluten or cholesterol that animal products contain…. So although my mom has set the fearlessness in me for cooking (yes, even crêpes!) I now needed to adapt to new ways of cooking anyway ~ kind of reinvent the wheel to better, more delicious recipes!
Mom, this weekend, I would like to treat you to a big spread of amazing Gluten-free and Vegan French Crêpes!
It's just a little something I can do for you…. and you can be the expert taste tester if you approve of these wheat-free, egg-free and dairy-free crêpes. I think you will Love them completely… just like I loved them all through my childhood…. ;)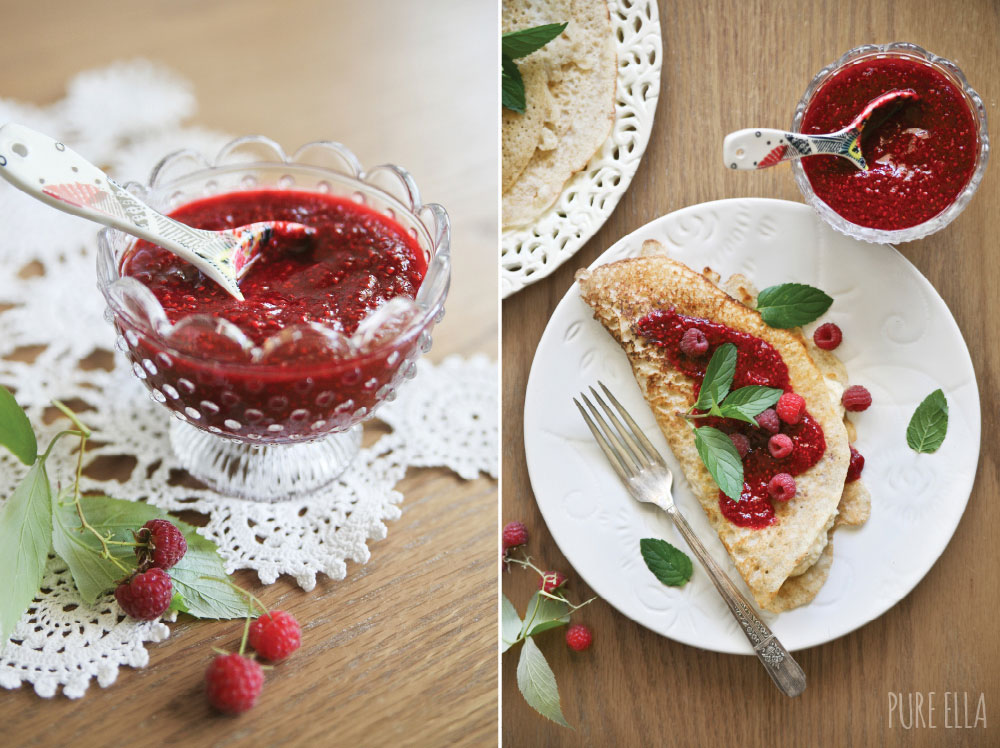 Fresh, homemade crêpes are amazingly delicious and scrumptious! They bring on excitement to the table because everyone just loves them!
Crêpes can be made as simple breakfast or snack, but can instantly be upgraded to delicious and stunning and fun desserts, when served with great toppings!
These gluten-free and vegan French Crêpes are served with a Homemade Dairy-free Vanilla Cream Cheese and Raspberry Chia Jam and topped with extra jam and fresh raspberries. Oh my, this is the best breakfast ever… just perfect for Mother's Day!! ;) I can't wait!
The only problem is that they just don't last long… so you should probably make a double batch right away ;)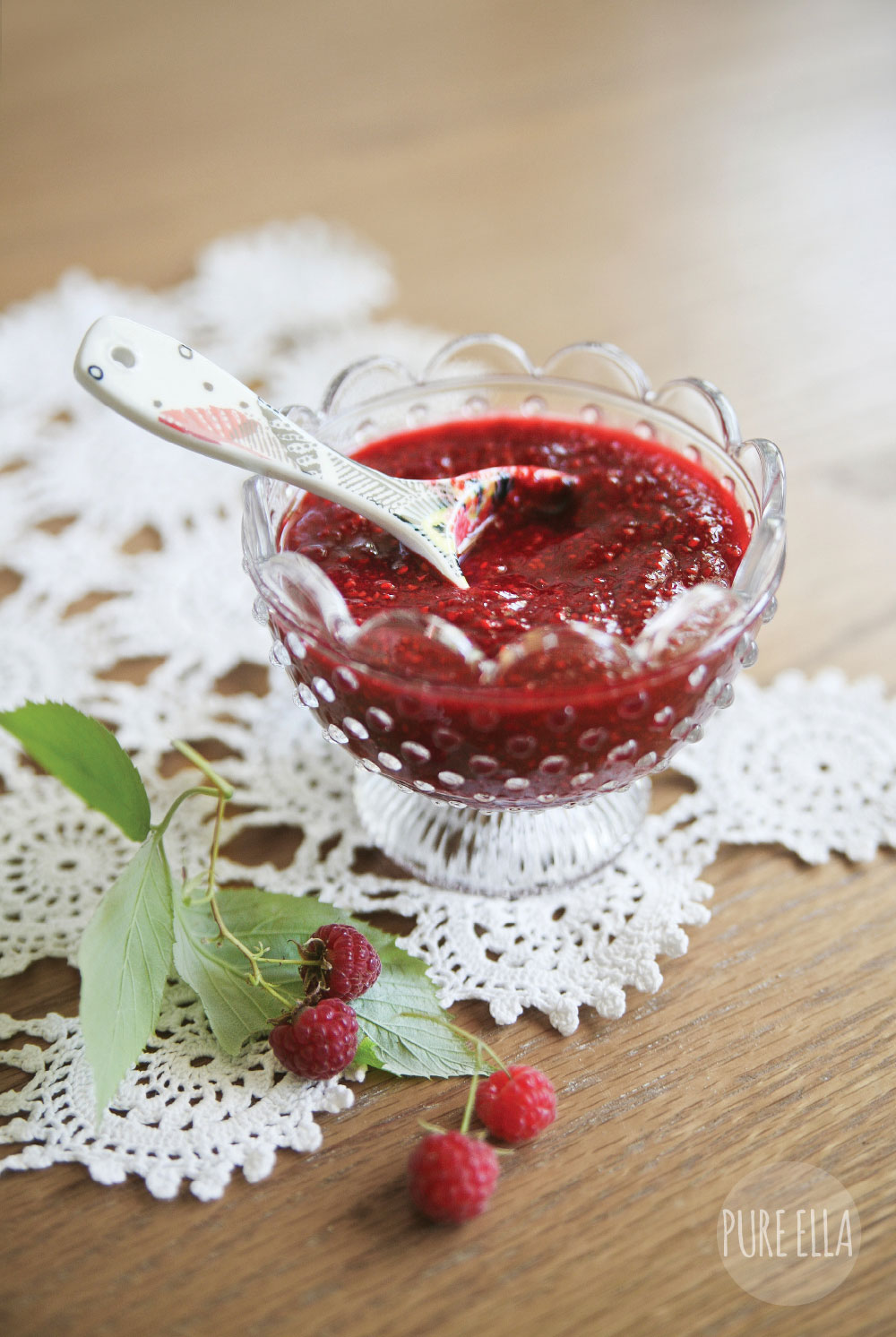 Gluten-free and vegan French Crêpes
Prep time : 10 minutes Cook time : 10 minutes Serves 2-3 Makes about 6 crepes
Ingredients :
3/4 cup sweet rice flour
1/2 cup coconut flour
3 tablespoons potato starch
2 tablespoons raw cane sugar
pinch of fine sea salt
1/4 cup coconut oil, melted or grape seed oil
1/2 cup of So Delicious Dairy Free Original Coconut Milk
1 1/4 – 1/ 1/2 cups warm filtered water
Directions :
In a medium bowl, sift together and whisk all the dry ingredients (first 5 on the list). Add in the oil and milk and combine. Pour in the water slowly while mixing the batter. You're after a fairly pourable consistency in the batter and you may need less or more of the water (I find, that about 1 1/4 cups of water works great). If the batter seems clumpy, either press the batter onto the sides of the bowl with a wooden spoon to get the clumps out, or use an immersion blender to whip the batter a little to get a smooth consistency.
Heat a small/ medium non-stick pan (I love my cast iron) with a little coconut oil or grape seed oil and pour in a ladle-full of the batter. Note : Your pan and oil has to be hot or else the batter will stick and it will ruin the crepe. Quickly grab the pan and swirl the batter inside so it spills out onto the sides. Set back down on medium high heat and cook for about 2 minutes, until bubbles appear on top and the crepe is slightly golden underneath (check by lifting one of the sides with a spatula). Gently, flip the crepe over and cook the other side for just another minute or two. Continue with all the batter to make all the crepes.
Notes : the smaller the pan, the easier it is to work with. Keep the pan hot so that the crepe won't stick. Cast iron or other non-toxic non-stick pans are great but stainless steel don't work out as well for this recipe. Also, trying to feed a family and cook these can seem impatient – what's great is to have two pans going at once so you cut the cooking time in half and can quickly sit down and enjoy these delicious crêpes!)
Serve with a Homemade Vanilla CreamCheese and Raspberry Chia Jam (recipe here).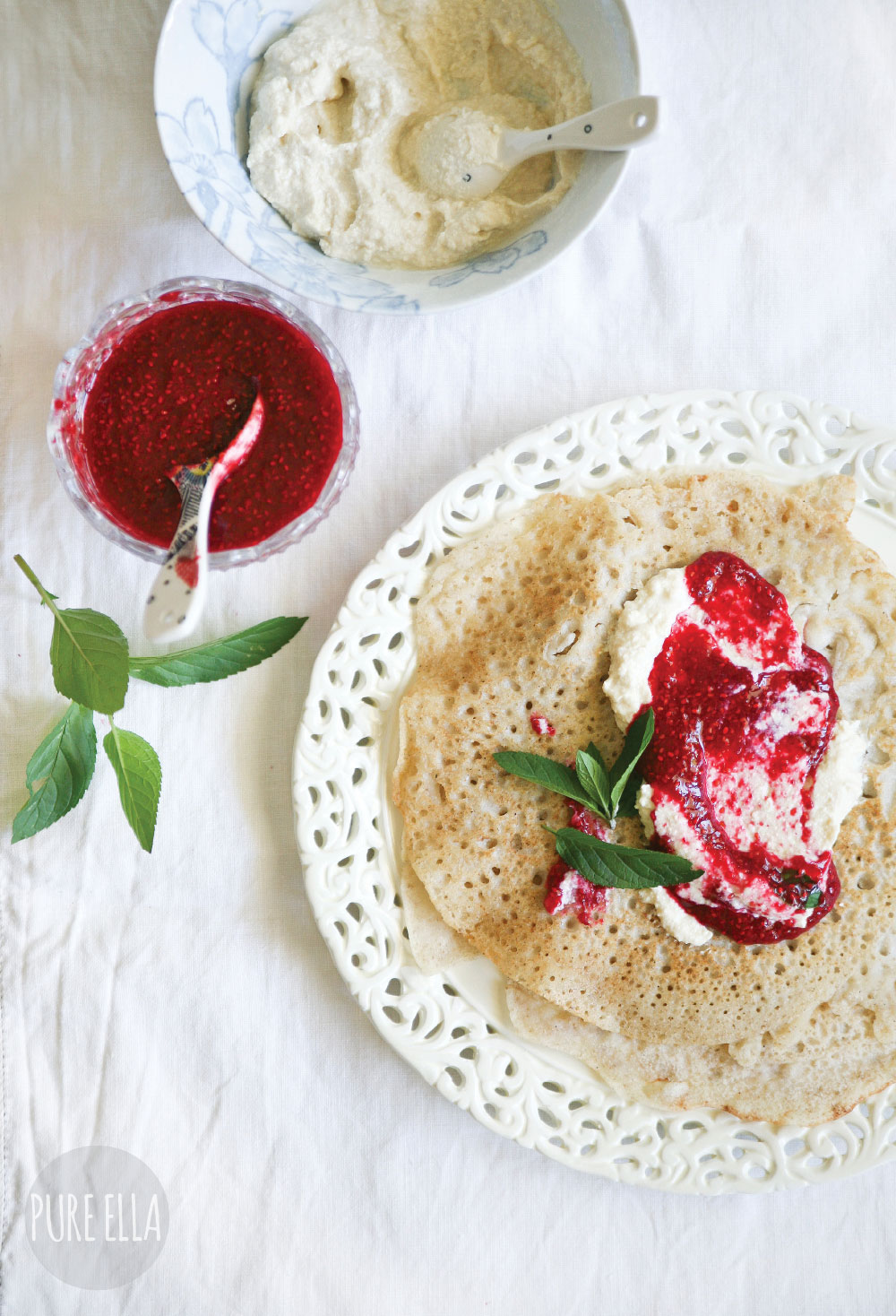 Homemade Dairy-free Vanilla Cream Cheese
Ingredients :
1 cup organic tofu, cubed
1/2 cup vanilla dairy-free yogourt
1/2 teaspoon vanilla extract
3 medjool dates, pitted or 2 tablespoons organic raw cane sugar
Directions :
In a food processor, blend all the ingredients together and you're done!
Serve still warm…. filled with the Homemade Dairy-free Vanilla Cream Cheese, Healthy, all-natural Raspberry Chia Jam and top with fresh raspberries and fresh mint!
Voilà! A stunning breakfast or even fancy dessert…. perfect for Mom ;)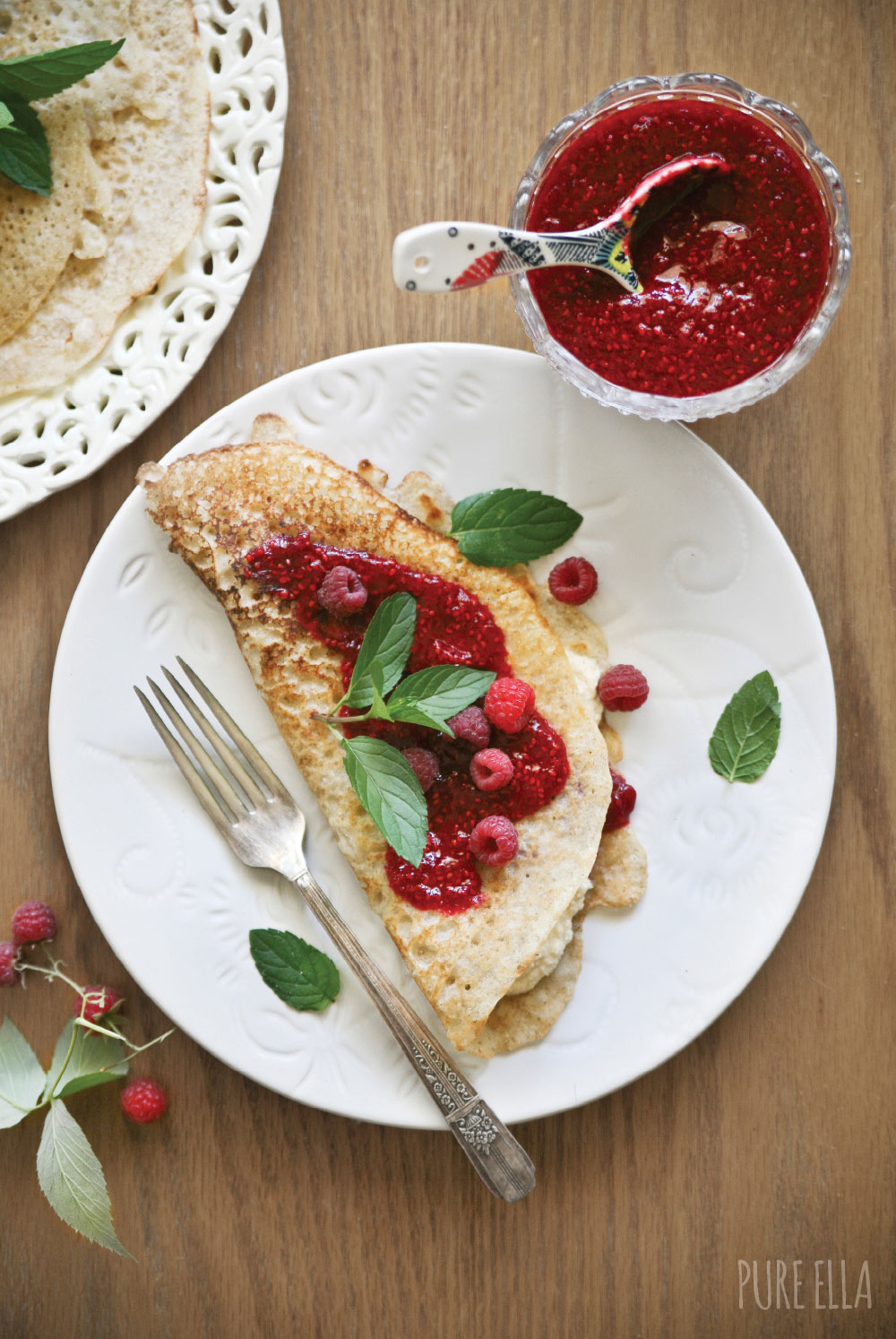 These Gluten-free and Vegan French Crêpes will definitely please mom this Mother's Day! They will please me for sure…. and I do hope my mom will appreciate the reinvention of the ingredients into a non-classic gluten-free, dairy-free and egg-free recipe! Mom, trust me…. I think you will love these! I can't wait for Sunday to have brunch with you ;)
(That is if I don't go and bring myself a beautiful Mother's Day gift this weekend ~ a new baby to call me Mommy!!! ♥)
Wishing all you mamas out there a truly lovely Mother's Day! May it be filled with small and wonderful reminders of how precious your role in this world is and how your sacrifices, efforts and love is appreciated always…. ;) Happy Mother's Day!
♥
Pure Ella
If you're new to Pure Ella, please sign up for email updates and join me elsewhere:
Facebook

//

Pinterest

//

Twitte

r //

Instagram

@pure_ella