A few of my close friends, including my sisters, have been asking about my morning beauty routine… and when that topic comes up, I am all eager to share what I do. So it's only natural that I would come out and share my *secrets* for keeping my skin youthful, natural and beautiful.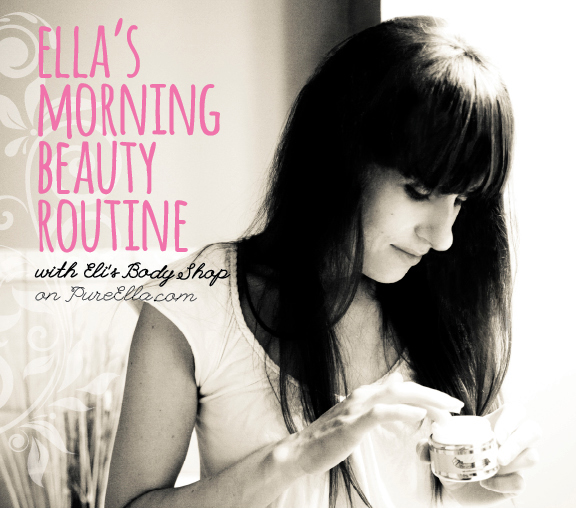 First, I have to be honest and just say that I do not have the best skin genes out there. In fact, I have struggled for most of my life with breakouts and blemishes and dryness or oiliness – basically, you name it, I had it. It was not a pretty journey.
And it's also true that my diet shift to a healthier life, especially free of dairy and rich in vegetables and fruit really feeds my skin from the inside out. Beauty is an inside job – first. But the skin is also the last organ to rejoice all that goodness…. so, that's why a good beauty care regimen is a must. And it better be natural, organic and pure – why? Because chemicals seep into your blood, lymph nodes and can affect your entire health. And there are so many toxic products out there – stay in the know and watch out for bad apples.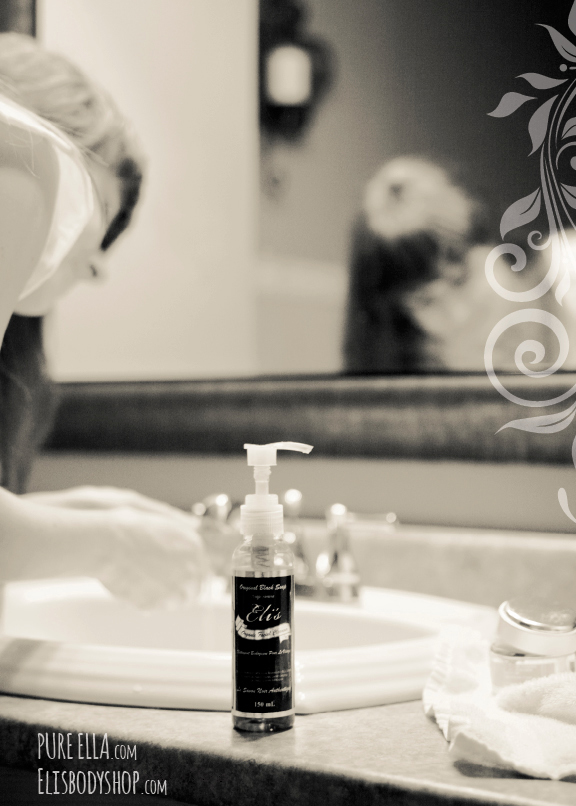 That's why I'm a huge fan of Eli's Body Care Products. I've been using these products for about 3 months now and I'm really excited about them that I had to share! ;) So this is what I do every morning :
Step #1.
Eli's Black Soap Organic Facial Cleanser
I rinse my face. I squeeze only a drop of the Black Soap onto the tip of my finger. I rub that into my wet hands creating a foam and I massage that into my face and neck. Rinse off and pat dry.
Step #2.
On my freshly washed face that's now dry, I apply the Anti Aging Facial Cream – wow! What a beautiful feeling you get from this moisturizer the second you put it on. I massage a little all over my face and neck and even chest. The first time I applied it I finally understood what 'supple' really means when it comes to skincare. This feels nourishing the moment you put it on but then it's so light and non-greasy that you forget you have anything on. Love that!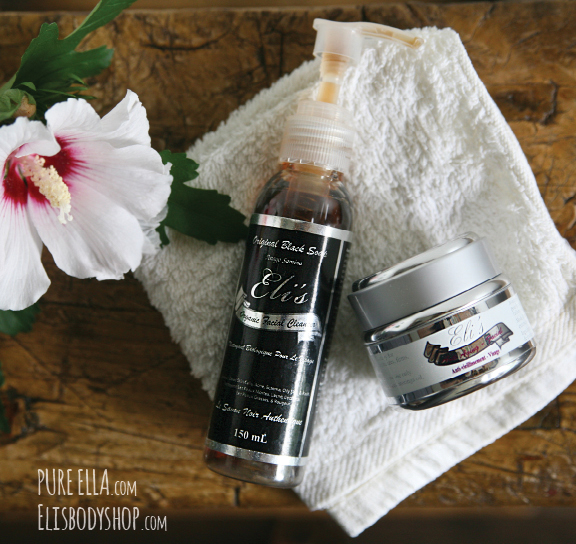 Of course my favourite part is that these products have incredible natural ingredient combination that nourishes not only the skin but the whole body from the outside in.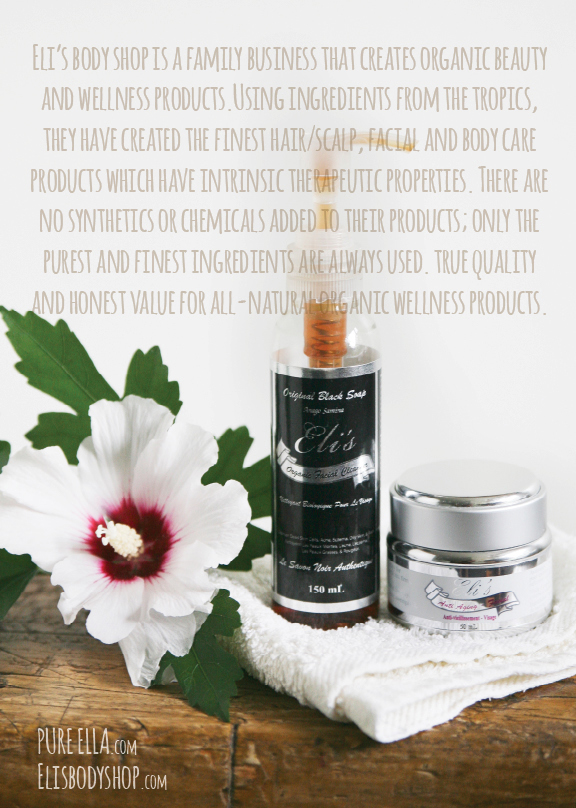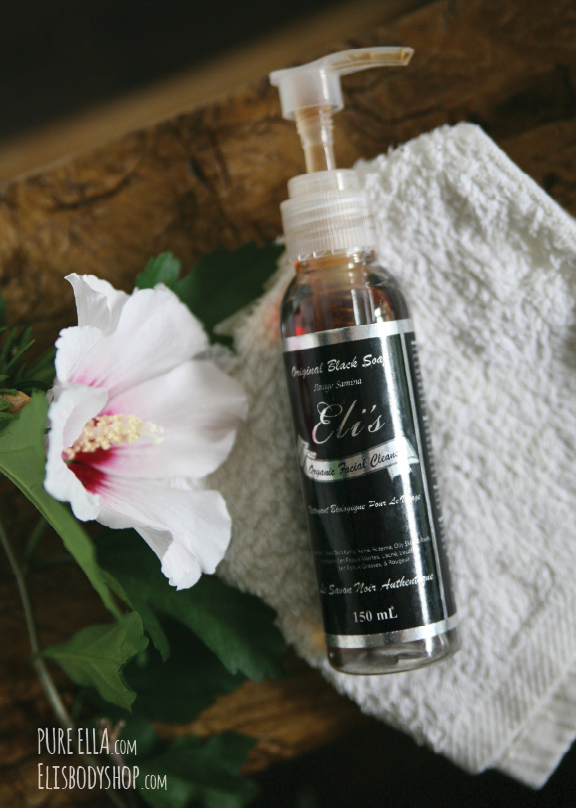 I love the simplicity and pure quality of Eli's Body Shop products. When it comes to skin care, you really don't need much as long as it's quality pure products. These get my seal of 'pure' approval! ;)
You need to watch out for all the toxins out there! It's scary and I will write a post soon about all the dangers of parabens, fillers and toxic artificial colours and fragrance that gets added to products.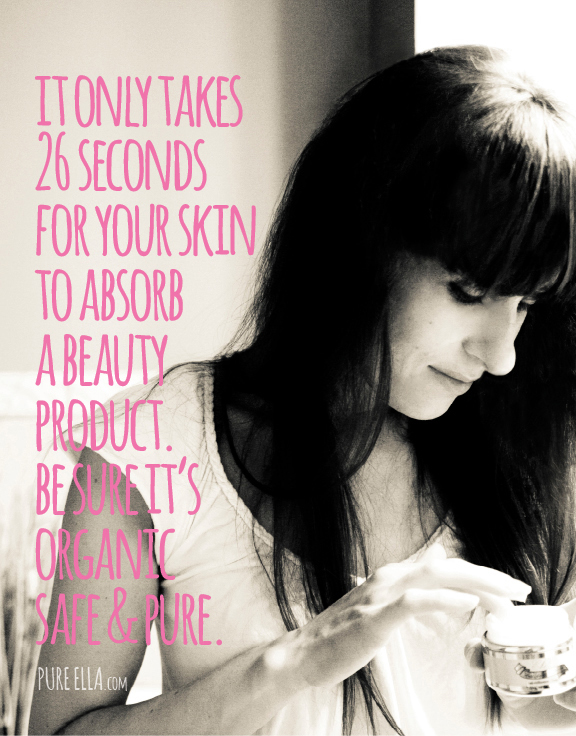 For more information about Eli's Body Shop, please visit their website and facebook and please do support a wonderful natural family business. Thanks! xo Ella
Please share what beauty routine do you have and what products you like! xo