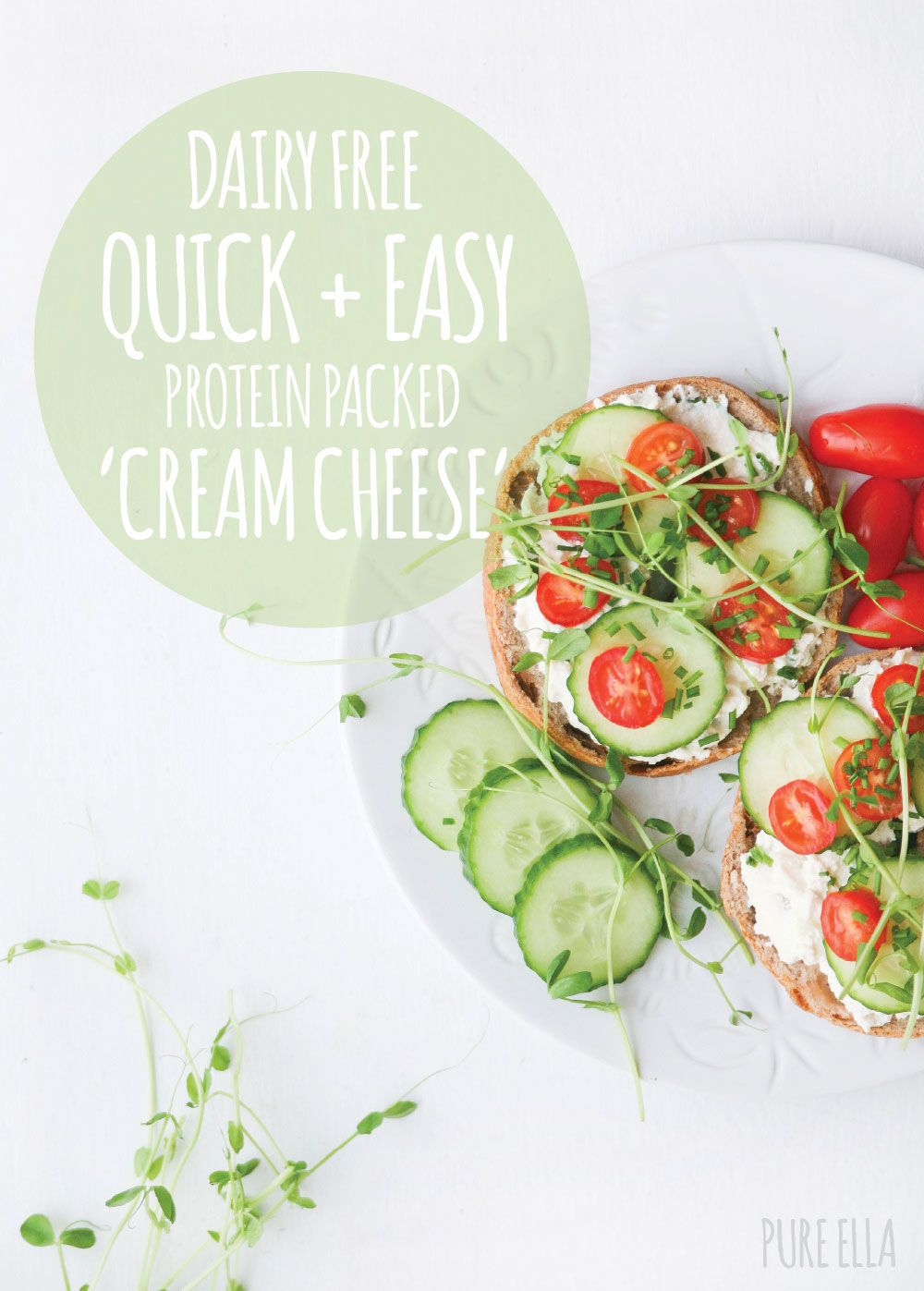 Ohhh how I love bagel and cream cheese for breakfast!
It's my go-to meal-of-choice for a quick little something that's packed in flavour and nutrition and oh yes, protein!
Enter the amazing Dairy-free Quick and Easy Homemade Cream Cheese Bagel! All vegan, all gluten-free, all absolutely delicious!
I used to be a big dairy lover! I love my cheeses of all kinds and cream cheese was something that was always in the fridge. But guess what? Cheese didn't love me back! It took me years to realize that I just didn't feel well after I had dairy. It's amazing how hard it is to connect the food we eat to how we feel… and especially when we enjoy that food, it's the hardest! Eating food we enjoy becomes a habit, something we don't even think of changing. It's the norm. So when I finally started to dabble in changing the food I eat to improve my health, you betcha that dairy came up very quickly (that and sugar!) I knew it just had to go! But it wasn't until I eliminated dairy for 2 weeks straight and then reintroduced it back to realize it was really making me sick!
It wasn't overnight, but I learned to not care for it or miss it one bit! What I've done instead is to recreate an old favourite recipe dairy-free and LOVE it! ;)
Ever since I removed all dairy from my diet and made other changes, I have never felt better! If you're like me living dairy-free or are trying to eat less dairy, this is a delicious recipe for you to know by heart and make any time any day… Dairy-free Quick and Easy Homemade 'Cream Cheese' ~ really is quick and easy, with just a few ingredients in comes together in about 3 minutes, not more (I had the timer on) really ;)
DAIRY-FREE QUICK AND EASY PROTEIN PACKED 'CREAM CHEESE'
VEGAN/ DAIRY-FREE, EGG-FREE, GLUTEN-FREE
INGREDIENTS:
1/2 package of Organic firm tofu*
2 heaping tablespoons of Vegenaise
1 tsp of dried sweet paprika
1/2 – 1 teaspoon sea salt
pepper to taste
1 tbsp finally chopped sweet onion*
chives for garnish
.
gluten-free & vegan bagels (from KinniKinnick)
toppings : organic cucumber, cherry tomatoes, pea shoots or other sprouts, extra chopped chives
DIRECTIONS:
Mix all the ingredients except for the onions in a mixing bowl. Fold in the onions* (my 6 year old does not like onions and I do omit them for this recipe for her or have two batches going on.) I think a little onion is great though.
For a smaller quantity, for recipe above, the immersion blender is the best to use, or you could press all the ingredients down with a fork until well combined, if you don't have an electric hand blender. For a full size (double all the ingredients) I would recommend using a food processor.
This Dairy-free 'Cream Cheese' recipe is fantastic as a sandwich spread (especially on these bagels if you can get your hands on some) – yum! It's a great source of protein – a couple of sandwiches like that will keep you energized and full longer. The tofu spread really has a taste and texture of cream cheese, – hello, my husband (still a cheese lover) Loves it! Enough said ;)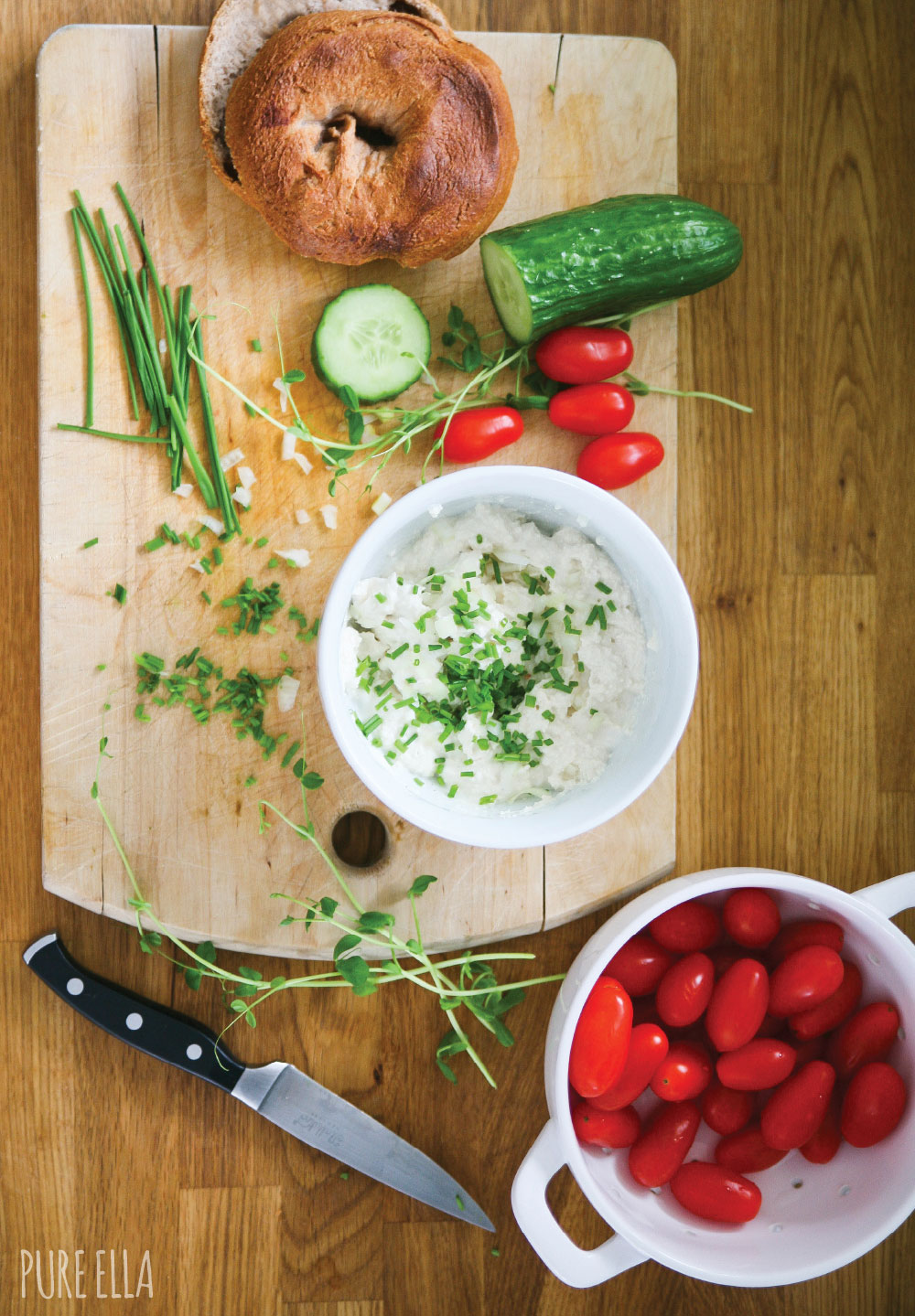 This is really something I can whip up with my eyes closed. (with the immersion blender pointing down of course!) It's such a simple recipe even for my busy mornings now with a babe in the house.
I also love it because I really prefer savoury breakfasts. I find that if I start the day with something sweet, I crave more sweet foods. This is really delicious and has a good serving of protein which your body needs most for breakfast. Although this is a divine lunch spread too…. I guess there's no rules as to when you can enjoy this ;)
Give me a gluten-free bagel with dairy-free 'cream cheese' and I'm a happy girl!
There was a time during my pregnancy that had my husband drive out to Wholefoods at 8am on a Saturday because I HAD to have this for breakfast ;)
I miss those times…. the times I could 'use' my pregnancy to get what I want ;) Ha!
That said, I just buy a couple of bags of gf bagels and keep them in the freezer ~ those days are gone ;)
And the ingredients for the 'cream cheese' are a regular thing we often buy, so it's all good… this is something I can't wait to bite into very soon!
What's your favourite breakfast? Do tell ;)
♥
Pure Ella
If you're new to Pure Ella, please sign up for email updates and join me elsewhere:
Facebook

//

Pinterest

//

Twitte

r //

Instagram

@pure_ella