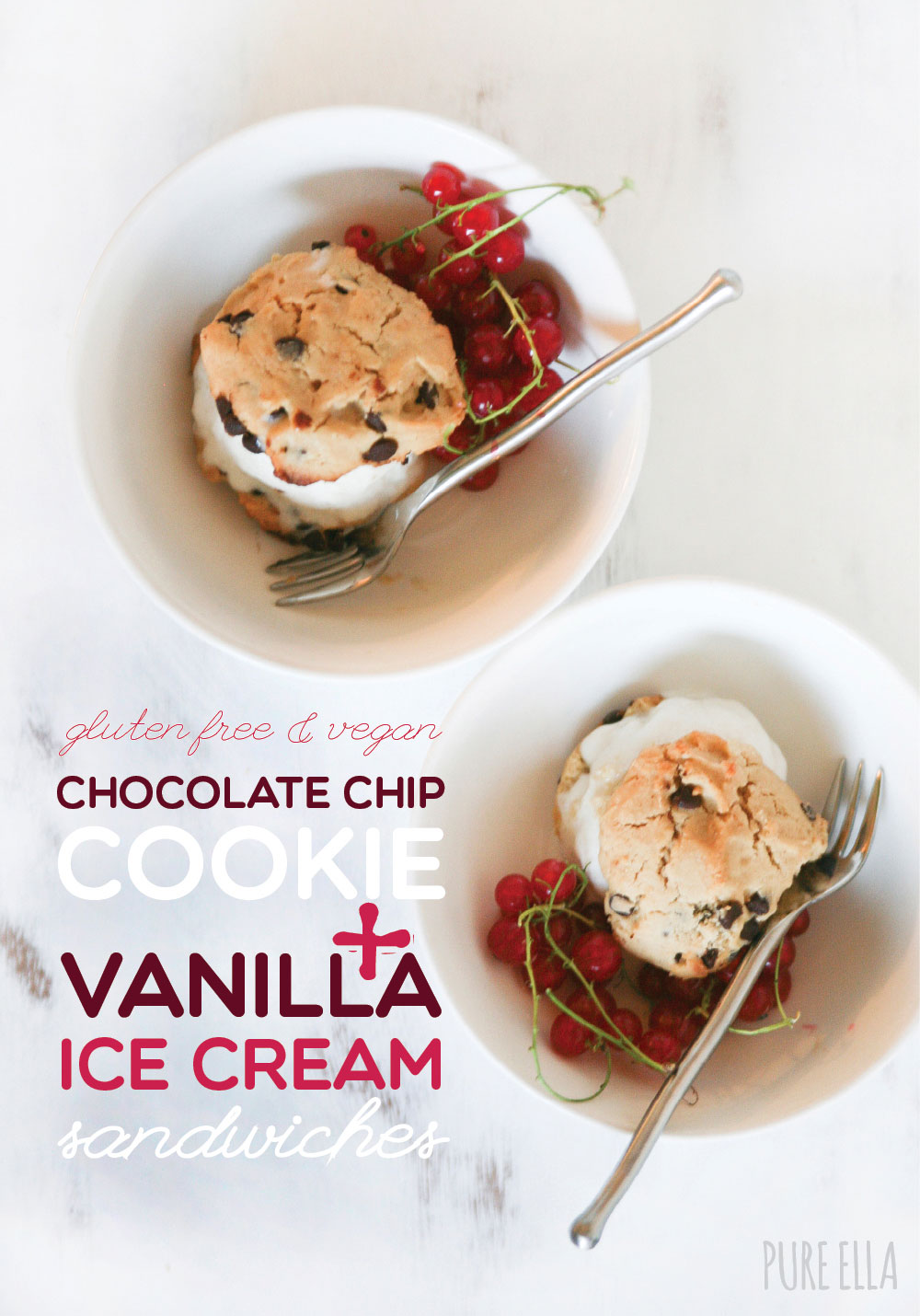 Summer just wouldn't be summer without ice cream! No wait, hold that. Make that Ice Cream Sandwiches!!!
Or better yet ~ healthier, gluten-free, dairy free and egg free Chocolate Chip + Vanilla Ice Cream Sandwiches!!! Ahh…. So Delicious!!! ;)
What could be better than that? How about you eat and SHARE these goodies at your very own STREET PARTY!! (details below!) But first we, bake some awesome healthier, gluten-free and vegan cookies!
Then you turn those yummy Chocolate Chip Cookies into even better Ice Cream Sandwiches!!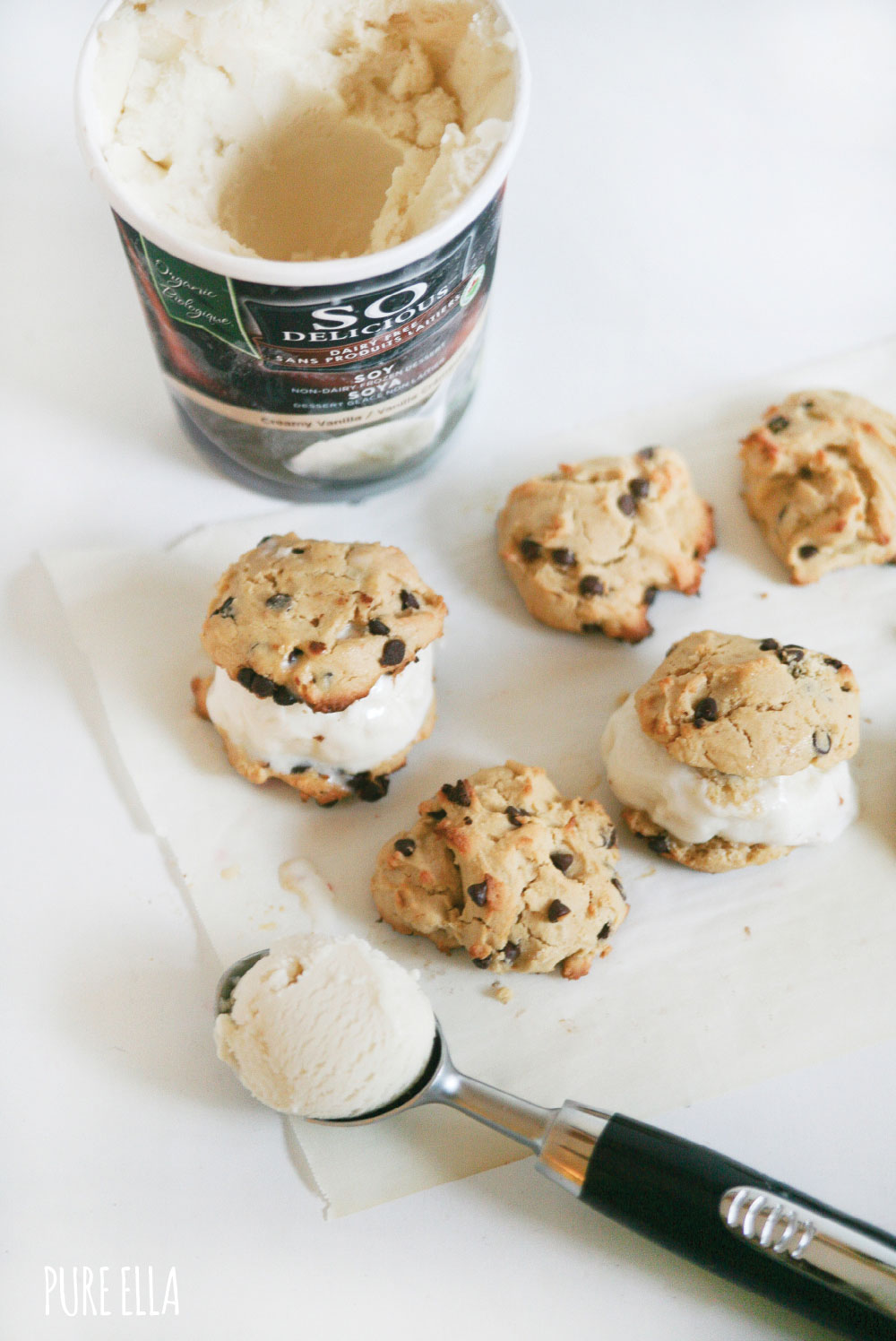 Then you set up an Ice Cream Sandwich stand!
And finally enjoy your very own Street Party!
Recently we had an amazing fun event happening just steps away from our front door. I always knew we had the best neighbours, but to come out and pitch in to throw a Street Party was the best idea ever! The kids had so much fun, the adults mingled and chatted for hours (way more than the usually rushed and polite hello's and how-are-you's). It was just the best day! There were sports games, bouncy castle for the littles, bunnies and a snake to pet (no thank you on the latter!) ;), a big potluck from all the neighbours, grilling, water gun fights, hula hooping contests and music blasting… and let's not forget; even a fun Ice Cream Sandwich stand of course!

We had so much fun! One family brought out their house pets : two bunnies and a snake! Pretty awesome. (you could also book a reptile show).
Amelia turned 1 month on that day and was loving the attention she was getting. She thinks we party every month now ;) ha!
Here I have the most essential list for you to Get Involved and plan your own Street Party right outside your door!
10 TIPS FOR AN AWESOME STREET PARTY
1. Discuss it with your neighbours! This one is obvious, I know. But you need to get the idea rolling first. Be enthusiastic and get your neighbours excited too. Have a date set and a rough idea of what it would involve. A month to two months heads-up is great to give people enough notice. Go start knocking on some doors! ;)
2. Check for a permit. In Ontario, Canada, we need a city permit for road closures. Here it's free as long as over 20 signatures of the participants are collected and submitted to the city hall. (If this is not possible to close a street down for a few hours consider a street meet.)
3. Plan the details of what your (more specific) vision is and what everyone would like. This could come up at a second visit to your neighbours once you decide on the date and things are already set in motion. Is it a daytime event mostly for the kids, or evening for the grown-ups? This is also the time to ask for volunteers, donations, what they could provide, borrow etc. Don't be shy. Delegate and be thankful for great support. (You're all doing this for each other).
4. Plan out what needs to be rented and get a cost breakdown of things to be rented. You need to provide a budget to your by-now-excited neighbours! (we only paid $15 from each family)
5. Plan specific activities. Ask the kids what they want to do/ play/ make? Popular activities are sports, bouncy castle (this usually needs to be rented), hula hoop competitions, maybe karaoke?, perhaps a raffle? Plan the activities based on the majority of the age of people on your street. If there's lots of small children, plan fun hop scotch, bubble making and crafts etc. If there's older kids, include sports and music for sure. Grownup party only? Get creative and maybe throw in a dress-up theme ;)
6. Plan food. Potlucks are the best and ask what everyone could bring for everyone to share. Be flexible and keep it informal. Plan out some savoury dishes, some sweet, fresh fruit, drinks and dessert. A little in each category is ideal. You can bring whatever you feel is missing (or what your specialty is). If you live in a mixed-cultural area, it's a great idea to ask your neighbours to bring a dish that's popular in their homeland! ;)
7. Send reminders about 1 week before. Either by visiting your neighbours or by email/ phone. Get any updates on items that people are donating or lending.
8. Remember to delegate and get the people involved. You are the 'project manager' – don't put too much on your plate – you want to enjoy the party as well! (just don't be bossy!)
9. Arrange for legal road signs, etc. Plan for moving cars to make room for the activities so they're not in the way.
10. Plan the music! Did someone volunteer to be the DJ? Great!! Be sure to start the party with this song! ;)
Get involved and have fun! Take lots of pictures! ;)
Of course, we had a great time making and sharing our Ice Cream Sandwiches!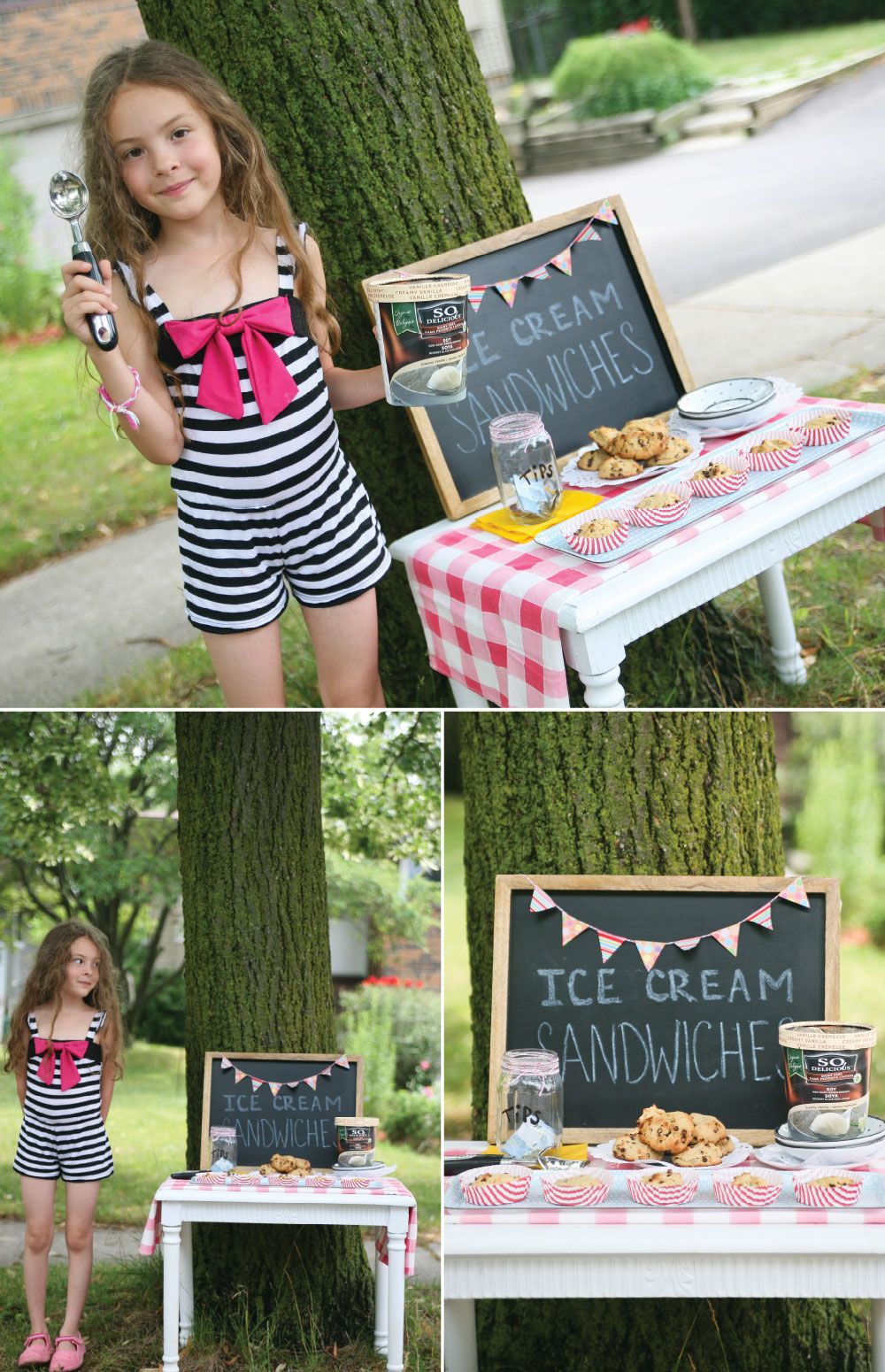 Pure yumminess…. doing a cute Ice Cream Sandwich stand doesn't hurt ;)
If you will do that, plan for 'dessert time' and even announce it. Bring out the ice cream just before serving time and serve immediately… or else it will melt! There's nothing better than a great home baked ice cream sandwich on a hot summer day ;)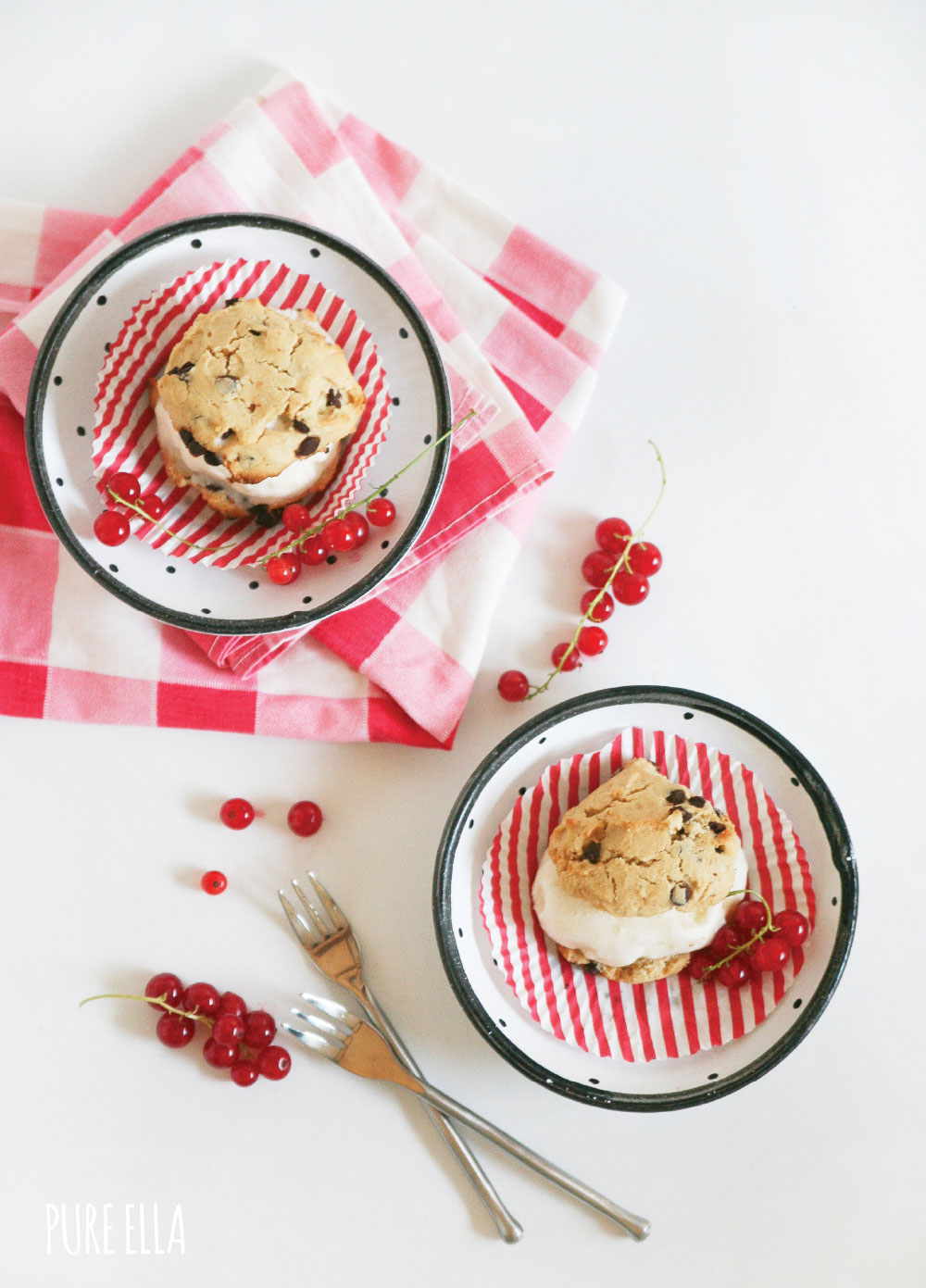 CHOCOLATE CHIP COOKIE + VANILLA ICE CREAM SANDWICHES
(to be filled with So Delicious Frozen Dessert)
Ingredients :
1/2 cup organic margarine
1/2 cup organic raw cane sugar*
1 3/4 cup gluten free flour
1/2 teaspoon baking soda
1/2 teaspoon fine textured sea salt
1/2 cup So Delicious Plain Cultured Coconut Milk
2 teaspoons vanilla extract
1 cup organic vegan dark chocolate chips
*optional : if making just cookies to eat on their own, add in 2 tablespoons extra raw cane sugar or coconut sugar
Directions :
Prepare a baking sheet with parchment paper and set aside. Preheat oven to 350 F.
In a medium bowl, mix the flour with baking soda and salt, and set aside.
In a mixer, whip the margarine and sugar together until fluffy. Slowly, add in the flour ingredients into the mixer until combined. Add in yogourt and vanilla extract and mix to incorporate. Turn off mixer and stir in the chocolate chips with a spoon.
Scoop one tablespoon of batter onto the baking sheet and bake for 12-14 minutes. Tops should start to brown slightly. Let cool for 2 minutes on the sheet before moving them onto a wire rack to cool completely.
Makes 15 large cookies – bake for 12-14 minutes or two dozen small (use less dough and flatten the tops with the back of the spoon) – bake for 8-10 minutes.
These keep their shape during baking.
Large cookies can be cut in half and fitted with ice cream in the middle. Two small cookies can be sandwiched with ice cream in the middle.
Just before serving, slice the large cookies (or use two small) and add a big scoop of So Delicious Dairy Free Creamy Vanilla Frozen Dessert!
These cookies are easier to slice through the day of baking, once they are completely cooled. They do loose their crispness the next day and are more crumbly when cutting. If baking a day before, just make the sandwiches out 2 cookies on top and bottom.
Store in an air tight container for up to 3 days at room temperature or up to 7 days in the refrigerator.
Serve on a plate with a fork for a no-mess treat. Enjoy!!

What can I say…. these were So Delicious!!! ;)
These were so good and a huge hit at our Street Party! People had no idea that gluten-free and vegan could be so delicious!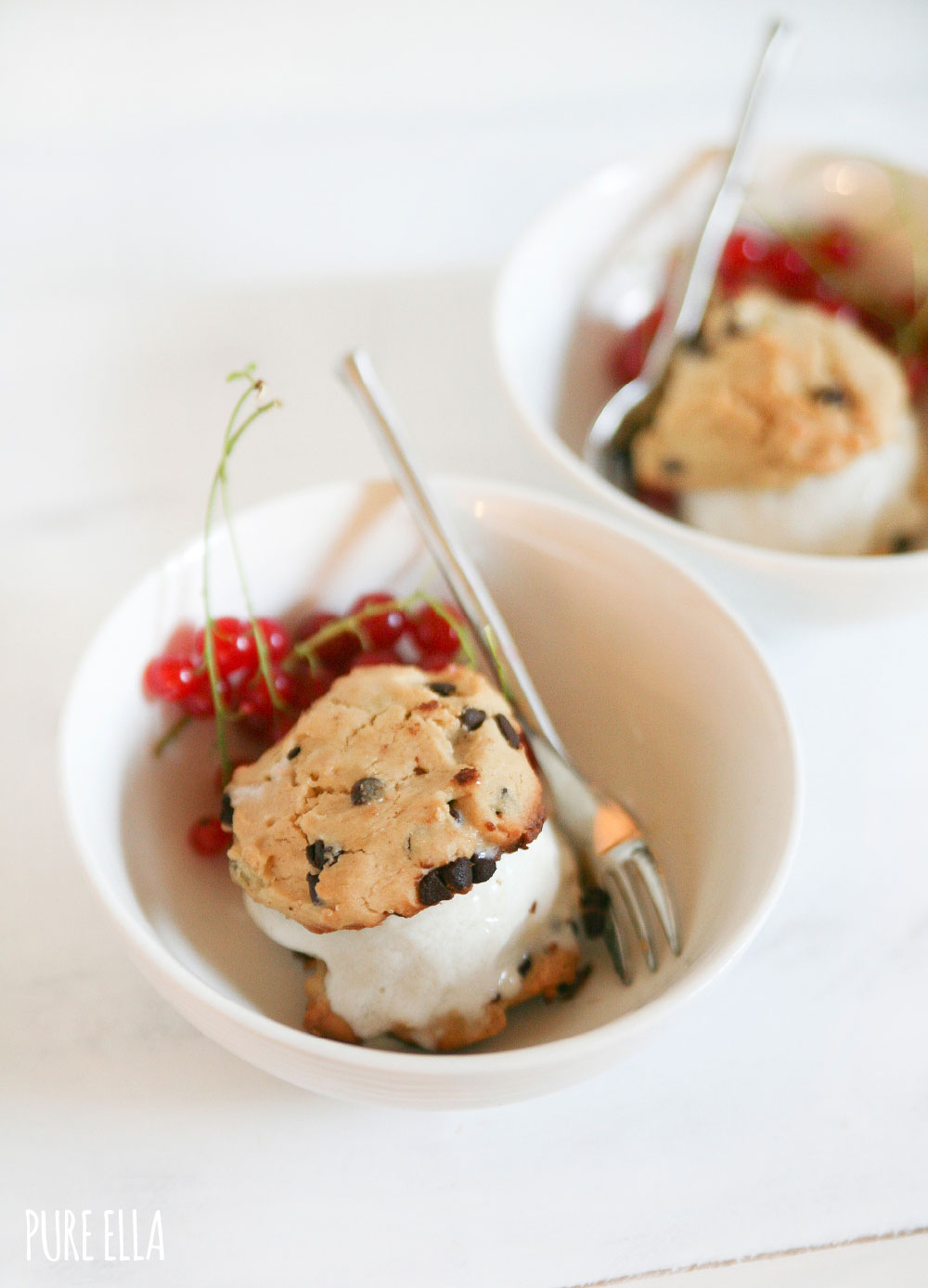 I hope you're inspired to get your community together and enjoy each other's company more with an awesome Street Party!! ;) If you're doing that, and making Ice Cream Sandwiches that are gluten-free and vegan – I'm there!!
While you start daydreaming of the perfect Street Party, do yourself a favour and grab some ingredients and make these Chocolate Chip Cookies immediately and fill them with your favourite flavour of frozen desserts from So Delicious (but we like Vanilla the most here) keeping it clean and classic ~ Yum!!! Then, go knock on some doors and Get Involved!
'Get Involved' is a fun theme this week over at So Delicious Dairy Free for their #SaveMySummer contests that run all summer long! To get more info, visit their facebook, website, or simply hashtag your photos #SaveMySummer.
So, how do you Get Involved this summer?
♥
Pure Ella
If you're new to Pure Ella, please sign up for email updates and join me elsewhere:
Facebook

//

Pinterest

//

Twitte

r //

Instagram

@pure_ella