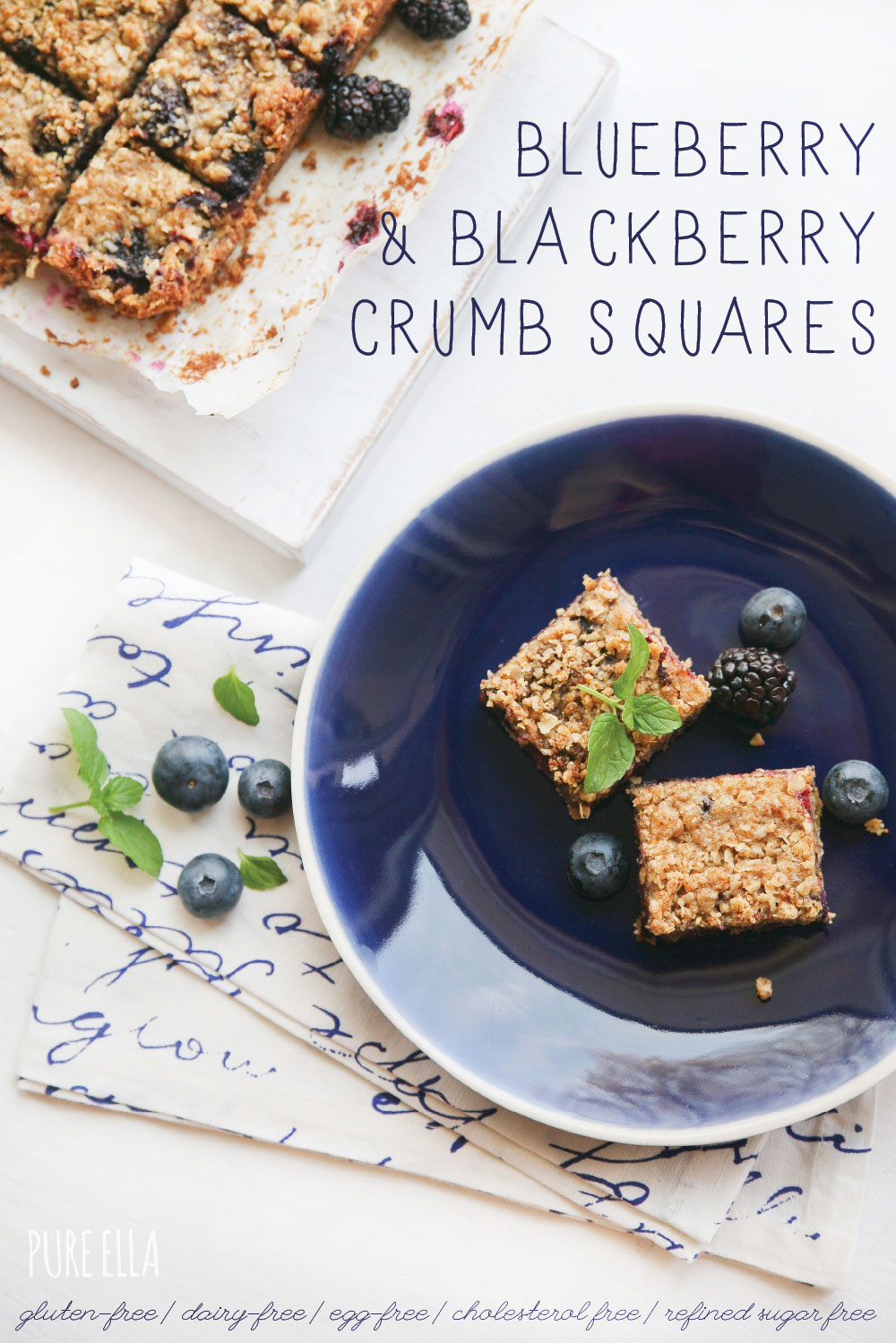 I owe it all to my mom… as a child I remember simple gatherings around the table for tea and a baked dessert. I remember how I anticipated her taking out the ingredients and yearned for those first scents of a home baked dessert still in the oven.
I remember how quickly she threw it together and in no time a delicious dessert appeared on our kitchen table. Then that first bite… and time stood still as I enjoyed it to the last crumb. It was plate licking good ;)
It was a Sunday ritual to have a home baked dessert, and quite often it was fruit-filled crumb squares. For years I knew Sunday's were special. It was a time for family and simple moments you are meant to treasure…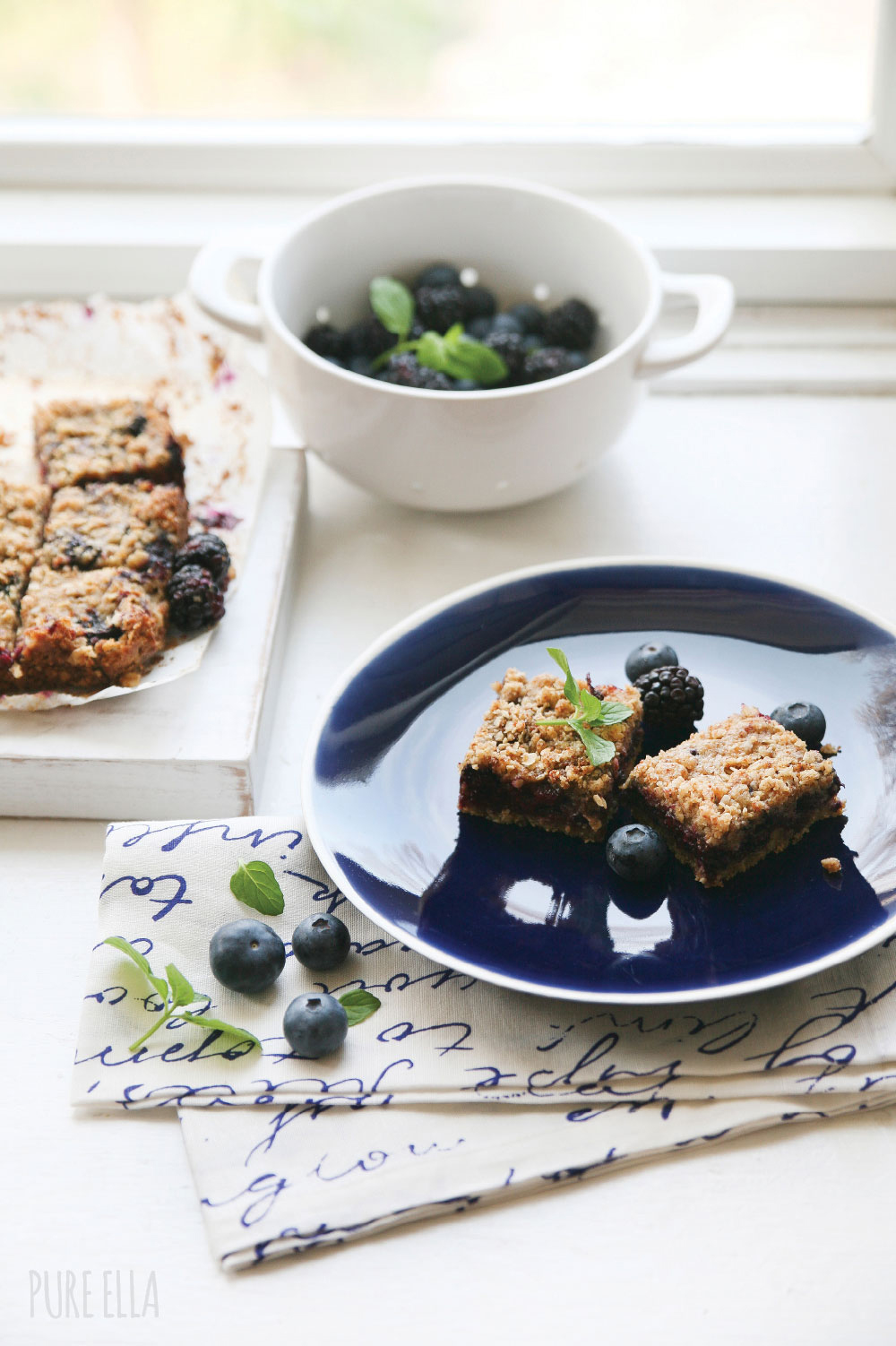 Now, I'm a mom and am realizing how these traditions grow on you. It's unintentional, often unplanned, but once the weekend comes I get a baking itch and get excited about what to make… and then this happened. A simple, easy, throw-it-together-in-one-bowl kind of a cake. Blueberry & Blackberry Crumb Squares ~ made healthier without gluten, dairy, eggs, cholesterol and white sugar. Simple pure ingredients at their best danced into this recipe.
BLUEBERRY & BLACKBERRY CRUMB SQUARES
Ingredients :
1 cup gluten-free all-purpose flour
1/2 cup almond flour
1/2 cup Certified Gluten-Free rolled oats or quick oats (not instant)
1/2 cup organic raw cane sugar
1/4 coconut sugar
3/4 cup coconut oil, cold & hardened
1 1/2 cups organic blueberries
1 1/2 cups organic blackberries
+ 3 tablespoons of water
DIRECTIONS :
Preheat oven to 350F and prep a square 8″x 8″ baking dish with parchment paper.
In a large bowl, combine all the dried ingredients (first 4). Add in cold coconut oil and using a dough cutter or a knife keep slicing through the margarine to combine with the dry ingredients. The texture should start to look very crumbly. Remove about 1 1/4 cup of the mixture onto a small bowl and place in the fridge.
Add 3 tablespoons of water into the large bowl with the crumbs and gently mix to form a dough. Do not overmix. Once the ingredients form into one piece, simply scoop out the dough onto the baking dish. Start pressing down the dough with your fingers to cover the full base. If the dough is too crumbly, wet the tips of your fingers with extra water and press down. If the mixture is too wet, simply dust the top with a little extra all-purpose flour and continue pressing to cover the bottom of the pan evenly.
Rinse and pat dry the fruit with a paper towel. Spread out on top of the crust and even out the top.
Sprinkle the crumble that's set aside on top of the pie evenly.
Place in the preheated oven and bake for about 30-40 minutes. Top should be nice and golden.
Remove from oven and allow to cool for about 20 minutes before serving.
These Crumb Squares are lovely still warm from the oven, just as they're great the next day straight from the fridge – you decide! ;)
Cutting them however when they are still warm will make them fall apart slightly.
Cut into squares and enjoy making your own weekend baking traditions ;)
ps. they freeze well (see note at the very bottom)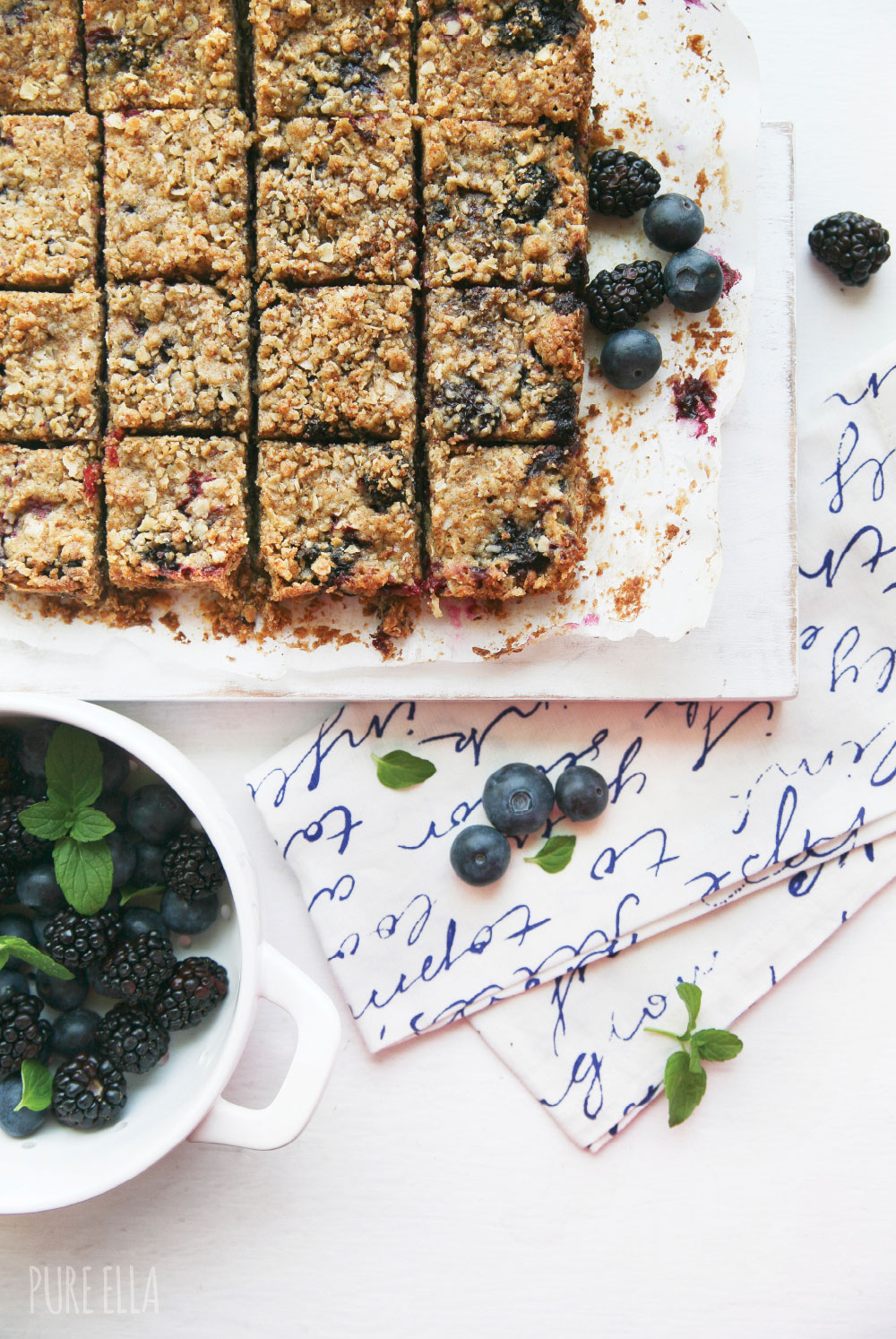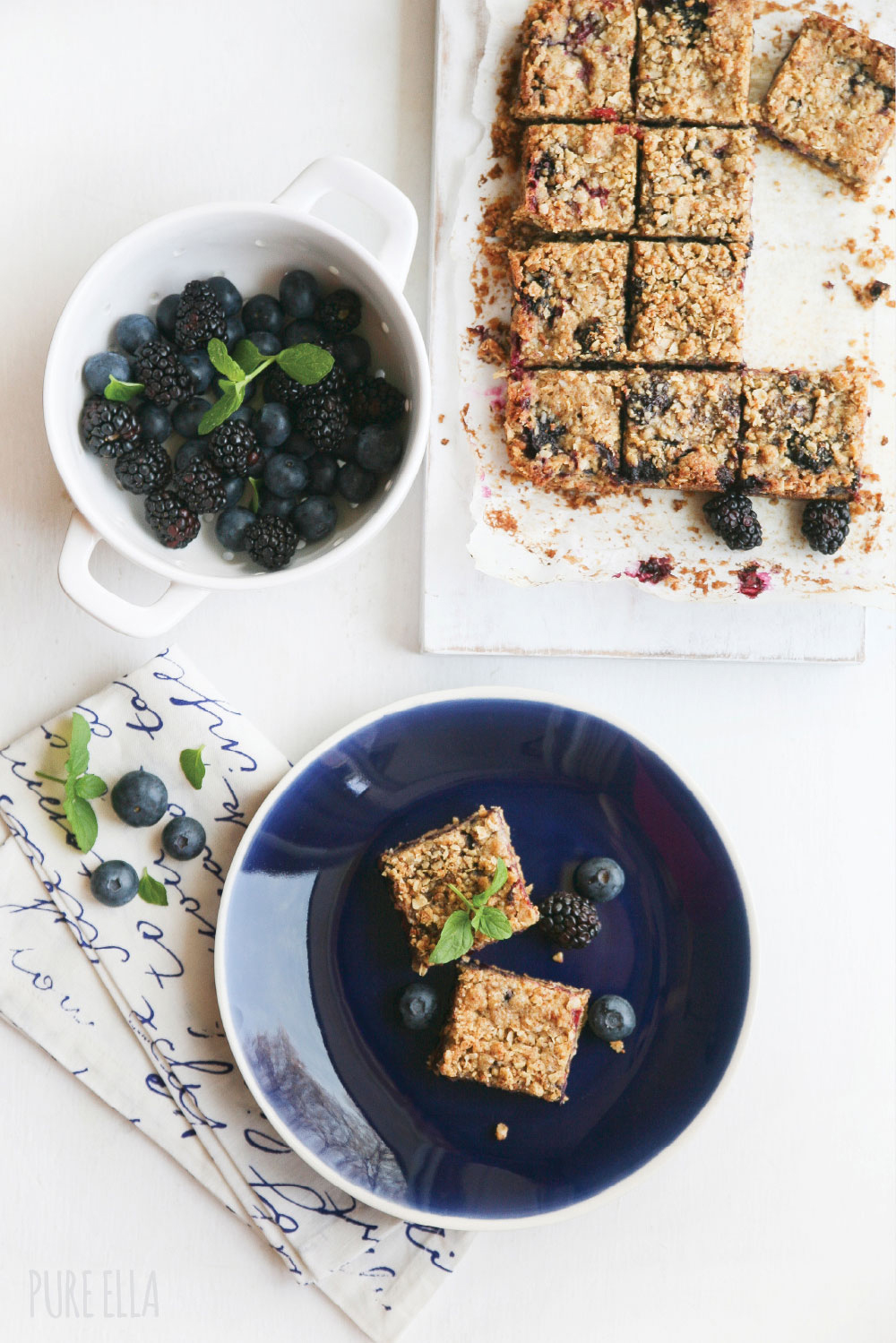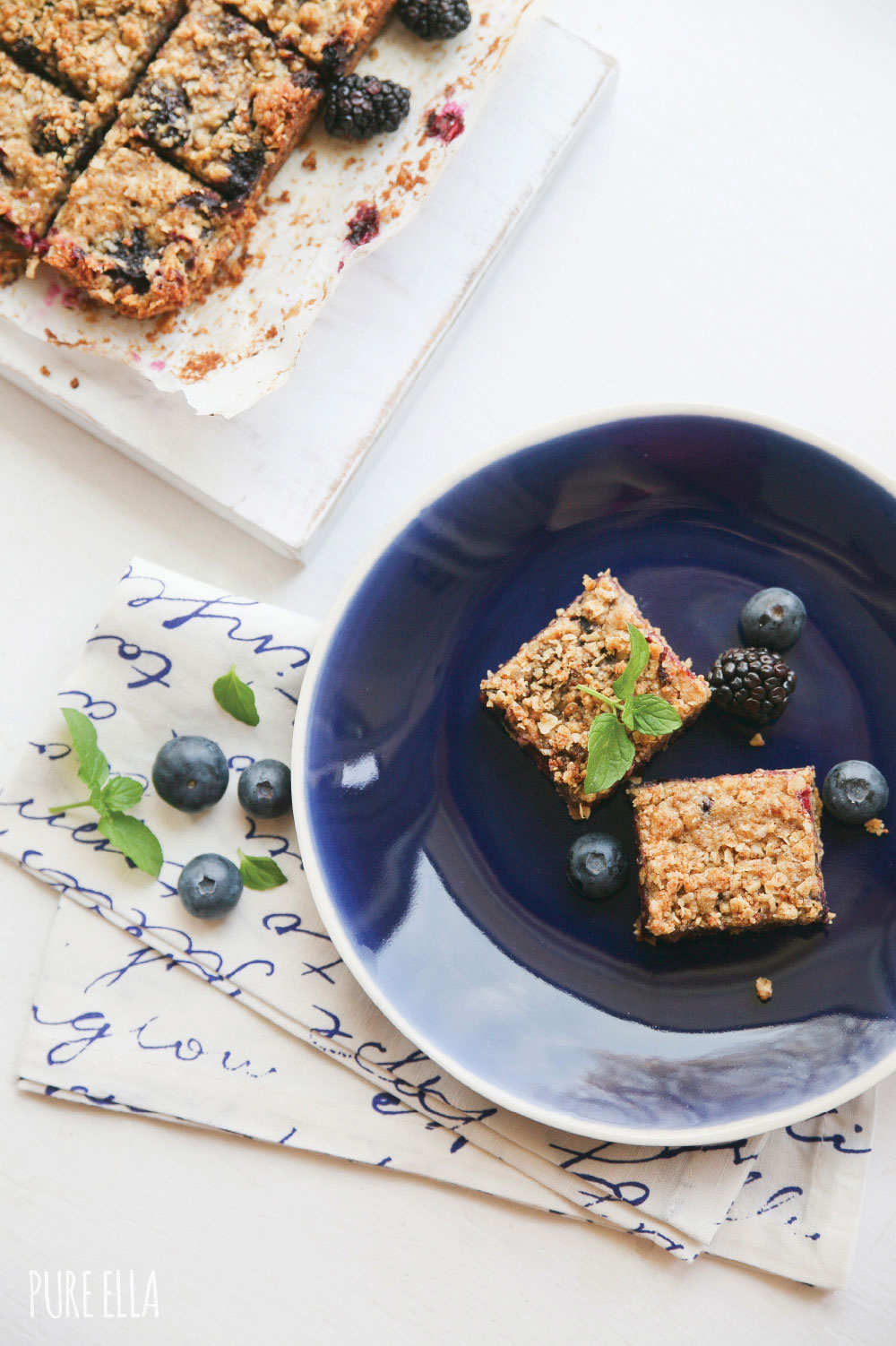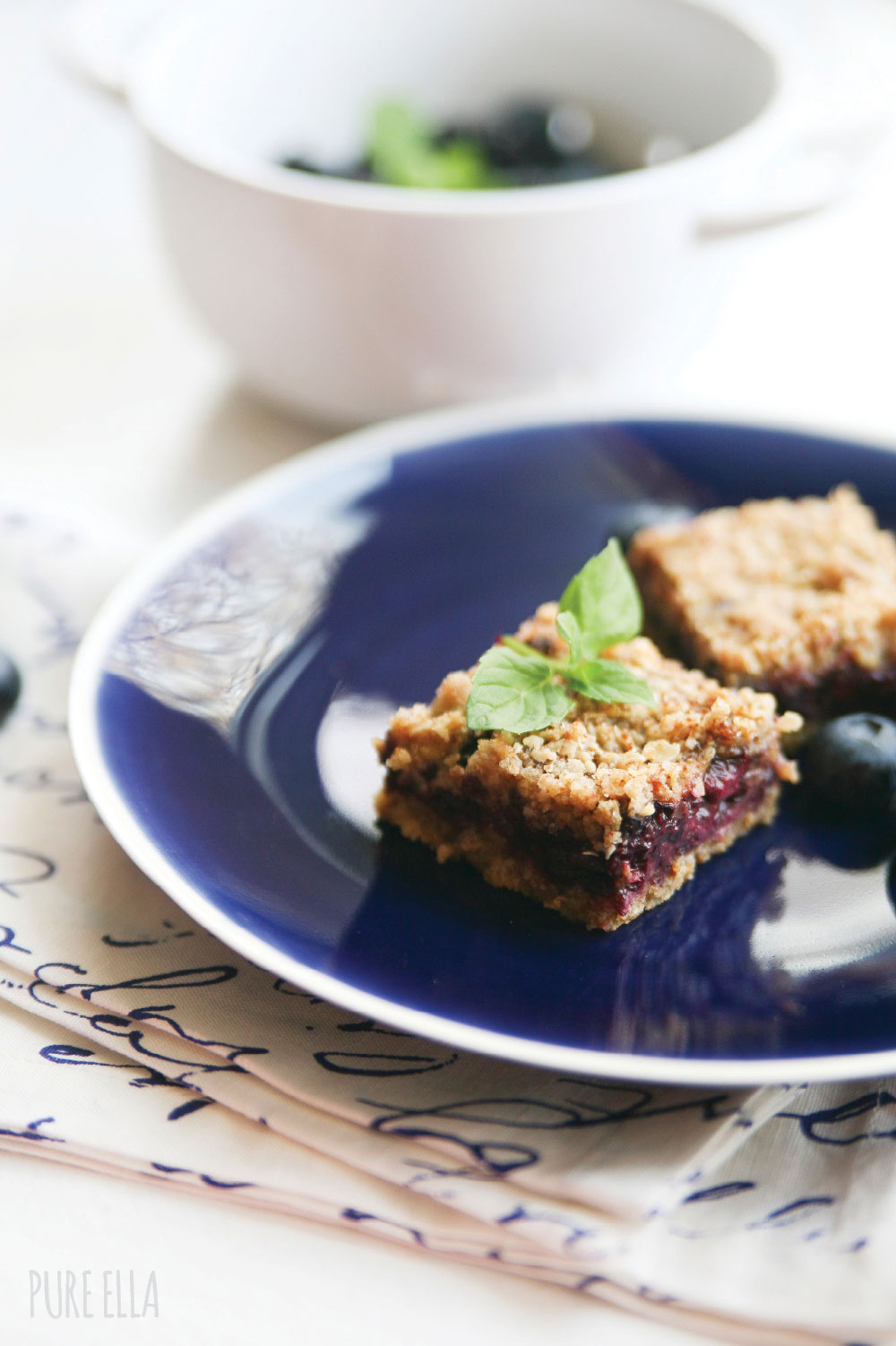 I hope you also have special traditions that you savour… if not, it's never too late to start them ;)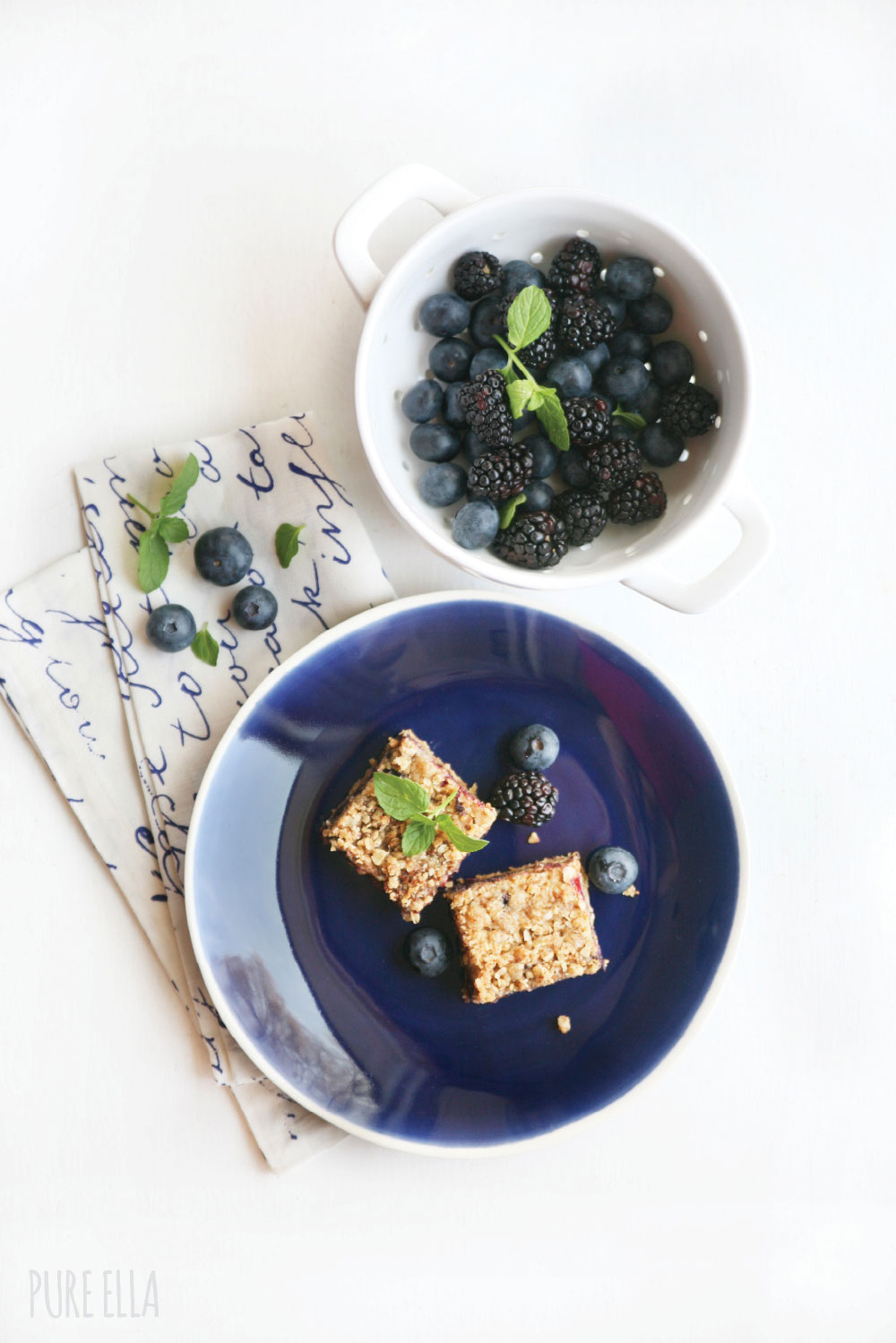 I remember making these near the end of my pregnancy in the Spring and thinking how wonderful it would be to devour once my baby is born… so I froze a few squares. When the time came, I grabbed them from the freezer and away we went to welcome our new baby :) I completely forgot about them (of course) until the next morning after an unfancy hospital breakfast. Oh wow! I remember the perfect moment of pure bliss savouring a bite and glancing at my tiny new baby…. my lips curled into a smile. Life is good, oh so very good :)
♥
Pure Ella
If you're new to Pure Ella, please sign up for email updates and join me elsewhere:
Facebook

//

Pinterest

//

Twitte

r //

Instagram

@pure_ella