Hello and Good Morning! Let's talk breakfast my friends.
I noticed I haven't posted a breakfast recipe in a really long time – most likely because it's the time of the day we're rushing and being busy with eating, getting ready for the day, making school lunches etc. etc. It's basically too busy to take a snapshot of what we eat! (And as you know me, a snapshot just wouldn't do!)
I think we eat pretty healthy breakfasts! And they are delicious and nutritious. We have a few favourites and try to switch things up once a while. And I noticed we have seasonal preferences too, for example now that fall is here, the breakfasts are warming and hearty with energy and protein with the yummy addition of apples and cinnamon… the scent alone makes the kitchen smell like I'm baking an apple pie – heaven! ;)
So what makes a nutritious breakfast?
Part of my research to educate myself about healthy food and apply it to my healing journey is realizing how important breakfast really is! I mean you hear it all the time and you know it because it's been told to you since you were a kid – but sometimes neglect, business or basically reaching for the wrong foods really ruins that 'important' aspect. That first meal can have a real impact on how you start your day, how your mood develops, how your energy level is and how you progress through the first half of the day. If you don't fuel up properly (and I don't mean on coffee) you will just not have a good start to the day!
As a quick guide to nutritious breakfasts, there are two main secrets : IT SHOULD NEVER come from the cereal isle in your grocery store and IT SHOULD NEVER be picked up at a drive through!
Nail those first two and you're one big step into real wholesome breakfast nutrition! I have so much to cover on the topic of breakfast alone, believe me, and I will in parts devote more posts to how you can learn what to eat and NOT eat for breakfast – that most important meal of the day! So stay tuned for more informative posts. For now, I would like to share our seasonal favourite hot breakfast recipe that is my daughter's favourite! It's Apple Cinnamon Nutrimeal Breakfast! A hot oatmeal (type) recipe that is very nutritious and totally delicious!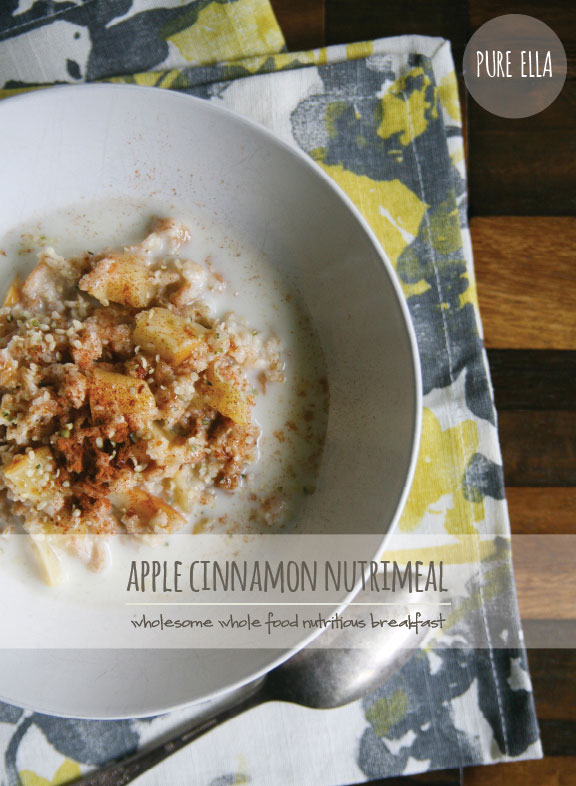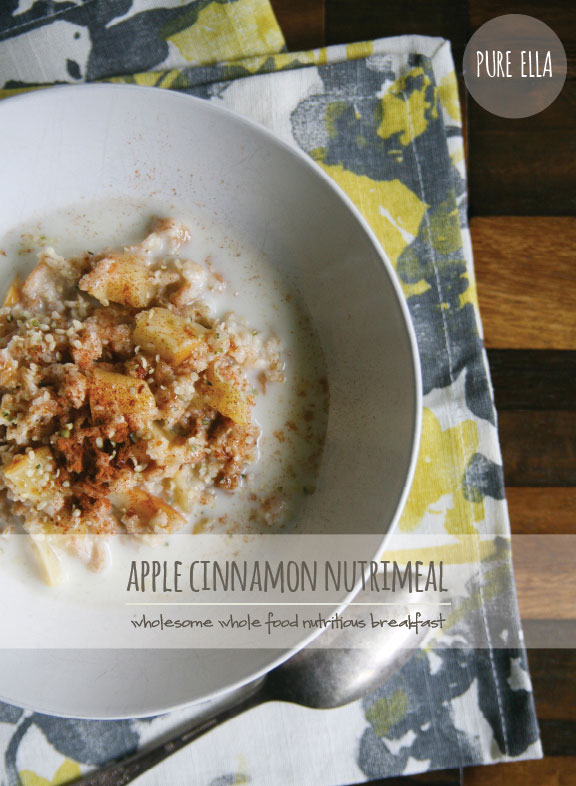 Apple Cinnamon Nutrimeal
2013-10-09 10:17:56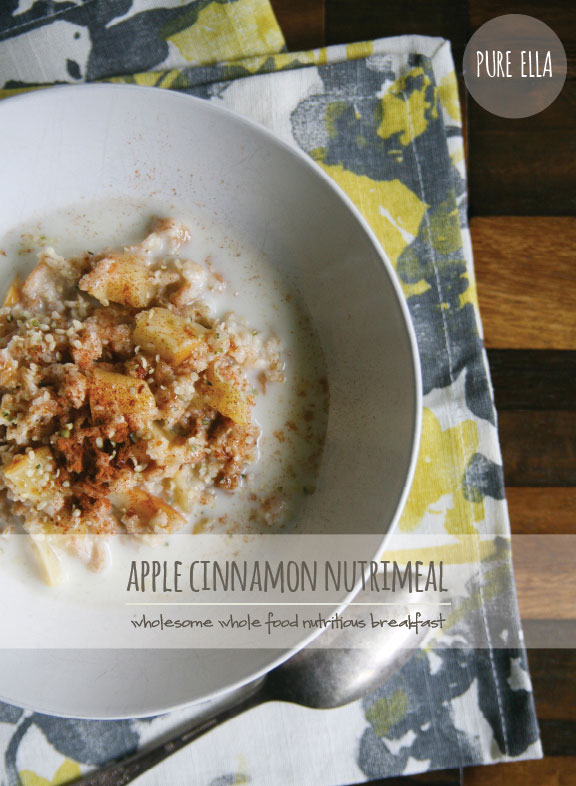 Serves 3
A nutritious breakfast recipe.
Ingredients
4 cups water
1/2 cup wholegrain oatmeal (certified gluten-free if avoiding wheat)
1/2 cup wholegrain spelt flakes (avoid completely if avoiding gluten)
1 organic apple
1 teaspoon cinnamon
1/2 teaspoon ground cloves
1 tablespoon agave or honey (if extra sweetness is desired)
1 tablespoon hemp hearts
2 cups almond milk or other non-dairy milk for serving
Instructions
In a medium pot, bring 4 cups of water to a boil. Add the oats and spelt flakes and lower the heat to let it simmer. Add the chopped apple and stir. Turn off heat and cover to continue to cook in the steam for about 3 minutes. Add remaining ingredients, stir again and serve immediately.
Scoop a desired amount of hot nutrimeal onto the centre of a bowl, pour over with about 1 cup almond milk straight from the fridge, sprinkle with extra hemp hearts and drizzle with extra liquid sweetener if desired. Enjoy!
Notes
The hot nutrimeal quickly turns to a warm ready-to-eat temperature when the cold milk gets added. This is great when you are serving to kids so they don't burn themselves and can eat a nice warm breakfast quickly.
Double up the recipe to make for 2-3 days in advance for a quick reheat on the stovetop in less than 2 minutes.
Adapted from http://pureella.com
Pure Ella http://pureella.com/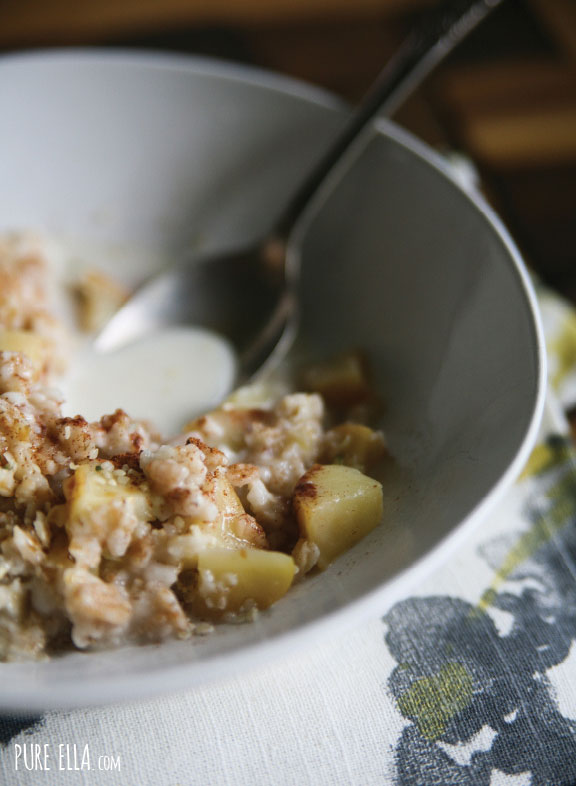 This 'nutrimeal' is delicous! I love it that it's packed with nutrition that my daughter doesn't even comprehend and doesn't have to. And although an oatmeal is a classic good-for-you breakfast – and it's been done over and over again it still wins! It's still delicious and very good for you especially when it' paired up with two amazing grains and topped with superfoods like cinnamon and hemp hearts!
This healthy breakfast gets a serving of: protein, fibre, iron, vitamin C, B complex vitamins, simple and complex carbohydrates.
And it stimulates the body's immune system and provides energy for up to 3 hours. At about mid morning a serving of fresh fruit will be a great snack to keep you going till lunch time.
If you have a gluten allergy or have Celiac Disease, spelt should be omitted completely and double the recipe with certified organic oatmeal instead. A lot of people with wheat allergies and some gluten intolerance, still can digest spelt and have no problems with it. It's best to either discuss these issues with your doctor or try a small amount of spelt flakes and test it yourself. (this is not a medical advice, but just a personal advice, so please do check with your doctor if you are avoiding gluten or wheat.) Spelt is a very much better grain for you than wheat. So anyone wishing to eat less wheat (your body will thank YOU!) but are not ready to give up all glutenous grains, switching to spelt is a great and an easy transition to eat healthier.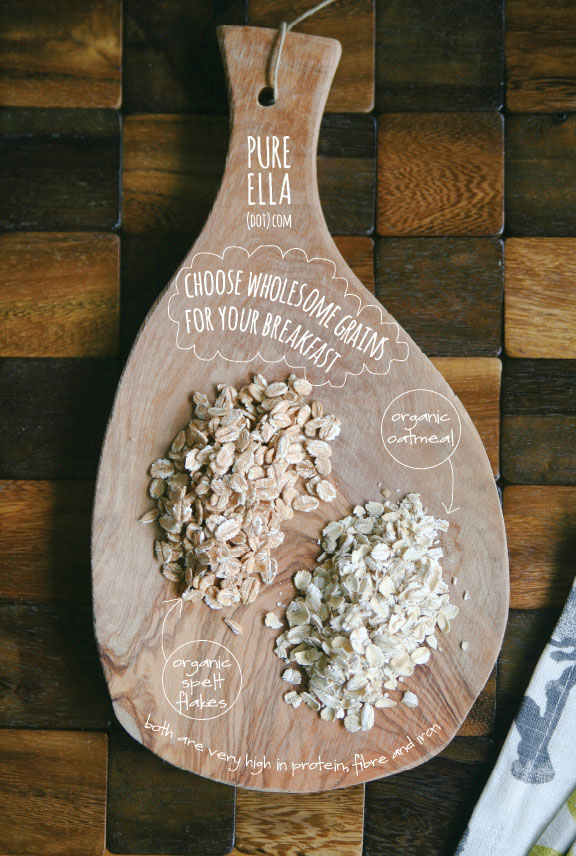 I have a lot of gluten-free recipes here on Pure Ella that I like to share, but the truth is we as a family are not 100% gluten-free. I am 100% wheat free however, and once you get rid of all the wheat, sometimes it's just easier to go gluten-free! Yes, it's so much easier ;) For this recipe however, I wanted to show a variation of how to choose healthier grains and make healthier choices – even if you're not entirely gluten-free but want to eat healthier.
Both Oats and Spelt do make a great breakfast choice and are both great for baking or bread choices. Just remember, if you want to avoid wheat, do look for these two healthy grains. And they taste great too and really compliment one another. Both combined in this breakfast recipe the Oatmeal and Spelt flakes make up a Nutrimeal! Yes they really do ;)
Wishing you all a great start to your day!
And do share, What do you eat for breakfast usually?