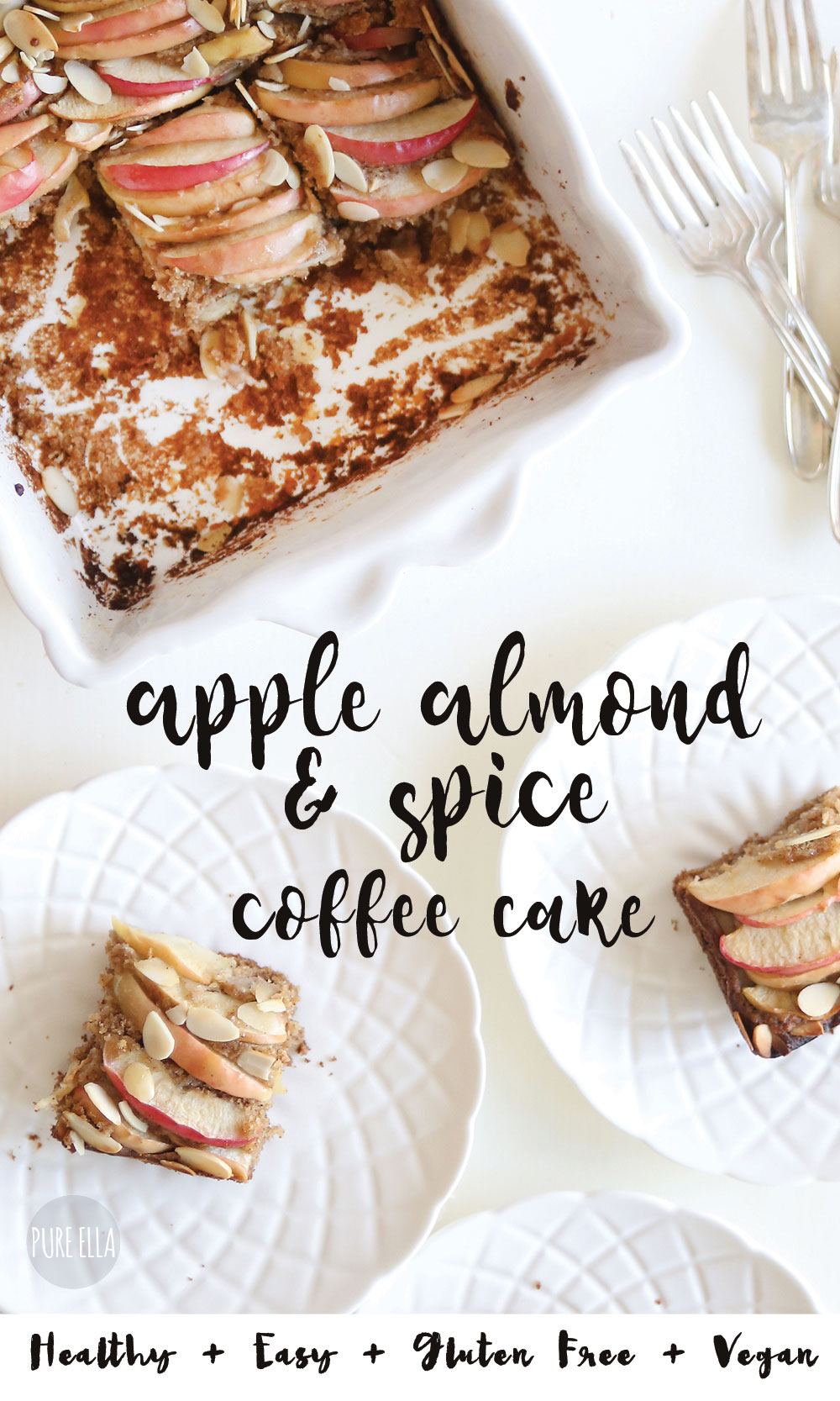 Don't you just love a nice little something to go with your Sunday morning coffee? This delicious Gluten-free Vegan Coffee Cake recipe is on repeat lately and I know you're just going to love it.
This Apple Almond & Spice Coffee Cake recipe also happens to be naturally gluten free, vegan/ dairy and egg free! This recipe can also easily be made nut free by omitting the almonds. So it becomes very allergy-friendly ~ something that everyone can eat!
And it's made with all-natural good-for-you ingredients. Vegan and gluten-free baking doesn't have to use 'fake' ingredients or replacers – For example, I used chia seeds and apple sauce to bind the flour ingredients together – these ingredients are simple and the chia seeds provide a great nutritional boost to a dessert! I use an all-natural organic gluten-free mix but this cake works great with light spelt flour also. Or I've also mixed half and half gluten-free and spelt flour with great results! Of course if gluten-free is important to you, this wouldn't be great advice – but for someone who is just starting to experiment with gluten-free or wants to just eat less gluten or wheat – this is a great idea to mix flours.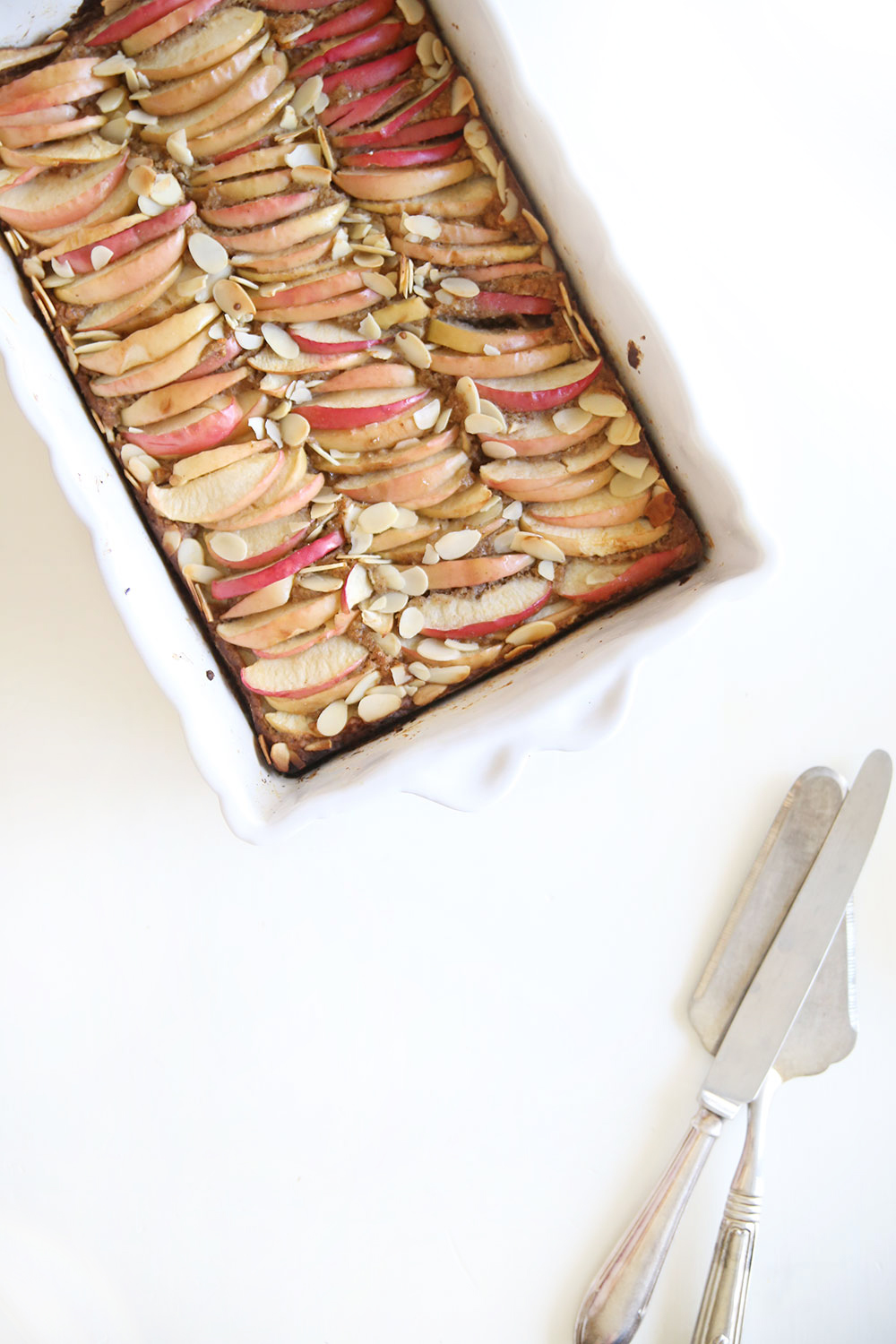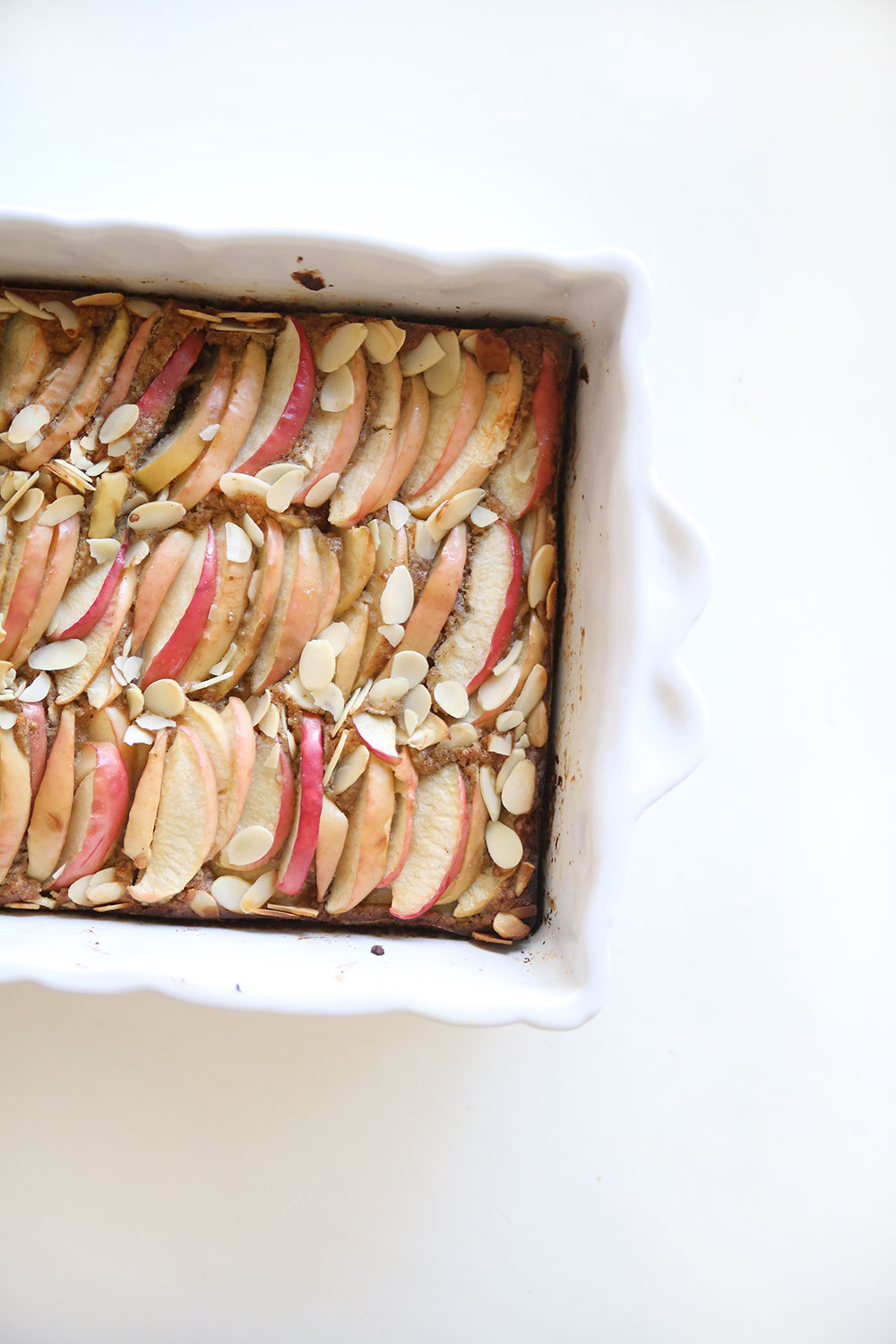 Apple, Almond & Spice Vegan Coffee Cake
Easy Apple Almond & Spice Coffee Cake (gluten free, vegan)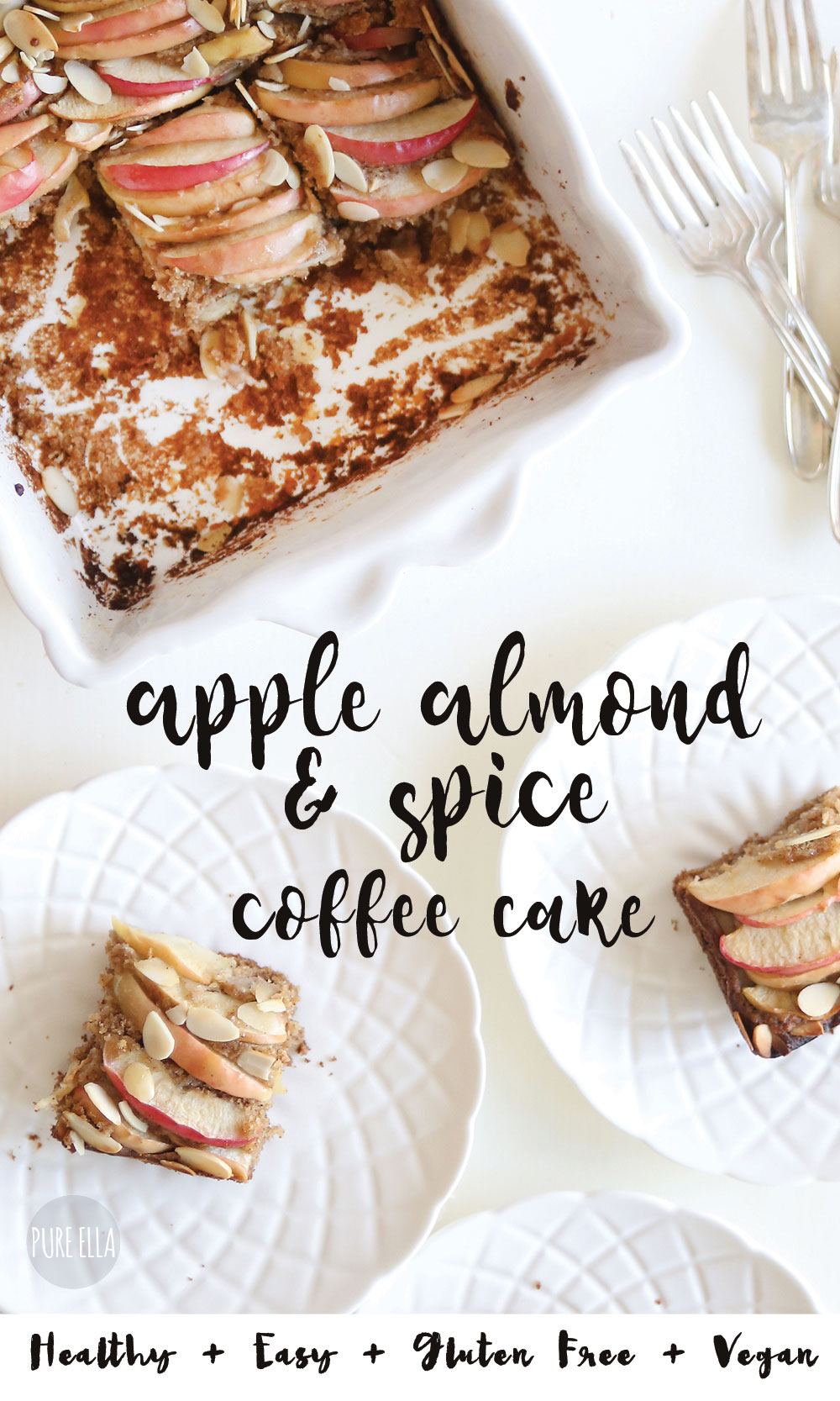 Author:
Ella Leché of Pure Ella
An easy, delicious, gluten free and vegan coffee cake. Heathy ingredients, low glycemic dessert.
Ingredients
3 tablespoons chia seeds mixed with
¼ cup hot water
1¼ cup all-purpose gluten-free flour mix (or light spelt flour)
½ cup almond meal (optional) (use 1¾ cups flour above if omitting)
1 teaspoon baking soda
1½ teaspoon baking powder
½ teaspoon fine sea salt
1 teaspoon cinnamon
¼ teaspoon ground nutmeg
¼ teaspoon ground cloves
¼ cup coconut palm sugar
⅓ cup powdered stevia
½ cup grape seed oil
¼ cup warm almond milk or coconut milk for nut free (or warm water)
½ cup applesauce
1 teaspoon lemon juice
2 teaspoons vanilla extract
4 sliced apples (peeled but I had no patience)
½ cup slivered almonds
Instructions
Preheat oven to 350F.
Prepare a (roughly) 6 x 9" baking pan by greasing it and lightly flouring it and shaking off the excess flour.
In a medium bowl, whisk together chia seeds and water and set aside.
In a large mixing bowl, use a whisk to combine your dry ingredients: flours, baking soda, baking powder, salt, cinnamon, nutmeg, ground cloves and sugars. Set aside.
Add the rest of the wet ingredients to the bowl with chia seeds : grape seed oil, milk, applesauce, lemon juice, vanilla extract. Mix to incorporate.
Add the wet into the dry ingredients and stir until a smooth batter forms. Scoop the batter into the prepared cake pan and press down and smooth top evenly. Top with sliced apples and press them into the batter. Sprinkle the almonds all around.
Bake in the center of the preheated oven for 25-35 minutes until golden around the edges and firm in the center. Use a toothpick to test for doneness. (Timing might also be influenced by the size of your pan.)
Remove from the oven and let rest for 5 mintues.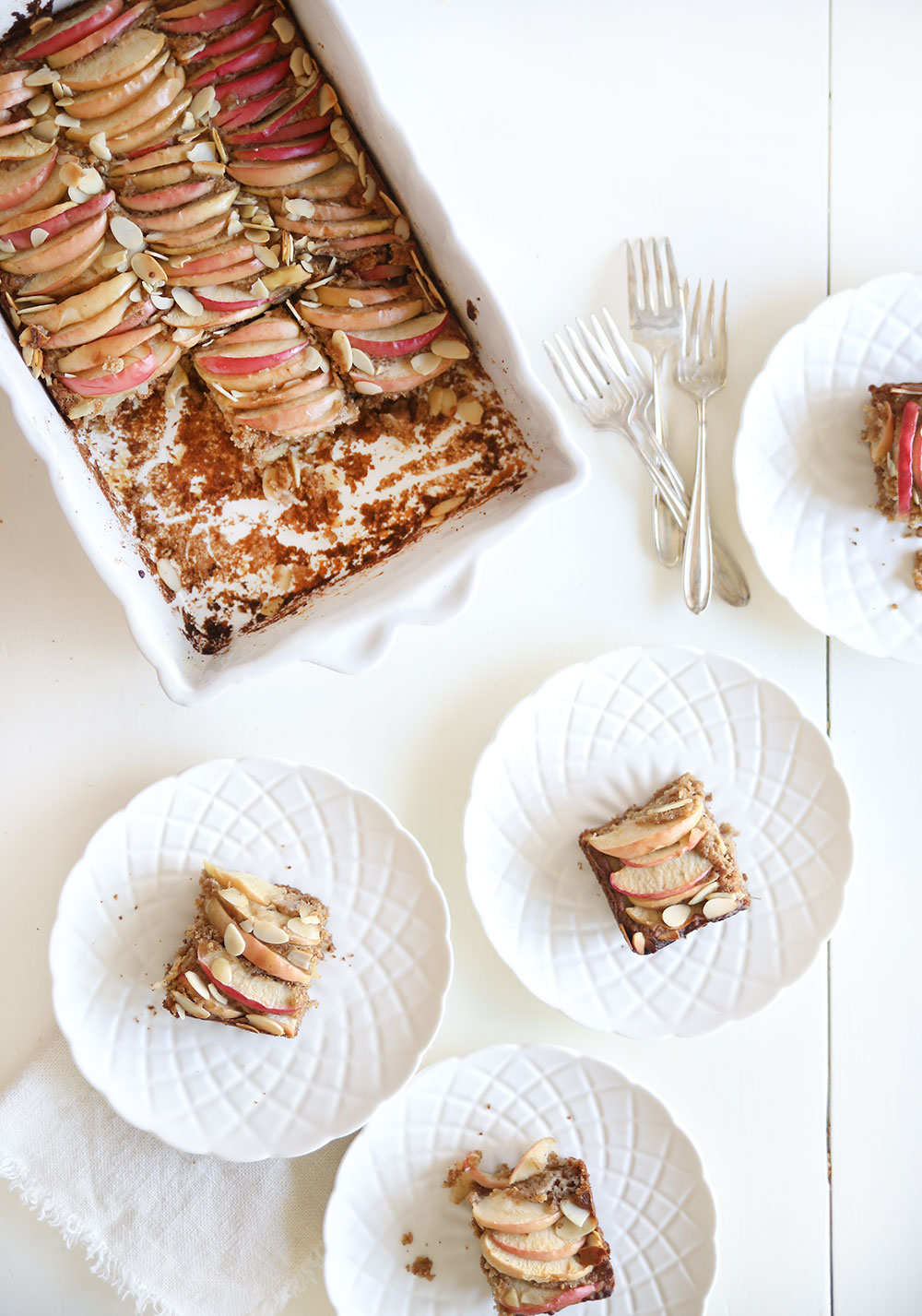 This vegan coffee cake recipe is easy like Sunday morning…. 
We have a weekend morning ritual (either saturday or sunday) that makes our weekends special. It pretty much always includes some kind of a cake or little dessert. 
Every weekend, my father in law comes for a visit… we sit around our round kitchen table and talk about random things. We make good coffee and I serve something sweet to go with the coffee and good company. It's a lovely way to get the kids to see grandpa, for my husband to bond with his dad and for me to have an excuse to bake something sweet.
Recently, this coffee cake has been received excitedly and I knew that I must share it. This dish was gone before the day was done – everyone had seconds, including my 20 month old :)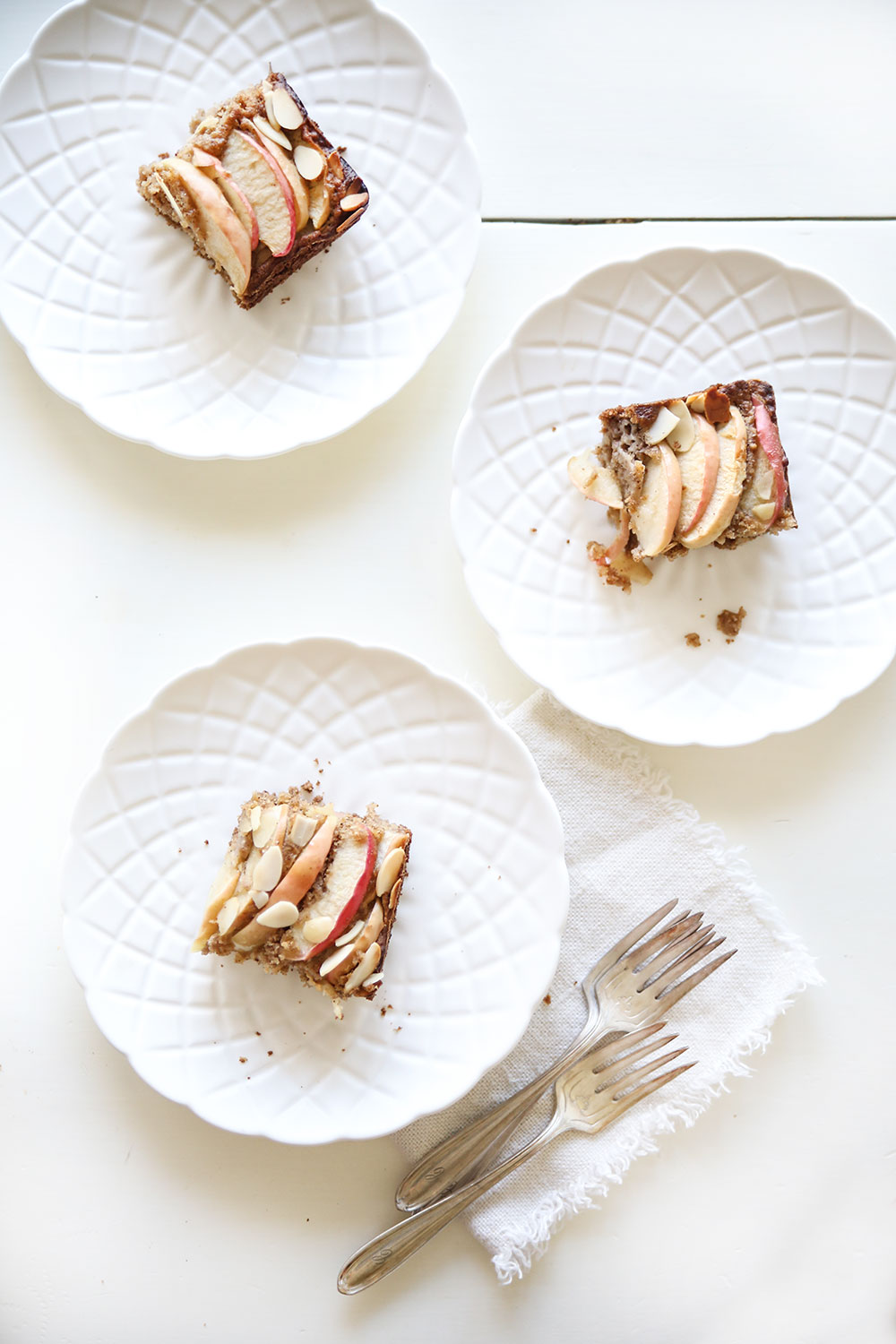 CUT THE SUGAR TIP :
This coffee cake recipe is refined sugar free and low sugar!
I've added almond flour to the flour mix – this adds more healthy protein and healthy fat to a dessert which is excellent when cutting out sugar!
I've used a low glycemic sweetener such as coconut palm sugar
And, to cut the sugar calories further, I combined my coconut sugar with stevia – a ZERO calorie natural sweetener that adds sweetness without spiking your blood sugar. Mixing in stevia with another sweetener and not using 100% stevia is also better as you hide the aftertaste that stevia has! 
Lastly, in the past I would have most definitely sprinkled powdered sugar on top! BUT times have changed and I just don't see the point of adding extra sugar grams to an already sweet dessert! Little things go along way when you're trying to cut back on sugar!
Ok one more! When I served this coffee cake, no one sweetened their coffee! (just the kids had camomile tea with a little honey) Again, no point in adding sugar calories – the sweetness of the cake is quite powerful and you wash it down with something bitter yet decadent – perfect combination! ;)
A true Cut the Sugar win!! :)
I hope you'll be enjoying this healthy vegan coffee cake very soon…. if you do, don't forget to tag your recipes #pureella @pure_ella on Instagram to share your creations! 

Summary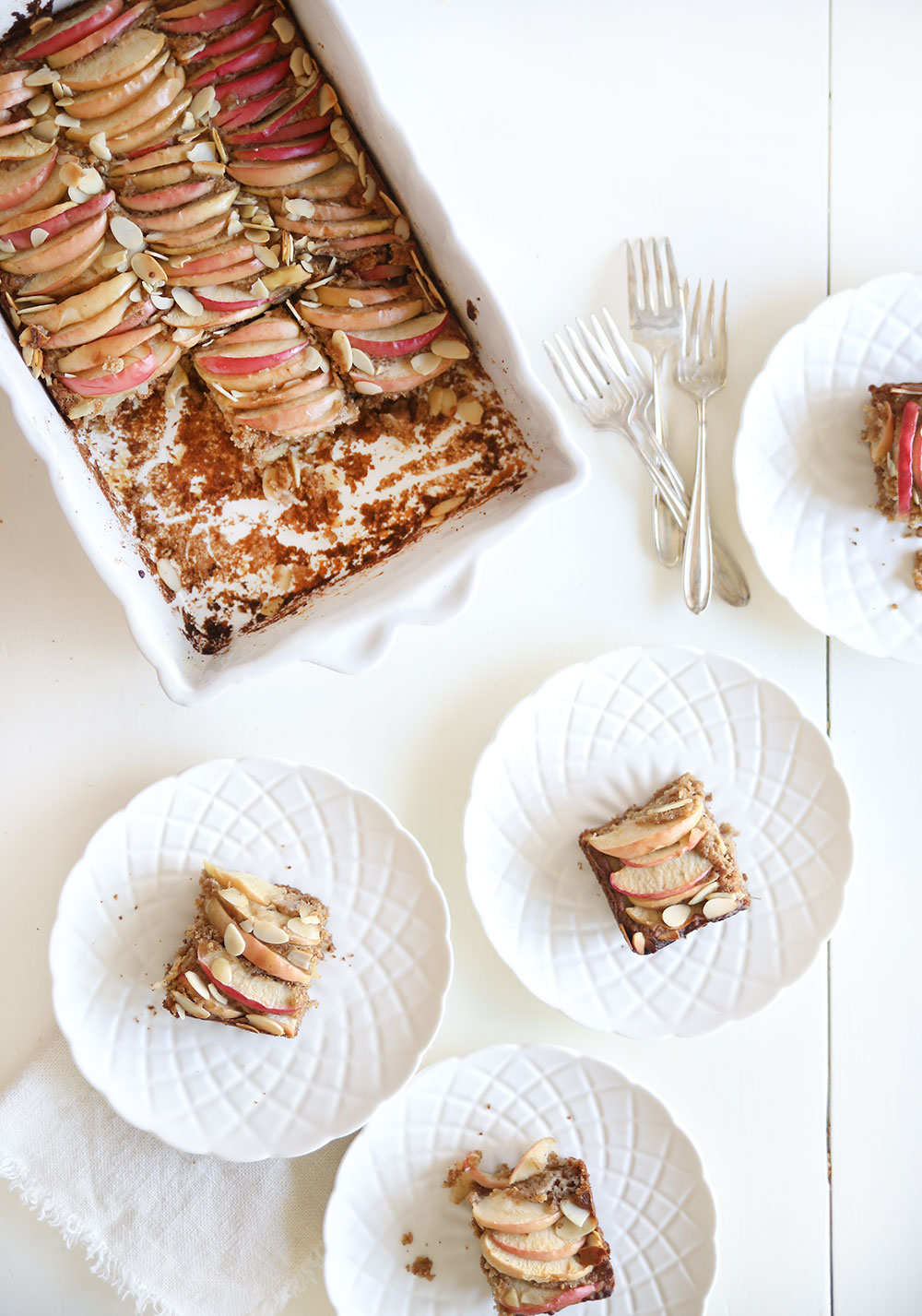 Recipe Name
Apple Almond & Spice Vegan Coffee Cake
Published On
Preparation Time
Cook Time
Total Time
Average Rating





Based on 4 Review(s)