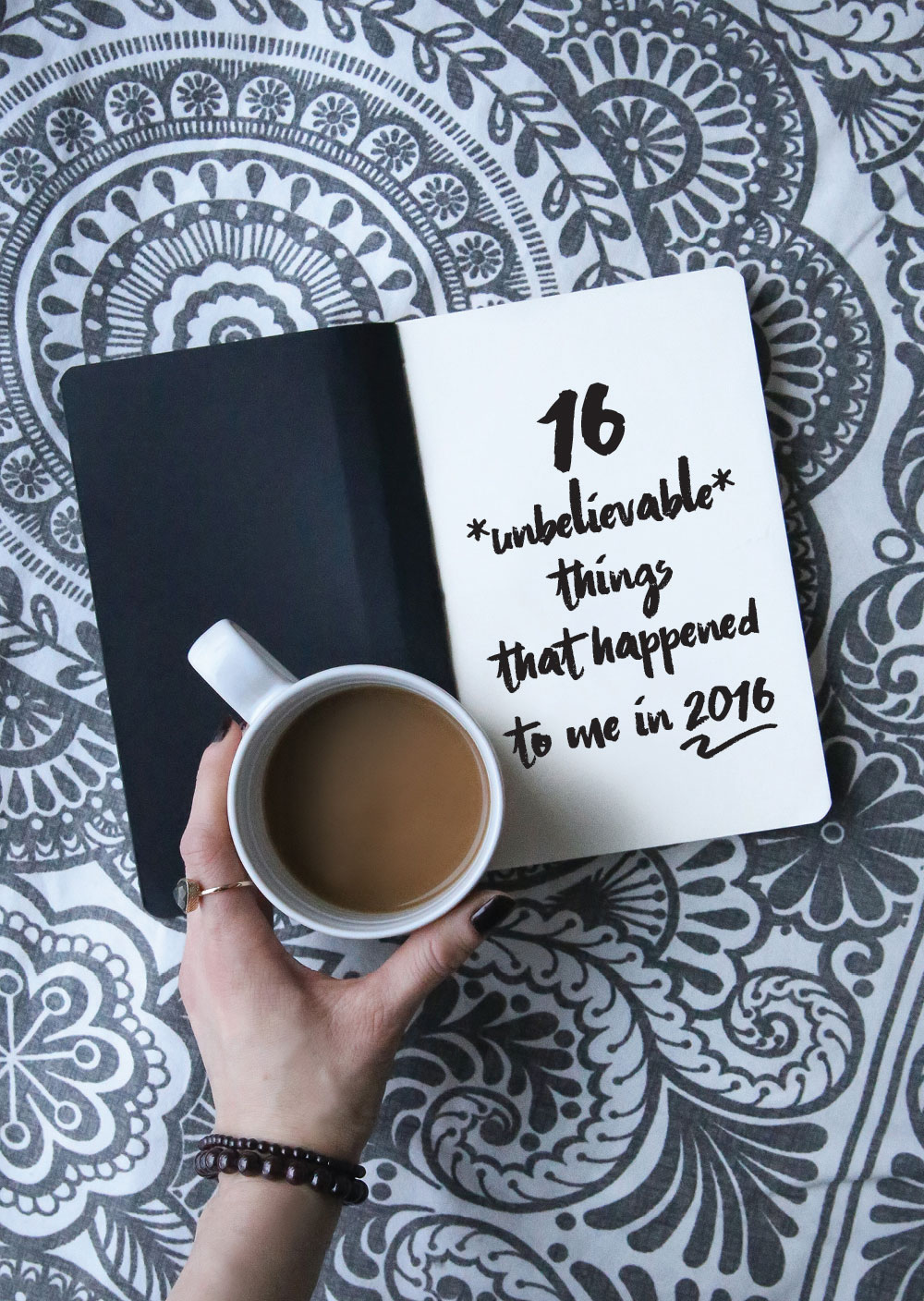 Oh WOW! 2016 ~ what a year you've been! I won't chat too much in the intro… the list of 16 things will explain a lot ~ BUT I will say how GRATEFUL I am for this amazing and inspiring Pure Ella community! YOU guys are just incredible to stick around through the ups and downs and I can only promise you more amazing things in the near future! YOU are the wind beneath my wings…. with this tribe of amazing beautiful people I can only imagine soaring higher with you all right next to me…
I can't believe my healing journey began already 8 years ago and although it was a very dark time of my life, I knew that it was worth to let in a little light just to push myself through. If you're ever ungrateful for your own strength to for example walk on your own power, to chew food, to hold a baby in your arms or even physically smile ~ hey, just think of me and remember that was my life for a solid 3 years. I won't get into this here, but really be grateful for your health and strength – take care of YOU with great food, a balanced lifestyle with happiness and laughter and always put yourself first no matter what! (not in a selfish way, but a self-love way :)) YOU are a rockstar and anything is possible no matter what your troubles… you can look for the light and make small changes to live the life you truly want and deserve!!
So back to 2016 ~ the craziest year of them all… let's dive in, shall we?
16 unbelievable things that happened to me in 2016!
So, as you all know I started 2016 with a release of my cookbook Cut the Sugar! Now that was one UNBELIEVABLE way to start the year. I've had dreams of writing a cookbook but this fell into place way faster than I anticipated ~ unbelievable thing #1. (To everyone who did purchase a book ~ thank you so much from the bottom of my heart for your support!)
#2 ~ I got a puppy!
Ok, so if any of you know me personally, you'd know that I was never a dog person and frankly they grossed me out. BUT I just had this intuitive feeling that getting a dog is a good thing. I've had a lazy side of me…. and sometimes when you work from home and the day isn't as beautiful, it's just too comfortable to leave the house. This was one of the reasons why getting a dog was unbelievable – having Moxie has been life changing. I am so grateful for her to take ME for walks.
I've met some really amazing people in the strangest of circumstances… but really ideal circumstances. I never knew one could connect on such a deep level with another person ~ it's not even on a human level (ok, that sounded weird), but…. it's like our souls connected on a much deeper level than I've ever known was possible. These feelings and vibes have opened up a whole can of worms into a different dimension of looking at how we're capable of connecting and loving. I realized you don't even need to meet someone or be with them to experience these feelings… It's just there (the connection, the comfort, the love) and that's enough.
I've had some interesting experiences that lead me on a more spiritual path. As a former catholic, turned atheist ~ this is some breakthrough that I'm excited to explore further. I am still religion-free and plan to keep it on neutral ground… because I feel as though religions really separate us and focus on our differences (so much hatred is in the world because of these disagreements). I much rather look at all of us as the same… we all hurt the same way and want to feel safe and loved the same way… So just in these last 3 months I've become a spiritual being. I don't even know what this means fully…. part of it is that I learned to trust that the universe has my back! THANKS UNIVERSE! :)
I also got into crystals/ semi-precious stones and WOW… the magic they posses! ;) I also got into meditating on a regular basis… that stuff just sucks you right in :)
There's been certain random acts of magic/synchronicities/ meaningful circumstances that have been happening in my life… this might seem a bit strange to explain but I see them as signs that are very personal to me and are just enough of a reason to stop and notice…. For example, I've been doing a lot of decluttering (this would also be a #17 I think! :)) and one time I was carrying a huge stack of books that I was going to go through. Suddenly, from the middle of the tower, one single book slipped out and landed cover-up on the floor. I looked down and saw this tiny navy book with the title "The Four Agreements." I honestly never even knew I had this book, I have never seen it in my life… I later learned it was my sister's and she didn't even know it was at my place. Anyway, I felt like this is a sign I should well… read the book. Which I did. AND WOW! It was basically just what I needed right in my life at that moment. One of the agreements is "Don't take things personally." the other "Don't make assumptions." Just the advice I NEEDED at that exact time in my life… This is only a smidgen of the random circumstances that have been happening. There are many many more like this, or better ~ it's like magic ~ little tiny unexplained unbelievable 'meaningful circumstances' that I really connect with on a deep personal level (no one gets this!) but they help me have a better understanding of things, they help me find a way out and they help me carry on with life with more lightness…
I embrace and live in gratitude every day from the very moment I open my eyes…. I'm grateful for my health (I can't believe there was once a time I could barely walk!), for my girls, for Moxie (the puppy) for taking me for walks and giving me so much love… I definitely appreciate every little thing in my life: the gifts and the lessons. (especially for the LESSONS).
I have learned to give give and give…. and honestly I want nothing in return. Nothing. Nada. I'm just happy with what I have and I'm happy that I'm here doing my thing ~ living out my passion, helping people… I just truly wish I could take it to the next level and help more!
I have lots of ideas of taking things to the next level but I would love to one day have a Wellness Centre (a retreat haven) that's free for anyone who needs a break from life, you know. I've been there where life/ work/ even family life was too much to handle. All I needed was a break – a freaking day off from life where I can just rest in peace… (this is probably why my suicidal phase seemed like the ultimate solution) It was just too much to keep up with and that kind of peace was the only one within a realistic reach… But luckily this is now in the past. So let's skip over that + 3 years of therapy along with 5 years of a healing journey to be here today where I feel like I get it, a little. I've been in the struggle. I just want to help people who may also have a hard time with life. I want to be there for people… For now it's with healthy recipes and I'm thrilled with that but somehow I just have a bigger picture in my head and I want to make a bigger impact.
So #10 is where I guess I share a bit of the dark from my past in #9. You know, I don't sweep things under the rug… I'm an open book and I keep it real. "Maybe you have to know the darkness before you appreciate the light." ~ Madeline L'Engle (I just shared that quote on my IG photo + a few more thoughts if you want to connect there… :)) I know my struggles only made me stronger and wiser. It was honestly a blessing in disguise… I'm good now ~ no more lessons are needed THANK YOU VERY MUCH! :)
So now I realize I'm only at #11 and this list is harder than I thought….
BUT I don't want to waste a point so I'll mention how I opened up to a new kind of LOVE in my life… a love for my neighbours (I shared their story here), a love for everyone I meet. I realized we all have some kind of struggle and I just don't want to hurt anyone I come into contact with… this changed my whole way of how I interact with people and the energy I emit… I used to be a bit on the anxious/ toxic side… so this is a HUGE shift in me :)
I also separated with my husband a few months ago. There. Bomb dropped. 20 years together, 11 of marriage – ended just like that. This was not overnight…. we've been having issues for a long time and we essentially grew apart. It's hard to accept things as they are sometimes, but I am grateful for our years together, the good and the bad, the lessons and the joys that we will always share together as we continue raising our girls together.
This year has been about a lot of growth for me personally… I never ever imagined these twists and turns to happen in my life… especially all in one single year. 2016 ~ you were so crazy!! I'm so happy to leave you behind!! So… #13 – personal growth! A lot of it… too much sometimes ;)
Sh*t! This is only #14 and I am drained from all this reflecting and digging into my real life… there's #14 ~ sometimes I get drained. I'm just a real person here and it can get too much and I feel wiped out… That's real life, I know. For everyone! Sometimes, I just have a moment (or a day or two) where I just shut down. Sometimes it's in a positive way, sometimes it's a bit dark, but I bounce back! I look at it as recharging my batteries ~ and I sort of have a little convo in my head and say "Ok, that's enough! You're good to go… " (something like that) So then I pick myself up, sometimes literally off the floor… and dust myself off and carry on with my day/ life.
When #14 happens there's certain techniques that work and I swear by. Sometimes it's not as easy as it sounds…. I get overwhelmed and fear sets in as well as a million other stumbling blocks and/ or emotions… but one brilliant way that works for me to bounce back is through MUSIC! Music is my therapy. Music is my light when I'm in the dark. Music is my instant happy! I have learned to dance through it all…. literally. (IF you follow my 'cut the sugar tips' you'll know that I recommend dancing after dinner ~ that is a real thing in my life! :) It's happiness + it literally lowers your blood sugar and keeps it nice and balanced! :) Yay, I suggest, once you're done reading this… that's if you made it this far…. is to turn on your favourite beats and DANCE this crazy year off with me :)
Ok, made it to #16! Yay, victory!! + happy dance!! :) LOL Anyway, I just want to say one last thing is that although I am a 'cutting-the-sugar expert' ~ I'll just be honest and say that I SUGAR COAT a lot! (I don't mean I live a fake life… but a lot of what I do share is a bit well… sugar-coated! My life is not perfect. My life is not all IG-worthy! My life is a real mess sometimes… often quite physically and mentally… it's just a crazy mess that isn't sweet at all… BUT I look for the sweetness in every situation and experience. I look for the good. I reach for those delicious moments (even if it's just a one-on-one sesh with some dark chocolate) ;) I've learned that I can really live the sweet life… even with less sugar :)
OMG… if you're still with me… thank YOU so much for reading. You must have a lot of time on your hands :) haha!
In all honesty, I am happy someone is out there reading and maybe connecting with some of what I just wrote/ went through… that's why I felt like I should share some of my life with you.
So, thank YOU for being here! Means a lot to me! :)
I hope you'll continue to chug along with me on this path… it's more fun when there's more of us :)
"Don't walk behind me; I may not lead. Don't walk in front of me; I may not follow. Just walk beside me and be my friend." ~ Albert Camus
(also from my IG video I shared recently ~ if you don't already follow me there, you should – that's where I'm most active! :) )
I hope you're as excited to leave #2016 behind as I am.
2017 ~ I'm ready!! :)
I am sure you are too!!
Best wishes for a wonderful year that's full of happiness, health, magic and love!!
~ ella